IoT Course Training in United States
Get a perfect primer to gain a foothold into the exciting world of IoT with our IoT Course Training.
Trainers from IIT & BITS Pilani
40 Hours of Intensive Classroom & Online Sessions
60+ Hours of Practical Assignments
2 Capstone Live Projects
Receive Certificate from Technology Leader - IBM
100% Job Placement Assistance
3172 Learners
"The Internet Of Things market revenue in North America will be $550 billion in 2022." - (Source). IoT is the Internet of Things, that adds intelligence and connectivity to products and sensors. Everything is transforming into smarter things which have the ability to sense, to connect, to act, to be controlled by humans, and be self-controlled. The IoT market is predicted to grow continuously in 2020 and beyond. There will be 41.7 billion connected IoT devices, or "things," generating 79.5 zettabytes of data in 2025 as per the estimations of International Data Corporation(IDC). In 2018, the North American IoT market was 95.5 billion U.S. dollars and is forecast to grow to 540 billion U.S. dollars by 2024. Many startups and established companies in the USA are adopting IoT technology to enhance their growth. There is certainly a huge demand for IoT Engineers in the USA.
Internet of Things
Prerequisites
Basic Programming
Basic Electronics Knowledge
IoT Training Overview in USA
This program provides a perfect primer to aspiring professionals looking to gain a foothold into the exciting world of IoT. IoT can be thought of as having 4 pillars – hardware, software, application systems and data and the way they inter-play with each other. This course is meticulously designed to cover all aspects of these pillars and explore leading IoT platforms like Raspberry Pi, STM32 based on ARM Cortex and Arduino. This program has been crafted keeping the needs of US enterprises and students in mind and will serve both their interests. Students can also expect to do a Live Capstone project from Innodatatics which is a US based consulting and technology firm.
IoT Courses Learning Outcomes
The world is going through Industrial Revolution 4.0 (IR 4.0) which has opened up exciting opportunities in the field of Internet of Things (IoT). The IoT software market itself is expected to grow $ 500 Billion by 2023. 360DigiTMG has taken on the onus of filling the gap between the demand and supply of IoT professionals through IoT courses and workshops for enterprise and aspiring professionals in the USA. This training comprises the theory and practical implementation through IoT devices such as Raspberry Pi and Arduino board.
Be able to design independent IoT devices for sectors like Retail, Manufacturing and Construction
Be able to comprehend IoT architecture and Modern Microcontrollers for Data capture and Signal relaying
Be able to understand the advantages of Cloud storage
Be able to make hardware compatible MCU
Be able to set up a HTTP server and able to deploy python modules for basic Data analytics
Be able to understand IoT Communication Protocols
Block Your Time
60 hours
Assignments &
e-Learning
Who Should Sign Up?
Candidates aspiring to be IoT Analysts
Analytics Managers / Professionals, IoT Experts, Software Developers
Candidates aspiring to get an overall understanding of "IoT Analytics"
Professionals who are looking to get understanding on IoT Architecture, Cloud IoT, IoT Systems Integration and IoT Implementation Strategy
Employees of organizations, who are planning to shift to IoT and Data Analytics
Finally – Students who are aiming to get an understanding to embark on the journey of IoT, Cloud Computing and Data Analytics
Internet of Things Training Modules
Internet of Things course training in the USA is offered by 360DigiTMG. The modules of the course are comprehensively designed by industry experts as per the innovations in the market. The modules cover all the imperative topics which help students in designing their career. From this course, students will learn about programming language Python and IoT platforms like Raspberry Pi and Arduino board. Introduces the concepts of IoT and end to end IoT systems. Learn IoT architecture, device designing, and communication protocols. Gain in-depth knowledge of Cloud Computing concepts. Know the process of collecting, conceptualizing, consolidating the data, and draw insights from it. Learn the Cloud Computing infrastructure and Data Analytics with Python. Introduced to various communication protocols and applications of the Raspberry Pi tool. This certification program enables aspirants the importance of the emerging field IoT. Students will acquire knowledge by working on real-time projects under the guidance of industry experts. Personal mentorship is provided to students to guide them throughout their learning journey. The training course provides many projects to gain hands-on experience and confidence in the students. IoT training delivered by 360DigiTMG prepares students to be the workforce that the current industry is looking out for. This course helps students to gain lucrative jobs in top-notch companies.
Internet of Things Trends in the USA
By the end of 2020, the IoT is predicted to generate up to $345 billion in revenue and around $177billion in cost reduction. IoT and smart devices are increasing the performance standards in major factories based in the USA. Let us know the top trends of IoT. Artificial Intelligence is going to create a great impact. The prominent cloud vendors such as Microsoft, Amazon, and Google are adopting AI to increase their capabilities. AI is the basic ingredient needed to extract valuable insights from the vast amount of data that adds value to the business. Artificial Intelligence will support IoT data analysis by data visualization, data modeling, predictive analysis, advanced analytics, and real-time geospatial and location. Another stream where IoT is spreading widely is the Auto industry.
Self- driving cars will emerge enormously in a few years. Many vehicles are connected with the latest apps which give up to date diagnostic information. This is possible with IoT technology, which is the fundamental thing of connected vehicles. Smart IoT in the auto industry with self-driving cars become popular and common in the next few years. Today tons of vehicles have a connected app that shows up to date diagnostic information about the car. Other trends with the advancement of IoT include 5G, Edge computing, and Blockchain technology. IoT's unbeatable impact will continue further and many startups crop up with highly innovative projects in hardware and software. By 2021, we can witness huge investments in IoT up to 1.4 trillion dollars.
How We Prepare You
Additional Assignments of Over 60+ hours

Live Free Webinars

Resume and LinkedIn Review Sessions

Lifetime LMS Access

24/7 Support
Job Placements in IoT Fields

Complimentary Courses

Unlimited Mock Interview and Quiz Session

Hands-on Experience in a Live Project

Life-Time Free Access to Industry Webinars
Call us Today!
+91 9989994319
IoT Certification Panel of Coaches
Bharani Kumar Depuru
Areas of expertise: Data analytics, Digital Transformation, Industrial Revolution 4.0
Over 14+ years of professional experience
Trained over 2,500 professionals from eight countries
Corporate clients include Hewlett Packard Enterprise, Computer Science Corporation, Akamai, IBS Software, Litmus7, Personiv, Ebreeze, Alshaya, Synchrony Financials, Deloitte
Professional certifications - PMP, PMI-ACP, PMI-RMP from Project Management Institute, Lean Six Sigma Master Black Belt, Tableau Certified Associate, Certified Scrum Practitioner, AgilePM (DSDM Atern)
Alumnus of Indian Institute of Technology, Hyderabad and Indian School of Business
Read More >
Sharat Chandra Kumar
Areas of expertise: Data sciences, Machine learning, Business intelligence and Data visualisation
Trained over 1,500 professional across 12 countries
Worked as a Data scientist for 14+ years across several industry domains
Professional certifications: Lean Six Sigma Green and Black Belt, Information Technology Infrastructure Library
Experienced in Big Data Hadoop, Spark, NoSQL, NewSQL, MongoDB, R, RStudio, Python, Tableau, Cognos
Corporate clients include DuPont, All-Scripts, Girnarsoft (College-dekho, Car-dekho) and many more
Read More >
Nitin Mishra
Areas of expertise: Data sciences, Machine learning, Business intelligence and Data visualisation
Over 20+ years of industry experience in data science and business intelligence
Trained professionals from Fortune 500 companies and students at prestigious colleges
Experienced in Cognos, Tableau, Big Data, NoSQL, NewSQL
Corporate clients include Time Inc., Hewlett Packard Enterprise, Dell, Metric Fox (Champions Group), TCS and many more
Read More >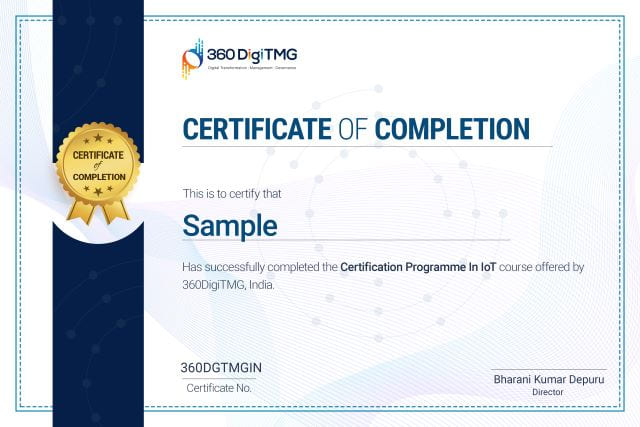 Certificate
The Internet of Things(IoT) Certificate is your badge of recognition as a full-scale Digital Marketer. Display your certificate and earn appreciation from office colleagues and industry peers.
Recommended Programmes
2064 Learners
5093 Learners
2093 Learners
FAQs for Certification Program in IoT
Jobs in the Field of IoT in USA
The hottest job roles in IoT include UI/UX designer, IoT product designers, IoT Architect, web development Engineer, Industrial Engineer, Data Scientists in IoT, and henceforth.
Salaries in USA for IoT
An IoT Engineer earns $156,071 an average salary per year in the United States. It varies with job roles and experience.
IoT Projects in USA
Technologies such as 5G and edge computing have enhanced the capabilities of IoT connected devices. Wearable devices that give health updates in a millisecond, voice command, fingerprint scan are all the advancements connected with IoT. Projects are in the process of Blockchain technology.
Role of Open Source Tools in IoT
Students will learn the applications of the Raspberry Pi and Arduino board which are very prominent tools of IoT. Along with this students will learn Python which is a very important programming language.
Modes of Training for IoT
360DigiTMG offers training in both online and offline mode as per the flexibility of the participants. We provide 1:1 mentorship.
Industry Application of IoT
The Internet of Things is playing a major role in the industries that include Automation, Manufacturing, Healthcare, Agriculture, Oil and gas industry, and many more.