Certificate On Robotic Process Automation (RPA)
Start your automation journey with the Certificate Programme in Robotic Process Automation. Master the usage of UiPath Tool. Master the UiPath Robotic Automation framework, designing workflows, data manipulation with variables, recording, selectors and UiPath Orchestrator. Attain excellence in image and text automation, SAP automation and Excel, PDF and e-mail Automation. Learn to work in the Robotic Enterprise Framework.
On-campus training in Malaysia: 40 hours
00

Days

00

Hours

00

Minutes

00

Seconds
RPA Course Programme Overview
This course begins with an introduction to the Robotic Process Automation framework with special focus on the UiPath Tool. Training is imparted on Robotic Automation Framework, workflow designer panel and types of workflows (sequences, flowcharts, state machines), data manipulation using variables, data types and managing arguments. The recording feature (automatic recording and manual recording), screen scraping, data scraping, selectors (Full and Partial selectors) are also dealt with in detail. The types of automation such as image and text automation, Citrix automation, SAP automation, Excel, PDF and email automation are elaborated in this course. Special focus is given to Debugging and Exception Handling, the UiPath Orchestrator and the Robotic Enterprise Framework.
RPA Training Learning Outcomes
Provide RPA solutions to repetitive tasks and create an agile digital workforce
Comprehend the concepts of process layers and error management
Reduce manpower in organizations and create HR efficiency
Reduce error rates and thus improve data quality provided to analytics
Create a standard workflow for processes that follow a set protocol
RPA Training Course Modules
The Global Robotic Process Automation (RPA) market is expected to generate $8,692.8 million in revenues by 2023. Organizations are increasingly adopting RPA to improve process efficiency and reduce cost.
(Source: www.psmarketresearch.com)
Block Your Time
40 hours
Classroom Sessions
80 hours
Assignments &
e-Learning
Who Should Sign Up?
Keen logical reasoning skills
Quick learners who have wide spectrum capabilities
Trouble shooters who have worked in chaotic environments
Robotic Process Automation (RPA)
Prerequisites
Computer Skills
Basic Programming Knowledge
Tools Covered

The data flow has increased considerably in the last few years due to the collection of the data becoming a major field, which involves data entry and data recording. While this work is a very important part of the data industry, it is also very stressful and repetitive. A robotic process automation course at 360DigiTMG Malaysia can help you understand various models and methods on automating the data entry work which will help to process and analyze the data at a much quicker pace. To learn robotic process automation, you don't need to have any kind of previous training or skill, but having logical understanding, analytical mindset and problem-solving skills can be helpful. You can learn about various robotic process automation techniques which involves software robotics and user interface of robotic process automation tools. Having an avid knowledge about RPA can show a reduction in data entry errors and layering of data, reduce the requirement of manpower, increase the effectiveness of data flow, and improve the digitization of work techniques.
The country of Malaysia has a unique distinction of being a nation with 2 predominant land bodies separated by the South China Sea. With the advent of rapid industrialization and the use of advanced manufacturing methods including robotic manufacturing. IT/ITES and service industries world over are now looking to harness the power of Robotic process, albeit without the physical Robot. Many national and international organization based out of Malaysia are now looking to harness the power of Robotic Process Automation and leverage its benefits in their organization. RPA solutions and implementation architects are quite in demand in Malaysia.
Register for a free orientation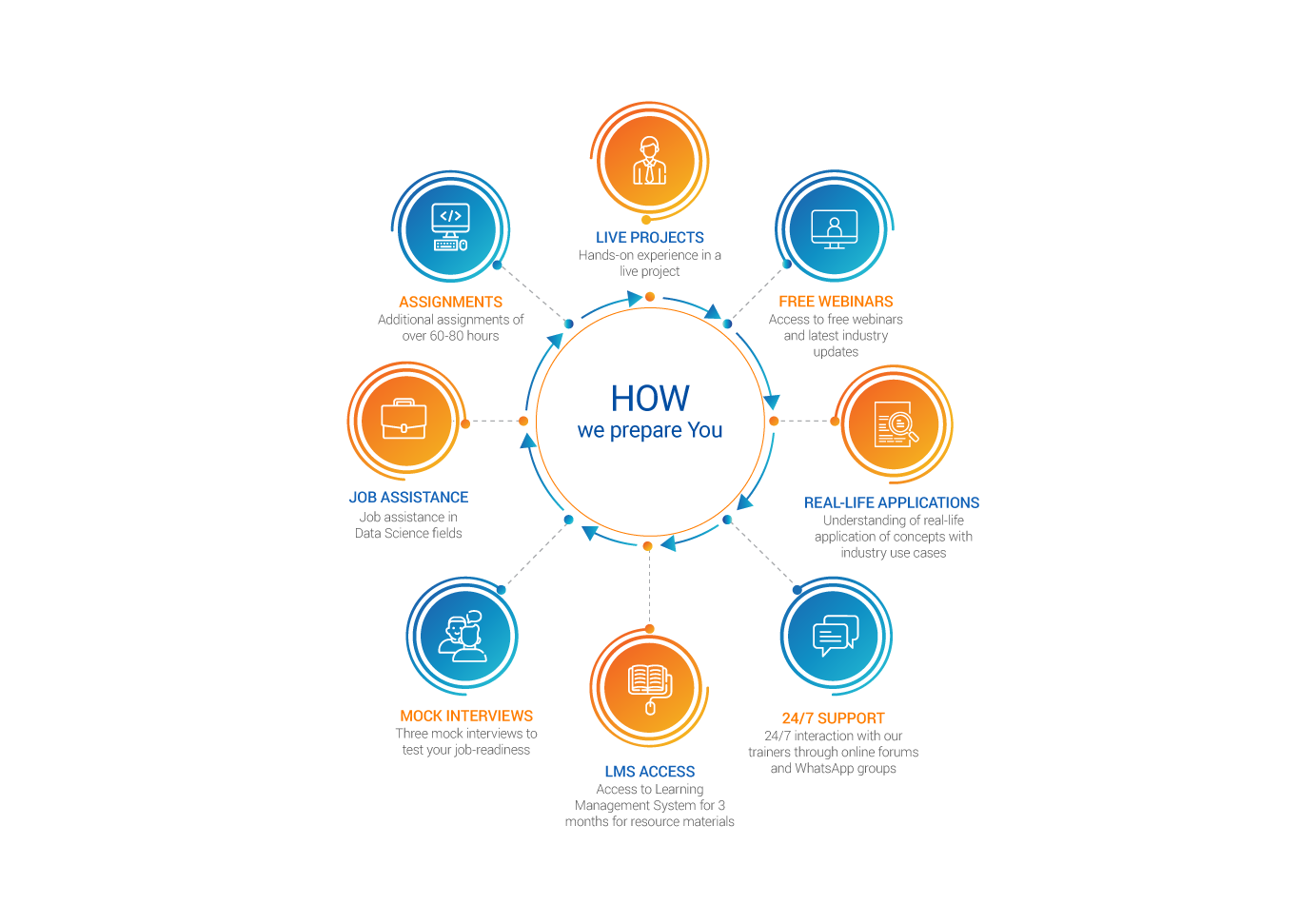 RPA Certificate Panel of Coaches
Bharani Kumar Depuru
Areas of expertise: Data Analytics, Digital Transformation, Industrial Revolution 4.0.
Over 14+ years of professional experience.
Trained over 2,500 professionals from eight countries.
Corporate clients include Hewlett Packard Enterprise, Computer Science Corporation, Akamai, IBS Software, Litmus7, Personiv, Ebreeze, Alshaya, Synchrony Financials, Deloitte.
Professional certifications - PMP, PMI-ACP, PMI-RMP from Project Management Institute, Lean Six Sigma Master Black Belt, Tableau Certified Associate, Certified Scrum Practitioner, AgilePM (DSDM Atern).
Alumnus of Indian Institute of Technology, Hyderabad and Indian School of Business.
Read More >
Sharat Chandra Kumar
Areas of expertise: Data Science, Machine Learning, Business Intelligence and Data Visualisation.
Trained over 1,500 professional across 12 countries.
Worked as a Data Scientist for 14+ years across several industry domains.
Professional certifications: Lean Six Sigma Green and Black Belt, Information Technology, Infrastructure Library.
Experienced in Big Data Hadoop, Spark, NoSQL, NewSQL, MongoDB, R, RStudio, Python, Tableau, Cognos.
Corporate clients include DuPont, All-Scripts, Girnarsoft (College-dekho, Car-dekho) and many more.
Read More >
Nitin Mishra
Areas of expertise: Data Science, Machine Learning, Business Intelligence and Data Visualisation.
Over 20+ years of industry experience in Data Science and Business Intelligence.
Trained professionals from Fortune 500 companies and students from prestigious colleges.
Experienced in Cognos, Tableau, Big Data, NoSQL, NewSQL.
Corporate clients include Time Inc., Hewlett Packard Enterprise, Dell, Metric Fox (Champions Group), TCS and many more.
Read More >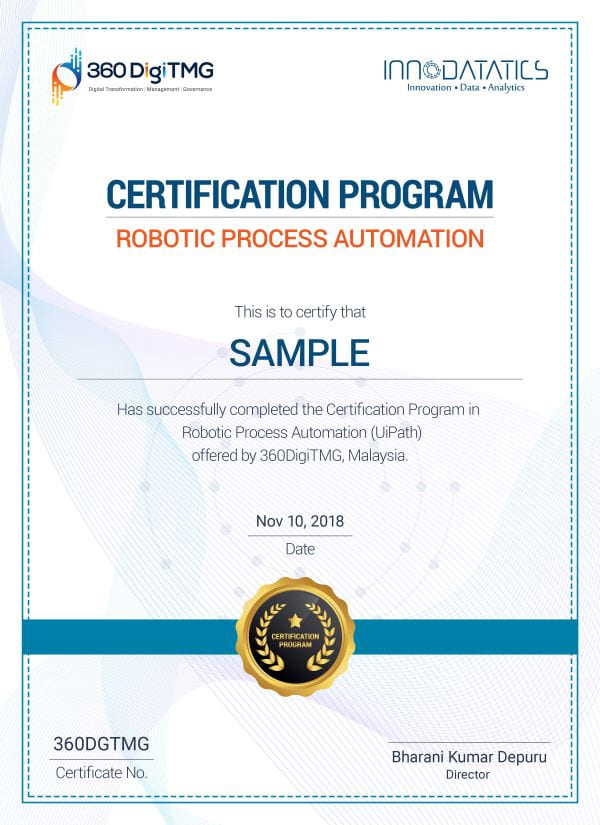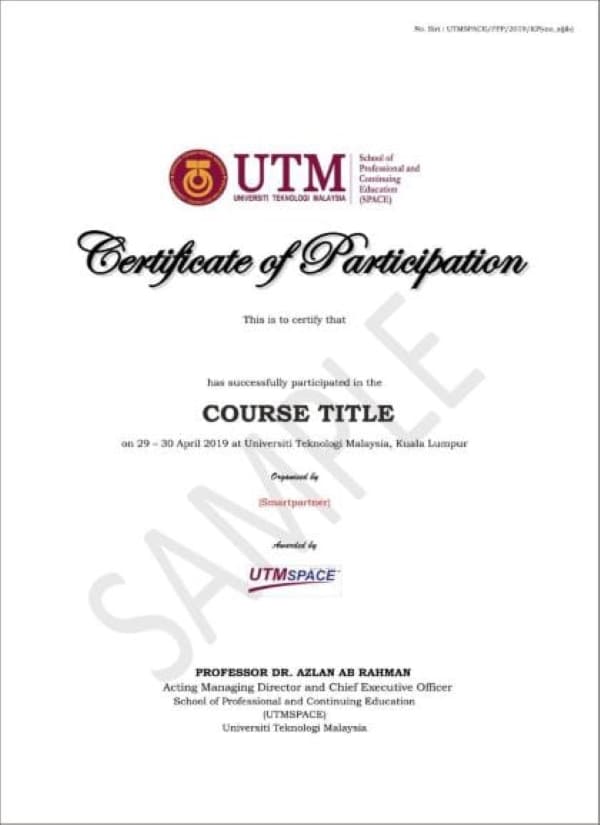 Certificate
Earn a certificate from 360DigiTMG Malaysia and distinguish yourself in the job market. This certificate in Robotic Process Automation is your passport to an accelerated career path.
**All certificate images are for illustrative purposes only. The actual certificate may be subject to change at the discretion of the Certification Body.
FAQs for Robotic Process Automation Course
Ecosystem Partners
Student Voices
Heng Nguan Ting
8 months ago
A company that give course from beginning level to advanced level. They will always keep in touch with their participant in order to get know about them and solve their problem accordingly. Nice place to start your learning.
Puteri ameena
9 months ago
I joined the Data Science using R workshop and I really appreciated all the efforts that have been put into sharing the knowledge of Data Science. I learnt the reality of handling data unlike the theoretical classes we normally learn in university. I had so much fun too!! Thank you
Rong An Kiew
9 months ago
I took part in the Jumpstart program 2018, I gained a lot of knowledge about Big Data from this program and there are also some experienced tutors teaching in this program. It provides some assignments to let us practise. Overall it is a good platform for learning Big Data.