Data Science Course in Bangalore
In Collaboration with
Avail Best data science certification training in Bangalore and kick start your career as a successful Data Scientist within 4 months. Learn the advanced concepts and get your skills upgraded from the pioneers in Data Science.
96%
of participants who met the conditions got placed
98%
Program Completion Rate
The dynamic field of Data Science is leading the world to understand extensive data and data analysis better and obtain valuable insights and information. It's a multidisciplinary and broad-spectrum field with significant benefits.
A recent study shows that by 2026, the need for a data scientist will increase by 27.6%. This skill set guarantees greater job security and a good salary. Understand how a Data science certification in Bangalore from 360DigiTMG, in collaboration with IBM, can accelerate your career with its world-class skills and training in just four months. This course offers a broad exposure and knowledge of recent technologies, including Tableau, Python, R, and other machine learning concepts.
Tools Covered
The data science course is vast and consists of many interesting concepts like Big data, Machine learning, data warehousing, data mining and visualization, Forecasting, cloud computing, Deep learning, Neutral Networks, and Business intelligence. The Data Science training in Bangalore uses various tools for this process.
Industry Masterclass by 20+ Years of Industry Experts
360DigiTMG offers the best data science course in Bangalore with 20+ years of experienced professionals and Industry Experts as teaching professionals. Practical knowledge imparting gives way to faster learning; it bridges the gap between traditional theoretical teaching and its application in industries. The expert's positive and effective utilization of the industry network also helps them mentor the students better, get accessible internships, help create a better student portfolio, and provide career counseling.
Distributed Computing Spark & PySpark
Processing big data with lightning speed
Git Account creation & Google Colab
Master project management and cloud-based GUI
ML on Cloud - AWS, Azure, GCP - AutoML
Build ML algorithms without writing a single line of code

Data Ingestion using Python (Included in Python Programming)
Must know skill to begin data science journey
Facebook Prophet & ARIMA Variants
New era of timeseries / forecasting algorithms
MLOps
New breed of end-to-end seamless pipeline building
Data Engineering - Data Warehouse, ETL, ELT, Data Lake, Data Lakehouse, Data Pipeline, etc.
Boasts of more in-demand skill than data science
IBM Watson Cognitive Computing AutoML By IBM
Experience the enhanced IBM Watson capability
Certificate from Industry Leaders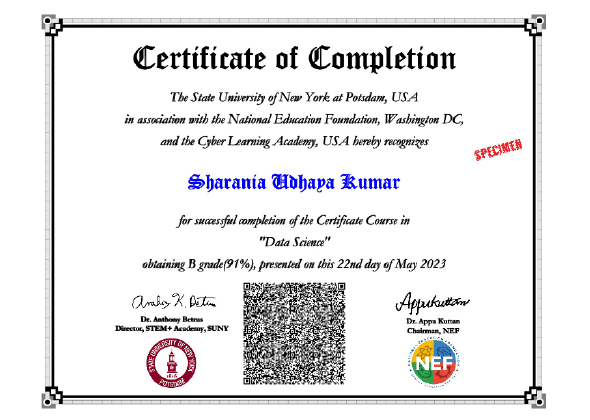 In terms of providing cognitive approaches and consulting services, SUNY is a pioneer.
SUNY invests $6 billion yearly in development and research and has long-standing expertise in data sciences and artificial intelligence.
The goal of 360DigiTMG's partnership with SUNY is to help introduce learners in order integrated blended educational experiences with the aid of our well designed, globally recognised curriculum.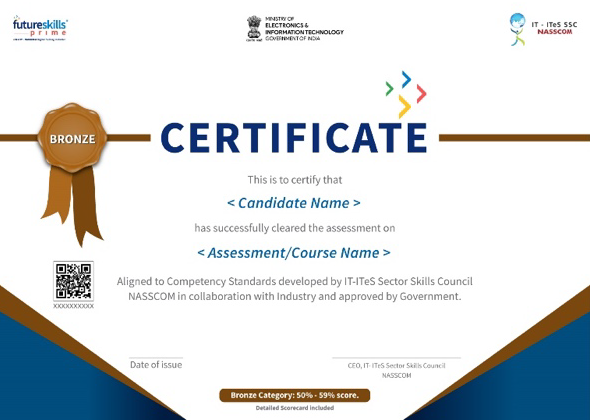 A renowned trade organisation in India that supports and advances the goals of the IT and business process management (BPM) industries is called NASSCOM.
For decades, NASSCOM has been actively engaged in research and development related to data science and artificial intelligence.
The goal of 360DigiTMG's partnership with NASSCOM is to empower students all around the world by introducing them to multimedia blended learning through the use of our top-notch, industry-aligned curriculum.
Data Science Course Fee in Bangalore
Live classroom sessions - weekends & weekdays

Seats are filling up fast

Avail Monthly EMI at zero Interest Rate
Lifetime validity for LMS acces
24+ live hours of industry masterclasses from leading academicians and faculty from FT top 20 universities
Career support services
Next Batch: 8th December: Weekday
View Schedule
INR 85,000+Tax INR 55,000+Tax
As low as INR 4,583/month
Virtual Instructor-led Training (VILT)
Live online classes - weekends & weekdays
365 days of access to online classes
Avail Monthly EMI At zero Interest Rate
Lifetime validity for LMS acces
24+ live hours of industry masterclasses from leading academicians and faculty from FT top 20 universities
Career support services
Next Batch: 12th December: Weekday
View Schedule
INR 85,000+Tax INR 50,000+Tax
As low as INR 4,166/month
Overview of Data Science Course Training In Bangalore
Bengaluru is the official Silicon Valley of Asia, with nearly 4.1 million people working in the IT sector. Data Science jobs are amongst the top-paying jobs in the market now. The average salary ranges between 600000-700000 INR Per annum, even for freshers.
Only comprehensive data science courses in Bangalore can quench your thirst for knowledge by providing specially tailored certification courses. The driven staff team prepares you for real-life situations and a better job role. These courses are ideal for data professionals and beginners who want to create or grow their careers in Big Data.

Why 360DigiTMG for Data Science Training in Bangalore?
360DigiTMG brings to you the most comprehensive Data Science Training in Bangalore that will expose the learners to the various stages of the Data Science Lifecycle. The program on Data Science using Python and R will enable learners to gain expertise in analytics using the Python and R programming language. This course will cover topics like data exploration, data visualization, descriptive analytics, and predictive analytics techniques that will enable students as well as professionals to take up data science skills into a variety of companies. The goal of the training program is to teach you the various foundational concepts of Statistics, Mathematics, Business Intelligence, and Exploratory Data Analysis.

A module is dedicated to scripting Machine Learning Algorithms and enabling Deep Learning and Neural Networks with Black Box techniques and SVM. All the stages delineated in the CRISP-DM framework for a Data Science Project are dealt with in great depth and clarity in this course. Undoubtedly this emerges as one of the best courses due to the live project exposure in INNODATATICS. This gives a golden opportunity for students to apply the various concepts studies to a real-time situation.

What is Data Science?
Data science is an amalgam of methods derived from statistics, data analysis, and machine learning that are trained to extract and analyze huge volumes of structured and unstructured data.

Who is a Data Scientist?
A Data Scientist is a researcher who has to prepare huge volumes of big data for analysis, build complex quantitative algorithms to organize and synthesize the information, and present the findings with compelling visualizations to senior management. A Data Science enhances business decision making by introducing greater speed and better direction to the entire process.

A Data Scientist is the sexiest job of the 21st century Stated by Harvard Business Review must be a person who loves playing with numbers and figures. A strong analytical mindset coupled with strong industrial knowledge is the skill set most desired in a Data Scientist. He must possess above average communication skills and must be adept in communicating the technical concepts to non-technical people.

Data Scientists need a strong foundation in Statistics, Mathematics, Linear Algebra, Computer Programming, Data Warehousing, Mining, and Modeling to build winning algorithms. Having proficiency in tools such as Python, R,R Studio, Hadoop, MapReduce, Apache Spark, Apache Pig, Java, NoSQL database, Cloud Computing, Tableau, and SAS is beneficial, but not mandatory.
Learning Outcomes of Data Science Institute in Bangalore
Every organization is looking for ways to deal with its humongous data in this fast-paced environment. The demand for Big data skills and technology is in a surge nowadays. It is one of the leading and competitive fields in the IT sector now. Our Data Science Training Institute in Bangalore helps equip students with relevant and logical programming abilities to meet industry standards.
In the three months, students will explore critical techniques like Regression analysis, Data Mining, Statistical Analysis, Machine learning, and Forecasting within scripting algorithms for Python and R Programming. Be job ready when you finish this Data Science Certification course in Bangalore.
Work with various data generation sources
Perform Text Mining to generate Customer Sentiment Analysis
Analyse structured and unstructured data using different tools and techniques
Develop an understanding of Descriptive and Predictive Analytics
Apply Data-driven, Machine Learning approaches for business decisions
Build models for day-to-day applicability
Perform Forecasting to take proactive business decisions
Use Data Concepts to represent data for easy understanding
Block Your Time
184 hours
Classroom Sessions
120 hours
2 Live Projects
Who Should Sign Up?
IT Engineers
Data and Analytics Manager
Business Analysts
Data Engineers
Banking and Finance Analysts
Marketing Managers
Supply Chain Professionals
HR Managers
Syllabus of Data Scientist Courses in Bangalore
This data science program follows the CRISP-DM Methodology. The premier modules are devoted to a foundational perspective of Statistics, Mathematics, Business Intelligence, and Exploratory Data Analysis. The successive modules deal with Probability Distribution, Hypothesis Testing, Data Mining Supervised, Predictive Modelling - Multiple Linear Regression, Lasso And Ridge Regression, Logistic Regression, Multinomial Regression, and Ordinal Regression. Later modules deal with Data Mining Unsupervised Learning, Recommendation Engines, Network Analytics, Machine Learning, Decision Tree and Random Forest, Text Mining, and Natural Language Processing. The final modules deal with Machine Learning - classifier techniques, Perceptron, Multilayer Perceptron, Neural Networks, Deep Learning Black-Box Techniques, SVM, Forecasting, and Time Series algorithms. This is the most enriching training program in terms of the array of topics covered.
SUNY University Syllabus
Data Science Training in Bangalore Panel of Coaches
About Data Science Training Classes in Bangalore
The economy is driven by Data. Every industry is harnessing the power of data to succeed in business. Realizing the importance of data, data science has emerged as the number one career in the market. The U.S. Bureau of Labor Statistics suggests that data science skills will drive a hike of around 28% in employment through 2026. There is a huge skill gap in the market and demand for skilled data scientists and related professionals are high.
A Data Scientist analyzes, collects, and interprets large volumes of data using mathematics, statistics, and programming knowledge. Data Scientists can help an organization in designing strategies and business plans that with processing data available to them.
360DigiTMG's Certified Data Science Course in Bangalore using Python
Data Science is a booming career and the 360DigiTMG Certified Data Science Program in association with Future Skills Prime accredited by NASSCOM, and approved by the Government of India is your right choice to grow in the career.
The course curriculum is superior with a focus on Hypothesis Testing and the "4" must-know hypothesis tests.
Data Mining Unsupervised Learning, Recommendation Engines, Network Analytics with various Machine Learning algorithms, Text Mining, Natural Language Processing, Naive Bayes, Perceptron, and Multilayer Perceptron are dealt with in detail in the course.
Python and R modules included in the course add additional value and aid you in scoring the best job in the market.
Highlights of Data Science Training in Bangalore
Accredited by NASSCOM, Approved by the Government of India
184 Hours of Intensive Classroom & Online Sessions
2 Capstone Live Projects
Receive Certificate from Technology Leader - IBM
Job Placement Assistance
Enroll and avail of Government of India (GOI) Incentives after successfully clearing the mandatory Future Skills Prime Assessment
Learners will get access to multiple resources like NASSCOM Career Fair, NASSCOM industry events, Bootcamps, Career guidance sessions, etc.
Learners will be eligible to apply for jobs and get job placement assistance through the Talent Connect Portal of Future Skills Prime.
360DigiTMG's Professional Course in Data Science & AI in Bangalore with Placement Guarantee
The certification program in Data Science and AI is a unique program that firmly reinforces the fundamentals with concepts like deployment of Python programming, Data Mining, and Machine Learning dealt with in detail.
The use of NLP libraries and OpenCV to code Machine Learning algorithms are also included in the course.
This course is a comprehensive package for all IT enthusiasts who wish to design and develop AI applications in their field of study.
The professionals in data science and Artificial Intelligence will have the liberty to work in the areas of their interest.
The main areas where Data Science and Artificial Intelligence professionals are in demand are Medicine, Space, Robotics, Automation, Marketing, Information management, Military activities, and many more.
Highlights of Professional Data Science & AI Training in Bangalore
Get Trained by Trainers from ISB, IIT & IIM
300 Hours of Intensive Classroom & Online Sessions
300+ Hours of Practical Assignments
2+2 Capstone Live Projects
360DigiTMG's Practical Data Science Course with 100% Job Placement in Bangalore
Master the Practical Data Science Program with 100% Job Placement* is specifically designed keeping in mind the technological trends in the market and to give professionals an advantage and a chance to grow in their career hassle-free.
The six-month course comprises 600+ hours of training and 600+ hours of practice sessions.
Highlights Practical Data Science Training with 100% Job Placement in Bangalore
Get Trained by Trainers from ISB, IIT & IIM
500+ Hours of Intensive Classroom & Online Sessions
300+ Hours of Practical Assignments
Learn to Ingest Data from different sources (SQL, NoSQL, Flat files, etc.)
30+ Hours of detailed Data Preprocessing
21+ Capstone Live Projects
360DigiTMG Offers Best Data Science Course in Bangalore
With the Certification in Data Science, master all the key tools and techniques in Data Science and pick up domain-specific skills to add more value to your profile.
In this data-driven environment certification in Data Science prepares you for the surging demand for Big Data skills and technology in all the leading industries.
There is a huge career prospect available in the field of data science and this Data Science Certification Program is one of the most comprehensive Data Science courses in the industry today.
This course in India is specially designed to suit both data professionals and beginners who want to make a career in this fast-growing profession.
Highlights of Best Data Science Training in Bangalore
Get Trained by Trainers from ISB, IIT & IIM
40 Hours of Intensive Classroom & Online Sessions
40+ Hours of Practical Assignments
1 Capstone Live Project
Authorized by National Educational Alliance for Technology - NEAT
360DigiTMG's Domain Specific Data Science Courses in Bangalore
Data Scientist in Supply Chain Management: Managing a supply chain in manufacturing can be very complex and unpredictable. Some factors that influence supply include the cost of production, technology, transport conditions, government policies, and the price of inputs. Data scientists in supply chain management are expected to analyze and predict patterns of inputs and outputs to minimize risk and ensure a smooth-running system. Big data in the supply chain helps manufacturers to improve efficiency and make timely decisions. Data scientists in the supply chain industry are responsible for analyzing data to support predictive analysis, make accurate forecasts, and inform risk management strategies.
Data Science with NoSQL: Data Science is the process of analyzing and interpreting complex data sets to extract meaningful insights. NoSQL databases can handle multiple data types, including text, images, and audio, and are particularly useful for processing real-time data from social media and other sources. This makes them ideal for applications such as recommendation systems, customer behaviour analysis, and sentiment analysis. Data Scientists use NoSQL databases to perform big data analysis, machine learning, and data visualization. They can use a variety of tools to extract data from NoSQL databases, including Hadoop, Spark, and MongoDB. NoSQL databases also offer a higher level of scalability and performance compared to traditional relational databases.
Data Science in Customer Analytics: Data science plays a crucial role in customer analytics, as it allows organizations to gather, process, and analyze large amounts of customer data to gain insights into customer behaviour and preferences. The goal of customer analytics is to use data to better understand customer needs and preferences and make informed decisions that improve customer experience and drive business growth. Customer segmentation, Predictive modelling, customer lifetime value analysis, and customer feedback analysis are some examples of how data science can be used for customer analytics.
Data Science in Social Media &; Web Analytics: Data Science in Social Media and Web Analytics has become an increasingly important field as social media usage continues to rise. Social media platforms such as Facebook, Twitter, and Instagram generate a vast amount of data which, when analyzed, can be used by businesses to understand marketing strategies, product development, and customer service efforts. Another important aspect of data science in social media and web analytics is its role in understanding customer sentiment. By analyzing the language used in social media posts, comments, and reviews, businesses can gain a deeper understanding of how customers feel about their brand, products, and services. This information can be used to make changes that improve customer satisfaction and loyalty.
Data Science in Retail Analytics: Data science has had a major impact on the Retail industry. Data science can be used to improve customer experience, optimize pricing, assess and improve marketing activities, and more. Retailers can use data science to identify different customer segments based on their shopping behaviour, preferences, and spending patterns via customer segmentation. They can identify opportunities, understand churn, and anticipate demand using predictive analysis. With personalization, they can personalize the shopping experience for customers. This includes targeted product recommendations, personalized emails, and customized discounts. With the help of optimising inventory, they can help retailers optimize their inventory levels by analyzing customer demand and forecasting future trends. This helps retailers minimize losses due to overstocking or stockouts.
Data Science in Marketing: The role of data science in marketing is to unlock the value of big data by turning it into actionable insights. Data scientists use a variety of techniques, including machine learning, predictive analytics, and data visualization, to analyze large and complex data sets and extract meaningful insights. These insights can then be used to inform marketing strategies, target the right customers, and measure the effectiveness of marketing campaigns. Marketers are now able to collect and analyze vast amounts of data from a variety of sources, including social media, web analytics, and customer relationship management (CRM) systems, to gain valuable insights into customer behavior and preferences. Data science has become a critical tool for marketers as they strive to deliver personalized, data-driven marketing campaigns that engage customers and drive business success.
Data Science in Life Sciences and Healthcare: Data science has a significant impact on the field of life sciences and healthcare, offering new opportunities to improve patient outcomes, speed up drug development, and make more informed decisions about patient care. Thanks to Data Science, doctors can now make informed decisions about patient care and treatment by using predictive modeling to learn the progression of the disease. They can also optimize clinical trial designs, reduce drug side effects and identify potential drug targets to improve the life of the patient.
Data Science in HR: Data science in HR can be used to analyze employee retention rates by understanding the factors that contribute to employee retention. When it comes to recruitment data science can be used to enhance the recruitment process. It can help HR professionals identify and attract the best-suited candidates for a particular position by analyzing past recruitment data, resumes, and candidate profiles. Regarding Performance Management, data science can help HR teams measure and monitor employee performance. It can be used to identify areas of improvement, set realistic goals and objectives, and track employee progress. In an aspect of Diversity and Inclusion data science can be used to understand the composition of the workforce and identify any potential gaps in diversity and inclusion.
Data Science in Finance: The finance sector is the backbone of the world economy. And they know the importance of Big Data for making profitable decisions. Regularly, this sector collects a sheer amount of big data. And the challenge lies in gaining insights from this unstructured data. This data contains a lot of noise and lacks a coherent model. Data Scientist uses advanced ML techniques to create insights for customer service solutions. And is further utilized by companies to generate profits and derive financial conclusions. Financial companies use data science to detect fraud and find abnormalities in transactions.
Data Science in Cyber Security Analytics: Data Science plays a crucial role in the field of Cyber Security by providing techniques to detect, prevent and respond to cyber threats. Using techniques like machine learning, big data analytics, and data visualization, data scientists can analyze vast amounts of data from various sources such as network logs, intrusion detection systems, and security information and event management (SIEM) tools to identify patterns and anomalies that may indicate a potential security breach.
Data Scientist in Construction Analytics: Data Science is revolutionizing the construction and architecture industry by providing valuable insights into project performance and identifying areas of improvement. By collecting and analyzing data from various sources such as project schedules, cost data, and resource utilization, construction professionals can make informed decisions that improve project efficiency, reduce waste, and ensure compliance with industry standards. It helps architects to make informed design decisions and ensure that their designs are optimized for performance and sustainability.
Data Science in Aviation Analytics: Data science in the aviation domain has become an increasingly important tool to help airlines and other aviation industry stakeholders better understand their customers and operations, and make more informed decisions. Data science techniques allow airlines to analyze customer data, flight information, and other metrics to gain insights into pricing, customer segmentation, and marketing strategies. Airlines can use predictive analytics to better anticipate passenger demand and make better decisions about pricing, route planning, and other operational matters. In the future, data science in the aviation domain will only become more important as airlines continue to collect more data and use it to better understand their customers and operations. As data science techniques evolve and become more sophisticated, airlines will be able to gain even greater.
Data Science Career Trends in Bangalore
Data Science is a dynamic and significantly evolving field as new technologies are emerging and expanding. The demand for Data Scientists is at an all-time high in India, and it is expected that the Data Science industry will touch nearly USD 230.80 billion by 2026. With Bangalore being the central hub of the IT sector, it's needless to say that data science will be one of the most high-paying jobs in India.
A staggering career awaits everyone who has completed this course. It is an ever-evolving field; therefore, data scientists must keep learning new skills and unlearn redundant skills to always be on track. There are countless resources and courses available to students and professionals who want to learn about this vast field, but knowing where to start can get overwhelming. Choose the Data science course from 360DigiTMG to set up a solid and robust foundation in Data Science.
Some of the top sightseeing places to see in Bangalore, Lalbagh Botanical Garden, ISKCON Shri Radhekrishna Temple, Bengaluru Palace, Cubbon Park, Vidhana Soudha, Bannerghatta biological park and many others.
Why Choose 360DigiTMG for Data Science Training Institute in Bangalore?
Call us Today!
+91 9989994319
Recommended Programmes
2064 Learners
3021 Learners
2915 Learners
"AI to contribute $16.1 trillion to the global economy by 2030. With 133 million more engaging, less repetitive jobs AI to change the workforce." - (Source). Data Science with Artificial Intelligence (AI) is a revolution in the business industry.. AI is potentially being adopted in automating many jobs leading to higher productivity, less cost, and extensible solutions. It is reported by PWC in a publication that about 50% of human jobs will be taken away by the AI in the next 5 years.
There is already a huge demand for AI specialists and this demand will be exponentially growing in the future. In the past few years, careers in AI have boosted concerning the demands of industries that are digitally transformed. The report of 2018 states that the requirements for AI skills have drastically doubled in the last three years, with job openings in the domain up to 119%.
FAQs
What kind of industries offer Jobs in Data Science in Bangalore?
The top sectors creating the most data science jobs are BFSI, Energy, Pharmaceutical, Healthcare, E-commerce, Media, and Retail. The maximum demand for Data Scientists is in the Metros cities like Delhi-NCR and Mumbai, which is now catching up in emerging cities like Pune and Bangalore.
Why Many Projects are Based on Data Science in Bangalore?
For an aspiring data scientist, it is of the utmost to work on projects and provide innovative solutions to propel your career in the right direction. Some projects in this field can be - Predicting sales across various departments of the retail industry, making movie suggestions for users, or predicting the effect on sales during the holiday season.
What are the Tools Used to Learn Data Scientist Course in Bangalore?
Python and R are easy to learn and maintain and, therefore, God-send to developers in Data Science. Their extended libraries make it possible to stretch the applications of Python from Big Data Analytics to Machine Learning.
What are the Modes of Training for Data Scientist Course in Bangalore?
The course in Bangalore is designed to suit the needs of students and working professionals. We at 360DigiTMG give our students the option of classroom and online learning and simultaneously support e-learning as part of our curriculum.
What Types of Industries depend Upon Data Science Applications?
Many applications are based on the concepts of Data Science. However, the primary applications are in the healthcare field, where it helps detect tumors, develop drugs, and provide virtual assistance support for patients. Other applications include Speech Recognition, Website Recommendations, Fraud and Risk Detection, etc.
The career outlook for Data Scientists in India
Data Scientists are in all-time high demand, resulting in an upward career arc and handsome pay. With the advancement of Machine Learning, Big Data, and AI the need for Data Scientists has increased multifold. The Data Science sector has witnessed a huge hike in the hiring of 650% beating all the other sectors and this demand is predicted to increase in the future.
Talk to your program advisors today!
Get your profile reviewed
360DigiTMG - Data Science, Data Scientist Course Training in Bangalore
Locations Offered - Google Reviews, Data Science Bangalore, Data Science Institute in Bangalore, Data Science Certification in Bangalore, Best Data Science Institute in Bangalore, Data Science in BTM Layout, Data Science Certification in HSR Layout, Data Science Institute in ITPL, Best Data Science Institute, Data Science Institute in Bommanahalli, Data Science in Bangalore with Placements, Best Data Science in Jayanagar, Best Data Science in Bangalore, Data Science in Electronic-City, Data Science Training in Hyderabad, Data Science in Hyderabad, Data Science in BTM, Data Science Coaching in Indiranagar, Data Science in Koramangala, Best Data Science in BTM, Best Data Scientist in Marathalli, Data Scientist Training in Bangalore