Machine Learning using Python and R
Become a Machine Learning (ML) specialist with the Machine Learning using Python and R programme. Gain holistic knowledge in ML algorithms and applications using the two most popular programming language. Use Python and R to enable regression analysis and to build predictive models. Orient yourselves with Black Box techniques like Neural Networks and Support Vector Machine.
On-campus training in Malaysia: 32 hours
00

Days

00

Hours

00

Minutes

00

Seconds
Calendar-On-Campus Classes
Machine Learning
Prerequisites
Computer Skills
Basic Mathematical Knowledge
Basic Data Science Concepts
Machine Learning Course Overview
Machine Learning Training using Python and R programming includes an overview of analytical techniques used to manipulate humongous data and how to draw meaningful business insights from the same. The course modules instruct the student on the various techniques used to analyze structured and unstructured data, building advanced prediction models with machine learning algorithms and data visualization. The course is laden with practical case studies which enable the participants to solve complex business problems and improve profitability in their companies.
Machine Learning Training Outcomes
Become familiar with analyzing data, computing statistical measures along with Data Wrangling, Data Cleansing, Data Manipulation, etc.
Become familiar with Machine Learning algorithms including Black Box techniques such as Neural Networks and Support Vector Machine
Become familiar with Regression algorithms and the application of Python, R as statistical software in Machine Learning and Data Science
Build predictive models using Amazon Machine Learning Services
Be able to create Data Visualization, Data Manipulation in different forms and draw meaningful business insights from the underlying data
Certified Machine Learning Course Modules
In Malaysia, the national average salary of a machine learning engineer is RM 141,958 per annum.
Block Your Time
32 hours
Classroom Sessions.
80 hours
Assignments &
e-Learning.
Who Should Sign Up?
Candidates aspiring to be Data Scientist, Machine Learning Expert, Analytics Manager / Professional, Business Analyst, Data Analyst, etc.
Employees of organizations which are planning to devise proactive strategies using Machine Learning approaches
Managers with knowledge of basic programming and decision-makers who want to make data-driven decisions
Graduates who are looking to build a career in Machine Learning, Data Science and Data Analytics Professionals
Mid-level and Senior-level Executives who wish to learn predictive decision making
Tools Covered
The demand for machine learning jobs in Malaysia outstrips the supply. There is a mad rush to learn Machine Learning using Python and R and a number of institutes for machine learning have mushroomed in Malaysia. These institutes conduct numerous workshops on machine learning with Python and R. One of the most reliable training institutes is 360DigiTMG. 360DigiTMG offers a course titled " Machine Learning with Python and R". The training includes understanding the entire Machine Learning Project life-cycle as well as understanding various machine learning algorithms ranging from Decision Tree to Ensemble models. 360DigiTMG is one of the premium training institutes which also offers machine learning internship opportunities in Malaysia.
Malaysia, a small country in South East Asia is firmly placed on the global map for its many historical and technological marvels, chief among them, being the Petronas Towers. At the time of its completion, it was the tallest structure in the world. Petronas is one of the largest and most profitable conglomerates based out of Malaysia having varied business interests in the petroleum sector. Many organizations in Malaysia are relying on the power of Machine Learning to make predictive business decisions. There are very lucrative career opportunities for professionals trained in Machine Learning and Artificial Intelligence. Python and R are the preferred programming languages in Malaysian IT circles.
Register for a free orientation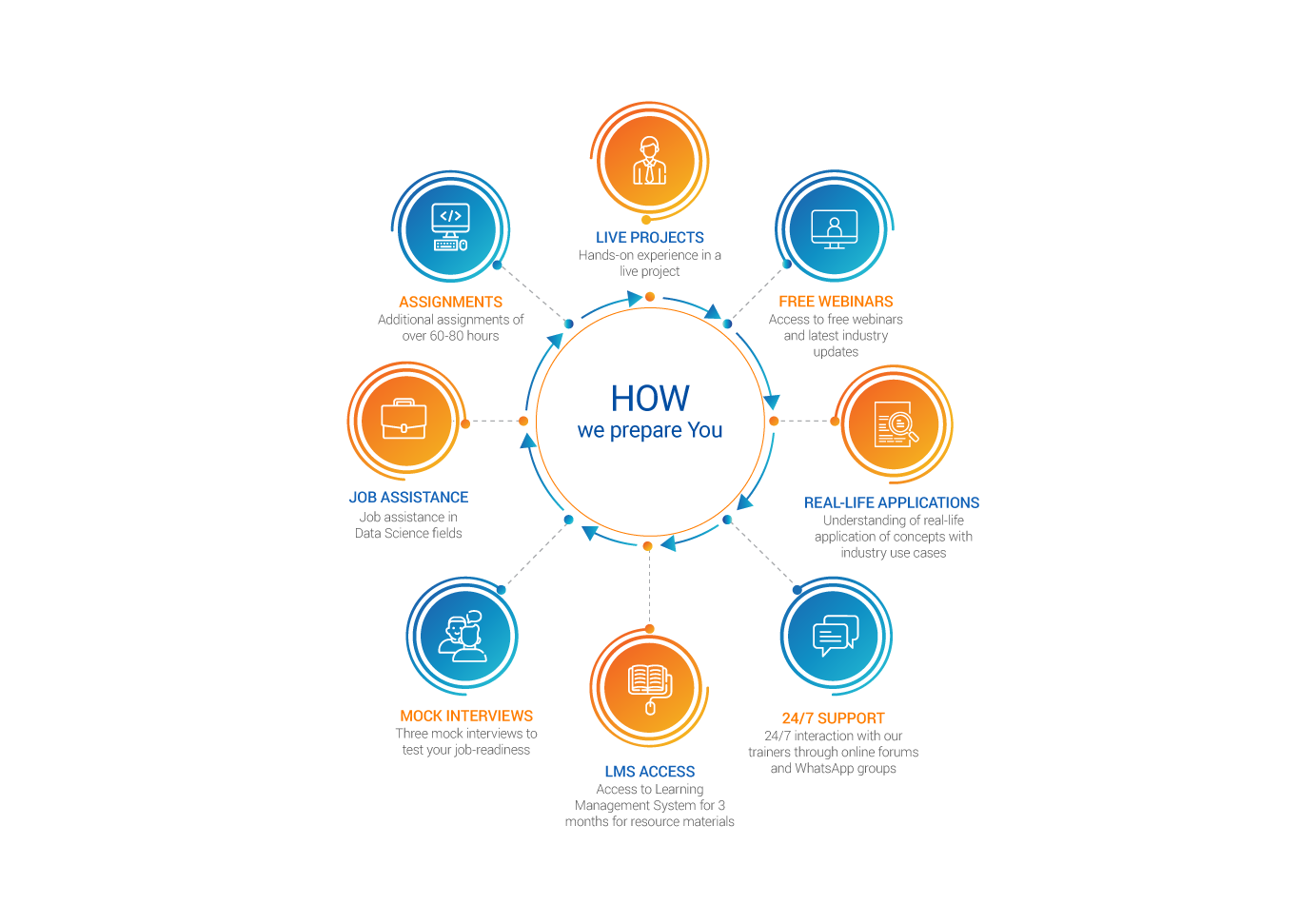 Machine Learning Tutorial Panel of Coaches
Bharani Kumar Depuru
Areas of expertise: Data Analytics, Digital Transformation, Industrial Revolution 4.0.
Over 14+ years of professional experience.
Trained over 2,500 professionals from eight countries.
Corporate clients include Hewlett Packard Enterprise, Computer Science Corporation, Akamai, IBS Software, Litmus7, Personiv, Ebreeze, Alshaya, Synchrony Financials, Deloitte.
Professional certifications - PMP, PMI-ACP, PMI-RMP from Project Management Institute, Lean Six Sigma Master Black Belt, Tableau Certified Associate, Certified Scrum Practitioner, AgilePM (DSDM Atern).
Alumnus of Indian Institute of Technology, Hyderabad and Indian School of Business.
Read More >
Sharat Chandra Kumar
Areas of expertise: Data Science, Machine Learning, Business Intelligence and Data Visualisation.
Trained over 1,500 professional across 12 countries.
Worked as a Data Scientist for 14+ years across several industry domains.
Professional certifications: Lean Six Sigma Green and Black Belt, Information Technology, Infrastructure Library.
Experienced in Big Data Hadoop, Spark, NoSQL, NewSQL, MongoDB, R, RStudio, Python, Tableau, Cognos.
Corporate clients include DuPont, All-Scripts, Girnarsoft (College-dekho, Car-dekho) and many more.
Read More >
Nitin Mishra
Areas of expertise: Data Science, Machine Learning, Business Intelligence and Data Visualisation.
Over 20+ years of industry experience in Data Science and Business Intelligence.
Trained professionals from Fortune 500 companies and students from prestigious colleges.
Experienced in Cognos, Tableau, Big Data, NoSQL, NewSQL.
Corporate clients include Time Inc., Hewlett Packard Enterprise, Dell, Metric Fox (Champions Group), TCS and many more.
Read More >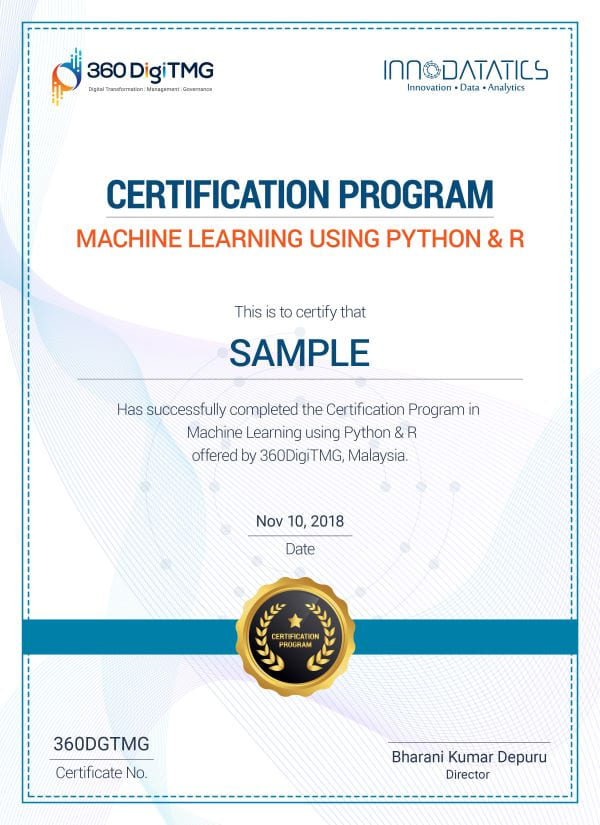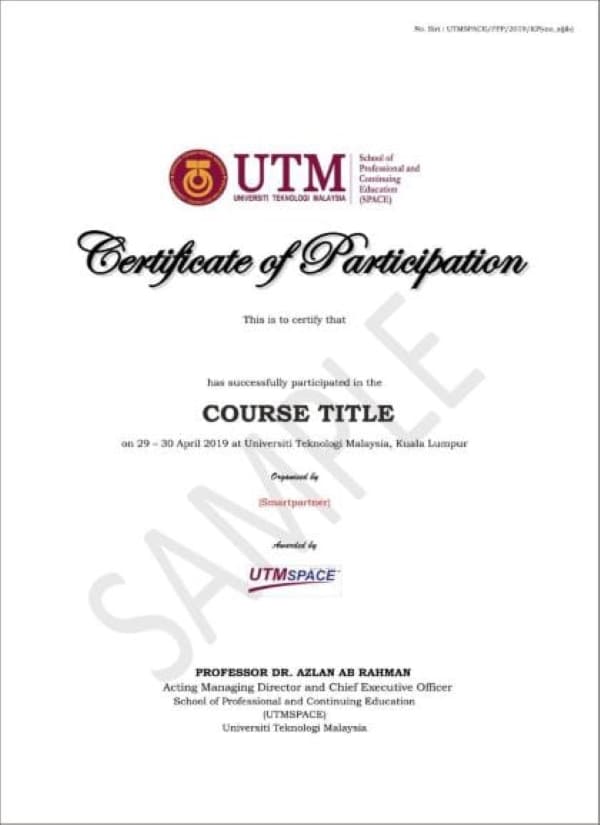 Certificate
Get validation of your advanced skills and knowledge with the Machine Learning using Python &R certificate. Join the growing community of developers and data scientists trained on Python and R.
FAQs on Machine Learning Training Course
Yes.You will get a certificate at the end of the course from 360DigiTMG.
The most popular tools Python and R and their Machine learning packages like sklearn and various other R packages will be covered in the course. These tools can be used to write Machine Learning algorithms, Neural Network techniques and Predictive Modelling with Regression Analysis.
Ecosystem Partners
Student Voices
Heng Nguan Ting
8 months ago
A company that give course from beginning level to advanced level. They will always keep in touch with their participant in order to get know about them and solve their problem accordingly. Nice place to start your learning.
Puteri ameena
9 months ago
I joined the Data Science using R workshop and I really appreciated all the efforts that have been put into sharing the knowledge of Data Science. I learnt the reality of handling data unlike the theoretical classes we normally learn in university. I had so much fun too!! Thank you
Rong An Kiew
9 months ago
I took part in the Jumpstart program 2018, I gained a lot of knowledge about Big Data from this program and there are also some experienced tutors teaching in this program. It provides some assignments to let us practise. Overall it is a good platform for learning Big Data.