Certificate Course in
Machine Learning using Python and R
Become a Machine Learning specialist, gain holistic knowledge in ML algorithms. Orient yourselves with Black Box techniques like Neural Networks and Support Vector Machine.
32 Hours Classroom & Live Online Sessions
160+ Hours Assignments & Real-Time Projects
IBM Digital Certificates and Badges
Complimentary Python and R Programming Beginners Course
3152 Learners
"Machine learning is the fastest-growing field in computer science today. In Malaysia, the national average salary of a machine learning engineer is RM 141,958 per annum." - (Source). We, humans, learn from our past experiences, what if machines could do the same and learn from their past experiences except for the experience a machine will have data. Machine learning engineers are programmers that perform some sophisticated tasks that include running and testing machines to perform specific tasks. Machine learning involves the process of feeding data into a machine so that it can then make exact predictions. Those predictions could be answering whether the animal in the photo is a dog or a cat and this is done by feeding a huge number of images labelled as a dog or a cat. The machine-learning model then is taught how to accurately discriminate between the two images. Machine Learning is the fastest-growing technology today and is one of the blazing topics in the tech industry at the moment and jobs in this field happen to top the category under AI fields.
Machine Learning
Prerequisites
Computer Skills
Basic Mathematical Knowledge
Basic Data Science Concepts
Machine Learning Course Overview
Become a Machine Learning (ML) specialist with the Machine Learning using Python and R program in Malaysia. Gain holistic knowledge of ML algorithms and applications using the two most popular programming languages. Use Python and R to enable regression analysis and to build predictive models. Orient yourselves with Black Box techniques like Neural Networks and Support Vector Machine. Machine Learning Training using Python and R programming includes an overview of analytical techniques used to manipulate massive amounts of data and then driving meaningful business insights from the same. The course module demonstrates the various techniques used to analyze structured and unstructured data, build advanced prediction models with Machine Learning algorithms and Data Visualization. The course is loaded with practical case studies that enable the participants to solve complex business problems and improve profitability in their companies.

What is Machine Learning?

Every time we create new technology, we create a bigger buzz. Two major technologies sweeping the market are Artificial intelligence (AI) and Machine learning (ML). Machine Learning is a subset of Artificial Intelligence that focuses on designing systems that enable a machine to perform tasks without explicit coding. All the Artificial Intelligence advancements we hear about and the applications we see are all a result of Machine Learning Algorithms. Machine-learning Algorithms use a huge amount of data and statistics to find patterns and inferences it collects from the statistical models and complex algorithms.

What is R?

R is primarily a statistical software developing tool specifically tailored for statistical computing as well as graphical processing of data. It is an interpreter-based language and is very popular across multiple industries. R is used for data analysis, statistical modeling, time series forecasting clustering, etc. CRAN (Comprehensive R Archive Network) repository is R's biggest strength with 7700+ packages that are specialized for all sorts of data analytical needs.

What is Python?

Python has emerged as a high-level programming language suitable for a variety of tasks in machine learning. With its simple, easy to understand syntax clubbed with its edit-test-debug cycle makes it a popular choice among programmers. Python is used for developing software, management of infrastructure, and data analysis. The biggest asset of the language is its collection of libraries and frameworks which can be utilized for Machine Learning, Automation, Web development, etc.
Machine Learning Training Outcomes
Machine learning aims to learn from data and then make precise predictions without having to be explicitly programmed. In this course, you will learn to design and implement machine learning solutions to solve the problems of classification, regression, and clustering. You will also learn to evaluate and interpret the results of the various machine learning algorithms. Machine learning programmers provide program services from the customized news feed to tailored web searches, they also build pipelines to connect with the data that enables the machine to learn and provide optimizing solutions for performance and scalability. Students will also understand the popular machine learning approaches and the underlying mathematical relationships between the various algorithms. Students will explore the process of investigating data to solve predictive tasks, such as speech recognition, object recognition, automatic algorithm configuration, time series forecasting, machine translation, and much more. This course will also give students a chance to understand the fundamental issues and challenges of machine learning which include data, model selection, and model complexity. This course in machine learning equips you with the necessary skills needed to excel in this field. By the end of the training program, you will
Become familiar with analyzing data, computing statistical measures along with Data Wrangling, Data Cleansing, Data Manipulation, etc.
Become familiar with Machine Learning algorithms including Black Box techniques such as Neural Networks and Support Vector Machine
Become familiar with Regression algorithms and the application of Python, R as statistical software in Machine Learning and Data Science
Build predictive models using Amazon Machine Learning Services
Be able to create Data Visualization, Data Manipulation in different forms and draw meaningful business insights from the underlying data
Block Your Time
32 hours
Classroom Sessions.
80 hours
Assignments &
e-Learning.
Who Should Sign Up?
Candidates aspiring to be Data Scientist, Machine Learning Expert, Data Analyst, etc.
Employees of organizations
Managers with knowledge of basic programming and decision-makers
Graduates
Mid-level and Senior-level Executives
Data Science and Data Analytics Professionals
Certified Machine Learning Course Modules
This Module provides an easily understandable overview of machine learning. This training program in Machine learning facilitates an all-round development of knowledge that can be put to effective use to help organizations promote cognitive technology. In this course, you will learn about the two most popular programming languages used for Data Analysis, Machine Learning, and Artificial Intelligence. If you are a non-programmer, you will kick start your programming skills from this point. In this module, you will learn how to extract tables from traditional database MySQL using Python and R. You also will learn about the various functions and packages involved in Data Extraction. In this module, you will also learn about RStudio which is the primer IDE for R and understand why Python and the IDE are used by Data Analysts worldwide.
Tools Covered

Trends in Machine Learning in Malaysia
The demand for machine learning jobs in Malaysia outstrips the supply. There is a mad rush to learn Machine Learning using Python and R and a number of institutes for machine learning have mushroomed in Malaysia. These institutes conduct numerous workshops on machine learning with Python and R. One of the most reliable training institutes is 360DigiTMG. 360DigiTMG offers a course titled " Machine Learning with Python and R". The training includes understanding the entire Machine Learning Project life-cycle as well as understanding various machine learning algorithms ranging from Decision Tree to Ensemble models. 360DigiTMG is one of the premium training institutes which also offers machine learning internship opportunities in Malaysia.
Malaysia, a small country in South East Asia is firmly placed on the global map for its many historical and technological marvels, chief among them, being the Petronas Towers. At the time of its completion, it was the tallest structure in the world. Petronas is one of the largest and most profitable conglomerates based out of Malaysia having varied business interests in the petroleum sector. Many organizations in Malaysia are relying on the power of Machine Learning to make predictive business decisions. There are very lucrative career opportunities for professionals trained in Machine Learning and Artificial Intelligence. Python and R are the preferred programming languages in Malaysian IT circles.
How we prepare you
Additional Assignments of over 60 hours

Live Free Webinars

Resume and LinkedIn Review Sessions

3 Month Access to LMS

24/7 support
Job Assistance in Machine Learning fields

Complimentary Courses

Unlimited Mock Interview and Quiz Session

Hands-on Experience in a live project

Life Time Free access to Industry Webinars
Call us Today!
+91 9989994319
Machine Learning Tutorial Panel of Coaches
Bharani Kumar Depuru
Areas of expertise: Data Analytics, Digital Transformation, Industrial Revolution 4.0.
Over 14+ years of professional experience.
Trained over 2,500 professionals from eight countries.
Corporate clients include Hewlett Packard Enterprise, Computer Science Corporation, Akamai, IBS Software, Litmus7, Personiv, Ebreeze, Alshaya, Synchrony Financials, Deloitte.
Professional certifications - PMP, PMI-ACP, PMI-RMP from Project Management Institute, Lean Six Sigma Master Black Belt, Tableau Certified Associate, Certified Scrum Practitioner, AgilePM (DSDM Atern).
Alumnus of Indian Institute of Technology, Hyderabad and Indian School of Business.
Read More >
Sharat Chandra Kumar
Areas of expertise: Data Science, Machine Learning, Business Intelligence and Data Visualisation.
Trained over 1,500 professional across 12 countries.
Worked as a Data Scientist for 14+ years across several industry domains.
Professional certifications: Lean Six Sigma Green and Black Belt, Information Technology, Infrastructure Library.
Experienced in Big Data Hadoop, Spark, NoSQL, NewSQL, MongoDB, R, RStudio, Python, Tableau, Cognos.
Corporate clients include DuPont, All-Scripts, Girnarsoft (College-dekho, Car-dekho) and many more.
Read More >
Nitin Mishra
Areas of expertise: Data Science, Machine Learning, Business Intelligence and Data Visualisation.
Over 20+ years of industry experience in Data Science and Business Intelligence.
Trained professionals from Fortune 500 companies and students from prestigious colleges.
Experienced in Cognos, Tableau, Big Data, NoSQL, NewSQL.
Corporate clients include Time Inc., Hewlett Packard Enterprise, Dell, Metric Fox (Champions Group), TCS and many more.
Read More >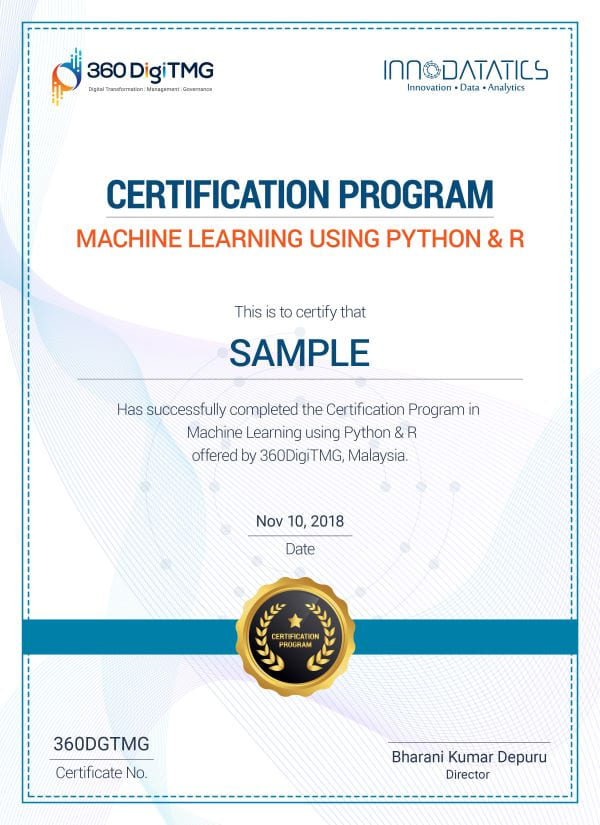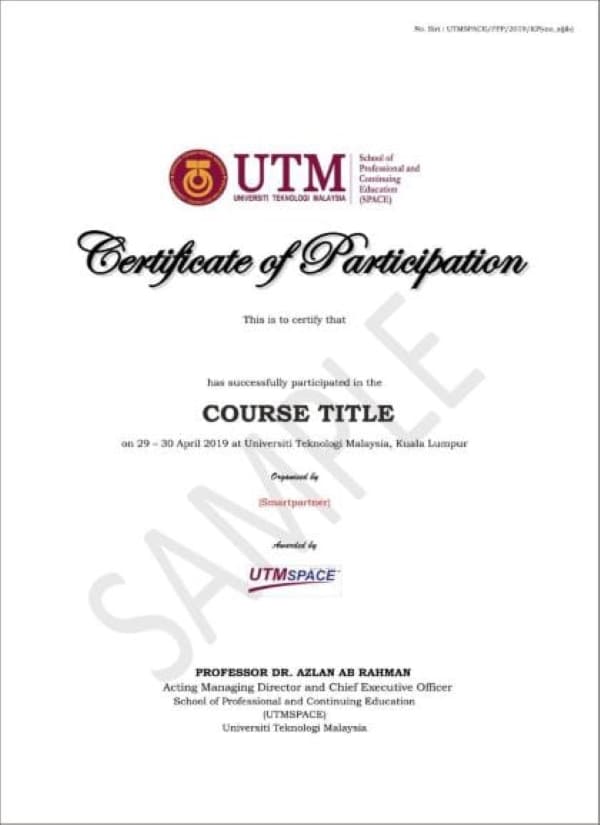 Certificate
Get validation of your advanced skills and knowledge with the Machine Learning using Python &R certificate. Join the growing community of developers and data scientists trained on Python and R.
**All certificate images are for illustrative purposes only. The actual certificate may be subject to change at the discretion of the Certification Body.
Recommended Programmes
3152 Learners
3152 Learners
2117 Learners
Alumni Speak
"The course was well structured and our trainer was very thorough in the concepts. I liked the interview preparation and thanks to 360DigiTMG I got placed well."
Pavan Satya
Senior Software Engineer

"The faculty went to great depths to clarify our doubts. They gave us a lot of assignments and one very challenging live project. Great place to study."
Venu Panjarla
AVP Technology

"Data Science is an esoteric subject but this course made it so simple for me. I loved the course material and quizzes. The instructor was very helpful. You can learn a lot from this institute."
Chetan Reddy
Data Scientist

"The course material and infrastructure is sound. They keep a watch on us most of the time. They really helped me secure a job. I liked their placement assistance. Very sound institute."
Santosh Kumar
Business Intelligence Analyst

"Countless benefits of this course.Special Thanks to my mentors.It feels great to finally start working."
Kadar Nagole
Data Scientist

"Good ambience and a good team. They really guided me well from day one. I like my mentor very much. The course material is excellent."
Gowtham R
Data Engineer

"The trainers displayed good communication skills and made the sessions more interactive. This course has been really great."
Wan Muhamad Taufik
Associate Data Scientist

Our Alumni Work At
FAQs on Machine Learning Training Course
Yes.You will get a certificate at the end of the course from 360DigiTMG.
The most popular tools Python and R and their Machine learning packages like sklearn and various other R packages will be covered in the course. These tools can be used to write Machine Learning algorithms, Neural Network techniques and Predictive Modelling with Regression Analysis.
Jobs in field of Machine Learning in Malaysia
With training in Machine learning from Malaysia you will be able to work as a Machine Learning Engineer, Data Scientist, NLP Scientist, Business Intelligence Developer, Human-Centered Machine Learning Designer, the list is endless.
Salaries in Malaysia for Machine Learning
The rise in the demand for ML professionals and Data engineers across the globe have led to companies hunting for professionals with machine-learning knowledge. The average salary for a Machine Learning Engineer in Malaysia is RM 61,989.
Machine Learning Projects in Malaysia
It's always a plus to have hands-on experience in any technology you are working on. There are many projects one can work on using Machine Learning like Loan Prediction, Stock price prediction, Wine quality tests, Uber data analysis, Credit card fraud detection, etc.
Role of Open Source Tools in Machine Learning
The various tools in machine Learning help you work efficiently with data to derive valuable insights, discover new methods to train your model, and create new algorithms. In this course, we will use the various tools offered in Python and R for Machine Learning.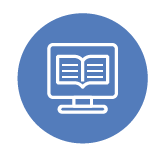 Modes of training for Machine Learning
The course in Malaysia is designed to suit the needs of students as well as working professionals. We at 360DigiTMG give our students the option of both classroom and online learning. We also support e-learning as part of our curriculum.
Industry Application of Machine Learning
Today we use Machine Learning applications across various domains and the interesting features of Machine Learning have become the heart of many platforms. In the healthcare sector, we use it for drug discovery, in finance for fraud detection, in travel for pricing, in social media for implementation of various applications.
Companies That Trust Us
360digitMG offers customised corporate training programmes that suit the industry-specific needs of each company. Engage with us to design continuous learning programmes and skill development roadmaps for your employees. Together, let's create a future-ready workforce that will enhance the competitiveness of your business.


Student Voices
Heng Nguan Ting
8 months ago
A company that give course from beginning level to advanced level. They will always keep in touch with their participant in order to get know about them and solve their problem accordingly. Nice place to start your learning.
Puteri ameena
9 months ago
I joined the Data Science using R workshop and I really appreciated all the efforts that have been put into sharing the knowledge of Data Science. I learnt the reality of handling data unlike the theoretical classes we normally learn in university. I had so much fun too!! Thank you
Rong An Kiew
9 months ago
I took part in the Jumpstart program 2018, I gained a lot of knowledge about Big Data from this program and there are also some experienced tutors teaching in this program. It provides some assignments to let us practise. Overall it is a good platform for learning Big Data.
360DigiTMG - Data Science, IR 4.0, AI, Machine Learning Training in Malaysia
Level 16, 1 Sentral, Jalan Stesen Sentral 5, Kuala Lumpur Sentral, 50470 Kuala Lumpur, Wilayah Persekutuan Kuala Lumpur, Malaysia
Machine Learning Certification Course Training in Malaysia - Machine Learning Training in Malaysia, Machine Learning Course in Malaysia, Machine Learning Certification in Malaysia, Machine Learning Institute in Malaysia. Best Machine Learning Training in Malaysia, Best Machine Learning Training in Malaysia.