Exclusive Python & R Programme For Beginners in Johor
Travel with the twin passports of Python and R programming to the enchanting world of Data Science and Big Data Analytics. Utilize the simplicity of Python and the flexibility of R to develop algorithms for Data Mining, Machine Learning, Neural Networks, and Predictive Modelling. Sow a seed of Python & R today and reap a lifetime of career opportunities.
On-campus training in Johor: 16 Hours
00

Days

00

Hours

00

Minutes

00

Seconds
Python & R Course Overview in Johor
The programme covers all the concepts and techniques that a professional requires to launch a career in Python and R programming in Malaysia. Over two days, students with basic or no knowledge of programming will be trained in these two easy-to-learn yet powerful languages. The hands-on experience will teach students how to code for Website Development, Mobile App Development, Software Development, Data Analytics, Artificial Intelligence, and Machine Learning.
Python & R Training Learning Outcomes
Understand the basic usage of Python and R for software development
Code programs in Python and R
Get trained in various R and Python data types
Understand the structure and components of R and Python GUI tools
Write functions and pass arguments to programs
Learn about packages and their applications in R and Python
Read and write data/files for processing
Troubleshoot in R and Python
Python & R Course Modules in Johor
In the tutorial, you will learn the very popular Python Programming. The course is designed to help people with basic or no knowledge of programming. Python is a high level, generic purpose open-source programming which is being used by various sectors to develop/test applications. Almost all the emerging trends and technologies require people who can analyze data. Our hands-on training will make sure that the participants gain good exposure to writing programs in Python. Python Programming is slowly becoming pivotal for building successful careers in trending areas like Data Science, Machine Learning, Deep Learning, Artificial Intelligence, IoT, etc.
Introduction to Python programming Language
Installation of Python and Anaconda (GUI)
Python Operations
Python Packages
Python Data Types
Python Functions – In-Built and Custom Functions
Error Handling
Data Analytics
Visualization in Python
Machine Learning and AI packages
The statistical programming R is used to develop Machine Learning algorithms. R is a high-level language based on functional oriented concepts. R programming has an expressive syntax, It uses a different syntax from other common programming languages. It is a very easy interface and easy for troubleshooting. R is built on top of the language S, which was originally developed for analyzing the data. As part of the tutorial, you will learn how R deals with data using vectors, lists, data frames, tables, matrices, and other data structures, to perform analysis on the data.
Introduction to R programming Language
Installation of R and RStudio (GUI)
Operations in R
R Scripts and Executions
Packages in R
Data Types in R
R functions – In-Built and Custom Functions
Error Handling
Data Analytics
Visualization in R
Machine Learning and AI packages
Python and R are among the top 5 programming languages of 2019.
(Source: IEEE Spectrum)
Block Your Time
16 hours
Classroom Sessions.
40 hours
Assignments &
e-Learning.
Who Should Sign Up?
Math, Science and Commerce Graduates
Mid-level executives with no programming knowledge
Managers with basic programming knowledge
Anyone with interest in coding
Students aspiring to become adroit programmers
Python and R Programme
Prerequisites
Computer Skills
Basic Mathematical Concepts
Tools Covered
Malaysian students engage in a host of courses as part of their graduation and many universities like Universiti Malaya (UM), Universiti Sains Malaysia, University of Malaysia Sarawak (UNIMAS), etc., have extensive technical programs. Technical skills in programming are much in demand, especially among new graduates. There is a good demand for jobs involving Python and R programming in the federal territory of Kuala Lampur and neighboring areas. The entry of global IT companies has hiked the demand for skilled programmers in Python and R.
Register for a free orientation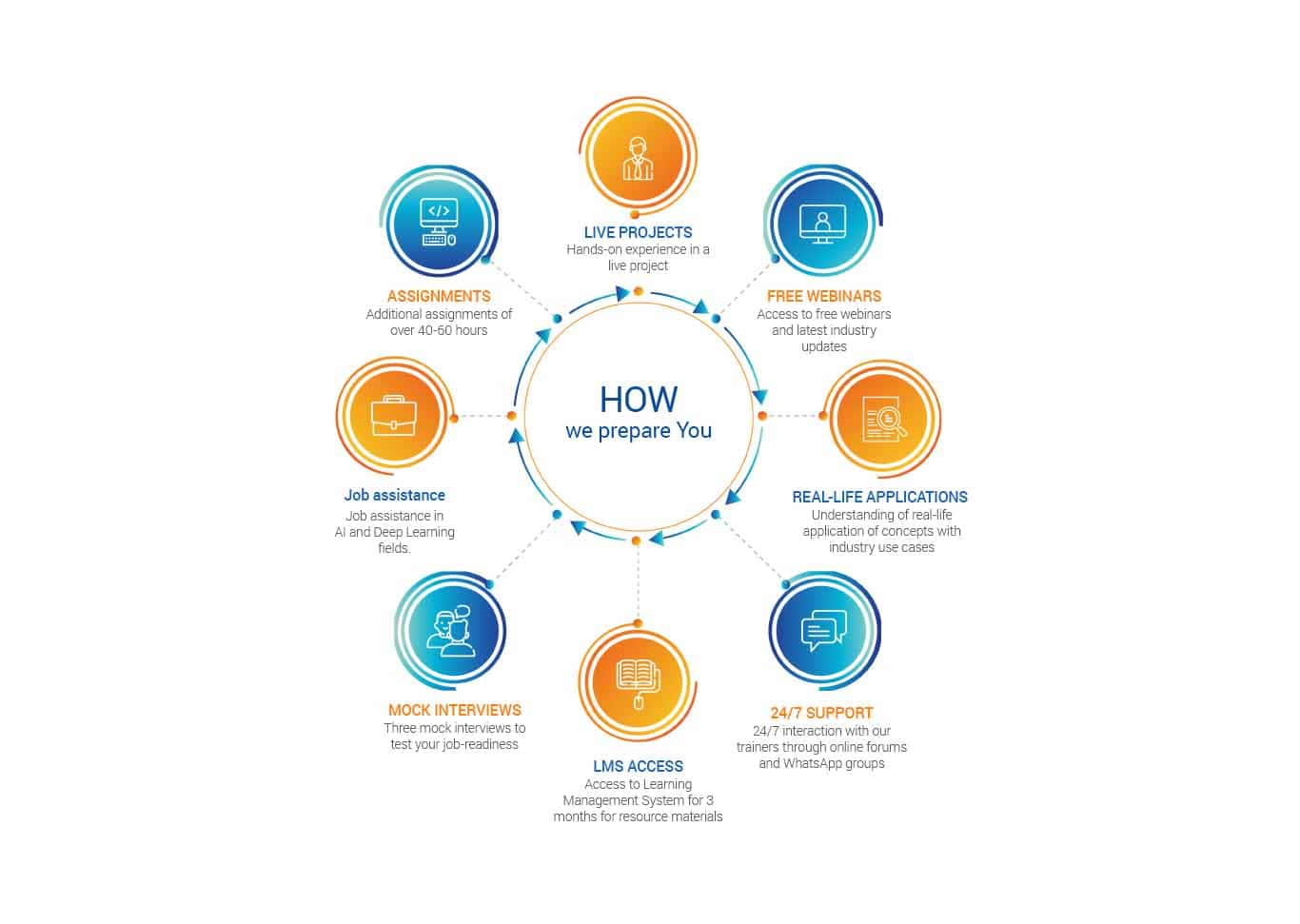 Python & R Course Panel of Coaches in Johor
Bharani Kumar Depuru
Areas of expertise: Data Analytics, Digital Transformation, Industrial Revolution 4.0.
Over 14+ years of professional experience.
Trained over 2,500 professionals from eight countries.
Corporate clients include Hewlett Packard Enterprise, Computer Science Corporation, Akamai, IBS Software, Litmus7, Personiv, Ebreeze, Alshaya, Synchrony Financials, Deloitte.
Professional certifications - PMP, PMI-ACP, PMI-RMP from Project Management Institute, Lean Six Sigma Master Black Belt, Tableau Certified Associate, Certified Scrum Practitioner, AgilePM (DSDM Atern).
Alumnus of Indian Institute of Technology, Hyderabad and Indian School of Business.
Read More >
Sharat Chandra Kumar
Areas of expertise: Data Science, Machine Learning, Business Intelligence and Data Visualisation.
Trained over 1,500 professional across 12 countries.
Worked as a Data Scientist for 14+ years across several industry domains.
Professional certifications: Lean Six Sigma Green and Black Belt, Information Technology, Infrastructure Library.
Experienced in Big Data Hadoop, Spark, NoSQL, NewSQL, MongoDB, R, RStudio, Python, Tableau, Cognos.
Corporate clients include DuPont, All-Scripts, Girnarsoft (College-dekho, Car-dekho) and many more.
Read More >
Nitin Mishra
Areas of expertise: Data Science, Machine Learning, Business Intelligence and Data Visualisation.
Over 20+ years of industry experience in Data Science and Business Intelligence.
Trained professionals from Fortune 500 companies and students from prestigious colleges.
Experienced in Cognos, Tableau, Big Data, NoSQL, NewSQL.
Corporate clients include Time Inc., Hewlett Packard Enterprise, Dell, Metric Fox (Champions Group), TCS and many more.
Read More >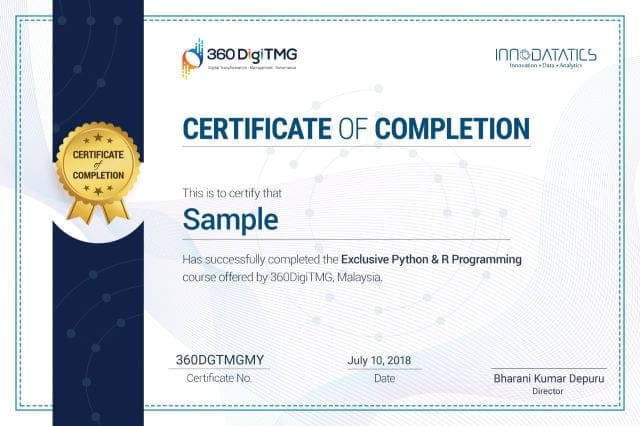 Certificate
Prove that you have the coding, Data Analytics and Visualisation skills needed for a career in Python or R programming. The certificate is your key to enter the Data Science profession in Malaysia and the region, and join the fast growing user communities.
FAQs for Python & R in Johor
Ecosystem Partners
Student Voices
Heng Nguan Ting
8 months ago
A company that give course from beginning level to advanced level. They will always keep in touch with their participant in order to get know about them and solve their problem accordingly. Nice place to start your learning.
Puteri ameena
9 months ago
I joined the Data Science using R workshop and I really appreciated all the efforts that have been put into sharing the knowledge of Data Science. I learnt the reality of handling data unlike the theoretical classes we normally learn in university. I had so much fun too!! Thank you
Rong An Kiew
9 months ago
I took part in the Jumpstart program 2018, I gained a lot of knowledge about Big Data from this program and there are also some experienced tutors teaching in this program. It provides some assignments to let us practise. Overall it is a good platform for learning Big Data.