Artificial Intelligence for Beginners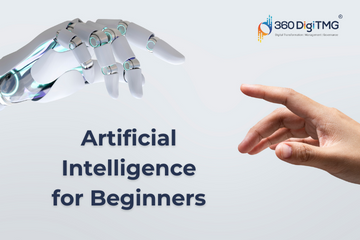 Overview
Intelligence is the capacity to reason, react, plan, learn from experience, make decisions based on the present circumstances, make quick judgements to account for changes, and possess the necessary abilities to finish a task. Learning and problem-solving are the two constants of intelligence.
Earn yourself a promising career in Artificial Intelligence by enrolling in the Masters inArtificial Intelligence in Chennai Program offered by 360DigiTMG.
There are two varieties of intelligence: natural and artificial. Natural intelligence is the kind that living things are born with and develop over the course of their lives. It includes biological intelligence found in people, animals, insects, and even microbes. Artificial intelligence (AI), on the other hand, is a sort of intelligence that does not exist in nature and is produced artificially by people using technology.
The capacity of a machine to mimic natural intelligence is known as artificial intelligence. AI has the ability to comprehend the surroundings and make decisions that maximise the likelihood that a goal will be achieved.
The field of artificial intelligence has a long history and is actively and steadily expanding. Beginners who wish to study AI, who are interested in AI, and who want to increase their general knowledge of AI are the target audience for this AI blog. The details offered in this blog post assist you in comprehending what artificial intelligence (AI) is, its origins, its principles, and its many benefits and drawbacks. I also intend to enthuse you about the myriad AI applications that continue to push human potential to unimaginable heights. There is no discussion of programming or other technical aspects of AI in this blog.
360DigiTMG the award-winning training institute offers a Artificial Intelligence Course Training in Chennai and other regions of India and become certified professionals.
AI for Beginners
Artificial Intelligence (AI) is very popular in today's world. It is a simulation of Natural Intelligence that is a program to learn and mimic the actions of humans. Machines learn based on experience and perform human-like tasks. As technology continues to grow it impacts our quality of life.
First, when you hear the word Artificial Intelligence start thinking it is related to ROBOT but that is a misconception. AI is an entity created by Humans which is capable of performing pre-trained tasks without any explicit instruction.
According to John McCarthy, father of AI it is stated as, "Science and engineering are making intelligent machines, particularly designing programs which are referred to as intelligent to make computers more intelligent.
AI helps in developing computer systems that are capable of performing tasks that would require human intelligence. Examples of these tasks are speech recognition, decision making, translation between languages, and identifying an object.
360DigiTMG offers the Best AI Courses in Bangalore to start a career in AI. Enroll now!
Learn the core concepts of Data Science Course video on Youtube:
What is AI Really Doing?
When an AI system processes a sequence of knowledge, it tests and analyses the results to improve its performance. AI systems use big datasets and clever algorithms to identify patterns and capabilities in the data they analyse. You will be able to do hundreds, thousands, or even scores of jobs rapidly, learn a lot in a very short period of time, and have AI respond to what you've taught. This is because AI does not need breaks.
Don't delay your career growth, kickstart your career by enrolling in this Artificial Intelligence in Pune with 360DigiTMG Data Analytics course.
.
But comprehending the idea is essential to understanding how AI operates. AI is an entire field of study or research, not just one flaw or application. AI seeks to develop a computational system that can simulate human behaviour and tackle challenging issues.
AI systems employ a variety of methods and procedures to do this. not only a variety of methods. By observing these methods and tools, we can start to understand what AI does and how it operates.
Want to learn more about AI? Enroll in this AI Training in Hyderabad to do so.
Which All Fields Require AI?
An AI system is made up of many diverse components, which can be thought of as sub-fields of the overall science of Artificial Intelligence. Artificial intelligence is widely used in the following fields:
Machine Learning(ML) is a type of AI that allows computer systems, programs, or apps to learn and improve their outcomes based on previous experiences without having to be programmed to do so. Machine Learning enables AI to discover patterns in data, gain insights, and enhance the outcomes of whatever activity the system is tasked with.
Deep Learning is a sort of ML that enables AI to learn and develop through data processing. Deep Learning processes data, find connections between data and generates inferences or results based on positive and negative reinforcement using artificial neural networks that imitate biological neural networks in the human brain.
Neural Networks — A method for finding correlations and interpreting meaning from undefined data by repeatedly analyzing data sets. Neural Networks act in the same way that neurons do in the human brain, allowing AI systems to take in large amounts of data, find patterns in it, and answer questions about it.
Become a AI Expert with 360DigiTMG Artificial Intelligence Course training in Johor. Get trained by the alumni from IIT, IIM, and ISB.
Cognitive Computing — Another significant component of AI systems aimed at simulating human-machine interactions, allowing computer models to emulate the way the human brain works when doing complicated tasks such as processing text, voice, or images.
Natural Language Processing (NLP) is an important part of the AI process because it enables computers to detect, analyze, interpret, and comprehend human language, whether written or spoken. Any AI-driven system that interacts with humans in some way, whether through text or vocal inputs, requires NLP.
Computer Vision - the power to review and interpret000 the content of an image using pattern recognition and deep learning is one of the foremost common uses of AI technologies. Computer Vision allows AI systems to recognize visual data components, like the captchas you will see everywhere on the web that learn by asking users to assist them to identify automobiles, crosswalks, bicycles, mountains, and other objects.
Want to learn more about AI expert? Enroll in this Artificial Intelligence in Bangalore in Manila to do so
.
What Technologies Are Required For AI?
Though AI is not new, its general use and usefulness have increased recently as a result of considerable technical developments.
In fact, the enormous growth in scope and value of AI is closely related to recent technological developments, including:
Larger, More Accessible Data Sets – AI relies heavily on data, and as knowledge has expanded quickly and access to data has increased, so too has the usefulness of AI. If not for developments like "The Internet of Things," which creates a limitless quantity of data from connected devices, AI would have far fewer uses.
GPUs, which enable AI systems to do the enormous computations necessary for interactive processing, are one of the most significant facilitators of AI's growing value.
GPUs provide AI the processing power it needs to swiftly analyse and understand massive volumes of data. Intelligent processing - New and more sophisticated algorithms allow A'I systems to study data more quickly and at several different levels at once, enabling them to assess massive data sets more quickly, better comprehend complicated systems, and forecast improbable events. Traditional computer programmes and software applications may now be enhanced with AI characteristics, making them more intelligent by enhancing their ability to recognise and analyse data patterns.
How is AI Applied?
First, we need to understand how Artificial Intelligence is being used before understanding how it works. Fortunately, there are numerous examples of AI's application in today's economy, such as:
Retail - AI systems are being used to help designers create more efficient store layouts, manage inventory, and make buying recommendations, such as Amazon's "You May Also Like" recommendations.
Healthcare - AI technology has been trained to give individualized medication, such as reminding patients when they need to take their medicine and suggesting specific activities to help them recover from injuries.
Manufacturing - Artificial intelligence (AI) solutions assist factories to estimate load and demand, increasing efficiency and allowing factory managers to make better decisions about buying resources, completion schedules, and other logistics challenges.
Life Sciences - AI intelligence is being actively deployed to review complicated data sets that are important in testing novel medicines, assisting life science companies in bringing successful treatments to market more quickly.
Finance – Artificial intelligence (AI) is being used to detect and prevent fraudulent financial transactions, give more accurate assessments than traditional credit ratings, and automate a variety of formerly manual data-related jobs.
Also, check this Artificial Intelligence Course Training in Pune to start a career in Artificial Intelligence. Looking forward to becoming a Artificial Intelligence Expert? Check out the Artificial Intelligence Course and get certified today.
Become a AI expert with a single program. Go through 360DigiTMG's PG Diploma in Artificial Intelligence in Hyderabad. Enroll today!
.
Why Should You Learn Artificial Intelligence
Nearly every sector is researching and using artificial intelligence (AI) to enhance output, automate processes, and boost organisational performance.
IDC predicts that the market for artificial intelligence (AI), which includes software, hardware, and services, would grow by 16.4% annually to $327.5 billion in 2021.
According to data from the US Census Bureau, the average income for AI professionals is $102,521, making it clear that top positions in the area frequently pay handsomely. AI could be the best option if you wish to advance computer science while simultaneously launching a successful career in a lucrative industry.
Don't delay your career growth, kickstart your career by enrolling in this Artificial Intelligence Course training in Johor with 360DigiTMG.
Data Science Placement Success Story
Artificial Intelligence Training Institutes in Other Locations
Ahmedabad, Bangalore, Chengalpattu, Chennai, Hyderabad, Kothrud, Noida, Pune, Thane, Thiruvananthapuram, Tiruchchirappalli, Yelahanka, Andhra Pradesh, Anna Nagar, Bhilai, Calicut, Chandigarh, Chromepet, Coimbatore, Dilsukhnagar, ECIL, Faridabad, Greater Warangal, Guduvanchery, Guntur, Gurgaon, Guwahati, Indore, Jaipur, Kalaburagi, Kanpur, Kharadi, Kochi, Kolkata, Kompally, Lucknow, Mangalore, Mumbai, Mysore, Nagpur, Nashik, Navi Mumbai, Patna, Porur, Raipur, Salem, Surat, Thoraipakkam, Trichy, Uppal, Vadodara, Varanasi, Vijayawada, Vizag, Tirunelveli, Aurangabad
Data Science Training Institutes in Other Locations
Agra, Ahmedabad, Amritsar, Anand, Anantapur, Bangalore, Bhopal, Bhubaneswar, Chengalpattu, Chennai, Cochin, Dehradun, Malaysia, Dombivli, Durgapur, Ernakulam, Erode, Gandhinagar, Ghaziabad, Gorakhpur, Gwalior, Hebbal, Hyderabad, Jabalpur, Jalandhar, Jammu, Jamshedpur, Jodhpur, Khammam, Kolhapur, Kothrud, Ludhiana, Madurai, Meerut, Mohali, Moradabad, Noida, Pimpri, Pondicherry, Pune, Rajkot, Ranchi, Rohtak, Roorkee, Rourkela, Shimla, Shimoga, Siliguri, Srinagar, Thane, Thiruvananthapuram, Tiruchchirappalli, Trichur, Udaipur, Yelahanka, Andhra Pradesh, Anna Nagar, Bhilai, Borivali, Calicut, Chandigarh, Chromepet, Coimbatore, Dilsukhnagar, ECIL, Faridabad, Greater Warangal, Guduvanchery, Guntur, Gurgaon, Guwahati, Hoodi, Indore, Jaipur, Kalaburagi, Kanpur, Kharadi, Kochi, Kolkata, Kompally, Lucknow, Mangalore, Mumbai, Mysore, Nagpur, Nashik, Navi Mumbai, Patna, Porur, Raipur, Salem, Surat, Thoraipakkam, Trichy, Uppal, Vadodara, Varanasi, Vijayawada, Visakhapatnam, Tirunelveli, Aurangabad
Data Analyst Courses in Other Locations
ECIL, Jaipur, Pune, Gurgaon, Salem, Surat, Agra, Ahmedabad, Amritsar, Anand, Anantapur, Andhra Pradesh, Anna Nagar, Aurangabad, Bhilai, Bhopal, Bhubaneswar, Borivali, Calicut, Cochin, Chengalpattu , Dehradun, Dombivli, Durgapur, Ernakulam, Erode, Gandhinagar, Ghaziabad, Gorakhpur, Guduvanchery, Gwalior, Hebbal, Hoodi , Indore, Jabalpur, Jaipur, Jalandhar, Jammu, Jamshedpur, Jodhpur, Kanpur, Khammam, Kochi, Kolhapur, Kolkata, Kothrud, Ludhiana, Madurai, Mangalore, Meerut, Mohali, Moradabad, Pimpri, Pondicherry, Porur, Rajkot, Ranchi, Rohtak, Roorkee, Rourkela, Shimla, Shimoga, Siliguri, Srinagar, Thoraipakkam , Tiruchirappalli, Tirunelveli, Trichur, Trichy, Udaipur, Vijayawada, Vizag, Warangal, Chennai, Coimbatore, Delhi, Dilsukhnagar, Hyderabad, Kalyan, Nagpur, Noida, Thane, Thiruvananthapuram, Uppal, Kompally, Bangalore, Chandigarh, Chromepet, Faridabad, Guntur, Guwahati, Kharadi, Lucknow, Mumbai, Mysore, Nashik, Navi Mumbai, Patna, Pune, Raipur, Vadodara, Varanasi, Yelahanka
Navigate to Address
360DigiTMG - Data Analytics, Data Science Course Training Hyderabad
2-56/2/19, 3rd floor, Vijaya Towers, near Meridian School, Ayyappa Society Rd, Madhapur, Hyderabad, Telangana 500081
099899 94319