Advanced Program in
Digital Marketing using AI
Become a future-ready marketer with Advanced Digital Marketing skills. Learn the latest analytics techniques to make data-driven decisions and deliver better results for your organisation.
16 Hours of Intensive Classroom & Online Sessions
15+ Digital Marketing Must Know Tools Explained
40+ Hours of Practical Assignments
100% Job Placement Assistance
Artificial Intelligence in Social Media and Web Analytics included
5222 Learners
"Singapore has made the greatest advances in the field of Artificial intelligence. AI specialists rank at the top among the emerging jobs in Malaysia." (Source). Digital penetration in Malaysia is on the rise and we are now getting to see more and more consumers of Digital content and services in Malaysia. With the high maturity of the digital space, more and more advanced methods of Marketing digitally are being sought. While the use of Artificial intelligence is not new, its use in Digital Marketing is throwing up new game-changing opportunities for stakeholders in the Digital Marketing space. Given that Malaysians are early adopters of technology in any form, Digital Marketing using AI will be the new paradigm for youngsters in Malaysia. Four-fifth of Malaysia's 32.23 Million population, where 77.5% are active social media users. Malaysia is ranked 27th worldwide with a 78% Internet penetration rate, highest in Southeast Asia.
Digital Marketing using AI
Prerequisites
Computer Skills
Understanding of the Internet
Analytical Mindset
Advanced Digital Marketing Course Overview
The Advanced Program in Digital Marketing is an intensive two-day course that exposes marketers to the latest analytics tools. The Digital Marketing course in Malaysia is designed to help these professionals turn marketing into a data-driven engine. Students will develop a thorough understanding of Web Analytics, Social Media Analytics, and techniques in Artificial Intelligence and Machine Learning that can be applied to Digital Marketing. They will learn how to leverage Predictive Analytics in click-through rates and Data Analytics to improve marketing outcomes.

Digital Marketing using Artificial Intelligence

Artificial Intelligence is transforming Digital Marketing. From collecting data and to interpretation Artificial Intelligence plays a substantial role. This predictive analytics helps marketers and businesses to improve their production. AI is gaining popularity in Digital Marketing as it is growing rapidly and showing prominent results.
Advanced Digital Marketing Course Outcome
Advanced Digital Marketing course is the booming course where many students are aiming to learn. This course helps students to gear up for the future advertising industry. This course enriches students with the latest technologies like Artificial Intelligence and Machine learning. Students will learn to analyze structured and unstructured data. Learn customer sentiment analysis and understand mobile analytics for futuristic marketing. Students will be able to forecast digital marketing strategies and provide valuable customer insights for companies by working on real time projects.
Analyse unstructured data such as social media comments and customer reviews to understand customer sentiments
Decode data to create an effective social media strategy
Use Machine Learning to predict and improve click through rates and through put rates
Understand Mobile Analytics for futuristic marketing
Block Your Time
16 hours
Classroom Sessions
40 hours
Assignments &
e-Learning
Who Should Sign Up?
Marketing managers and Marketing directors
Brand managers
Sales managers and sales directors
Public relations professionals
Business development managers and directors
Senior operations managers and directors
Senior executives
Business owners
Advanced Digital Marketing Course Modules
360DigiTMG offers an Advanced Digital Marketing course using AI in Malaysia. Excel your career by learning the latest analytics in Digital marketing and stand out in the crowd. Traditional methods like advertising in newspapers or magazines are gone, Digital marketing on social media platforms is gaining popularity and driving lots of traffic. Many companies are looking for skilled digital marketing professionals to improve their sales cost-effectively. The modules are crafted by industry experts as per the industry trends. The modules enable students to learn the basics of Digital Marketing. Understand concepts of Text Mining and Network Analytics. Students will learn to use Google Adwords and advanced techniques. Understand the various tools and their application. Learn Artificial Intelligence and Machine learning concepts and applications in Digital Marketing for leads generation. Understand Digital attribution and Mobile ecosystems. Students will learn about the powerful content marketing on various platforms. By the end of the course, students will gain valuable insights and be able to apply in marketing for escalating business. Their skills will help to provide better customer service which is very essential in Digital Marketing.
Advanced Digital Marketing Trends in Malaysia
Digital Marketing is the game-changer in the advertising field and many companies are imbibing this new technology to boost up their sales. Let us look at the latest top trends in Digital Marketing in Malaysia. With advancements in AI, marketers can enhance the marketing and advertising of their products. AI is used to create unique video content, by which brands can know the viewer behaviors and can predict the taste of customers. AI helps to improve sales. Influencer Marketing is trending in 2020, which means the hiring of social media users who have a substantial amount of followers, will help in spreading the brand, this will enhance the production of the business. Another booming trend is Search Engine Optimisation, with effective SEO, your website will be ranked higher in Google, this will help to drive potential traffic and reduce so much money in advertising.
Voice search is one of the popular trends in Digital Marketing in Malaysia. Google voice search is used by the users to search for any content on the web through voice commands on both mobiles and desktops. Content MArketing is the top trend in Digital marketing in Malaysia in 2020. It is crafting effective content on social media platforms like Facebook groups and LinkedIn. It is one of the cost-effective and significant Digital Marketing strategies. Other popular digital marketing trends in Malaysia are Email Marketing, Virtual Assistant (VA)support, Google Ads, Augmented Reality, and henceforth.
How We Prepare You
Additional Assignments of over 40+ hours

Live Free Webinars

Resume and LinkedIn Review Sessions

Lifetime LMS Access

24/7 Support
Job Assistance in Advance program in Digital Marketing using AI Fields

Complimentary Courses

Unlimited Mock Interview and Quiz Session

Hands-on Experience in Live Projects

Life Time Free Access to Industry Webinars
Call us Today!
+91 9989994319
AI in Digital Marketing Panel of Coaches
Bharani Kumar Depuru
Areas of expertise: Data analytics, Digital Transformation, Industrial Revolution 4.0
Over 14+ years of professional experience
Trained over 2,500 professionals from eight countries
Corporate clients include Hewlett Packard Enterprise, Computer Science Corporation, Akamai, IBS Software, Litmus7, Personiv, Ebreeze, Alshaya, Synchrony Financials, Deloitte
Professional certifications - PMP, PMI-ACP, PMI-RMP from Project Management Institute, Lean Six Sigma Master Black Belt, Tableau Certified Associate, Certified Scrum Practitioner, AgilePM (DSDM Atern)
Alumnus of Indian Institute of Technology, Hyderabad and Indian School of Business
Read More >
Sharat Chandra Kumar
Areas of expertise: Data sciences, Machine learning, Business intelligence and Data visualisation
Trained over 1,500 professional across 12 countries
Worked as a Data scientist for 14+ years across several industry domains
Professional certifications: Lean Six Sigma Green and Black Belt, Information Technology Infrastructure Library
Experienced in Big Data Hadoop, Spark, NoSQL, NewSQL, MongoDB, R, RStudio, Python, Tableau, Cognos
Corporate clients include DuPont, All-Scripts, Girnarsoft (College-dekho, Car-dekho) and many more
Read More >
Nitin Mishra
Areas of expertise: Data sciences, Machine learning, Business intelligence and Data visualisation
Over 20+ years of industry experience in data science and business intelligence
Trained professionals from Fortune 500 companies and students at prestigious colleges
Experienced in Cognos, Tableau, Big Data, NoSQL, NewSQL
Corporate clients include Time Inc., Hewlett Packard Enterprise, Dell, Metric Fox (Champions Group), TCS and many more
Read More >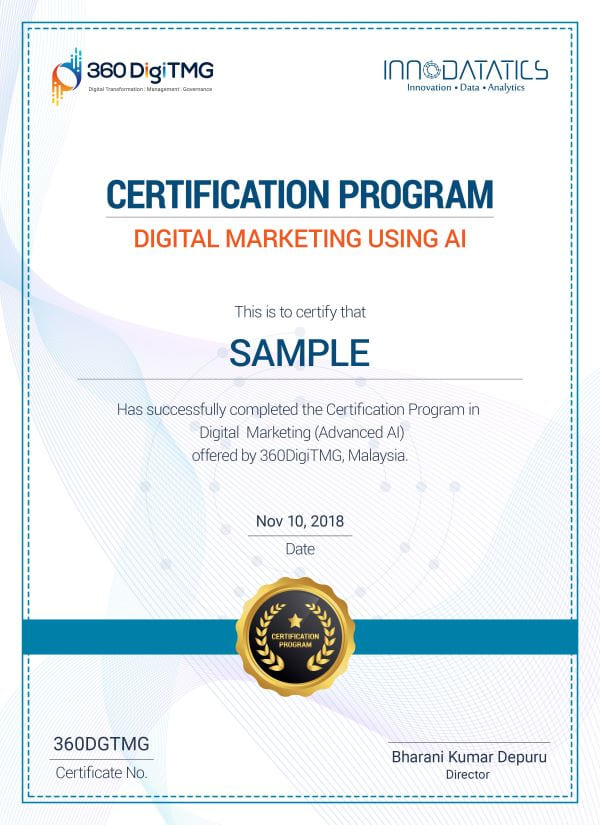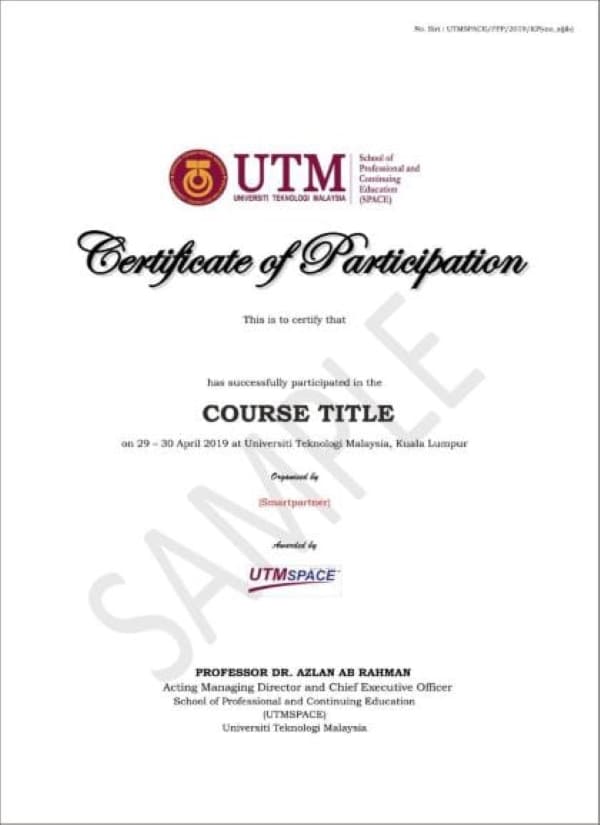 Certificate
The Advanced Program in Digital Marketing Certificate is your badge of recognition as a full-scale Digital Marketer. Display your certificate and earn appreciation from office colleagues and industry peers.
**All certificate images are for illustrative purposes only. The actual certificate may be subject to change at the discretion of the Certification Body.
Recommended Programmes
3152 Learners
3152 Learners
2117 Learners
FAQs for Digital Marketing Program using AI
Jobs in the Field of Advanced Digital Marketing
The top jobs in the field of Advanced Digital Marketing in Malaysia are Digital Marketing Strategist, Digital Marketing Manager, Content Strategist, SEO and SEM specialist, Virtual Reality Developer, Content Strategist, Social Media Marketer, User Experience Designer.
Salaries for Advanced Digital Marketing in Malaysia
The average salary for a Digital Marketing Specialist in Malaysia at an early career will amount to RM 45,406 and at a middle level can expect a salary up to RM 64,339. The salary varies according to skills and experience.
Advanced Digital Marketing Projects in Malaysia
Advanced Digital Marketing with Artificial Intelligence is applied in enabling advanced chatbots, Email Marketing, Content Marketing, and so on.
Role of Open Source Tools in Advanced Digital Marketing
Python and R are the imperative tools to learn Digital Marketing, Students will learn about its applications also.
Modes of Training of Advanced Digital Marketing
360DigiTMG offers students the option of both classroom and online learning. We also support e-learning as part of our curriculum.
Industry Applications of Advanced Digital Marketing
Digital Marketing is creating waves in every industry that includes Fashion, Hotel, Pharmacy, Tourism, Oil and Gas, Hospitality, Healthcare, Automobile, and many more.