Certificate Course in
AI & Deep Learning
Build AI applications with Deep Learning algorithms and get set for a career as an AI expert.
24 Hours Classroom & Online Sessions
60+ Hours Assignments & eLearning
100% Job Assistance
2 Capstone Projects
Industry Placement Training
HRDF SBL-KHAS Claimable!
2117 Learners
Academic Partners & International Accreditations
"AI market in Asia Pacific to grow from $6 billion in 2017 to $136 billion in 2025 with key Industries like Business Services, Healthcare, and Retail to adopt AI." - (Source). Artificial Intelligence is revolutionizing the working of organizations and industries, it is boosting employee productivity, enabling innovation, and accelerating growth. About 70% of business leaders and 65% of workers in Malaysia believe that AI will assist them to do their existing jobs better. Advanced technologies like robotics, IoT, Machine Learning, virtual reality (VR), and artificial intelligence (AI) are also assisting in improving the way business is done. With more companies shifting towards adopting the science of collaborating human intelligence in machines the demand for human capital with the relevant skill and expertise is also on the rise. As the digital economy flourishes, Artificial Intelligence (Ai) as a career will become extremely high in demand. As predicted, there will be 1.5 million professionals required in the digital space in Malaysia by 2025.
AI & Deep Learning
Prerequisites
Computer Skills.
Basic Mathematical Knowledge.
Basic Data Science Concepts.
Artificial Intelligence Course Program Overview
Artificial Intelligence training in Malaysia introduces you to the concept of AI which is the process of teaching machines to mimic the way humans learn. The idea behind AI is to mimic and simulate human intelligence in machines. These machines are artificially integrated with human-like intelligence to perform tasks we do. It can take a huge amount of data within a single domain and learn to predict or decide at superhuman accuracy and can analyze deeper data in a matter of seconds. This intelligence is built by using complex algorithms and mathematical functions. We use artificial intelligence in our day to day activities like our Smartphones, Google Search, Drones, Google Assistants (like Siri and Alexa). Artificial intelligence is revolutionizing the way the world works today and its potential is huge in depth and width.

Gain conceptual understanding as well as application-related skills in this Certification Program in AI and Deep Learning in Malaysia. Professionals with an aptitude for statistics and knowledge of programming languages such as Python, R, and RStudio can excel in their AI and Deep Learning career with this course. They will learn how to build AI applications, gain in-depth knowledge of understanding Neural Network architectures, creating AI algorithms, and minimizing errors through advanced optimization techniques.

What is Artificial Intelligence?

AI is making intelligent computer programs that make machines intelligent so they can act, plan, think, move, and manipulate objects like humans. Due to massive increases in data collection and new algorithms, AI has made rapid advancement in the last decade. It is going to create newer and better jobs and liberate people from repetitive mental and physical tasks. Companies are using image recognition, machine learning, and deep learning in the fields of advertising, security, and automobiles to better serve customers. Digital assistants like Alexa or Siri are giving smarter answers to questions and performing various tasks and services with just a voice command.

What is Deep Learning?

Deep Learning is often referred to as a subfield of machine learning, where computers are taught to learn by example just like humans, sometimes exceeding human-level performance. In deep learning, we train a computer model by feeding in large sets of labeled data and providing a neural network architecture with many layers. In the course of this program, you will also learn how deep learning has become so popular because of its supremacy in terms of accuracy when trained with massive amounts of data.
AI Course Learning Outcomes in Malaysia
Artificial Intelligence is a broad field that covers several disciplines that include speech recognition, chatbots, machine learning, deep learning, biometrics, text analysis, and processing. Artificial intelligence continues to make breakthrough advancements to improve our quality of life across an array of settings. Working in the space of artificial intelligence one requires an analytical bent of mind to run through technical information and solve problems using economical and effective methodological course of action. An AI specialist should know how to design, maintain, and translate highly technical and sensitive information in ways that can be understood by others. This AI Training in Malaysia introduces you to the concept of Artificial Intelligence and Deep learning and helps you in understanding Neural Network Architectures, structuring algorithms for new AI machines, and minimizing errors through advanced optimization techniques. This course provides a challenging avenue for exploring the basic principles, techniques, strengths, and limitations of the various applications of Artificial Intelligence. Students will also gain an understanding of the current scope, limitations, and societal implications of artificial intelligence globally. They will investigate the various AI structures and techniques used for problem-solving, inference, perception, knowledge representation, and learning. You will also learn to
Build AI systems using Deep Learning algorithms.
Analyse sequence data and perform text analytics and Natural Language Processing using Recurrent Neural Networks.
Implement Deep Learning solutions and Image Processing applications using Convolution Neural Networks.
Process and analyse unstructured data such as images, videos and text.
Use various Python libraries such as Keras, TensorFlow and OpenCV to solve AI and Deep Learning problems.
Apply graphical processing units in using Deep Learning algorithms.
Block Your Time
24 hours
Classroom Sessions
60 hours
Assignments &
e-Learning
Who Should Sign Up?
Those aspiring to be Data scientists, or Deep learning and AI experts.
Analytics managers and professionals, Business analysts and developers.
Graduates looking for a career in Machine learning, Deep learning or AI.
Professionals looking for mid-career shift to AI.
Students entering the IT industry.
AI & Deep Learning Training Modules in Malaysia
This Artificial Intelligence module has been conceived and structured to groom consummate AI professionals. This course will be the first stepping stone towards Artificial Intelligence and Deep Learning. In this module, you will be introduced to the analytics programming languages and will attempt to understand the evolution of AI and Deep Learning and learn the various applications and challenges faced in deep learning along with the best practices to overcome the challenges is also explained in detail. While there is a lot of statistical software and programming languages to perform deep learning activities, Python stands out from the rest. There are a lot of deep learning libraries such as Keras, TensorFlow, Theano, PyTorch, etc. and one will learn about Keras as well as TensorFlow as part of the training module.
Artificial Intelligence Trends in Malaysia
AI study and research in Malaysia are getting amazing traction from all corners of the industry as well as the government of Malaysia. The demand for AI professionals has spawned the need for good AI training institutes. The AI training landscape in Malaysia is dotted with a plethora of courses. It is imperative to choose an institute where the faculty have practical experience in developing AI solutions for businesses and research.
360DigiTMG is one such institute that has specialized in emerging technologies like Artificial Intelligence, Machine Learning, Deep Learning, and Data Science. Our faculty spend 70% of their time on live projects and 30% on training. The course curriculum has been developed by industry experts. Students get exposure to live projects with INNODATATICS(US) as part of the course curriculum. In Malaysia, AI professionals command the highest pay packages and the best place to gear up for an AI career is with 360DigiTMG.
How We Prepare You
Additional Assignments of over 60-80 hours

Live Free Webinars

Resume and LinkedIn Review Sessions

3 Month Access to LMS

24/7 Support
Job Assistance in Artificial Intelligence Fields

Complimentary Courses

Unlimited Mock Interview and Quiz Session

Hands-on Experience in a Live Project

Life Time Free Access to Industry Webinars
Call us Today!
+91 9989994319
AI & Deep Learning Course Panel of Coaches
Bharani Kumar Depuru
Areas of expertise: Data Analytics, Digital Transformation, Industrial Revolution 4.0.
Over 14+ years of professional experience.
Trained over 2,500 professionals from eight countries.
Corporate clients include Hewlett Packard Enterprise, Computer Science Corporation, Akamai, IBS Software, Litmus7, Personiv, Ebreeze, Alshaya, Synchrony Financials, Deloitte.
Professional certifications - PMP, PMI-ACP, PMI-RMP from Project Management Institute, Lean Six Sigma Master Black Belt, Tableau Certified Associate, Certified Scrum Practitioner, AgilePM (DSDM Atern).
Alumnus of Indian Institute of Technology, Hyderabad and Indian School of Business.
Read More >
Sharat Chandra Kumar
Areas of expertise: Data Science, Machine Learning, Business Intelligence and Data Visualisation.
Trained over 1,500 professional across 12 countries.
Worked as a Data Scientist for 14+ years across several industry domains.
Professional certifications: Lean Six Sigma Green and Black Belt, Information Technology, Infrastructure Library.
Experienced in Big Data Hadoop, Spark, NoSQL, NewSQL, MongoDB, R, RStudio, Python, Tableau, Cognos.
Corporate clients include DuPont, All-Scripts, Girnarsoft (College-dekho, Car-dekho) and many more.
Read More >
Nitin Mishra
Areas of expertise: Data Science, Machine Learning, Business Intelligence and Data Visualisation.
Over 20+ years of industry experience in Data Science and Business Intelligence.
Trained professionals from Fortune 500 companies and students from prestigious colleges.
Experienced in Cognos, Tableau, Big Data, NoSQL, NewSQL.
Corporate clients include Time Inc., Hewlett Packard Enterprise, Dell, Metric Fox (Champions Group), TCS and many more.
Read More >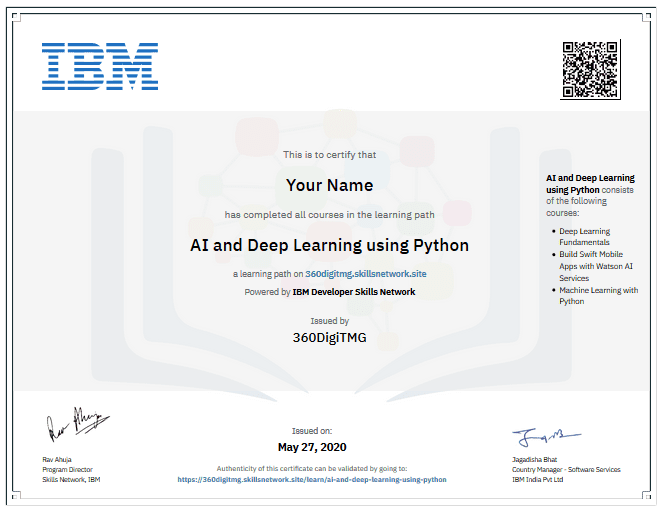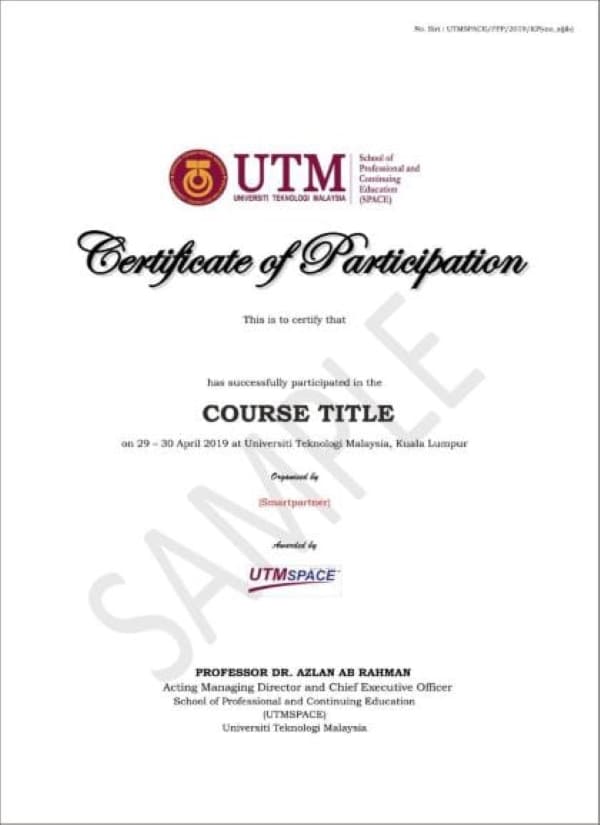 Certificate
Win recognition for your AI skills with the Certificate Programme in AI and Deep Learning. Stand out in this emerging yet competitive field with our certificate.
**All certificate images are for illustrative purposes only. The actual certificate may be subject to change at the discretion of the Certification Body.
Recommended Programmes
3152 Learners
3152 Learners
2117 Learners
FAQs for AI & Deep Learning Course in Malaysia
Jobs in Field of AI & Deep Learning in Malaysia
This course on Artificial intelligence will open doors to many opportunities and is a viable career option as a Machine Learning Researcher/ Engineer, AI Engineer, Data Mining and Analyst, Data scientist, Business Intelligence Developer, and AI Research Scientist.
Salaries in Malaysia for Artificial Intelligence
Those who can work and convert digital pieces of information into human experiences will find a career in artificial intelligence to be rewarding and fruitful in meaningful ways. An expert in Artificial Intelligence (AI) gets an average salary of RM 165k in Malaysia
Artificial Intelligence Projects in Malaysia
Artificial intelligence is giving computers the sophistication to act intelligently and there are many projects in the field of AI that one can take up to tackle common and complex global challenges in various fields like agriculture, healthcare, robotics, marketing, banking, etc.
Role of Open Source Tools in Artificial Intelligence
The various open source tools in AI technologies that can take your projects to the next level are the Python libraries such as Keras, TensorFlow, OpenCV along with tools like R and Rstudio. These are also used to solve AI and Deep Learning problems.
Modes of Training for Artificial Intelligence
The course in Malaysia is designed to suit the needs of students as well as working professionals. We at 360DigiTMG give our students the option of both classroom and online learning. We also support e-learning as part of our curriculum.
Industry Applications of Artificial Intelligence
Industries like healthcare use AI to diagnose and treat medical conditions. The various Chatbots today are powered by AI. Logistics and Transportation also make use of AI to find the quickest shipment route and self-driving vehicles are undoubtedly the next big thing in this arena.
360DigiTMG - Data Science, IR 4.0, AI, Machine Learning Training in Malaysia
Level 16, 1 Sentral, Jalan Stesen Sentral 5, Kuala Lumpur Sentral, 50470 Kuala Lumpur, Wilayah Persekutuan Kuala Lumpur, Malaysia
Artificial Intelligence Certification Course Training in Malaysia - Artificial Intelligence Training in Malaysia, Artificial Intelligence Course in Malaysia, Artificial Intelligence Certification in Malaysia, Artificial Intelligence Institute in Malaysia. Best Artificial Intelligence Training in Malaysia, Best Tableau Training in Malaysia.