Certificate Course in
Industrial Revolution 4.0 Training
IR 4.0 certification program is designed with best practices of IR 4.0 implementation. Decision-makers will appreciate the advantages of the latest technologies through industry-specific use cases and projects.
Get Trained by Trainers from ISB, IIT & IIM
40 Hours of Intensive Classroom & Online Sessions
80+ Hours of Practical Assignments
2 Capstone Live Projects
100% Job Placement Assistance
Access to IR 4.0 Implementation Templates
3152 Learners
The Association of Southeast Asian Nations(ASEAN), has the potential to capture productivity gains worth $217 billion to $627 billion with the Industrial revolution 4.0. Malaysia aspires to be a high-income nation by 2020. To accomplish that, the government has introduced the Economic Transformation Programme (ETP). This will aid Malaysia to triple its Gross National Income (GNI) from RM 650 billion in 2009 to RM 1.8 trillion in 2020. It can be translated as an increase of GNI per capita income from RM 21,770 to at least RM47,500 equivalent to the World Bank's high-income standard. Achievement of High-income status can be envisaged through innovation, higher productivity, novel technology, creativity, and development of the multi and highly skilled workforce. Awareness and thorough knowledge that comes with Industry 4.0 implies that manufacturers can offer better services to their esteemed customers.
IR 4.0
Prerequisites
Computer Skills
Basic Knowledge of Electronics and Industrial Domain
Graduation
IR 4.0 Training Programme Overview
Participants of the Certificate on Industrial Revolution (IR) 4.0 programme will learn about the fundamentals behind IR 4.0 and its applications. The five-day certificate course in Malaysia will expose decision-makers of corporations to technological advancements such as the Industrial Internet of Things (IIoT), Cloud Computing, IaaS, PaaS, SaaS, MBaaS, Big Data, Machine Learning, Autonomous Lean Manufacturing, Artificial Intelligence, Cyber-Physical Systems, Cognitive Computing, Augmented Reality, Blockchain, 3D printing, Robotic Process Automation, Factory 4.0, Uipath Tool and Blue Prism.
IR 4.0 Course Learning Outcomes
Today, almost every industry is changing its course and is becoming more technologically advanced. For this, the top executives, managers, professionals, and employees need to be well aware of the major changes that are taking place in the industry and how these technologies are incorporated at every level. This is exactly what 360DigiTMG's industry revolution certification in Malaysia will help the professionals. Through this course, the top management and other professionals can learn various digital tools and branches like the Internet of Things, Cybersecurity, Automation of processes, Cognitive computing, Cloud computing, Artificial Intelligence, Data Science, Machine learning, etc. With the best trainers, you can learn about the various changes, their principles of incorporation, applications in the real world, and how the business can be molded to accept these changes in a positive manner and how these can bring positive outcomes in a few years of application of the digital ways.
Be familiar with cloud computing and Robotic Process Automation
Understand key technologies related to IoT and industrial applications of Data Analytics
Learn about Cyber Security and Cyber-Systems from the industrial systems perspective
Know the use of Machine Learning and Artificial Intelligence using Big Data
Appreciate the role of leadership combined with technology
Block Your Time
40 hours
Classroom Sessions
80 hours
Assignments &
e-Learning
Who Should Sign Up?
Candidates aspiring to be IR 4.0 consultants
CEOs and Senior Executives
Plant heads, Operations Heads, Line Managers
Employees of Organisations that are planning to implement smart factories
Research and Development Heads
Professionals who want to be a part of an Organisation's change management
Industrial Revolution Certificate Modules
In Industry 4.0, there would be a major paradigm shift due to the amalgamation of internet technologies with advanced technologies. Devices, sensors, machines can communicate with humans with prime technology called the Internet of Things (IoT). This methodology is known as Cyber-Physical Systems(CPS) where every element of the system, machine to machine, machine to human, communicate with each other from the process of manufacturing to utilization. Talents are essentially required with basic knowledge to work in the Industry Revolution for instance knowledge on IT development, processing, and ability to work with multiple interfaces. The industrial revolution is nothing but a digital revolution merging human capacities with advanced technologies. The IR4.0 course in Malaysia is formulated by the best industrial experts with the mission to prepare students to be the required highly skilled workforce. Students will learn about the leading technologies that include AI, Machine learning, Internet of things (IoT), Blockchain, Cloud computing, Augmented reality, and many more. This module emphasizes concepts like Automation, Big Data Analytics, RPA, and Cybersecurity. By hands-on training under the guidance of a dedicated team of trainers, students will be acquainted with various applications of IR4.0 much needed to grab the worthy jobs in various technology-driven industries.
IR 4.0 Trends in Malaysia
Malaysia is one of the countries escalating with Industrial Revolution 4.0. The crucial technology of IR4.0 is Artificial Intelligence, it is used to enable machines to interact with humans. RPA -Robotic Process Automation is another rising technology. This is used to automate the working process where a high amount of physical energy is required like repetitive tasks, depending on rules, a large volume of work, etc. Another technology of IR4.0 is cloud computing for securing and processing data. The IoT internet of things is escalating as every smart device is connected to the internet. We can observe the expansion of IR 4.0 in Cybersecurity in minimizing the cyber attacks and in 3D printing. Other advanced technologies of IR4.0 include virtual reality, augmented reality, and Big data Analytics. Big data Analytics helps to collect data, analyze it, and give better insights.
Malaysians are geared up to become a game-changer in this new revolution, especially in the Manufacturing and Automation sectors. As Malaysia is a consumer country, it will reach heights in becoming a smart manufacturing country through affordable and speed internet access. To be a leader in manufacturing technology products, IR 4.0 should be provided with high processing power and data storage capabilities. These factors help any smart device to work with a variety of functions. Many advancements of IR4.0 are remarkably noticed in Banking and Education sectors. The benefits gained from IR 4.0 to industries are an increase in productivity, cost reduction, innovation, agility, revenue generation, and satisfying customer experience. By leveraging on Industry Revolution 4.0 technologies, companies can achieve their goals without compromising on quality, time, or cost.
How We Prepare You
Additional Assignments of over 80+ hours

Live Free Webinars

Resume and LinkedIn Review Sessions

Lifetime LMS Access

24/7 Support
Job Assistance in Industrial Revolution Fields

Complimentary Courses

Unlimited Mock Interview and Quiz Session

Hands-on Experience in Live Projects

Life Time Free Access to Industry Webinars
Call us Today!
+91 9989994319
Industrial Revolution Course Panel of Coaches
Bharani Kumar Depuru
Areas of expertise: Data analytics, Digital Transformation, Industrial Revolution 4.0
Over 14+ years of professional experience
Trained over 2,500 professionals from eight countries
Corporate clients include Hewlett Packard Enterprise, Computer Science Corporation, Akamai, IBS Software, Litmus7, Personiv, Ebreeze, Alshaya, Synchrony Financials, Deloitte
Professional certifications - PMP, PMI-ACP, PMI-RMP from Project Management Institute, Lean Six Sigma Master Black Belt, Tableau Certified Associate, Certified Scrum Practitioner, AgilePM (DSDM Atern)
Alumnus of Indian Institute of Technology, Hyderabad and Indian School of Business
Read More >
Sharat Chandra Kumar
Areas of expertise: Data sciences, Machine learning, Business intelligence and Data visualisation
Trained over 1,500 professional across 12 countries
Worked as a Data scientist for 14+ years across several industry domains
Professional certifications: Lean Six Sigma Green and Black Belt, Information Technology Infrastructure Library
Experienced in Big Data Hadoop, Spark, NoSQL, NewSQL, MongoDB, R, RStudio, Python, Tableau, Cognos
Corporate clients include DuPont, All-Scripts, Girnarsoft (College-dekho, Car-dekho) and many more
Read More >
Nitin Mishra
Areas of expertise: Data sciences, Machine learning, Business intelligence and Data visualisation
Over 20+ years of industry experience in data science and business intelligence
Trained professionals from Fortune 500 companies and students at prestigious colleges
Experienced in Cognos, Tableau, Big Data, NoSQL, NewSQL
Corporate clients include Time Inc., Hewlett Packard Enterprise, Dell, Metric Fox (Champions Group), TCS and many more
Read More >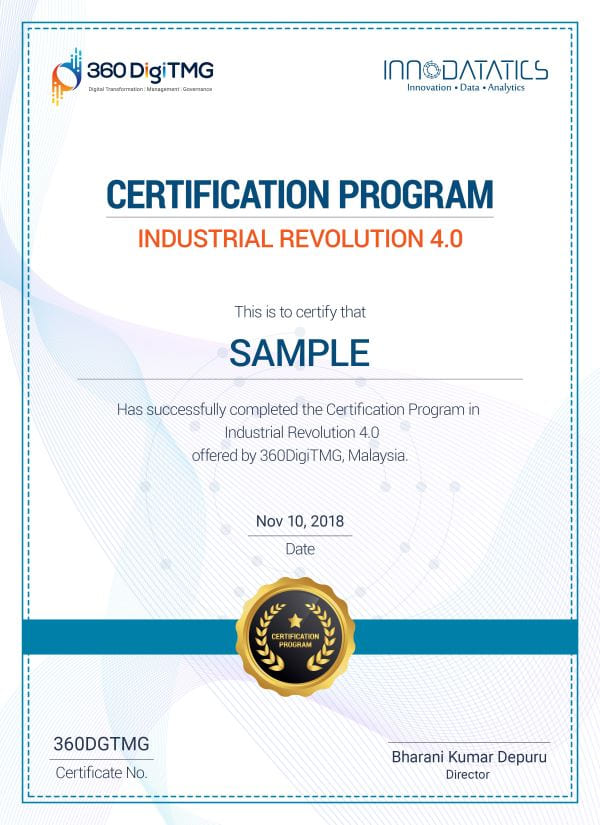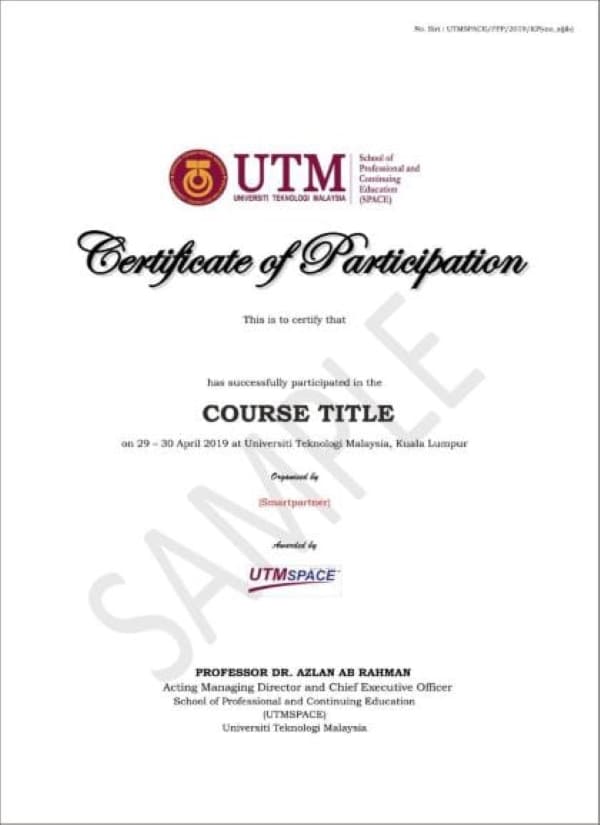 Certificate
Demonstrate your knowledge and understanding of the latest technologies for industrial use with the Certificate on Industrial Revolution 4.0. Boost your confidence and improve your influence within the organisation.
**All certificate images are for illustrative purposes only. The actual certificate may be subject to change at the discretion of the Certification Body.
Recommended Programmes
3152 Learners
3152 Learners
2117 Learners
FAQs on Industry 4.0 Certificate Training
Jobs in the Field of IR 4.0 in Malaysia
In the domains of IT and software development, there is a great demand for IT solution developers, UI designers, Software engineers, Data Scientists, Cloud Computing Analysts, and so on. Individuals with knowledge of Artificial Intelligence and Machine learning are in great demand.
Salaries in Malaysia for IR 4.0
The average salary for an embedded Software Engineer with advanced skills in Malaysia is RM 39,857 in early career and the average salary at Mid-Career can be expected up to RM 78,658.
IR 4.0 Projects in Malaysia
Many projects are being carried out in the domains which include Automation, Education, preparing Workforce, Health care, Banking, Tourism, Transportation, and many more.
Role of Open Source Tools in IR 4.0
In the IR 4.0 course, much emphasis is given on the tools that include R, R studio, Python, Hadoop, Spark, UI path, and so on.
Modes of Training in IR 4.0
360DigiTMG offers quality training with industrial experts. Get the best training from both online and classroom sessions.
Industry Applications of IR 4.0 in Malaysia
IR 4.0 is emerging extremely and is forging majorly towards industries that include Automation, Health care, Banking, Transportation, Infrastructure, Manufacturing, E.ducation, Hotels, etc