Certificate Course in
Robotic Process Automation (RPA)
Automate your vital business processes and reduce cost with the Certification Programme in Robotic Process Automation from 360DigiTMG
Get Trained by Trainers from ISB, IIT & IIM
40+ Hours of Intensive Classroom & Online Sessions
80+ Hours of Practical Assignments
100% Job Placement Assistance
3152 Learners
"The Global Robotic Process Automation (RPA) market is expected to generate $8,692.8 million in revenues by 2023. Organizations are increasingly adopting RPA to improve process efficiency and reduce cost." - (Source). The Malaysian Investment Development Authority (MIDA) is profusely encouraging organizations to galvanize and spur their journey from traditional to digital. As such, one of the major initiatives is the implementation of Robotic Process Automation( RPA) in their business to add value to their services. RPA is an emerging technology in many industries because of its varied advantages like working at greater speed, quality, compliance, efficiency, and cost-effective for organizations in the digital era. This technology is predicted to have a great economic impact with a range of $5.3 billion to $6.7 trillion by 2025, as per expert reports.
Robotic Process Automation (RPA)
Prerequisites
Computer Skills
Basic Programming Knowledge
RPA Course Programme Overview
This course begins with an introduction to the Robotic Process Automation framework with special focus on the UiPath Tool. Training is imparted on Robotic Automation Framework, workflow designer panel and types of workflows (sequences, flowcharts, state machines), data manipulation using variables, data types and managing arguments. The recording feature (automatic recording and manual recording), screen scraping, data scraping, selectors (Full and Partial selectors) are also dealt with in detail. The types of automation such as image and text automation, Citrix automation, SAP automation, Excel, PDF and email automation are elaborated in this course. Special focus is given to Debugging and Exception Handling, the UiPath Orchestrator and the Robotic Enterprise Framework.
RPA Training Learning Outcomes
The data flow has increased considerably in the last few years due to the collection of the data becoming a major field, which involves data entry and data recording. While this work is a very important part of the data industry, it is also very stressful and repetitive. A robotic process automation course at 360DigiTMG Malaysia can help you understand various models and methods on automating the data entry work which will help to process and analyze the data at a much quicker pace. To learn robotic process automation, you don't need to have any kind of previous training or skill, but having logical understanding, analytical mindset and problem-solving skills can be helpful. You can learn about various robotic process automation techniques that involve software robotics and the user interface of robotic process automation tools. Having an avid knowledge about RPA can show a reduction in data entry errors and layering of data, reduce the requirement of manpower, increase the effectiveness of data flow, and improve the digitization of work techniques.
Provide RPA solutions to repetitive tasks and create an agile digital workforce
Comprehend the concepts of process layers and error management
Reduce manpower in organizations and create HR efficiency
Reduce error rates and thus improve data quality provided to analytics
Create a standard workflow for processes that follow a set protocol
Block Your Time
40 hours
Classroom Sessions
80 hours
Assignments &
e-Learning
Who Should Sign Up?
Keen logical reasoning skills
Quick learners who have wide spectrum capabilities
Trouble shooters who have worked in chaotic environments
RPA Training Course Modules
360DigiTMG has formulated the RPA course modules meticulously with industrial experts. The primary modules deals with the introduction of RPA, user interface. The module focuses on the UiPath tool and its applications. Students will learn Control flow, State machines, Flow charts, etc. Understand about Recording and Advanced Ui Automation. Learn recording types like automating recording, manual recording with real-time examples. Learn about different types of variables like Managing variables, Text variables, Data and Time variables, etc. Understand the importance of Automation and learn about Citrix Automation and Advanced Citrix Automation. Many mega tech companies are leveraging on RPA to increase productivity and shifting human resources to focus on higher-value work. Malaysia is gathering all the strategies to boost their RPA projects and escalate their RPA capabilities enterprise-wide from IT to the Manufacturing Sector. There is a great demand for RPA developers in the market.
RPA Trends in Malaysia
Malaysia is rapidly adopting new technologies to lead in the race, one of the technology is Robotic process Automation, where it has already started implementing in many sectors especially in Manufacturing. Let's peek into some latest trends that are emerging from RPA. There will be an incredible rise in the adoption of RPA, in all enterprises. Many RPA bots will be deployed where repetitive tasks are performed by humans. This can be envisaged by many companies are coming ahead in spending on RPA software. As per Forrester predictions, the RPA software market will reach up to $2.8 billion in 2021. Another modern trend of RPA is that RPA bots will be soon used as a tool for risk management and security. RPA bots have much potential to reduce human error and can handle efficiently data-intensive tasks, helping humans to concentrate on higher-value work. Many organizations will start using RPA bots as effective barriers that provide accuracy and decrease the chances of any internal data leaks.
Another technology which is prevailing is Process Mining. PPA supports Process Mining to break complex problems and has the potential to be streamlined. The other popular technology trend will be Artificial Intelligence. Many projects will get automated linking with AI, this will have benefits like reduction of cost, generation of revenue, and satisfactory customer experience. Intelligent automation is the latest buzz which means combining automation with cognitive AI and Machine learning. In 2020, engineers will pair rules-based RPA with AI-powered automation, this approach enables them to find new value in operational efficiency and reduction of errors. This intelligent automation will propel in 2020 and deliver distinct results to companies that are willing to make automation has a crucial component of their digital transformation.
How We Prepare You
Additional Assignments of over 80+ hours

Live Free Webinars

Resume and LinkedIn Review Sessions

3 Month Access to LMS

24/7 Support
Job Assistance in RPA Fields

Complimentary Courses

Unlimited Mock Interview and Quiz Session

Hands-on Experience in a Live Project

Life Time Free Access to Industry Webinars
Call us Today!
+91 9989994319
RPA Certificate Panel of Coaches
Bharani Kumar Depuru
Areas of expertise: Data Analytics, Digital Transformation, Industrial Revolution 4.0.
Over 14+ years of professional experience.
Trained over 2,500 professionals from eight countries.
Corporate clients include Hewlett Packard Enterprise, Computer Science Corporation, Akamai, IBS Software, Litmus7, Personiv, Ebreeze, Alshaya, Synchrony Financials, Deloitte.
Professional certifications - PMP, PMI-ACP, PMI-RMP from Project Management Institute, Lean Six Sigma Master Black Belt, Tableau Certified Associate, Certified Scrum Practitioner, AgilePM (DSDM Atern).
Alumnus of Indian Institute of Technology, Hyderabad and Indian School of Business.
Read More >
Sharat Chandra Kumar
Areas of expertise: Data Science, Machine Learning, Business Intelligence and Data Visualisation.
Trained over 1,500 professional across 12 countries.
Worked as a Data Scientist for 14+ years across several industry domains.
Professional certifications: Lean Six Sigma Green and Black Belt, Information Technology, Infrastructure Library.
Experienced in Big Data Hadoop, Spark, NoSQL, NewSQL, MongoDB, R, RStudio, Python, Tableau, Cognos.
Corporate clients include DuPont, All-Scripts, Girnarsoft (College-dekho, Car-dekho) and many more.
Read More >
Nitin Mishra
Areas of expertise: Data Science, Machine Learning, Business Intelligence and Data Visualisation.
Over 20+ years of industry experience in Data Science and Business Intelligence.
Trained professionals from Fortune 500 companies and students from prestigious colleges.
Experienced in Cognos, Tableau, Big Data, NoSQL, NewSQL.
Corporate clients include Time Inc., Hewlett Packard Enterprise, Dell, Metric Fox (Champions Group), TCS and many more.
Read More >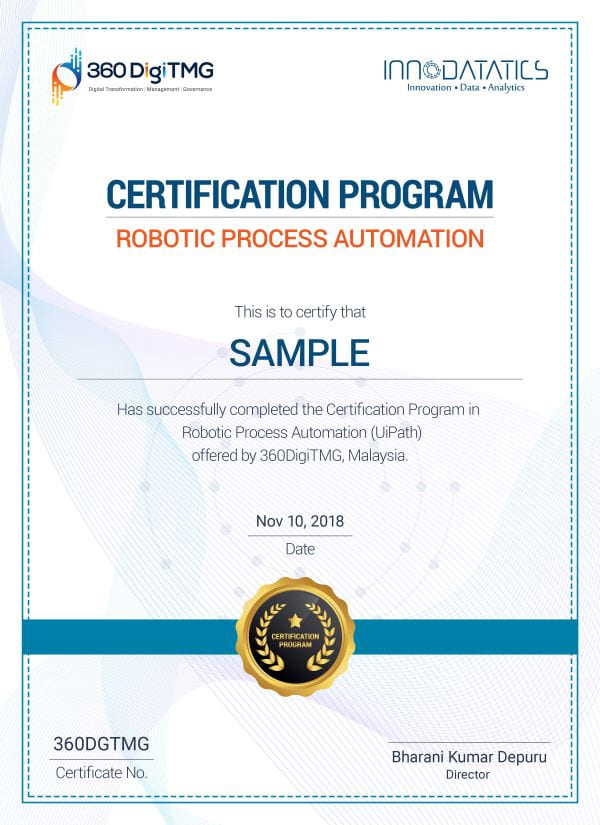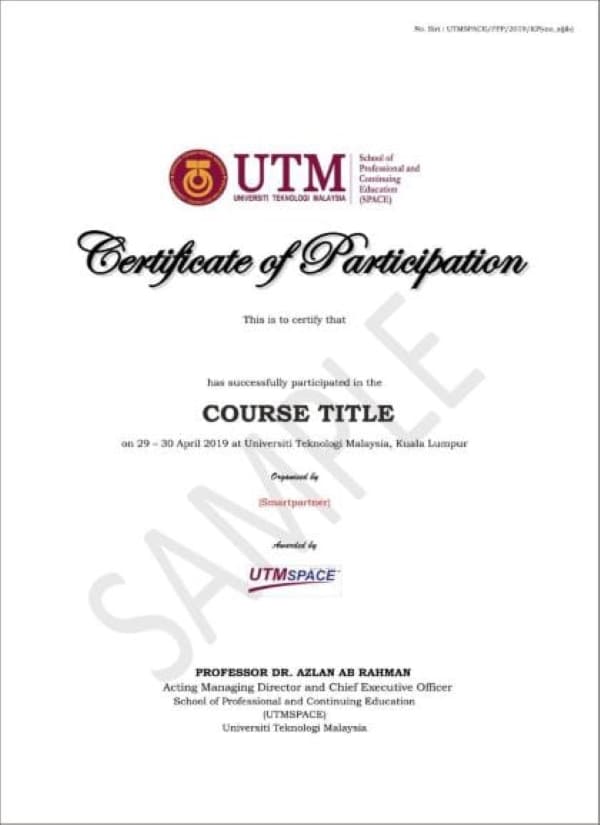 Certificate
Earn a certificate from 360DigiTMG Malaysia and distinguish yourself in the job market. This certificate in Robotic Process Automation is your passport to an accelerated career path.
**All certificate images are for illustrative purposes only. The actual certificate may be subject to change at the discretion of the Certification Body.
Recommended Programmes
3152 Learners
3152 Learners
2117 Learners
FAQs for Robotic Process Automation Course
Jobs in the Field of RPA in Malaysia
Job titles in RPA are RPA Developer, RPA Business Analyst, RPA lead, UiPath Lead, RPA Tech Lead, RPA Automation Anywhere Developer, RPA Infra Architect/ Engineer, and many more.
Salaries in Malaysia for RPA
At early career an Automation Engineer with 1-4 years of experience earns an average salary of RM 47,000, at mid-career with 5-9 years of experience earns an average salary of RM 85,828.
RPA Projects in Malaysia
Many companies will embrace their software with tailored RPA that will be used to accomplish their needs. Sectors like Manufacturing, Banking, Finance, Retail are adopting RPA.
Role of Open Source Tools in RPA
UiPath is an important tool deployed for RPA. Students are required to learn Python for better understanding.
Modes of Training in RPA
360DigiTMG offers quality training with a dedicated team of trainers and provides 1:1 mentorship. Get the best training through online and classroom sessions.
Industry Applications of RPA in Malaysia
Robotic Process Automation is being used extensively in main sectors like Finance, Health care, Banking, Manufacturing, Telecommunications, Insurance, Utilities, and so on.