Certificate Program in
Cyber Security Analytics
Boost your career in the space of security & privacy with CyberSecurity analytics training, it is devised to help participants build predictive modeling products & solutions to counter cyber-attacks.
Get Trained by Trainers from ISB, IIT & IIM
40 Hours of Intensive Classroom & Online Sessions
60+ Hours of Practical Assignments
2 Capstone Live Projects
100% Job Placement Assistance
3152 Learners
"With the boom in the need for cybersecurity workers, Malaysia needs to train 10,600 cybersecurity professionals by 2020." - (Source). With the rapid growth of technology and IoT, there are occurrences of a data breach and causing cyber threats against many organizations. Research on cybersecurity incidents revealed that there is a substantial economic loss to the countries. The Asia Pacific CISO informed that Malaysia is improving its cybersecurity by imbibing advanced technologies. As cyber threats are growing, organizations are adopting analytics and automation to safeguard their data from cyber-attacks, and this aids cyber specialists in their work. Advanced methodologies and technologies to strengthen cybersecurity include Artificial Intelligence, Machine Learning, Contextual, behavioral analysis, big data security analytics, next-generation defense mechanisms. This will enable Cybersecurity analysts to detect and provide insights about cyber attacks and threat actors and protect AI models against cyber threats by adaptive adversaries.
Cyber Security Analytics
Prerequisites
Computer Skills
Basic Mathematical Concepts
Computer Networks
Cyber Security Analytics Training Overview
This certification course in cybersecurity is replete with details of cybersecurity attacks and applications of Data Science, AI and Deep Learning in cybersecurity. It is designed by experts who work in the space of security and privacy and having rich industry experience handling data security. After this program, the student will be proficient in the applications of descriptive and predictive analytics, times series and forecasting in cybersecurity. The deployment of unsupervised learning techniques for Network Anomaly Detection is detailed. Apprehend machine learning for malware detection and lazy learning for fingerprint classification. Understand the concepts of project management of any data science project.
Cyber Security Analytics Training Outcomes
360DigiTMG offers the best Cyber Security Analytics course in Malaysia. This course provides the relevant skills to the students that ensure them to get lucrative jobs. Students will get acquainted with the latest technologies and their applications in Cybersecurity. Learn about primary applications of Data Science and Artificial Intelligence. Learn about Machine learning techniques, applications of descriptive and predictive analytics in Cybersecurity. Gain knowledge about forecasting and application of time series. This course is designed to train students with the advanced knowledge as per the industry requirements.
Learn about the various cyber security attacks
Learn about applications of data science & AI in cyber security
Machine learning for various malware detection
Develop an understanding of descriptive and predictive analytics in cyber security
Applications of time series / forecasting in cyber security
Deep Learning in building AI applications in cyber security
Unsupervised learning application in the space of cyber security
World of opportunities in the space of cyber security analytics
Block Your Time
40 hours
Classroom Sessions
60 hours
Assignments &
e-Learning
Who Should Sign Up?
Internal Auditors
CFO/Director/Head of Accounting
Business Analysts
Data Analysts
Banking and Accounting Analysts
Certified Financial Analysts
Credit Analysts
Financial Advisors
Math, Science and Commerce Graduates
Cyber Security Analytics Course Modules
Cyber Security modules are formulated by industry experts who have extensive years of experience. The primary module consists of the basics of cybersecurity analytics. Students will learn about various challenges, the applications of Machine learning in analytics. Learn about Data Science, Artificial Intelligence, and predictive modeling techniques that include Spam detection, Phishing Page detection, Malware Detection, etc. learn about the kernel-based method and application of ensemble techniques in detecting cyber attacks. Concepts have elaborated that include Brute force classification. Learn various adversarial attacks and GANs in image classification and concepts of CAPTCHAs. Understand about DDoS attacks and applications of clustering - K-Means in detecting malware. Learn to detect viruses and hackers by IoT sensors. Students will be thoroughly trained by providing them with industrial relevant case studies. By Hands-on experience, students will be able to handle business challenges.
Cyber Security Analytics Trends in Malaysia
The occurrence of Cyberthreats is becoming high as technology and the internet have evolved over the last 10 years. To overcome these cyberthreats many advanced technologies are emerging. One of them is Artificial Intelligence, it can harness the power of data and can give incredible insights to fight against cybercrimes. It identifies the hidden patterns and analyses them by which we can act quickly. The protection of supply chains will be essential for vendors to safeguard their customer's data. As more than 75 billion mobile devices are being used globally which are lacking updated software, unsecured devices, etc. this will act as vectors for cyber attackers. By 2022 half of data will be generated and processed at the edge or cloud. The best solution from such kinds of attacks is to protect supply chains and multifactor authentication.
Though many companies are coming forward with the best cybersecurity services, well-trodden attacks like phishing are still taking place. A hybrid cloud is a key solution to it as it provides enhanced safety. It allows Artificial intelligence to draw insights about any occurring threat. Public cloud is also used to safeguard by sign-in location checks or secondary authentication controlling traffic. At present two-thirds of companies are on hybrid cloud and few are planning to deploy them in the future. We can expect that this trend will continue further. Another trend is Multifactor authentication, which reduces the risk of identity by 99%. Usage of biometrics and identity-based certificates will escalate safety and streamline the user experience for organizations. ensuring personal privacy. As advanced technologies are evolving to fight against cyber crimes, professionals who have adequate knowledge of cybersecurity analytics will have a huge demand to fit into this.
How We Prepare You
Additional Assignments of over 60+ hours

Live Free Webinars

Resume and LinkedIn Review Sessions

Lifetime LMS Access

24/7 Support
Job Placements in Cyber Security Analytics Fields

Complimentary Courses

Unlimited Mock Interview and Quiz Session

Hands-on Experience in Live Projects

Life-Time Free Access to Industry Webinars
Call us Today!
+91 9989994319
Cyber Security Analytics Course Panel of Coaches
Bharani Kumar Depuru
Areas of expertise: Data analytics, Digital Transformation, Industrial Revolution 4.0
Over 14+ years of professional experience
Trained over 2,500 professionals from eight countries
Corporate clients include Hewlett Packard Enterprise, Computer Science Corporation, Akamai, IBS Software, Litmus7, Personiv, Ebreeze, Alshaya, Synchrony Financials, Deloitte
Professional certifications - PMP, PMI-ACP, PMI-RMP from Project Management Institute, Lean Six Sigma Master Black Belt, Tableau Certified Associate, Certified Scrum Practitioner, AgilePM (DSDM Atern)
Alumnus of Indian Institute of Technology, Hyderabad and Indian School of Business
Read More >
Sharat Chandra Kumar
Areas of expertise: Data sciences, Machine learning, Business intelligence and Data visualisation
Trained over 1,500 professional across 12 countries
Worked as a Data scientist for 14+ years across several industry domains
Professional certifications: Lean Six Sigma Green and Black Belt, Information Technology Infrastructure Library
Experienced in Big Data Hadoop, Spark, NoSQL, NewSQL, MongoDB, R, RStudio, Python, Tableau, Cognos
Corporate clients include DuPont, All-Scripts, Girnarsoft (College-dekho, Car-dekho) and many more
Read More >
Nitin Mishra
Areas of expertise: Data sciences, Machine learning, Business intelligence and Data visualisation
Over 20+ years of industry experience in data science and business intelligence
Trained professionals from Fortune 500 companies and students at prestigious colleges
Experienced in Cognos, Tableau, Big Data, NoSQL, NewSQL
Corporate clients include Time Inc., Hewlett Packard Enterprise, Dell, Metric Fox (Champions Group), TCS and many more
Read More >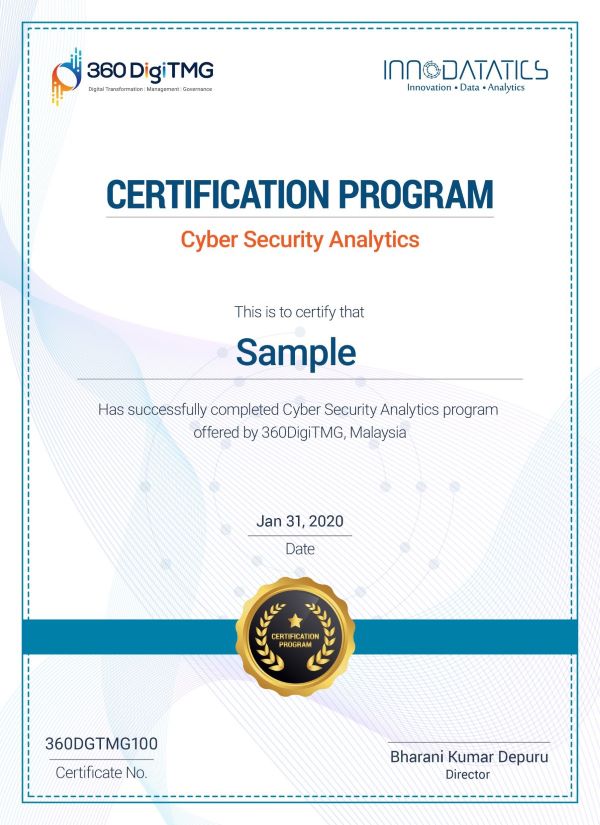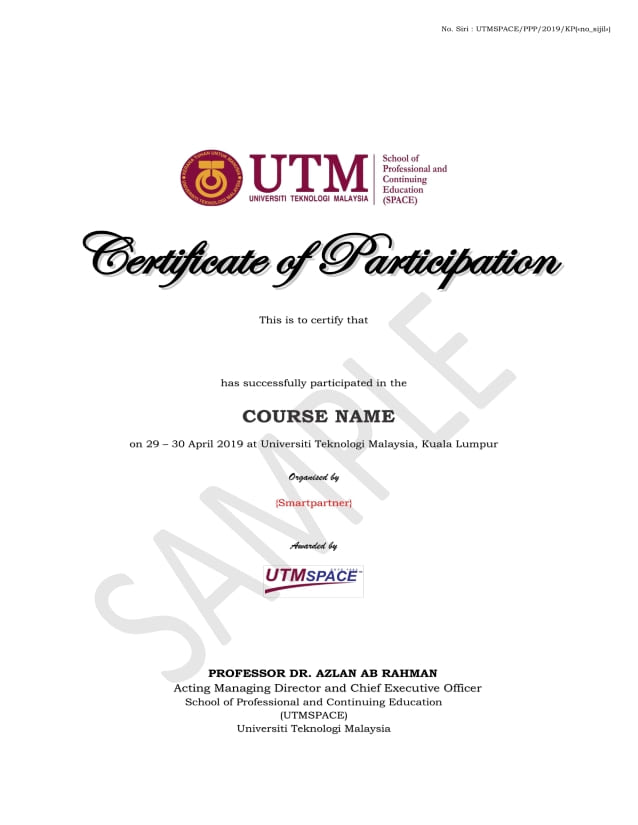 Certificate
Earn a certificate and demonstrate your commitment to the profession. Use it to distinguish yourself in the job market, get recognised at the workplace and boost your confidence. The Data Science in Cyber Security Analytics Certificate is your passport to an accelerated career path.
**All certificate images are for illustrative purposes only. The actual certificate may be subject to change at the discretion of the Certification Body.
Recommended Programmes
3152 Learners
3152 Learners
2117 Learners
FAQs for Cyber Security Analytics Programme
Jobs in the Field of Cyber Security Analytics in Malaysia
Job titles available for Cyber Security Analytics are Cybersecurity Analyst, Cyberthreat Intelligence Analyst, Cyber and information security Analyst, Security operations analyst, Senior security analyst.
Salaries in Malaysia for Cyber Security Analytics
The average salary at entry-level for Security Analyst in Malaysia will be RM 45,500, mid-career RM75,350, and for experienced it will increase. This varies according to the roles and responsibilities.
Cyber Security Analytics Projects in Malaysia
Many projects are being carried out in the sectors which include automation, Defence services, Banking which have a potential impact from cyber-attacks.
Role of Open Source Tools in Cyber Security Analytics
Cyber Security Analytics is operated with tools named Python, R, and R studio. Students will be exposed to the fundamentals and applications of these prime tools.
Modes of Training in Cyber Security Analytics
360DigiTMG offers students the option of both classroom and online learning. We also support e-learning as part of our curriculum.
Industry Applications of Cyber Security Analytics in Malaysia
Cyber Security Analytics has great potential in industries like Automation, Health care, Transportation, Banks, Military services, Manufacturing, Retail, Financial, and so on.