Professional Certificate in
Financial Analytics Course
Become an expert in Financial Analytics with 'Certification Course in Financial Analytics'. Boost your career in the space of FSI with Statistical Analysis, Machine Learning, Predictive Analytics, and many more.
Get Trained by Trainers from ISB, IIT & IIM
40 Hours of Intensive Classroom & Online Sessions
60+ Hours of Practical Assignments
Receive Certificate from Technology Leader - IBM
2 Capstone Live Projects
100% Job Placement Assistance
3152 Learners
"The global financial analytics market is expected to grow to USD 11.4 billion and the Financial Analytics market size for the South East Asian Region is $2.4 billion." - (Source). Banking and Financial sectors are moving rapidly towards digitization to intensify their customer experience and to gain a competitive edge. Malaysia is one of the fast-moving countries which is keen on adopting the latest innovations to boost its economy. As per the report published by Ernst & Young, up to 67% of Malaysian banks are going to witness digital maturity by the end of 2020. To be relevant in this competitive world, banks have to transform their operations from manual to digital at front and back end IT operations. This helps the banks to strengthen their customer base and smooth operation of the business. There is a prominent demand for Financial Analytics professionals to deploy the operations primarily in the Banking and Financial Sectors.
Financial Analytics
Prerequisites
Computer Skills
Basic Mathematical Concepts
Finance Basics
Financial Analytics Training Programme Overview
The Certification Program in Financial Analytics is a sui generis attempt to blend Machine Learning solutions for traditional finance problems. Specifically designed to suit the financial service industry (FSI) professionals, it may also add value to data professionals. According to this Bloomberg article, through Natural Language Processing techniques JPMC software reviewed legal documents in seconds what lawyers took 360,000 hours to do! This is one of the many incredible examples of machine learning and artificial intelligence in the Finance Industry. Understanding the applications of Data Science, Machine Learning to FSI will be the prime objective of this content-rich program. Having a deep appreciation for Financial Analytics is imperative for the success of various Banks, Insurance Firms and Financial Institutions at large.
Financial Analytics Certificate Learning Outcomes
360DigiTMG in Malaysia offers the best training in Financial Analytics. This course will help individuals to boost their career in the Financial sector. The course is trained by highly experienced professionals and assistance is given by a dedicated team of mentors. This course is designed perfectly to meet the requirements of students and working professionals. This is one of the best courses for those who want to reach heights in their career and grab lucrative opportunities. This course will enhance the required skills as per the market trends. A lot of emphases is given on important topics such as Financial Risk Analytics using Time series forecasting, various kinds of Analytics, Applications of Data Optimization, and many more. The concepts are dealt with real-time use cases so that the students can understand the exact work environment.
Financial Services Insurance overview
Understand various Financial Analytics Pricing Models
Get acquainted with Financial Securities Analytics
Financial Risk Analytics using Time Series Forecasting
Develop an understanding of descriptive and predictive analytics
Apply data-driven, machine learning approaches for business decisions
Applications of Data Optimization in Financial Services Industry
Use data visualisation concepts to represent data for easy understanding
Block Your Time
40 hours
Classroom Sessions
60 hours
Assignments &
e-Learning
Who Should Sign Up?
Financial Analysts
CFO/Director/Head of Finance
Business Analysts
Data Analysts
Risk Managers
Certified Financial Analysts
Credit Analysts
Financial Advisors
Math, Science and Commerce Graduates
Financial Analytics Course Modules
Financial Analytics course in Malaysia is delivered by 360DigiTMG, the best training institute in Malaysia. The modules of the course are finely designed to meet industry trends. This course helps students to achieve their goals and accomplish their dreams. Financial Analytics course modules cover all the important concepts which are beneficial for the students to be the much-needed workforce. In these modules, students will understand the various sectors and domains within the FSI industry. Understand terminologies, Data Analytics, and its applications in Banking, Finance, and other sectors. Learn Financial Analytics related to Data Science, Machine Learning, and Artificial Intelligence. Learn in-depth various concepts such as Capital Allocation Line and Optimal Portfolio. Students will learn the preliminaries of Data Optimization and Data Simulation. Hands-on experience with real projects will guide students to acquire knowledge on concepts like Monte Carlo method of pricing, European call options, Connected Banks, Fly-in Financial Markets, Open banking, and Data Sharing. The other modules of the course will emphasize topics such as mean standard deviation, mean-variance, frontier, etc. Students will also learn about Rasa NLU. This course will ensure that students will be updated with the latest developments and innovations in the field of Financial Analytics.
Financial Analytics Course Trends in Malaysia
Digitalization and automation are giving many flexible options in the Banking and Financial sectors in Malaysia. 67% of banks are thriving to transform digitally by 2020. Several banking services have moved to online mode in few years, and this step has impacted a lot in every aspect of Banking and Financial Services in the country of Malaysia from the development of products to departments of compliance and contact centers. Virtual banking is going to become a reality very soon. E-wallets are in the developing stage. For semi-cashless systems, WeChat Pay MY with the support of the government initiated many programs. Banks are very much open to create internal tech teams that include Analytics, User interface, and experts to digitalize internal processes and services. Cloud-based financial services are booming and are great in demand.
It provides many benefits such as scalability, speed of deployment, available at 24/7, less maintenance, and low installation costs. Many Financial Analytics providers are merging with big cloud service providers such as AWS, IBM, and Google for enhancing their customer base and improving their potentials. The adoption of Artificial Intelligence in the Financial sector can significantly result in building trust, resilience, and accuracy. Various verticals are depending on Artificial Intelligence and Machine Learning operations to strengthen their compliance frameworks, enhance their investment decision-making processes, and quick fraud detection skills. The advanced analysis produced by Artificial Intelligence and Machine Learning solutions would increase portfolio management processes and drive profits.
How We Prepare You
Additional Assignments of over 60+ hours

Live Free Webinars

Resume and LinkedIn Review Sessions

Lifetime LMS Access

24/7 Support
Job Placements in Financial Analytics Fields

Complimentary Courses

Unlimited Mock Interview and Quiz Session

Hands-on Experience in Live Projects

Life Time Free Access to Industry Webinars
Call us Today!
+91 9989994319
Financial Analyst Training Panel of Coaches
Bharani Kumar Depuru
Areas of expertise: Data Analytics, Digital Transformation, Industrial Revolution 4.0.
Over 14+ years of professional experience.
Trained over 2,500 professionals from eight countries.
Corporate clients include Hewlett Packard Enterprise, Computer Science Corporation, Akamai, IBS Software, Litmus7, Personiv, Ebreeze, Alshaya, Synchrony Financials, Deloitte.
Professional certifications - PMP, PMI-ACP, PMI-RMP from Project Management Institute, Lean Six Sigma Master Black Belt, Tableau Certified Associate, Certified Scrum Practitioner, AgilePM (DSDM Atern).
Alumnus of Indian Institute of Technology, Hyderabad and Indian School of Business.
Read More >
Sharat Chandra Kumar
Areas of expertise: Data Science, Machine Learning, Business Intelligence and Data Visualisation.
Trained over 1,500 professional across 12 countries.
Worked as a Data Scientist for 14+ years across several industry domains.
Professional certifications: Lean Six Sigma Green and Black Belt, Information Technology, Infrastructure Library.
Experienced in Big Data Hadoop, Spark, NoSQL, NewSQL, MongoDB, R, RStudio, Python, Tableau, Cognos.
Corporate clients include DuPont, All-Scripts, Girnarsoft (College-dekho, Car-dekho) and many more.
Read More >
Nitin Mishra
Areas of expertise: Data Science, Machine Learning, Business Intelligence and Data Visualisation.
Over 20+ years of industry experience in Data Science and Business Intelligence.
Trained professionals from Fortune 500 companies and students from prestigious colleges.
Experienced in Cognos, Tableau, Big Data, NoSQL, NewSQL.
Corporate clients include Time Inc., Hewlett Packard Enterprise, Dell, Metric Fox (Champions Group), TCS and many more.
Read More >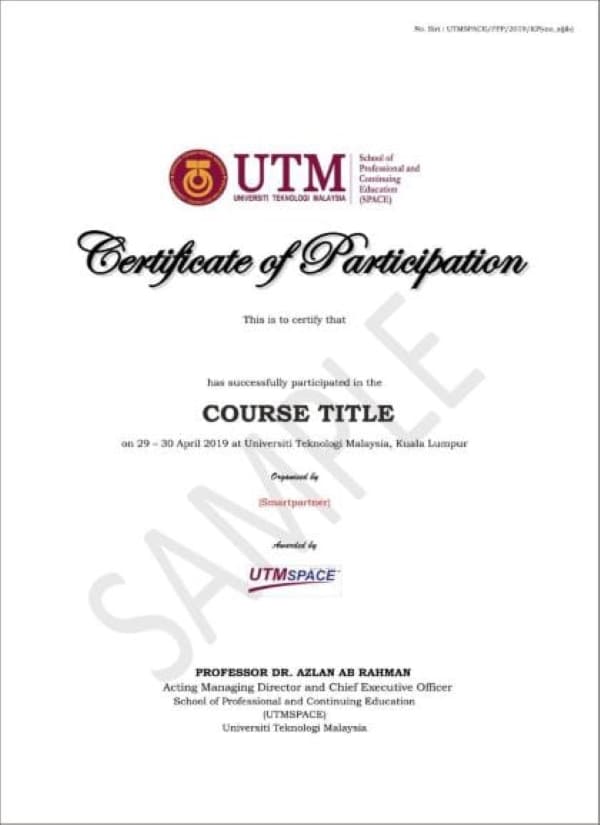 Certificate
Earn a certificate and demonstrate your commitment to the profession. Use it to distinguish yourself in the job market, get recognised at the workplace and boost your confidence. The Data Science in Financial Analytics Certificate is your passport to an accelerated career path.
**All certificate images are for illustrative purposes only. The actual certificate may be subject to change at the discretion of the Certification Body.
Recommended Programmes
3152 Learners
3152 Learners
2117 Learners
FAQs for Financial Analysis Certificate Program
Jobs in the Field of Financial Analytics
The job roles for Financial Analytics are Financial Analyst, Credit risk Analytics Manager, Senior Financial Analyst and henceforth.
Salaries for Financial Analytics Professionals
The average salary for a Financial Analyst at entry-level will be RM 35,823, for mid-level it is RM 61,440, and for experienced it will be RM 82,441 approximately in Malaysia.
Financial Analytics Course Projects
Many innovative projects are being carried in the Financial and Banking sectors. Blockchain technology is being developed to boost the operational efficiency in Banks for better customer service.
Role of Open Source Tools in Financial Analytics
Students are required to have adequate knowledge of the important tools that include Python, R, R Studio, and Jupyter.
Modes of Training for Financial Analytics Course
360DigiTMG offers classroom sessions and online sessions with flexible timings suited for working professionals. Individual attention is guaranteed.
Industry Application of Financial Analytics Course
Financial Analytics plays a crucial role in the sectors including Banks, Telecom, Energy and Utilities, Manufacturing, Automotive, Health care, Retail, E-commerce, Media, Transportation, Transportation, and many more.