Certificate Course in
Life Sciences and HealthCare Analytics Program
Launch your career in LSHC Analytics with our certification program in Life Sciences and HealthCare Analytics course. Learn Statistical Analysis, Machine learning, Predictive Analytics, and many more.
Get Trained by Trainers from ISB, IIT & IIM
40 Hours of Intensive Classroom & Online Sessions
60+ Hours of Practical Assignments
2 Capstone Live Projects
100% Job Placement Assistance
3152 Learners
"Increased focus on value-based medicine has given ample growth opportunities to the life science industry. The life science analytics market is projected to reach $33 billion by 2024." - (Source). Healthcare analytics is emerging widely and is anticipated to transform the quality of healthcare organizations in the coming years. The adoption of electronic health records (EHR) will favor healthcare analytics to grow immensely. Many developed countries are using healthcare analytics as solutions to complex issues and for economic growth. Huge investments are being made by industry players in Research and development processes for exclusive solutions with unique features and gain a competitive edge in the healthcare market. Data Science and software developments will attain more profits in medicine than other technologies. IoT and Big data analytics will transform Healthcare and Malaysia is going to register $2.1billions by 2020.
Life Sciences and HealthCare
Prerequisites
Computer Skills
Basic Mathematical Knowledge
Analytical Mindsets
Healthcare Analytics Programme Overview
Healthcare Enterprises are leveraging AI-powered analytics for enhanced innovation and increased productivity. According to this PWC article, a little less than a third of the CEOs believe that AI will be the biggest disrupter to their industry. Following the trends in the broader Healthcare industry in the US, 360DigiTMG has developed the Certification Program in Healthcare Analytics. This course is meticulously designed to suit both Healthcare practitioners, IT Business Analysts and Data Scientists.
Healthcare Analytics Learning Outcomes
360DigiTMG offers the best training in Life Sciences and Healthcare Analytics by industrial experts. The Healthcare sector is developing rapidly with many innovations. There is a huge generation of data and it has to be analyzed for better insights. Healthcare analytics course is built as per the requirements of the Healthcare sector, it includes all the relevant technologies where students should be well educated to become a Professional Healthcare Analyst or Data Scientist. This certification program is designed specifically for the people who are health care practitioners and have knowledge of Life sciences. Students will be exposed to EHR data types, analyze clinical data. Learn about applications of Machine learning technologies. Able to provide solutions for complicated clinical environments
Work with various data generation sources
Understand and interpret Electronic Health Record (EHR) data types and structures
Become proficient in analysing Clinical Healthcare data
Differentiate among Descriptive, Predictive and Prescriptive Analytics
Apply Machine Learning techniques on Healthcare and other clinical data
Arrive at commensurate clinical and scientific interpretations of the conducted analytics
Foresee some of the challenges faced while implementing analytics solutions in complicated clinical environments
Block Your Time
40 hours
Classroom Sessions.
60 hours
Assignments &
e-Learning.
Who Should Sign Up?
IT Engineers
Data and Analytics Managers
Business Analysts
Data Scientists
Healthcare Practitioners
Clinicians and Physicians
Healthcare Administrators
Life Science Graduates
Research Scholars and Post Doctorates
Life Sciences Healthcare Analytics Course Modules
Advancement in Healthcare data analytics is bringing valuable insights for improving healthcare systems. The modules help the students to learn about different domains. Introduces data in electronic health records and other types of data like images from radiology, pathology, etc. Learn about the prime tools named Python, R, and its applications in analyzing healthcare data. Students will learn to decipher and assess designs of data models using Entity-Relationship (ER) diagrams. Understand about Genomics Exploratory Data Analysis, normalization, and batch effects of the data. Will be able to build MultiLayer Perceptron to build predictive analytic capabilities using the EHR and other clinical data. Learn to use CNN models to design prediction models that help to predict cancer using DICOM images. Will learn the concepts of Deep Learning and Machine learning and can leverage Deep learning networks to analyze panoramic dental x-rays. Learn about Genomics, Proteomics, and Metabolics. Learn about Data modeling, predictive modeling, and clinical Natural language Processing. Through hands-on training, students will be able to learn the concepts and applications comprehensively. Real-time use cases and training by industrial experts help students to gain adequate knowledge and be able to overcome industrial challenges.
Life Sciences and Healthcare Analytics Trends in Malaysia
Researchers have found that Malaysian people live longer with ill health, so the government is focussing to improve the better quality of life of Malaysians. Big data in health is playing a very promising role to give better insights for the doctors. Big data is the electronic health data sets that have massive data, by using advanced technologies healthcare organizations can exchange patients' information, which leads to a proper diagnosis. IoT has a prominent effect in healthcare with benefits like remote monitoring, remote diagnosis, use of big data analytics, etc. This enables to predict incident rates of cardiac arrests, the prevalence of chronic diseases in patients. By the end of 2020, Telehealth will become a standard option as virtual consultation.
In the coming years, Telemedicine can solve the most challenging problems in the healthcare sector and a 5G wireless network will increase the potential of telehealth. Precision Medicine with data analytics will provide robust solutions based on patient populations and can predict successful treatment plans. Social Determinant data of healthcare (SDOH) will provide valuable inputs to improve the quality of care to hospitals. 45% of the US health systems and commercial organizations will depend on SDOH for business decisions, patients outreach, and risk assessments by the end of 2020. Artificial Intelligence and Machine learning will evolve incredibly in Healthcare, Artificial Intelligence will bring amazing results specifically in drug discovery, imaging diagnostics, and risk analytics applications.
How We Prepare You
Additional Assignments of over 60+ hours

Live Free Webinars

Resume and LinkedIn Review Sessions

Lifetime LMS Access

24/7 Support
Job Assistance in Life Sciences and HealthCare Fields

Complimentary Courses

Unlimited Mock Interview and Quiz Session

Hands-on Experience in Live Projects

Life Time Free Access to Industry Webinars
Call us Today!
+91 9989994319
Life Sciences Healthcare Panel of Coaches
Bharani Kumar Depuru
Areas of expertise: Data Analytics, Digital Transformation, Industrial Revolution 4.0.
Over 14+ years of professional experience.
Trained over 2,500 professionals from eight countries.
Corporate clients include Hewlett Packard Enterprise, Computer Science Corporation, Akamai, IBS Software, Litmus7, Personiv, Ebreeze, Alshaya, Synchrony Financials, Deloitte.
Professional certifications - PMP, PMI-ACP, PMI-RMP from Project Management Institute, Lean Six Sigma Master Black Belt, Tableau Certified Associate, Certified Scrum Practitioner, AgilePM (DSDM Atern).
Alumnus of Indian Institute of Technology, Hyderabad and Indian School of Business.
Read More >
Sharat Chandra Kumar
Areas of expertise: Data Science, Machine Learning, Business Intelligence and Data Visualisation.
Trained over 1,500 professional across 12 countries.
Worked as a Data Scientist for 14+ years across several industry domains.
Professional certifications: Lean Six Sigma Green and Black Belt, Information Technology, Infrastructure Library.
Experienced in Big Data Hadoop, Spark, NoSQL, NewSQL, MongoDB, R, RStudio, Python, Tableau, Cognos.
Corporate clients include DuPont, All-Scripts, Girnarsoft (College-dekho, Car-dekho) and many more.
Read More >
Nitin Mishra
Areas of expertise: Data Science, Machine Learning, Business Intelligence and Data Visualisation.
Over 20+ years of industry experience in Data Science and Business Intelligence.
Trained professionals from Fortune 500 companies and students from prestigious colleges.
Experienced in Cognos, Tableau, Big Data, NoSQL, NewSQL.
Corporate clients include Time Inc., Hewlett Packard Enterprise, Dell, Metric Fox (Champions Group), TCS and many more.
Read More >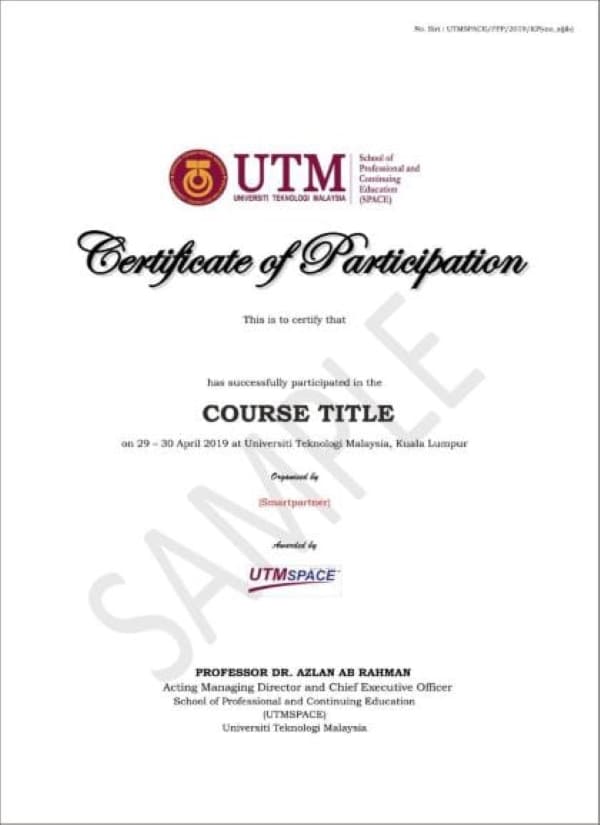 Certificate
Earn a certificate and demonstrate your commitment to the profession. Use it to distinguish yourself in the job market, get recognised at the workplace and boost your confidence. The Life Sciences and HealthCare Analytics Certificate is your passport to an accelerated career in LSHC industry.
**All certificate images are for illustrative purposes only. The actual certificate may be subject to change at the discretion of the Certification Body.
Recommended Programmes
3152 Learners
3152 Learners
2117 Learners
FAQs for Life Sciences Healthcare Analytics Training
Jobs in the Field of Life Sciences and HealthCare Analytics in Malaysia
Job titles available are Health care Analyst, Senior Analyst, Project Management Analyst, Data Analyst in healthcare domains.
Salaries in Malaysia for Life Sciences and HealthCare Analytics
The average salary at entry-level for Security Analyst in Malaysia will be RM 45,500, mid-career RM75,350, and for experienced it will increase. This varies according to the roles and responsibilities.
Life Sciences and HealthCare Analytics Projects in Malaysia
Many projects are being carried out in Clinical Data Analysis, Telemedicine, Drug discovery, diagnosis, Gene therapy, and so on.
Role of Open Source Tools in Life Sciences and HealthCare Analytics
Python, R, R studio and Jupyter are the open-source tools used to operate Healthcare Analytics.
Modes of Training in Life Sciences and HealthCare Analytics
360DigiTMG offers students the option of both classroom and online learning. We also support e-learning as part of our curriculum.
Industry Applications of Life Sciences and HealthCare Analytics in Malaysia
Healthcare Analytics has great potential in sectors like Hospitals, Research and Development, Insurance, Infrastructure, Pharmacy, and so on.