Certificate Course in
Microsoft Azure
Build, test, deploy and manage your applications and servers on the cloud with this Microsoft Azure Course.
Get Trained by Certified Microsoft Azure Trainers
32 Hours of Intensive Classroom & Online Sessions
Assistance for Taking Azure Solution Architect - Associate Certification
100% Job Placement Assistance
3152 Learners
"Digital Transformation will add an estimated $10billion to Malaysia's GDP by 2021 by unlocking its economic impact in the Asia Pacific." - (Source). Many enterprises in Malaysia are migrating to cloud platforms like Microsoft Azure. There is a great demand for Microsoft Azure cloud architects in the Malaysian IT landscape. As per the Analysts' report, Azure is predicted to deliver more revenue compared to Windows for Microsoft in 2021. The estimations are up to $27.4 billion in revenue and takeup 16.7% of Microsoft's total revenue in 2021. As many businesses are deploying cloud platforms for their economic growth in this digital world, the requirement of skilled Cloud Architects is potentially high. Cloud Architects are the hottest lucrative jobs in the industry.
Microsoft Azure
Prerequisites
Computer Skills.
Basic Mathematical Knowledge.
Azure Certification Programme Overview
Microsoft Azure certification programme is a one-stop guide to all the multiple features of Azure. In this course you will learn how to analyze Azure resource utilization, importing and exporting data to Azure Storage, creating and configuring Virtual Machines and creating and configuring Virtual Networks. Learn how to manage identities, integrate and secure them with Azure Active Directory. Create your Virtual Private Cloud for your applications and servers and deploy server fewer functions like Azure features.
Microsoft Azure Certification Learning Outcomes
Cloud computing is a technology that will be etched in every future enterprise. There are hundreds of cloud services providers in the market. A promising new entrant, Microsoft Azure has captured the market by storm. Globally there is a huge demand for Microsoft Azure Certified professionals. In Malaysia, companies wish to hire professionals with Microsoft Azure skillsets. At 360DigiTMG Malaysia, you can learn everything about Microsoft Azure and its services and how to build a cost-effective cloud infrastructure with it. You will receive insight into the Azure portal, virtual machines, virtual private cloud, Azure active directory, Azure traffic manager, load balancer, and various other features and working of Microsoft Azure. This course also prepares the participant for the Microsoft Azure Certification examination.
Deploy Your Virtual Machines and monitor them through Azure Portal
Manage identities, integrate and secure them with Azure Active Directory
Strong authentication for Users using Multi-Factor Authentication
Creating your Virtual Private Cloud for your Applications and Servers
Establishing Connections between 2 networks using Peering Connections
Using ARM Template for deploying Azure Resources and organizing them
Configure Azure Load Balancer and Azure Traffic Manager
Deploy server Less Functions like Azure Features
Block Your Time
32 hours
Classroom Sessions.
Who Should Sign Up?
Fresh graduates with knowledge of computer science.
Experience professionals looking for career shift.
Professionals having project requirements within the company.
Final year students aspiring career in Cloud Technology.
Azure Course Modules
The modules of the Microsoft Azure training course in Malaysia are designed meticulously for students as well as for professionals. The modules introduce various concepts of Cloud computing and its importance. Students will learn different Cloud service modules, understand cloud deployment models. Learn to assign administrator permission to a user, configure quotas, and tag them. Learn to configure network access to the storage account, how to create and configure storage accounts, Install and use Azure Storage Explorer. Learn about important development tools of Azure. Learn Advanced Networking Concepts on Azure, working with VPN, configure Azure Load Balancing, etc. learn to create and configure Windows and Linux VMs - High Availability, Monitoring, Network, and Storage. Automate Azure VMs deployment and manage Azure VMs. Students will learn application services in Azure and azure advanced security concepts. Through Multi-Factor Authentication, students will learn how to secure Azure accounts. Able to know to create accounts, fraud alerts, and configure trusted IP's. Training is delivered by industry experts and students are provided hands-on experience. By handling real-time projects, students will gain adequate knowledge and enhance their skillsets.
Microsoft Azure Trends in Malaysia
Cloud computing is constantly evolving, and to compete with the technology, Microsoft Azure comes up with the latest trends. So, let's know about the Microsoft Azure top industry trends. The top trend of Azure is related to advancements in Artificial Intelligence and Machine learning. Batch AI supports deep learning merged with scalable and flexible technologies. Azure has introduced novel machine learning services to help its clients to optimize their cloud investments. Edge Computing is another revolutionizing trend. This trend is rising with the use of smartphones and other devices that work with the internet. Azure IoT Edge delivers the most interesting feature that cloud intelligence can run directly on IoT devices. Another popular trend for Azure is the introduction of Azure IoT Hub Device.
As every device from smartphone to tablet is connected with IoT, companies are dependent on the cloud. The services provided by Azure would be customized in developing and deploying location-specific apps. This enables users to give geographic contexts to their data which indeed prospects to offer valuable insights. This unique feature of Azure helps to configure and register the devices on the cloud. Azure is focussing to provide the best security services to its customers. Microsoft Azure has become an efficient choice for customers as it provides unique features like encryption and compliance. Therefore, Azure can be considered as the most trusted platform for providing security on the cloud.
How We Prepare You
Additional Guidance and Support

Live Free Webinars

Resume and LinkedIn Review Sessions

Lifetime LMS Access

24/7 Support
Job Placements in Microsoft Azure Fields

Complimentary Courses

Unlimited Mock Interview and Quiz Session

Hands-on Experience in Live Projects

Life Time Free Access to Industry Webinars
Call us Today!
+91 9989994319
Azure Training Panel of Coaches
Bharani Kumar Depuru
Areas of expertise: Data Analytics, Digital Transformation, Industrial Revolution 4.0.
Over 14+ years of professional experience.
Trained over 2,500 professionals from eight countries.
Corporate clients include Hewlett Packard Enterprise, Computer Science Corporation, Akamai, IBS Software, Litmus7, Personiv, Ebreeze, Alshaya, Synchrony Financials, Deloitte.
Professional certifications - PMP, PMI-ACP, PMI-RMP from Project Management Institute, Lean Six Sigma Master Black Belt, Tableau Certified Associate, Certified Scrum Practitioner, AgilePM (DSDM Atern).
Alumnus of Indian Institute of Technology, Hyderabad and Indian School of Business.
Read More >
Sharat Chandra Kumar
Areas of expertise: Data Science, Machine Learning, Business Intelligence and Data Visualisation.
Trained over 1,500 professional across 12 countries.
Worked as a Data Scientist for 14+ years across several industry domains.
Professional certifications: Lean Six Sigma Green and Black Belt, Information Technology, Infrastructure Library.
Experienced in Big Data Hadoop, Spark, NoSQL, NewSQL, MongoDB, R, RStudio, Python, Tableau, Cognos.
Corporate clients include DuPont, All-Scripts, Girnarsoft (College-dekho, Car-dekho) and many more.
Read More >
Nitin Mishra
Areas of expertise: Data Science, Machine Learning, Business Intelligence and Data Visualisation.
Over 20+ years of industry experience in Data Science and Business Intelligence.
Trained professionals from Fortune 500 companies and students from prestigious colleges.
Experienced in Cognos, Tableau, Big Data, NoSQL, NewSQL.
Corporate clients include Time Inc., Hewlett Packard Enterprise, Dell, Metric Fox (Champions Group), TCS and many more.
Read More >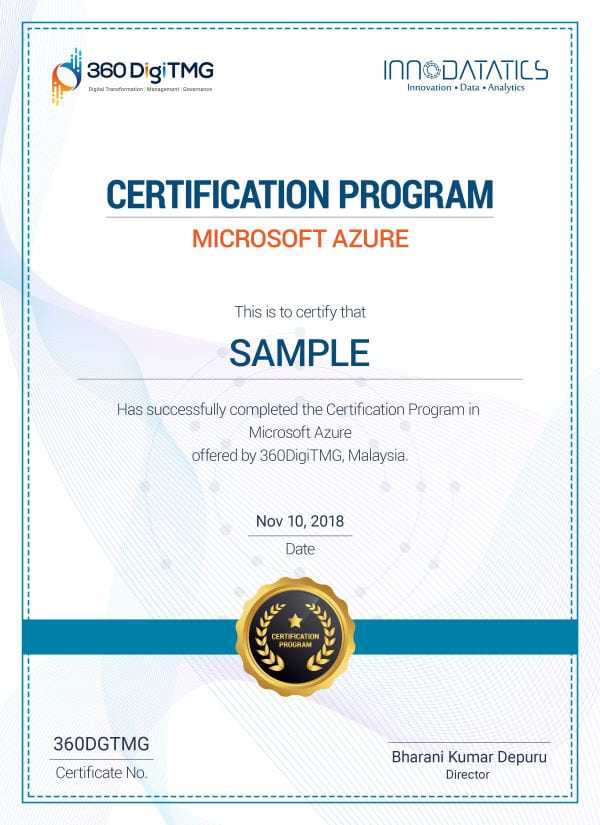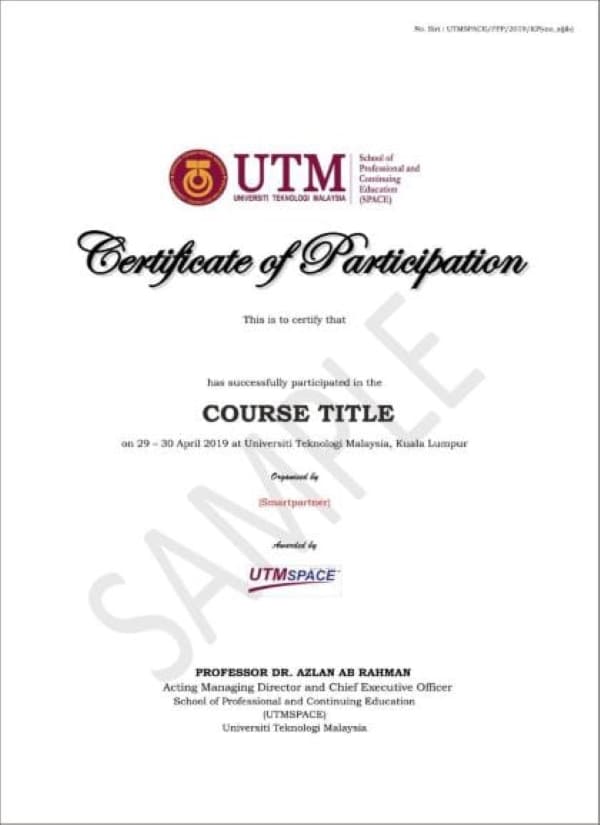 Certificate
The Microsoft Azure Certificate is your badge of recognition in the field of Cloud Computing. Display your certificate and earn appreciation from office colleagues and industry peers.
**All certificate images are for illustrative purposes only. The actual certificate may be subject to change at the discretion of the Certification Body.
Recommended Programmes
3152 Learners
3152 Learners
2117 Learners
FAQs for Microsoft Azure
Jobs in the Field of Microsoft Azure in Malaysia
MMicrosoft Azure job roles in Malaysia are Microsoft Azure Engineer, Cloud Architect, Dynamics Developer, Business intelligence and Analytics Consultant, Cloud Security, Cloud Application Engineer, DevOps Engineer.
Salaries in Malaysia for Microsoft Azure
The average salary for Clouds Solution Architect with Microsoft Azure skills is RM 131,700 and for experienced the average salary is RM 182,000 in Malaysia.
Microsoft Azure Projects in Malaysia
Advancement of Artificial Intelligence and Machine learning models on Azure, Azure notebooks, Azure-IoT-SDKs, Azure-CLI are among the top projects on Microsoft cloud.
Role of Open Source Tools in Microsoft Azure
The Microsoft Azure development tools are Visual studio, Docker, Azure Grid, SQL Database Migration Wizard, Azure ping, and many more.
Modes of Training in Microsoft Azure
360DigiTMG offers students the option of both classroom and online learning. We also support e-learning as part of our curriculum. Individual attention is guaranteed to all the participants.
Industry Applications of Microsoft Azure in Malaysia
Microsoft Azure is providing a hefty boost to the prime sectors like Education, Banking, Finance, Manufacturing, Health care, Agriculture, and e-commerce.