Professional Certificate Course in
Data Science & AI
Get proficient in developing intelligent business applications with Data Science and AI.
72 Hours Classroom & Online Sessions
140+ Hours Assignments & eLearning
100% Job Assistance
2 Capstone Projects
Industry Placement Training

3152 Learners
Calendar-On-Campus Classes
Data Science & AI
Prerequisites
Computer Skills.
Basic Mathematical Knowledge.
"Artificial Intelligence is poised to double the rate of innovation in Malaysia by 2021 and increase employee productivity by 60%." - (Source). The advancement in Artificial Intelligence is growing rapidly and will continue to evolve in the coming years. As Malaysia is emerging in the latest technologies, it's playing a vital role in developing AI talents and getting prepared to spur the country's economic growth. It is conducting many programs to rise AI talent and deliver knowledge to its citizens which is essential for the country to develop. As per business leaders' opinions, in Malaysia Artificial Intelligence with innovation will get doubled and increases employee productivity by 60% by 2021. As Malaysia is gearing up for IR4.0, numerous companies are remodeling and adopting new technologies to remain competitive and relevant in the market.
Data Science & AI Programme Overview
Learn how to harness the power of data for smart business decision-making with the Professional Certificate in Data Science and AI. The nine-day Data Science training course in Malaysia is designed for both beginners and professionals who want to build a career in Data Science. Participants will develop a strong foundation in Data Science, AI and Deep Learning using Python and R. Potential techniques such as Statistical Analysis, Regression Analysis, Data Mining Unsupervised, Machine Learning, and Forecasting are trained with real-time projects. Students will get exposure to all the advanced Data Science tools such as Python, Tensorflow, Keras, OpenCV, and R. With a dedicated team of trainers and personalized mentorship, the students will gain adequate knowledge and will be able to deliver outstanding results.
Data Science and AI
Data Science is related to analyzing, processing, and maintaining data sets. It aims at data modeling and data warehousing to trace the uncontrollably growing data set reaching the organizational goals. Artificial intelligence is the emerging technology used in machines to execute at reasoning by cloning human intelligence. With the aid of Deep learning and Natural language processing, AI technologists enable machines in identifying inferences and patterns. Artificial Intelligence automation has become easy and the development of Intelligent products is possible. Our Data Science and Artificial Intelligence certification program will help you in obtaining extensive knowledge and prepares you to be settled in high paid jobs.
Data Science & AI Learning Outcomes
By this Professional Certificate course in Data Science and Artificial Intelligence in Malaysia, students/ professionals work with tools and advanced techniques used for the analysis of structured and unstructured data. Will be able to perform text mining to generate customer sentiment analysis. Perform forecasting to take proactive business decisions. There is enormous scope for a lucrative career in this domain. By using the cutting edge and appropriate tools like Python, R, Keras the freshers and professionals will be able to build algorithms and analyze huge data. By using the opportunity of individual attention given by experts at 360DigiTMG, the students will be adequately trained and will be able to understand the course very effectively. Students will be exposed to real-time projects, at the learning level only they are prepared to face the challenges that are inclined to be in industries. Data Science and AI are not confined to a specific industry, so the professionals in data science and Artificial Intelligence will have the liberty to work in the areas of their interest. The primary objective of Data Science and Artificial training at 360DigiTMG is to deliver skilled professionals by providing quality training, guiding them to implement and gain hands-on experience.
Use data generation sources
Work with tools and techniques used for the analysis of structured and unstructured data
Understand the differences between Descriptive and Predictive Analytics
Perform Text Mining to generate Customer Sentiment Analysis
Apply data-driven, Machine Learning approaches for business decision-making
Build prediction models for day-to-day applications
Perform forecasting to take proactive business decisions
Analyse texts, images and videos
Use Python libraries such as Keras, TensorFlow and OpenCV to create AI and Deep Learning solutions
Apply graphical processing units (GPUs) in Deep Learning Algorithms
Block Your Time
72 hours
Classroom Sessions
140 hours
Assignments &
e-Learning
Who Should Sign Up?
Those aspiring to be Data Scientists, AI experts, Business Analysts, Data Analytics developers
Graduates looking for a career in Data Science, Machine Learning, Forecasting, AI
Professionals migrating to Data Science
Academicians and Researchers
Students entering the IT industry
Data Science and AI Training Modules
By the professional certification course in Data Science and AI in Malaysia, students will learn important tools like Python, Keras, Tensor flow, R, and many more. Learn about the Linear regression, Logistic regression, Naive Bayes, Decision Trees, Support Vector systems, and so on. Will Understand the evolution of AI and Deep Learning and learn the various applications of Deep Learning in building Artificial Intelligence applications. Challenges faced in deep learning along with the best practices to overcome the challenges is also explained in detail. Understand the various network architectures along with different layers including input layers, hidden layers, output layers, etc. Also learn about the various activation functions, error functions, optimization algorithms including Batch Gradient Descent, Stochastic Gradient Descent, Mini-batch SGD, etc. Students will understand two main modules of feature engineering including feature extraction and feature selection. Knowing how to shortlist the critical inputs from trivial many inputs is the key to ensuring the high performance of the machine learning models. Understand about extracting features from structured as well as unstructured data such as videos, images, audio, textual files, etc. A major branch of study in data science is Machine Learning also called Data Mining Supervised Learning or Predictive Modelling. One will learn about K Nearest Neighbors (KNN), Decision Tree (Boosting), Random Forest (Bagging), Stacking, Ensemble models, and Naïve Bayes. Students will gain knowledge about the various regularisation techniques and will be able to evaluate overfitting (Variance)and Underfitting(bias). And many effective and significant modules are covered to generate workforce to the changing business trends. All these are explained using industry relevant use cases and mini-projects.
Data Science and AI Trends in Malaysia
Data Science with AI is an emerging technology where its benefits are immense in Malaysia. The latest trends in Data Science is the invention of energy-efficient technique with the help of flower pollination algorithm for Cloud Datacentres. Using Data mining techniques are being used in healthcare to predict the risk of disease based on clinical and non-clinical data of individuals. For virtual screening, Deep networks are being used. Artificial Intelligence is evolving from Perpetual intelligence to Cognitive intelligence, this will enable machines in better understanding and utilizing knowledge for delivering better outputs. Advancements in Artificial Intelligence will be used in protecting Data.
Technologies in IoT will be essential for manufacturing companies enabling them to accomplish machine automation and getting introduced to smart manufacturing. Cloud computing is the technology that is being lauded and gaining accolades for its friendly and easy features. It is easily accessible to the users as it is the core of the digital economy. Cloud is being used in all IT technologies like chips, databases, IoT, Blockchain, Quantum computing, and many more. The other trends will be observed in Patent Analytics, market sizing tools, and in Earning Transcripts. There would be a great shift towards real-time analytics, which helps companies to be more productive by making data-driven decisions.
How We Prepare You
Additional Assignments of over 140+ hours

Live Free Webinars

Resume and LinkedIn Review Sessions

3 Month Access to LMS

24/7 Support
Job Assistance in RPA Fields

Complimentary Courses

Unlimited Mock Interview and Quiz Session

Hands-on Experience in a Live Project

Life Time Free Access to Industry Webinars
Call us Today!
+91 9989994319
Data Science and AI Panel of Coaches
Bharani Kumar Depuru
Areas of expertise: Data Analytics, Digital Transformation, Industrial Revolution 4.0.
Over 14+ years of professional experience.
Trained over 2,500 professionals from eight countries.
Corporate clients include Hewlett Packard Enterprise, Computer Science Corporation, Akamai, IBS Software, Litmus7, Personiv, Ebreeze, Alshaya, Synchrony Financials, Deloitte.
Professional certifications - PMP, PMI-ACP, PMI-RMP from Project Management Institute, Lean Six Sigma Master Black Belt, Tableau Certified Associate, Certified Scrum Practitioner, AgilePM (DSDM Atern).
Alumnus of Indian Institute of Technology, Hyderabad and Indian School of Business.
Read More >
Sharat Chandra Kumar
Areas of expertise: Data Science, Machine Learning, Business Intelligence and Data Visualisation.
Trained over 1,500 professional across 12 countries.
Worked as a Data Scientist for 14+ years across several industry domains.
Professional certifications: Lean Six Sigma Green and Black Belt, Information Technology, Infrastructure Library.
Experienced in Big Data Hadoop, Spark, NoSQL, NewSQL, MongoDB, R, RStudio, Python, Tableau, Cognos.
Corporate clients include DuPont, All-Scripts, Girnarsoft (College-dekho, Car-dekho) and many more.
Read More >
Nitin Mishra
Areas of expertise: Data Science, Machine Learning, Business Intelligence and Data Visualisation.
Over 20+ years of industry experience in Data Science and Business Intelligence.
Trained professionals from Fortune 500 companies and students from prestigious colleges.
Experienced in Cognos, Tableau, Big Data, NoSQL, NewSQL.
Corporate clients include Time Inc., Hewlett Packard Enterprise, Dell, Metric Fox (Champions Group), TCS and many more.
Read More >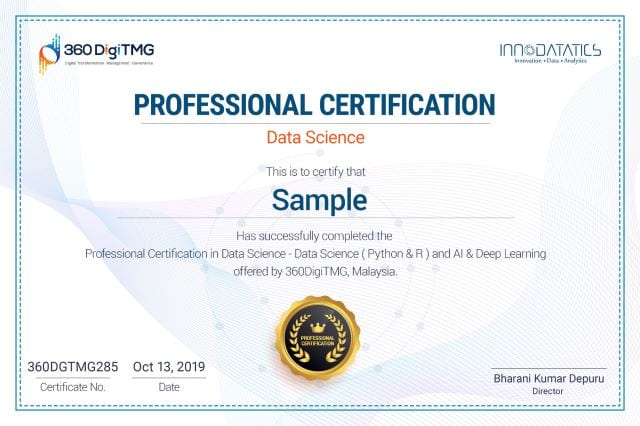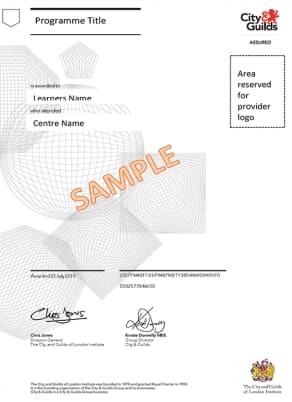 Certificate
Get recognized for your advanced data skills with the Professional Certificate in Data Science and AI. Make your mark in the highly competitive AI talent market.
**All certificate images are for illustrative purposes only. The actual certificate may be subject to change at the discretion of the Certification Body.
Recommended Programmes
3152 Learners
3152 Learners
2117 Learners
FAQs for Data Science and AI Course
Jobs in the Field of Data Science and AI in Malaysia
Malaysia is emerging as a hub for Data scientists and looking forward to incorporating new technologies in product development. You would get jobs for the roles Data Scientist, Business Intelligence Developer, AI researcher, Algorithm engineer, Data mining Analyst, Business Analyst.
Salaries in Malaysia for Data Science and AI
The average salary for a Data Scientist with Artificial Intelligence (AI) skills in Malaysia at entry-level is RM 45K and for the Mid-level, it is RM 93,499, and for experienced Data Scientists it is RM 123,074. It further increases with relevant experience and varies with job roles.
Data Science and AI Projects in Malaysia
Many innovative projects in the field of Education, Health care, Clinical research, Environmental Monitoring, Fashion Industry, Banking, Infrastructure services, Legal are ongoing with the aid of Data Science and Artificial Intelligence in Malaysia.
Role of Open Source Tools in Data Science and AI
There are many popular tools in Data Science that are used extensively like Python, R, R studio, Tableau, Tensor flow, Keras, Terax, Jupiter, Numpy, Pandas, Pytorch, Scipy, Spider. This helps in solving Data Science algorithms.
Modes of Training in Data Science and AI
360DigiTMG delivers classroom sessions as well as online sessions with a dedicated team of trainers. Personalized mentorship and individual attention are guaranteed.
Industry Applications of Data Science and AI in Malaysia
Malaysia is adapting Data Science and Artificial Intelligence in industries to be efficient in production. Health care, Banking, Legal, Education, Defence, Infrastructure services are relying on Data Science and Artificial Intelligence.