Certificate Course in
Search Engine Optimization
Increase organic traffic to your website with the aid of our Certification Program in Search Engine Optimization. Analyze SERPs to boost your keyword search.
16 Hours of Intensive Classroom & Online Sessions
40+ Hours of Practical Assignments
100% Free Internship Program
Receive Certificate from Top University - UTM, Malaysia
100% Job Placement Assistance
4231 Learners
"SEO - pillar strategy of digital marketing gamut. The average salary for an SEO Specialist is RM 4000 per month in Malaysia". Malaysia, a tiny island like a nation is made of two parts that are separated by the South China Sea. It has quite a stable economy with high internet penetration. Internet usage in Malaysia is over 61% and growing, which opens up a host of opportunities in the digital space. Malaysians are now using internet search engines for many of their daily activities. The demand for content and its fulfillment by various service providers is on the rise. And so is the need for Search Engine Optimization (SEO) specialists. Many organizations small and big are now hiring SEO specialists to ramp up their businesses and stay ahead of the competition.
Search Engine Optimization
SEO Training Overview in Malaysia
This program imparts knowledge on SEO evolution, on-page SEO, off-page SEO, local SEO and technical SEO strategy. It provides in-depth coverage of keyword theory and research, website analysis and conversion optimization. The use of Google Analytics for Search Engine Optimization and SEO algorithm updates by Google is also elaborated upon. The participant will also learn how to employ social signals to drive crawlers and increase website traffic. Learn to stay ahead of the SERP rankings in Google. The budding digital marketer can also understand how an SEO campaign is created.
SEO Course Outcomes in Malaysia
Search Engine Optimization is one of the most crucial parts of digital marketing as most of the website owners and business owners with an online presence are using SEO techniques to enhance their ROI. With a certification in search engine optimization, you can start learning about the basics of search engine optimization and implementing the same. The training is imparted by the best marketing professionals who have hands-on experience in search engine optimization and its tools. This course will appeal to professionals interested in a mid-career shift to digital marketing or owners of online businesses. In this course, you can learn about various keywords techniques, keyword optimization, off and on-page search engine optimization, and link building techniques. You also learn to create an SEO strategy that will enable your business to rank higher on Google and other search engines. This increases business traffic on the website.
How search takes place in the Search engines
The essence of the Keywords in SEO
How to discover Keywords with brainstorming and through planners
Unearth the ground-breaking SEO strategies
How to blend On-page and Off-page techniques
Unleashing the power of the content
Using social signals to drive the crawlers and improve the traffic
Powerful Link building strategies
How to rank in the top of SERPs in Google
Block Your Time
16 hours
Classroom Sessions
40 hours
Assignments &
e-Learning
Who Should Sign Up?
Beginners with SEO knowledge
Intermediate Digital Marketers looking to enhance their skill set
Individuals who are willing to make Online money
Search Engine Optimization Modules
Search Engine Optimization certification course in Malaysia helps students to excel in their career by grabbing lucrative jobs. This training helps you to learn and understand the SEO techniques and will be able to apply for the optimization of sites. Students will know about the modules like Keyword research, it is the fundamental of SEO, where the new content can be created by applying keywords. Then Content marketing comes into play. Premium content always attracts visitors and links. Link building is another module as it is one of the factors for ranking. This will attract links from other websites. Apart from this, students will be exposed to other modules like On-page optimization, Site Architecture Optimization, and Semantic markup. By learning these current and important modules students will be able to use them for optimization of websites and attract organic traffic. These kinds of modules can be used in any kind of business. By honing the skills students can start their own business and be entrepreneurs.
Search Engine Optimization Trends in Malaysia
Search Engine Optimization is growing rapidly and if you want your business website to rank higher in the google search engine, effective SEO is a must to attract traffic. Let's discuss a few latest top trends of SEO. Voice Search is one of the most popular trends which is growing rapidly as people are using mobile phones, Google Mini, Alexa devices. They give voice commands to get their content. By this, we can target the audience by guessing the words that they use frequently to search. These featured snippets attract more traffic compared to organic search results. Influencer marketing is an emerging trend.
Many marketers will leverage influencers for marketing especially in fashion, travel, beauty products, etc. The advantage of influencer marketing is that they engage with targeted audiences. Another trend is the Keyword Trees. Google is constantly changing its algorithms and getting smarter. It can detect relevant keywords that are specifically used with the main bang. Google is focusing on rich and quality content. BERT will rule for a long period. BERT means Bidirectional Encoder Representations from Transformer, SEO marketers use BERT models to be ranked higher on the first page in Google SERP. As every industry is transforming digitally, SEO plays a vital role to draw traffic and improve business.
How We Prepare You
Additional Assignments of over 40+ hours

Live Free Webinars

Resume and LinkedIn Review Sessions

Lifetime LMS Access

24/7 Support
Job Assistance in SEO fields

Complimentary Courses

Unlimited Mock Interview and Quiz Session

Hands-on Experience in Live Projects

Life Time Free Access to Industry Webinars
Call us Today!
+91 9989994319
SEO Course Panel of Coaches in Malaysia
Bharani Kumar Depuru
Areas of expertise: Data Analytics, Digital Transformation, Industrial Revolution 4.0
Over 14+ years of professional experience
Trained over 2,500 professionals from eight countries
Corporate clients include Hewlett Packard Enterprise, Computer Science Corporation, Akamai, IBS Software, Litmus7, Personiv, Ebreeze, Alshaya, Synchrony Financials, Deloitte
Professional certifications - PMP, PMI-ACP, PMI-RMP from Project Management Institute, Lean Six Sigma Master Black Belt, Tableau Certified Associate, Certified Scrum Practitioner, AgilePM (DSDM Atern)
Alumnus of Indian Institute of Technology, Hyderabad and Indian School of Business
Read More >
Sharat Chandra Kumar
Areas of expertise: Data Science, Machine Learning, Business Intelligence and Data Visualisation
Trained over 1,500 professional across 12 countries
Worked as a Data Scientist for 14+ years across several industry domains
Professional certifications: Lean Six Sigma Green and Black Belt, Information Technology, Infrastructure Library
Experienced in Big Data Hadoop, Spark, NoSQL, NewSQL, MongoDB, R, RStudio, Python, Tableau, Cognos
Corporate clients include DuPont, All-Scripts, Girnarsoft (College-dekho, Car-dekho) and many more
Read More >
Nitin Mishra
Areas of expertise: Data Science, Machine Learning, Business Intelligence and Data Visualisation
Over 20+ years of industry experience in Data Science and Business Intelligence
Trained professionals from Fortune 500 companies and students from prestigious colleges
Experienced in Cognos, Tableau, Big Data, NoSQL, NewSQL
Corporate clients include Time Inc., Hewlett Packard Enterprise, Dell, Metric Fox (Champions Group), TCS and many more
Read More >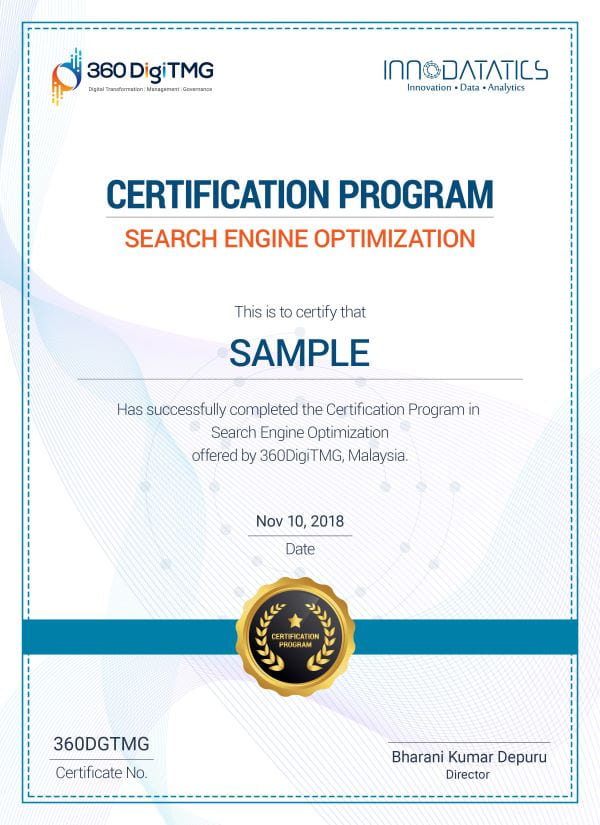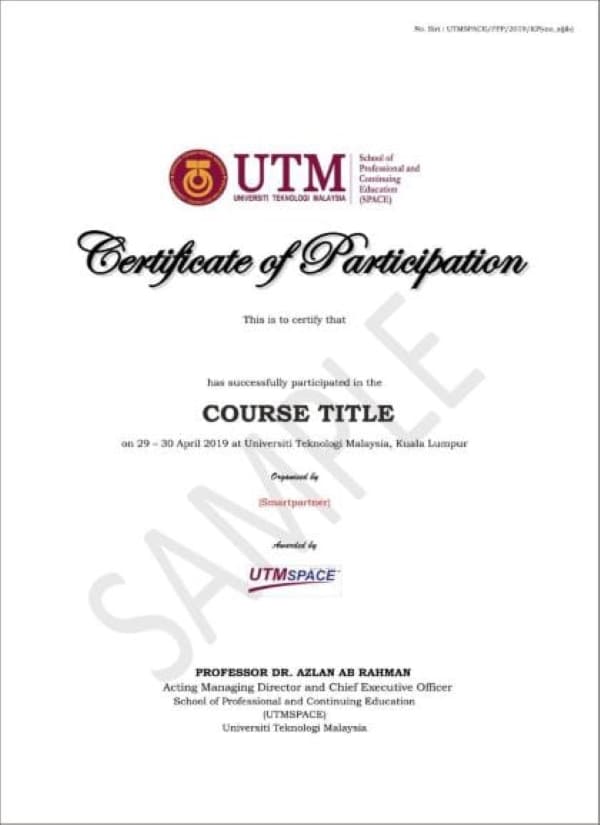 Certificate
Earn a certificate from 360DigiTMG and demonstrate your excellence in Search Engine Optimization. Use it to distinguish yourself in the job market and get noticed by leading employers.
**All certificate images are for illustrative purposes only. The actual certificate may be subject to change at the discretion of the Certification Body.
Recommended Programmes
3152 Learners
3152 Learners
2117 Learners
FAQs for Search Engine Optimisation Course
Jobs in the Field of Search Engine Optimisation in Malaysia
The top jobs in SEO in Malaysia are SEO specialist, SEO Analyst, SEO Manager, SEO Executive, and many more.
Salaries in Malaysia for Search Engine Optimisation
The average salary for an embedded Software Engineer with advanced skills in Malaysia is RM 39,857 in early career and the average salary at Mid-Career can be expected up to RM 78,658.The average salary for SEO in Malaysia in early career can be expected up to RM 59,300 and at mid-career, the salary will be up to RM 57,100.
Search Engine Optimisation Projects in Malaysia
Advanced Digital Marketing with Artificial Intelligence is applied in enabling advanced chatbots, Email Marketing, Content Marketing, and so on.
Role of Open Source Tools in Search Engine Optimisation
The top tools are Google Search Console, Backlink Analysis tool, Google Ads keyword planner, SEO platforms like Moz, BrightEdge, Linkdex. Other tools are Ahref, SEMrush, Woorank, and many more.
Modes of Training in Search Engine Optimisation
With a dedicated and experienced team of trainers, 360DigiTMG offers both online and offline training at flexible timings.
Industry Applications of Search Engine Optimisation in Malaysia
SEO is an effective tool for every industry to market its products and services. Industries like Real estate, Online service providers, Fashion, Medical practices, Restaurants, e-commerce, Health care, Tourism, and Hospitality, etc.