Certificate Program in
Social Media Marketing
Leverage the social networking milieu of Facebook, Twitter, and LinkedIn to build your brands. Encircle existing customers and forge good relationships with new customers on social media platforms.
16 Hours of Intensive Classroom & Online Sessions
40+ Hours of Practical Assignments
100% Free Internship Program
Receive Certificate from Top University - UTM, Malaysia
100% Job Placement Assistance
3152 Learners
"Nearly every business today values the awesome benefits of Social Media Marketing. The average salary for a Social Media Manager is RM 4,600 per month in Malaysia." - (Source). Malaysia with 67% of online users stands highest among ASEAN countries online users, it is the highest. Digital marketing is rapidly increasing in Malaysia as its users are using 4 major social media platforms. To propel the country forward in the digital economy, the Malaysian Digital Economy Corporation (a government institution) has launched the world's first Digital Free Trade Zone(DFTZ) to escalate digital growth in Malaysia. This enterprise helps start-ups to build and compete with established companies. It is predicted that the DFTZ will create 62,000 jobs by 2025 and double the growth rate of small and micro-enterprises.
Social Media Marketing
SMM Training Overview in Malaysia
Social Media Marketing is part of every digital marketing strategy. It is important to get the right social media marketing strategy. This will increase website traffic, enable better SEO, higher conversion rates, and result in improved brand loyalty for your business. This course is designed to teach digital marketers to market their products and services on Facebook, Twitter, and LinkedIn. Learn Facebook marketing, Facebook optimization techniques, brand page creation in Facebook, Twitter demographics, Twitter account promotion, Twitiquette, promoting brands and creating LinkedIn groups, LinkedIn company pages, and link building on LinkedIn and much more in this course.
Social Media Marketing Course Outcomes
360DigiTMG offers a certification program in Social Media Marketing in Malaysia for students and Professionals. As every industry is transforming into digitization, it is very important to have a professional Social Media marketer or Manager who can effectively market your business leveraging on social media platforms like Facebook, Twitter, LinkedIn. Malaysia is a country where there are massive amounts of internet users. So social media marketing helps the business to drive traffic and promote sales. This course emphasizes topics of evolution of social media, how to create successful campaigns. Learn different concepts that deal with brand promotion and iterating successful strategies.
Evolution of social media optimization and marketing and knowing the impact of it on the business
Defining goals to create successful campaigns
Building positive reputation in social media groups by sticking to commitments
Promoting your brand on various social media sites
Tracking reports and iterating successful strategies and achieving business goals
Block Your Time
16 hours
Classroom Sessions
40 hours
Assignments &
e-Learning
Who Should Sign Up?
Beginners with SEO knowledge
Intermediate Digital Marketers looking to enhance their skill sets
Individuals who are willing to make money online
Social Media Marketing Training Modules
The majority of the Malaysian populace irrespective of the age divide are embracing the latest trends in fashion, technology, and hangouts creating a vibrant ecosystem. It is in this new Malaysia that there are many consumers and suppliers where the exchange of goods, services, entertainment, etc., is peaking. With the economic Index being quite high the consumerism in Malaysia is only growing. Given this context, the push for "Social Media Marketing" is at an all-time high, and "Social Media Marketing Certified" professionals are much in demand. The modules of this course are formulated by industry experts with real-time examples. Students will learn the concepts of Social Media optimization. Learn about the most popular Social media platforms that include Facebook, Instagram, Twitter, etc. Facebook has a whopping 2.5 billion people who are regular users. Focused business marketing strategies by Facebook is an effective way to target potential customers. It has a huge scope for maximum brand visibility. LinkedIn is one of the biggest professional networking tools in the world with more than 390 million registered users. It is the best for lead generation. Another platform is Twitter which also thrives for customer engagement. It has an aura that attracts unique visitors. There are imperative elements in Twitter that fuel engagement to its platform like photos, Hashtags, Videos, Links, etc. By the end of this certification program, students will learn how to build creative and effective marketing campaigns to drive traffic and increase sales, thus bringing profits to the business.
Social Media Marketing Trends in Malaysia
As Malaysia is burgeoning towards digitalization, consumers are turning up tech-savvy, so marketers need to start digital marketing rather than solely depending on traditional marketing. At present social media is one of the best platforms to reach the audience and develop more business and create brand awareness. Let's have a look at the top trends of Social Media Marketing in Malaysia that is going to prevail for a long time. One of the latest trends is the video content and it never disappoints. Creative Content promoted through videos will definitely appeal to the audience as they are engaging and entertaining. Top social media platforms like Instagram and Facebook are creating and pushing many videos.
As videos are easy to share, it has the potential to attract customers and boost the business. Another modern trend is Augmented reality. The attractive features of Augmented reality will make your business stand out from the crowd. Giant companies like Zara, Sephora use AR technology to deliver virtual experience to their clients. Artificial Intelligence is another revolutionizing trend that will stay for a while in the future, AI helps to boost the business and customers will have out of box experience. AI will reduce human work, it answers the faqs by chatbots. Another latest trend of SMM is Omnichannel marketing. By omnichannel marketing, consumers will see the brands of particular business multiple times in different digital channels. By seeing the brands frequently it will increase sales and create brand awareness among the users.
How We Prepare You
Additional Assignments of over 40+ hours

Live Free Webinars

Resume and LinkedIn Review Sessions

Lifetime LMS Access

24/7 Support
Job Placements in Social Media Marketing Fields

Complimentary Courses

Unlimited Mock Interview and Quiz Session

Hands-on Experience in Live Projects

Life-Time Free Access to Industry Webinars
Call us Today!
+91 9989994319
Social Media Marketing Course Panel of Coaches
Bharani Kumar Depuru
Areas of expertise: Data Analytics, Digital Transformation, Industrial Revolution 4.0.
Over 14+ years of professional experience.
Trained over 2,500 professionals from eight countries.
Corporate clients include Hewlett Packard Enterprise, Computer Science Corporation, Akamai, IBS Software, Litmus7, Personiv, Ebreeze, Alshaya, Synchrony Financials, Deloitte.
Professional certifications - PMP, PMI-ACP, PMI-RMP from Project Management Institute, Lean Six Sigma Master Black Belt, Tableau Certified Associate, Certified Scrum Practitioner, AgilePM (DSDM Atern).
Alumnus of Indian Institute of Technology, Hyderabad and Indian School of Business.
Read More >
Sharat Chandra Kumar
Areas of expertise: Data Science, Machine Learning, Business Intelligence and Data Visualisation.
Trained over 1,500 professional across 12 countries.
Worked as a Data Scientist for 14+ years across several industry domains.
Professional certifications: Lean Six Sigma Green and Black Belt, Information Technology, Infrastructure Library.
Experienced in Big Data Hadoop, Spark, NoSQL, NewSQL, MongoDB, R, RStudio, Python, Tableau, Cognos.
Corporate clients include DuPont, All-Scripts, Girnarsoft (College-dekho, Car-dekho) and many more.
Read More >
Nitin Mishra
Areas of expertise: Data Science, Machine Learning, Business Intelligence and Data Visualisation.
Over 20+ years of industry experience in Data Science and Business Intelligence.
Trained professionals from Fortune 500 companies and students from prestigious colleges.
Experienced in Cognos, Tableau, Big Data, NoSQL, NewSQL.
Corporate clients include Time Inc., Hewlett Packard Enterprise, Dell, Metric Fox (Champions Group), TCS and many more.
Read More >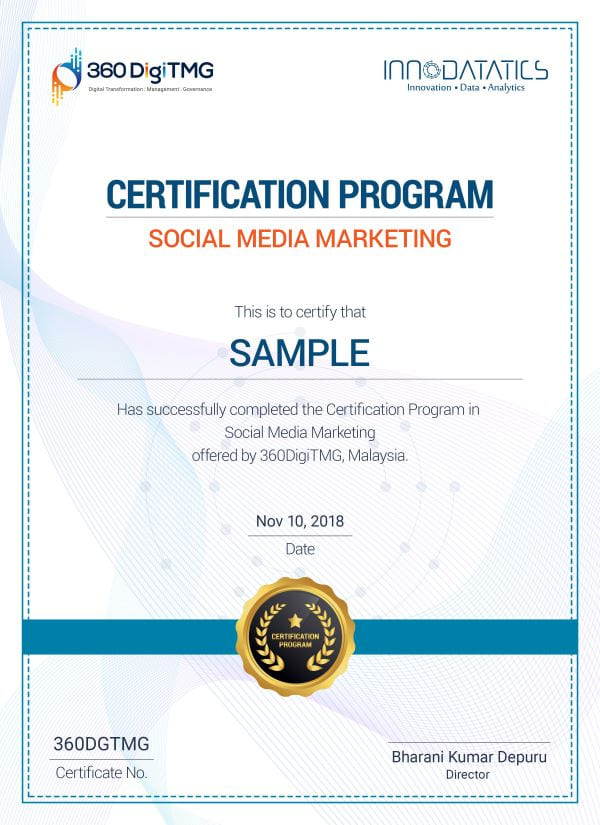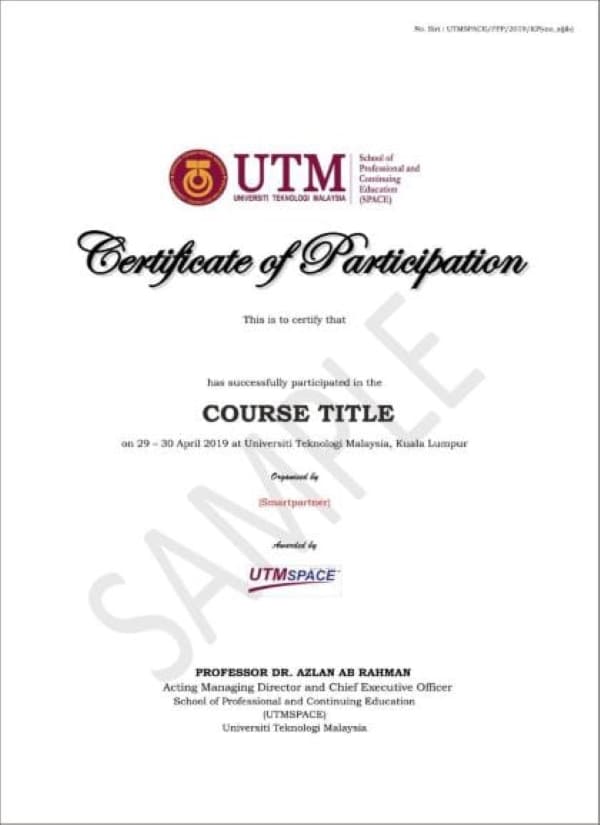 Certificate
Earn a certificate from 360DigiTMG and demonstrate your excellence in Social Media Marketing. Use it to distinguish yourself in the job market and get noticed by leading employers.
**All certificate images are for illustrative purposes only. The actual certificate may be subject to change at the discretion of the Certification Body.
Recommended Programmes
3152 Learners
3152 Learners
2117 Learners
FAQs for Social Media Marketing Course in Malaysia
Jobs in the Field of Social Media Marketing Course in Malaysia
Social media Expert, Social Media Marketing Manager & SEO, Social Media Marketing Executive, Lead Social Media Marketing, Brand strategist, Social Media specialist, Social media community manager are among the hottest jobs in Malaysia.
Salaries in Malaysia for Social Media Marketing Course
The average salary for an Early-Career Social Media Manager is RM 46,000 and for a Mid-Career Social Media Manager is RM 75,641 in Malaysia. The salary varies with experience and roles.
Social Media Marketing Course Projects in Malaysia
Social Media Marketing is used to build brand value in the sectors of Tourism, Airlines, Banking, Beauty products, Entertainment, Health care, Fashion industry etc.through platforms like Facebook, LinkedIn, Instagram and Twitter.
Role of Open Source Tools in Social Media Marketing Course
For the Social Media Marketing Certification program, students will be learning tools like Buffer, Facebook insight, Hootsuite, Feedly, Canva, Edgar, Socedo, and many more. These tools are specifically designed to track engagement and calculate ROI.
Modes of Training in Social Media Marketing Course
360DigiTMG offers quality training with industrial experts. Get the best training through online and classroom sessions.
Industry Applications of Social Media Marketing Course in Malaysia
Social Media Marketing is used extensively and creatively for promoting brands and services for Travel and Tourism, Airline Industry, Retail marketing, Entertainment, Financial institutions, Health care, Banking, Real Estate, Education, and Hotel industry.