AI & Deep Learning Course in Nagpur
Sculpt a brilliant career in artificial intelligence with the artificial intelligence course from 360DigiTMG. Learn to script AI and Deep Learning Algorithms with Python libraries like Keras, TensorFlow, and OpenCV. Implement image processing solutions using CNNs and Natural Language Processing (NLP) using RNN's. Build AI-driven games using Reinforcement Learning and Q Learning. Study the application of GANs, GPUs, and TPUs in implementing Deep Learning algorithms. Deploy machine learning solutions on AWS Cloud in the best Artificial Intelligence course in the industry
On-campus training: 60 Hours
00

Days

00

Hours

00

Minutes

00

Seconds
AI Training in Nagpur
This Artificial Intelligence course teaches students to use Python and R to develop statistical models, enable regression analysis and build prediction models. Knowledge of supervised and unsupervised Machine Learning algorithms and all variants of neural network algorithms are imparted. Deep Learning solutions are created with the aid of CNNs, RNNs, DBNs, GPUs, and TPUs. The application of Reinforcement Learning and Q Learning in developing video games is highlighted. Finally, students learn to deploy machine learning solutions on AWS in the best Artificial Intelligence course in the industry.
AI Training Learning Outcomes
Be able to build AI systems using Deep Learning Algorithms
Be able to run all the variants of Neural Network Machine Learning Algorithms
Be able to deal with unstructured data such as images, videos, text, etc.
Be able to implement Deep Learning solutions and Image Processing applications using Convolution Neural Networks
Be introduced to analyse sequence data and perform Text Analytics and Natural Language Processing (NLP) using Recurrent Neural Network
Be able to run practical applications of building AI driven games using Reinforcement Learning and Q-Learning
Be able to effectively use various Python libraries such as Keras, TensorFlow, OpenCV, etc., which are used in solving AI and Deep Learning problems
Learn about the applications of Graphical Processing Units (GPUs) & Tensor Processing Units (TPUs) in using Deep Learning Algorithms
Artificial Intelligence Training Modules
Alexa, an AI personal assistant that holds 70% of the smart speaker market is expected to add $10 billion by 2021.
(Source: https://www.bccresearch.com)
Block Your Time
60 hours
Classroom Sessions
60 hours
Assignments &
e-Learning
Who Should Sign Up?
Those aspiring to be Data scientists, or Deep learning and AI experts
Analytics managers and professionals, Business analysts and developers
Graduates looking for a career in Machine learning, Deep learning or AI
Professionals looking for mid-career shift to AI
Students entering the IT industry
AI & Deep Learning
Prerequisites
Computer Skills
Basic Mathematical Knowledge
Basic Data Science Concepts
Tools Covered



Register for a free orientation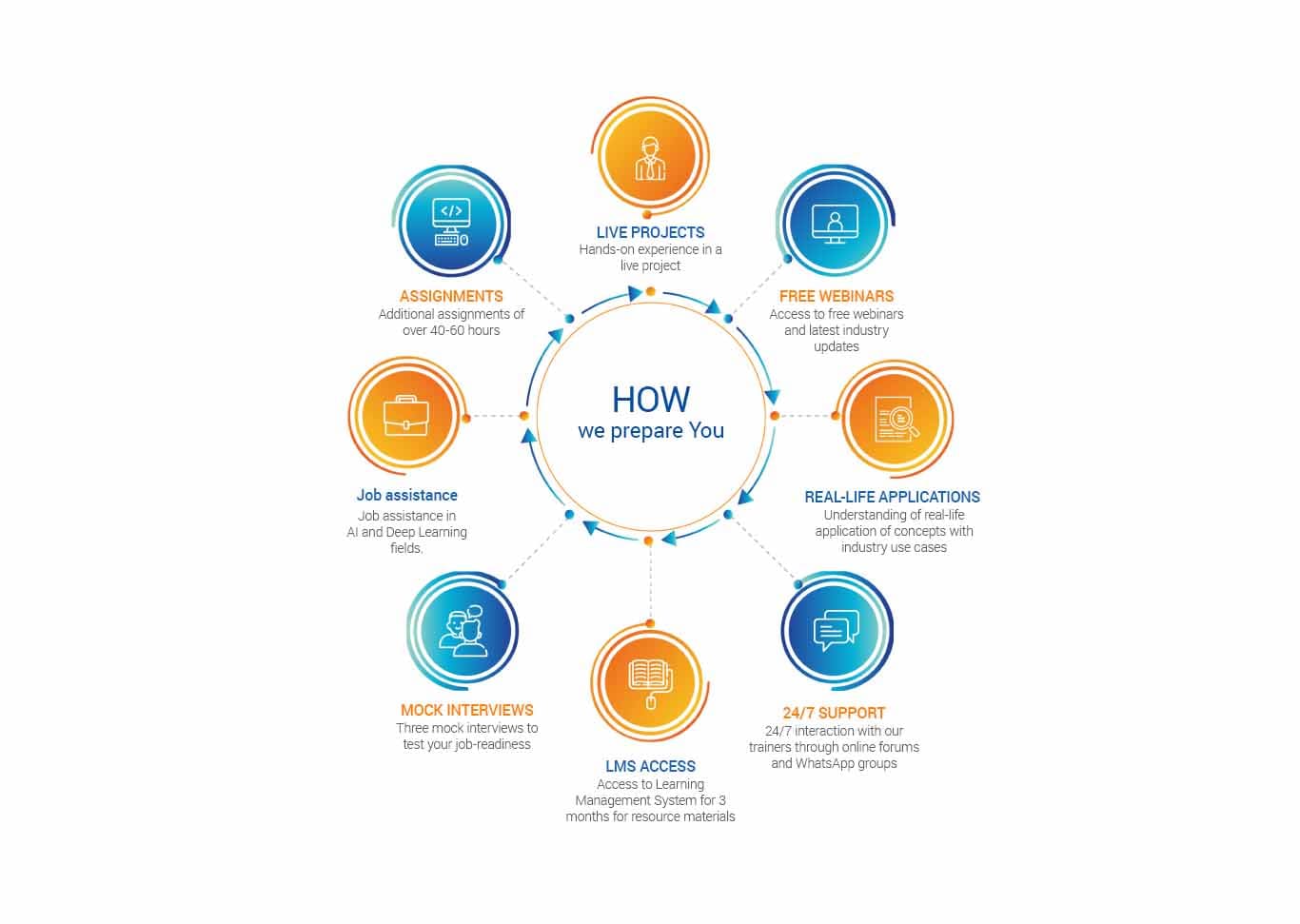 Artificial Intelligence Course Panel of Coaches
Bharani Kumar Depuru
Areas of expertise: Data analytics, Digital Transformation, Industrial Revolution 4.0
Over 14+ years of professional experience
Trained over 2,500 professionals from eight countries
Corporate clients include Hewlett Packard Enterprise, Computer Science Corporation, Akamai, IBS Software, Litmus7, Personiv, Ebreeze, Alshaya, Synchrony Financials, Deloitte
Professional certifications - PMP, PMI-ACP, PMI-RMP from Project Management Institute, Lean Six Sigma Master Black Belt, Tableau Certified Associate, Certified Scrum Practitioner, AgilePM (DSDM Atern)
Alumnus of Indian Institute of Technology, Hyderabad and Indian School of Business
Read More >
Sharat Chandra Kumar
Areas of expertise: Data sciences, Machine Learning, Business Intelligence and Data Visualization
Trained over 1,500 professionals across 12 countries
Worked as a Data Scientist for 14+ years across several industry domains
Professional certifications: Lean Six Sigma Green and Black Belt, Information Technology Infrastructure Library
Experienced in Big Data Hadoop, Spark, NoSQL, NewSQL, MongoDB, R, RStudio, Python, Tableau, Cognos
Corporate clients include DuPont, All-Scripts, Girnarsoft (College-dekho, Car-dekho) and many more
Read More >
Nitin Mishra
Areas of expertise: Data Sciences, Machine Learning, Business Intelligence and Data Visualization
Trained professionals from Fortune 500 companies and students at prestigious colleges
Experienced in Cognos, Tableau, Big Data, NoSQL, NewSQL
Corporate clients include Time Inc., Hewlett Packard Enterprise, Dell, Metric Fox (Champions Group), TCS and many more
Read More >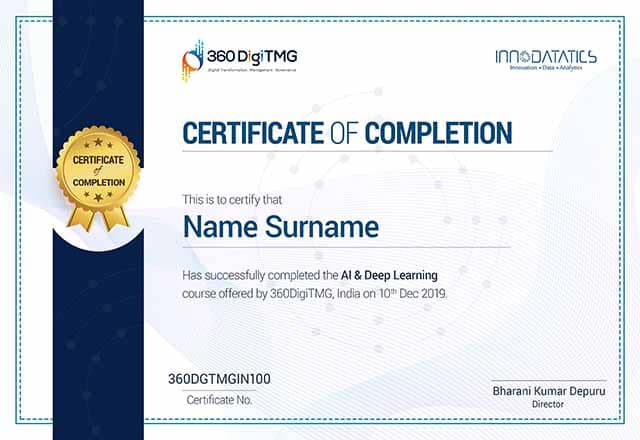 Certificate
360DigiTMG recognizes your diligence and sustained endeavour in this Artificial Intelligence and Deep Learning course and awards you this Certificate of Course Completion. This validates that in this artificial intelligence course you have demonstrated your commitment to excellence. Use it to win accolades and recognition from peers and superiors. The Artificial Intelligence Certificate, from the best artificial intelligence training institute, is your passport to an accelerated career path.
FAQs for AI Certification in Nagpur
Ecosystem Partners
Student Voices
Sharvin Rao
8 months ago
Very good exposure. Satisfied with this program. Teaching materials are complete and does not require any programming background to learn this course
Priya Gopal
9 months ago
Very experienced trainer and have patience to deal with every query raised in the classroom.
Lavaniya Rajesveran
9 months ago
Great place to learn about Data Science . Trainers are knowlegable and shared lots of new terms which was easily understandable.