Professional Certificate Course in
Business Analytics Certification Course
Fast-track your career with the Professional Certificate Course in Business Analytics Training.
Get Trained by Trainers from ISB, IIT & IIM
72 Hours of Intensive Classroom & Online Sessions
100+ Hours of Practical Assignments
2 Capstone Live Projects
Receive Certificate from Top University - UTM, Malaysia
100% Job Placement Assurance
2419 Learners
Academic Partners & International Accreditations
"Business Analyst is the fastest growing profile with demand anticipated to see a surge of 28% by the year 2020." - (Source). Successful businesses depend on business analysts who explore an organizations' data and implement statistical analysis to derive decision making. Among the many reasons for the increase in the demand for a Business Analyst is that their jobs cannot be automated. Secondly, with 70% of companies moving to digital platforms, a business analyst facilitates this digital transformation by designing information systems and executing digital initiatives. He is also responsible for implementing new business processes by cutting down expenses on operating costs, and enhancing efficiency and productivity of existing business processes. This allows the companies to perform competitively in the local as well as the global markets.
Business Analytics
Prerequisites
Computer Skills
Basic Mathematical Concepts
Analytical Mindset
Business Analytics Course Training Overview
Master data-driven analytics with our Certification Program in Business Analytics. Employ Machine Learning, Neural Network algorithms and Predictive Analytics for faster decision making. Empower your business decisions with the precision of Big Data Analytics and statistics. Enable effective data visualization with Tableau. The goal of this Business Analytics course is to assist learners who are professionals in their own right in developing skills in analytics so that they may be more productive to their organizations. The Professional Certification in Business Analytics is a foundation course for students and professionals who want to develop niche data skills for their chosen industry domain or function area. Become a Business Intelligence and Data Visualisation expert and surge ahead in your career.

The Business Analytics certification course covers all the essential Analytical and Statistical techniques for effective business decision making. This programme introduces the student to the basic concepts of Python language. The course has been constructed keeping in mind the market trend in this field and has been designed by none other than the trainers who are alumni of IITs, IIMs and ISB. They have used creative methods to achieve the learning outcomes and have designed a comprehensive curriculum, to help you develop an in-depth understanding of the subject. The course on Business Analytics in India promises a good return on your investment.

What is Business Analytics?

Business analytics is developing new business insights using statistics and data modeling. It involves analyzing data using business intelligence tools to make future predictions using data from the business's past performance. For example, a chain of schools may use the data collected to predict the best location to open their next branch. Many big organizations and businesses are using Business analytics because of its data-driven approach to the world of business. Data is like a lifeline for data-driven companies who extensively depend on their data quality and skilled analysts. A business analyst understands this technology and actively looks for ways to turn the data into a competitive advantage by gaining insights that inform better business decisions.
Business Analytics Training Learning Outcomes
Business Analysts are the mainspring behind the new-age businesses that have adopted a data-driven approach to making more informed decisions and solving business problems. Business Analytics uses various tools and techniques like data extraction, data depiction, and analytical modelling to make the most of the data which is available to us at the click of a button. It is estimated that Data creation will reach 164 zettabytes by 2025, and so will the demand for business analysis professionals who are experts in deriving meaningful insights from Big Data. The course on Business Analytics, India aims to provide a comprehensive study that enables you to work with various data generation sources, create business reports, dashboards, stories, maps, etc. to draw meaningful business insights and effectively communicate business strategies. Learn to apply descriptive, predictive, and prescriptive analytics to develop an understanding to solve a business problem and to build prediction models for day-to-day applicability. This course also allows you to use Data Visualization concepts to represent and interpret data and work on projects and tasks that are based on real-life case studies. The aim of this program is to provide students with professional education in the field of Business Analytics so as to enable them to understand and critically analyze unstructured business problems. They will also learn to provide solutions using the language, theory and models of Analytics. Furthermore, they will also
Work with various data generation sources
Perform Text Mining to generate Customer Sentiment Analysis
Understand how to use various analytics tools and techniques
Develop an understanding of descriptive and predictive analytics
Apply data-driven, Machine Learning approaches for business decisions
Build prediction models for day-to-day applicability
Perform forecasting to take proactive business decisions
Use Data Visualization concepts to represent data for easy understanding
Create business reports, dashboards, stories, maps etc. to draw meaningful business insights
Block Your Time
72 hours
Classroom Sessions
100 hours
Assignments &
e-Learning
Who Should Sign Up?
Science, Math and Commerce graduates
IT professionals who want to specialize in digital technology
Professionals who want to move into Data Analytics
Professionals who want to add Data Analytics to current job skills
Academicians and researchers working in Data Analytics
Business Analytics Course Modules
The Business Analytics course in India is designed to empower you with essential techniques, tools, and skills you will need to excel in this field. The aim of this module is to build your understanding and capabilities in designing, structuring, and analyzing data. The module on business analytics will cover Hypothesis testing, Linear regression, Black Box techniques, Data Mining and many more to demonstrate familiarity with analytical tools. Learn various Hypothesis Tests to solve business problems. Using a simple mathematical formula, the equation of a line, you can predict an outcome. Understand the art of improvising the results of Prediction Models. Understand the different regression techniques, like Logistic Regression and Poisson Regression, etc. used for discrete data.
Trends in Business Analytics
Business analytics has refined significantly over the past decade giving users better insights into the operational data and improving upon the business process to target dimensions like profit and time to market. It is giving more and more people the ability to feel the sheer power of managing their data quality and with predictive and prescriptive analytics it is set out to become the most important trend in the digital world. Even smaller companies are collecting and analyzing data to move forward to meet new challenges and not having to fight for their share in the market. With the staggering amount of data being generated, AI applications are being pitched into the world of analytics to scan huge amounts of data and find correlations in them. Now businesses can find a ready-made solution to their problems with the advent of analytics.
Among the other trends, Data protection has become a primary concern for businesses worldwide. Apart from analyzing data to import insights one also needs to follow guidelines provided by GDPR (General Data Protection Regulation). Natural language processing is another trend catching up among analysts to provide an easy to understand interface for people to extract the required information from the database without the need for a dedicated data specialist. A Blockchain is a trend that is helping to a large extent in finding out which information can be trusted and used. It is also becoming handy in tracking false reports and fake news. Last but not least is the way data is presented graphically which is making it easy to unearth the relationship between transactions, organizations, and people.
How we prepare you
Additional assignments of over 140+ hours

Live Free Webinars

Resume and LinkedIn Review Sessions

Lifetime LMS Access

24/7 support
Job placements in Business Analytics fields

Complimentary Courses

Unlimited Mock Interview and Quiz Session

Hands-on experience in a live project

Offline Hiring Events
Call us Today!
+91 9989994319
Business Analytics Course Panel of Coaches
Bharani Kumar Depuru
Areas of expertise: Data Analytics, Process Management, Quality Management.
Over 13 years of professional experience
Trained over 2,500 professionals from eight countries
Corporate clients include Hewlett Packard Enterprise, Computer Science Corporation, Akamai, IBS Software, Litmus7, Personiv, Ebreeze, Alshaya, Synchrony Financials, Deloitte
Professional certifications - PMP, PMI-ACP, PMI-RMP from Project Management Institute, Lean Six Sigma Master Black Belt, Tableau Certified Associate, Certified Scrum Practitioner, AgilePM (DSDM Atern)
Alumnus of Indian Institute of Technology, Hyderabad and Indian School of Business
Read More >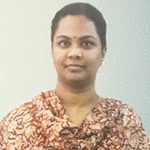 Bhargavi Kandukuri
Business Analytics, Quality Management, Data Visualization with Tableau, COBOL, CICS, DB2 and JCL.
Electronics and communications engineer with over 13 years of industry experience
Senior Tableau developer, with experience in analytics solutions development in domains such as retail, clinical and manufacturing
Trained over 750+ professionals across the globe in three years
Worked with Infosys Technologies, iGate, Patni Global Solutions as technology analyst
Read More >
Dr Nitin Mishra
Areas of expertise: Data Sciences, Machine Learning, Business Intelligence and Data Visualization.
Over 15 years of industry experience in Data Science and Business Intelligence.
Trained professionals from Fortune 500 companies and students from prestigious colleges.
Experienced in Cognos, Tableau, Big Data, NoSQL, NewSQL
Corporate clients include Time Inc., Hewlett Packard Enterprise, Dell, Metric Fox (Champions Group)
Read More >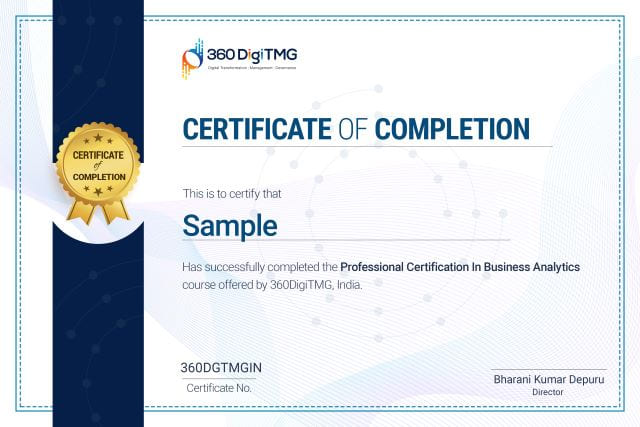 Certificate
Gain industry recognition for niche skills with the Professional Certification in Business Analytics. The certificate illustrates your ability to extract actionable insights from business data for improved decision - making.
Recommended Programmes
2064 Learners
3021 Learners
2915 Learners
FAQs for Business Analytics Certification Course
Jobs in the field of Business Analytics
There is no denying the fact that Business Analytics will form the future of the business world in significant ways. Business analysts work across different industries like Information Technology, Finance/Insurance, Government and public sector, Business/professional consulting, Healthcare, and social services.
Salaries in India for Business Analytics
The professional growth in this field has an excellent outlook. Organizations such as TCS, Amazon, Google, Accenture, Wipro, etc. are great venues to work. A Business analyst salary may range from 4,00,000-5,50,000 at entry-level depending upon one's skill set, work experience, and location.
Business Analytics Projects
One can explore various projects using various analytic tools like building a predictive model using Machine Learning to predict demands and trends, building a forecasting tool that can handle the problem of seasonality, changing economy, fluctuating demand levels, strikes, etc.
Role of Open Source Tools in Analytics
These tools help you create reports by collecting data from various sources and presenting them as visual insights that help improve upon processes and procedures in the business arena. In this program, we will explore tools like R, RStudio, Python, and Tableau.
Modes of Training for Business Analytics
The course in India is designed to suit the needs of students as well as working professionals. We at 360DigiTMG give our students the option of both classroom and online learning. We also support e-learning as part of our curriculum.
Industry Application of Business Analytics
Business analytics plays a vital role in the business industry where it is extensively used for providing meaningful insights in various domains including sales, manufacturing, marketing, supply chain optimization, and fraud detection to help companies gain an edge over their competitors.