Certificate Course in
Google Cloud Platform Training
Google Cloud Platform (GCP) provides a spectrum of cloud services like serverless computing, data storage, data analytics, and machine learning.
Get Trained by Trainers from ISB, IIT & IIM
24 Hours of Intensive Classroom & Online Sessions
60+ Hours of Practical Assignments
Assistance for Taking GCP Solution Architect - Associate Certification
2 Capstone Live Projects
100% Job Placement Assurance
2528 Learners
Academic Partners & International Accreditations
"The global Cloud Technology market has seen massive growth over the past decade and is expected to grow to $299.5 billion in 2020." - (Source). Introduction Google cloud platform is a channel by which people can access google computing services and cloud systems. You can access a range of cloud services and features like storage, data analytics, application development, and advanced machine learning. One of the advantages of using Google cloud platform is that it is secure, easy to use and provides better pricing plans and one needs to pay the money only for the time they have used the services. The certification provided by Google cloud gives the candidates the much-needed industry recognition validating their expertise in the field. Organizations across the globe are leveraging cloud services for ample use cases such as information backup and disaster recovery, big data analytics, and customer-facing web applications. This course training from India will help you amplify your career on the cloud platform.
Google Cloud Platform
Prerequisites
Computer Skills.
Basic Mathematical Knowledge.
Google Cloud Computing Training Overview
A sure-winner in the Cloud Computing domain, Google Cloud Platform (GCP) provides a spectrum of cloud services like serverless computing, data storage, data analytics, and machine learning. At the culmination of this course, the student will get an in-depth understanding of GCP services in networking, IAM and Security, Compute Engine, Storage and Database, Containers, API's and Development, and DevOps services. This course prepares you for the Google Cloud Platform Certification Examination.

Google Cloud Platform offers different computing, Big Data, and Artificial Intelligence resources. Students are taught to manage the GCP environment with GCP Console, Cloud Shell, GCloud, Gsutil. Best practices on the IAM role, policy, and service account are discussed. Students will be introduced to Compute Engine, creating customized machines, and working with virtual machines. Unstructured data is stored in cloud storage and structured data is Cloud SQL. Students can work with cloud storage buckets and use the Gsutil tool to manage cloud storage. Containers and the methods to deploy, manage, and scale containerized applications on Kubernetes is elaborate.

Definition

Cloud computing is a channel through which one can access servers that are remotely available and are used to stock, manage and process data over the internet. There are many cloud providers like AWS, Microsoft Azure, Rackspace, IBM Cloud, etc. There are a host of services that Google offers like Google Search, YouTube, Gmail, Google Drive, etc. The Google cloud platform is a suite of cloud computing services offered by Google that are reliable and highly scalable and provide facilities of computing, storing, and networking. Owning and maintaining physical data servers can be cumbersome, instead one can use services provided by cloud providers like Google or Azure for computing, storing, and maintaining databases on cloud platforms via the internet.
GCP Certification Learning Outcomes
Expertise in the Google Cloud Platform is invaluable for enterprises that have migrated their IT infrastructure to the cloud. It has facilitated a secure, scalable, and modern infrastructure which ensures data backup and disaster recovery. This course introduces you to the fundamentals of cloud computing and the various terminologies and concepts of Google Cloud Platform (GCP) along with an understanding of the products and services provided by GCP. This course will help you cultivate clear thinking on how to design, develop, administer various applications, and provide data solutions on Google cloud. Students will develop knowledge of Configuring their VPC in a GCP environment and how to use Compute Engine, Cloud Storage, and Database. Students will also learn how to tackle cloud features in big data, analytics, and machine learning that will help build better products and services that will power inspiring applications. Students will be exposed to deploying services using a command line, console to import data into google cloud storage, and run query for analysis. This course has been designed for professionals who want to start a career in GCP or who want to appear for the Google Cloud Certification exam. So, come join this training in India and exhibit your technical skills and proficiency with the help of hands-on practical experience through live projects that will teach you to incorporate Google Cloud solutions and push yourself and your enterprise to the next level.
Thorough knowledge on concepts and terminologies of GCP
Good understanding of GCP products and services
Ability to develop, implement and deploy various solutions
Usage of Compute Engine, Cloud Storage, Database
Configure your own VPC in GCP environment
Implementing solutions with Security, High Availability and other services
Deploying services using Command line, Console
Block Your Time
24 hours
Classroom Sessions
60 hours
Assignments &
e-Learning
Who Should Sign Up?
Fresh Graduates with minimum background knowledge of computers
Experienced professionals in need of mid career shift
IT Professionals having project requirements within the company
Final year students aspiring to kickstart a career in Cloud Computing Technology
Google Cloud Computing Certification Modules
This module helps you enter the world of cloud computing where you will inspect the infrastructure and services provided by the Google cloud platform. The modules commence with an introduction to the Google cloud platform where you will learn how to set up GCP cloud projects and accounts within the project assigning predefined roles. You will learn about App Engine, Compute Engine, Kubernetes, and storage services available in GCP and also work with Data Storage options like Cloud SQL, Big Query, and co functioning with Network Resources. This course gives you an in-depth knowledge of the various tools used in GCP. The concluding module will teach the students to work with Identity and Access Management, Managing Service Accounts, auditing log Viewing, and Securing VMs and Other Projects.
Trends in Cloud Computing
Cloud Computing in its elementary form is storing data in some remote location and having access to it from anywhere. This has unlocked many avenues for companies that have found a way to mobilize their data and keep a backup of their data in case anything goes wrong with the existing framework. Google has been considered a trailblazer in creating services like Google App Engine, Gmail, Google Docs, Google Cloud Dataflow, and Google BigQuery Service, and these services when combined form Google Cloud Platform. The trends to look out for will include the growth in size and capacity which will result in cheaper storage solutions. The other important trend in this field will be improving efficiency while reducing effort and cost by increasing Cloud-Based Container Systems. These systems allow companies to test and deploy new software with ease.
Cloud Computing has been the stage for emerging technologies such as artificial intelligence (AI), blockchain, and Internet-of-Things (IoT). It is the key innovator for business evolution and also the chosen deployment model for streamlining existing information technology infrastructure. The Internet of Things (IoT) is all set to revolutionize the tech industry and is emerging as one of the upcoming Google Cloud trends that are expected to take cloud computing to the next level. It will help create better solutions for both customers and companies. But none of these services are of any use if they are not secure enough to keep your data from being tampered and which is why we will see an uprise in the blockchain services which will create more transparency and accountability in the system.
How we prepare you
Additional Assignments of over 60+ hours

Live Free Webinars

Resume and LinkedIn Review Sessions

Lifetime LMS Access

24/7 Support
Job Placements in Google Cloud Platform Fields

Complimentary Courses

Unlimited Mock Interview and Quiz Session

Hands-on Experience in Live Projects

Offline Hiring Events
Call us Today!
+91 9989994319
GCP Training Panel of Coaches
Bharani Kumar Depuru
Areas of expertise: Data Analytics, Digital Transformation, Industrial Revolution 4.0.
Over 14+ years of professional experience.
Trained over 2,500 professionals from eight countries.
Corporate clients include Hewlett Packard Enterprise, Computer Science Corporation, Akamai, IBS Software, Litmus7, Personiv, Ebreeze, Alshaya, Synchrony Financials, Deloitte.
Professional certifications - PMP, PMI-ACP, PMI-RMP from Project Management Institute, Lean Six Sigma Master Black Belt, Tableau Certified Associate, Certified Scrum Practitioner, AgilePM (DSDM Atern).
Alumnus of Indian Institute of Technology, Hyderabad and Indian School of Business.
Read More >
Sharat Chandra Kumar
Areas of expertise: Data Science, Machine Learning, Business Intelligence and Data Visualisation.
Trained over 1,500 professional across 12 countries.
Worked as a Data Scientist for 14+ years across several industry domains.
Professional certifications: Lean Six Sigma Green and Black Belt, Information Technology, Infrastructure Library.
Experienced in Big Data Hadoop, Spark, NoSQL, NewSQL, MongoDB, R, RStudio, Python, Tableau, Cognos.
Corporate clients include DuPont, All-Scripts, Girnarsoft (College-dekho, Car-dekho) and many more.
Read More >
Nitin Mishra
Areas of expertise: Data Science, Machine Learning, Business Intelligence and Data Visualisation.
Over 20+ years of industry experience in Data Science and Business Intelligence.
Trained professionals from Fortune 500 companies and students from prestigious colleges.
Experienced in Cognos, Tableau, Big Data, NoSQL, NewSQL.
Corporate clients include Time Inc., Hewlett Packard Enterprise, Dell, Metric Fox (Champions Group), TCS and many more.
Read More >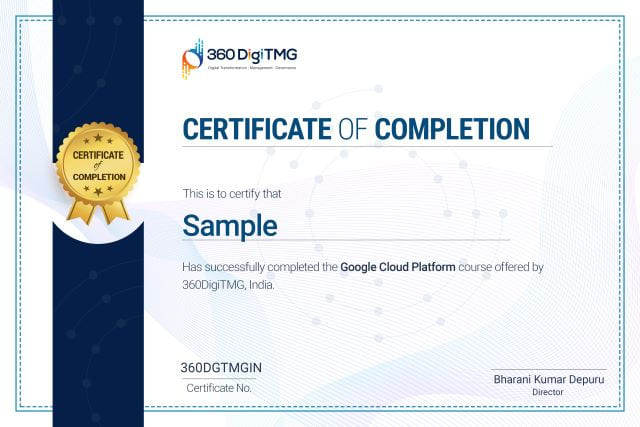 Certificate
The Google Cloud Platform Certificate is your badge of recognition as a full-scale Cloud Computing Professional. Display your certificate and earn appreciation from office colleagues and industry peers.
Recommended Programmes
2064 Learners
3021 Learners
2915 Learners
FAQs for Google Cloud Platform
Jobs in the field of Google Cloud Platform
More than one million new jobs will be created in India in Cloud Computing by 2022. In this field, one can work as a Cloud Architect, Cloud Software Engineer, Cloud Enterprise Architect, and Cloud Infrastructure Engineer to name a few.
Salaries for Google Cloud Platform Professionals
Cloud Architects who have experience of 10-15 years can earn around Rs.30 lakhs per annum Freshers in Cloud Computing can gross between Rs.5 to 7 lakhs per annum. Mid-Level Managers can earn Rs.20 lakhs per annum and senior professionals up to one crore per annum.
Google Cloud Platform Course Projects
The Government of India has launched an Integrated Cloud Technology initiative "GI Cloud" dubbed " Meghraj" to accelerate ICT spending. This will speed up the development and deployment of e-governance applications.
Role of Open Source Tools in Google Cloud Platform
The various open-source tools help in innovation, interoperability, and movability which is integral to a future-proof infrastructure. These tools lower the barriers for new organizations to build private clouds. They also facilitate the creation of customized cloud architecture.
Modes of Training for Google Cloud Platform Course
The course in India is designed to suit the needs of students as well as working professionals. We at 360DigiTMG give our students the option of both classroom and online learning. We also support e-learning as part of our curriculum.
Industry Applications of Google Cloud Platform in India
Cloud computing finds its application in many fields of education, healthcare, banking processes, entertainment, real estate, automotive sector, etc. It provides personalized treatment in the healthcare sector and financial services companies are using it for real-time fraud detection.