Professional Certificate Course in
Cyber Security Analytics Training
Boost your career in the space of security & privacy with CyberSecurity analytics training, it is devised to help participants build predictive modeling products & solutions to counter cyber-attacks.
Get Trained by Trainers from ISB, IIT & IIM
40 Hours of Intensive Classroom & Online Sessions
60+ Hours of Practical Assignments
2 Capstone Live Projects
100% Job Placement Assurance
2651 Learners
Academic Partners & International Accreditations
"Rise in cyber terrorism is the main force behind the growth of the cybersecurity market which is expected to grow to USD 250 billion by 2023." - (Source). Cybercrime is a global issue that's been dominating the digital space. Every second data being transmitted across networks, risking information, and exposing the system to several threats. Big organizations, international companies, banks, and governments are doing everything in their power to protect data so that it doesn't fall into the wrong hands. Cyber Security Analytics has evolved to meet the need for greater security across businesses and delivering real-time analytics and functional intelligence in an easy format. Security Analytics also includes the real-time collection of data, continuous monitoring of security controls, processing and analysis of logs, and flag any suspicious activity immediately. It also speeds up alert verifications and quickly responds to potential threats using security tools. Join this course in cybersecurity analytics in India because today more and more companies are looking for individuals with fundamental capabilities to keep their business safe.6+
Cyber Security Analytics
Prerequisites
Computer Skills
Basic Mathematical Concepts
Computer Networks
Cyber Security Analytics Training Overview
Cyber Security is at its prime at the current times in the world. With the advent of data, organizations are building their data analytics departments for data storage & processing more & more data. At the same time, hackers around the world are trying to steal the data. This is because all the strategies devised among the competitors are more or less well established and these strategies can be easily replicated. Hence, the only true differentiator among competitors is data. What data they have access to and how they mine the data will determine the future of organizations. Hence data has to be secured and any vulnerabilities should be proactively arrested, and this is possible with Machine Learning in Cyber Security.

Certification program in Cyber Security and application of Data Science in Cyber Security is among a unique set of programs that 360DigiTMG is offering in its catalog of Industry-Specific courses. It is designed by experts who work in the space of security & privacy and having rich industry experience handling data security. With cybersecurity jobs and salaries skyrocketing, cybersecurity analytics training is devised to help participants build predictive modeling products & solutions to counter the cyber-attacks.

What do you mean by Cybersecurity analytics?

The widespread use of technology in today's digital world has paved a way to rise in cybercrime and Cybersecurity has become the topmost concern of every organization, or giant corporations. Security teams need to be more vigilant than ever before. Cybersecurity analytics refers to a set of procedures and techniques used to protect the networks, programs, and data from attack, damage or unauthorized access and analyze billions of threat signals in real-time. Cybersecurity analytics focuses on preventing theft of information, various data breaches, and some malware and ransomware attacks.
Cyber Security Analytics Learning Outcomes
The course in Cybersecurity analytics aims to cover all cybersecurity concepts and fundamentals theoretically and practically. Cybersecurity refers to techniques used to mitigate harm to computer networks, applications, devices, and data. Detects intrusions, attacks, misuse, or infections quickly and makes quick, accurate, reliable decisions about the nature of a breach, what caused it, and what action needs to be taken to prevent data losses and avoid further intrusion. A security analyst increases the chances of catching an attack before it is fully executed, minimizing damage, and ensuring the protection of IT assets. Security analytics is an approach to cybersecurity that analyzes data to produce proactive security measures. It is a growing field that provides analytics tools that help predict security threats and send alerts the minute an oddity is located. This course aims to provide a foundational platform for Cyber Security Aspirants by providing Cyber Security Awareness and Training in India. You will learn to resolve security issues in networks and computer systems. Students will explore the different applications of data science & AI in cybersecurity along with understanding descriptive and predictive analytics in cybersecurity. This course is for someone who wants to work on IT issues that have real-world impact. You will also
Learn about the various cyber security attacks
Learn about applications of data science & AI in cyber security
Machine learning for various malware detection
Develop an understanding of descriptive and predictive analytics in cyber security
Applications of time-series / forecasting in cyber security
Deep Learning in building AI applications in cyber security
Unsupervised learning application in the space of cyber security
World of opportunities in the space of cyber security analytics
Block Your Time
40 hours
Classroom Sessions
Who Should Sign Up?
Internal Auditors
CFO/Director/Head of Accounting
Business Analysts
Data Analysts
Banking and Accounting Analysts
Certified Financial Analysts
Credit Analysts
Financial Advisors
Math, Science and Commerce Graduates
Math, Science and Commerce Graduates
Cyber Security Analytics Course Modules
Comprehending the threats that matter quickly is paramount for any security team. A cybersecurity analyst analyzes and assesses potential vulnerabilities in the infrastructure, networks, hardware, and software of a company's IT department and reports any hacking attempts with the goal of developing stronger security procedures. The Module on cybersecurity analytics commences with an understanding of the various problems & challenges in the space of cybersecurity & how Machine Learning is shaping cybersecurity analytics. The students will also explore the various applications of data science & predictive modeling in cybersecurity. You will also learn about Malware detection and how ensemble techniques help in detecting cyber-attacks. The concluding modules familiarize students about the application of clustering – K-Means in detecting anomalies by using Windows event logs & Windows active directory data.
How we prepare you
Additional Assignments of over 60+ hours

Live Free Webinars

Resume and LinkedIn Review Sessions

Lifetime LMS Access

24/7 Support
Job Placements in Cyber Security Analytics Fields

Complimentary Courses

Unlimited Mock Interview and Quiz Session

Hands-on Experience in Live Projects

Offline Hiring Events
Call us Today!
+91 9989994319
Cyber Security Analytics Course Panel of Coaches
Bharani Kumar Depuru
Areas of expertise: Data analytics, Digital Transformation, Industrial Revolution 4.0
Over 14+ years of professional experience
Trained over 2,500 professionals from eight countries
Corporate clients include Hewlett Packard Enterprise, Computer Science Corporation, Akamai, IBS Software, Litmus7, Personiv, Ebreeze, Alshaya, Synchrony Financials, Deloitte
Professional certifications - PMP, PMI-ACP, PMI-RMP from Project Management Institute, Lean Six Sigma Master Black Belt, Tableau Certified Associate, Certified Scrum Practitioner, AgilePM (DSDM Atern)
Alumnus of Indian Institute of Technology, Hyderabad and Indian School of Business
Read More >
Sharat Chandra Kumar
Areas of expertise: Data sciences, Machine learning, Business intelligence and Data visualisation
Trained over 1,500 professional across 12 countries
Worked as a Data scientist for 14+ years across several industry domains
Professional certifications: Lean Six Sigma Green and Black Belt, Information Technology Infrastructure Library
Experienced in Big Data Hadoop, Spark, NoSQL, NewSQL, MongoDB, R, RStudio, Python, Tableau, Cognos
Corporate clients include DuPont, All-Scripts, Girnarsoft (College-dekho, Car-dekho) and many more
Read More >
Nitin Mishra
Areas of expertise: Data sciences, Machine learning, Business intelligence and Data visualisation
Over 20+ years of industry experience in data science and business intelligence
Trained professionals from Fortune 500 companies and students at prestigious colleges
Experienced in Cognos, Tableau, Big Data, NoSQL, NewSQL
Corporate clients include Time Inc., Hewlett Packard Enterprise, Dell, Metric Fox (Champions Group), TCS and many more
Read More >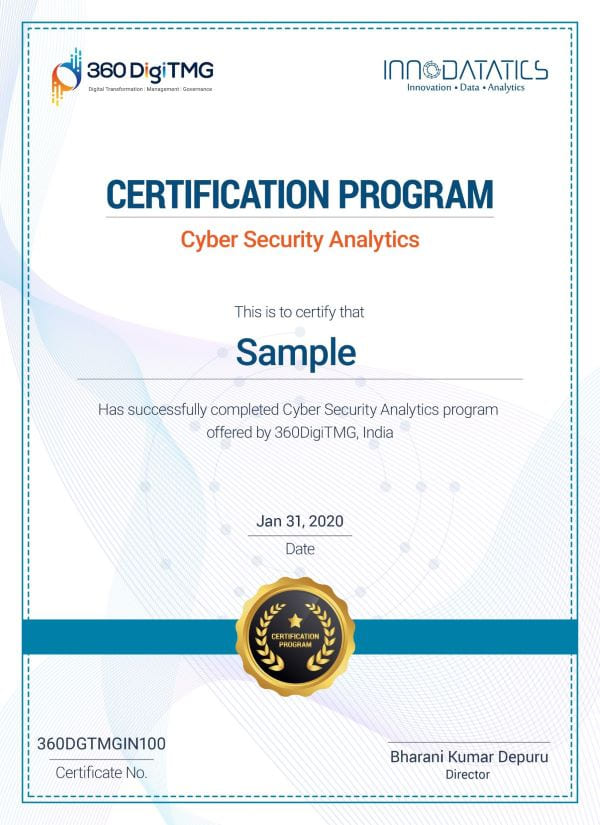 Certificate
Earn a certificate and demonstrate your commitment to the profession. Use it to distinguish yourself in the job market, get recognised at the workplace and boost your confidence. The Data Science in Cyber Security Analytics Certificate is your passport to an accelerated career path.
Recommended Programmes
2064 Learners
3021 Learners
2915 Learners
FAQs for Cyber Security Analytics Program
Jobs in the field of Cyber Security Analytics
There is a range of career opportunities in Cyber Security Sectors and one can work as a Network Security Analyst, Cyber Security Analyst, Security Automation, Cyber Security Practitioner, Cyber Defense Analyst, Information Security Engineer in leading IT Industries and to act as Cyber Security Experts in Government agencies.
Salaries for Cyber Security Analytics Professional
As cyber-attacks have increased in frequency leading to increased demand for cybersecurity analysts who can create new and innovative solutions to combat hackers from stealing critical information. The salary of a cybersecurity analyst in India is between 5 lacs to 10 lacs.
Projects in Cybersecurity Analytics
To gain expertise in any domain, one needs hands-on experience and projects provide that exposure. Develop your keylogger, build a small web app that can break Caesar's cipher, attempt Bug Bounties, and Hackathons or perform a SQL Vulnerability Assessment.
Role of Open Source Tools in Cyber Security Analytics
Open-source security tools facilitate easy modification and customization for the public to cybersecurity designs to fit an organization's needs. Since these tools are free, they also contribute to enterprises to save on their IT budgets. The tools covered in course are R, Python, and RStudio
Modes of Training for Cyber Security Analytics
The course in India is designed to suit the needs of students as well as working professionals. We at 360DigiTMG give our students the option of both classroom and online learning. We also support e-learning as part of our curriculum.
Industry Application of Cyber Security Analytics
Cybersecurity is crucial across all sectors driven by data and holds significant importance in government agencies, corporates, military, various financial institutions, Oil and gas industry, the healthcare sector, the life sciences, and the public sector. etc.