Certificate Course in
Internet of Things (IoT) Training
Get a perfect primer to gain a foothold into the exciting world of IoT with our IoT Course Training.
Trainers from IIT & BITS Pilani
40 Hours of Intensive Classroom & Online Sessions
60+ Hours of Practical Assignments
2 Capstone Live Projects
Receive Certificate from Technology Leader - IBM
100% Job Placement Assurance
3452 Learners
Academic Partners & International Accreditations
"The India IoT market will touch $15 billion by 2020 and grow with a CAGR of 24.24% during 2016-2023." - (Source). IoT is among the most important technologies of the 21st century that has made it possible to connect various everyday objects over the internet via embedded devices. It has made the flow of communication easy between the physical and the digital world. As IoT becomes popular, many companies are capitalizing on it to derive tremendous business value. It allows companies to manage their businesses better by contributing to increased productivity and efficiency of business operations. It also helps organizations make better decisions, decrease the workload with automation, and provides a good quality of life. With 50 billion devices connected to the Internet of Things and an economic impact of up to $11 trillion by 2025, the Internet of Things (IoT) is here to stay.
Internet of Things
Prerequisites
Basic Programming
Basic Electronics Knowledge
IoT Training Overview in India
Design and implement IoT devices and software with our Certification course in IoT. Understand IoT network architecture, device architecture, sensor design, embedded development boards, etc. Learn about the various IoT communication protocols and services on the cloud-like IaaS, PaaS, and SaaS. Understand the difference between IPv4 and IPv6. Learn how to develop Python and C code for a Raspberry Pi board. Also, enjoy hands-on exposure with Raspberry Pi Board. Next, the students are exposed to IoT Network Architecture, Device Architecture, and publish-subscribe architecture. An entire module is devoted to IoT device design wherein the student is exposed to the various types of sensors, their classification, and application along with various kinds of embedded development boards. The various communication protocols like wired, wireless, application, IPv4, and IPv6 are explained in detail. A separate module on the fundamentals of Embedded C and python is included in the course. Participants get hands-on exposure on a Raspberry Pi board.

What is the Internet of things (IoT)?

IoT is a giant network of everyday things embedded with electronics, sensors, and software via the internet that allows devices to collect and exchange data from other nearby devices and can identify themselves to other devices. The IoT is influencing every domain of our lives from the way we respond to the way we act right from controlling our electrical appliances like AC's, Televisions, Smartwatches, Fridge, etc. that can be controlled by our smartphones. IoT provides a platform for all the devices to communicate with each other with the help of sensors in these devices which continuously emit data regarding the working state of the devices. All the data collected from these sensors are sent to the IoT platform where it is integrated and analyzed to produce valuable data.
IoT Courses Learning Outcomes
Taking the power of the internet beyond your smartphones and computers and interrelating it to other digital devices so that they can exchange and transfer data without human intervention is IoT for you.It is a network where machines everywhere communicate with other machines providing advanced data collection, analysis and connectivity. The compass of IoT is very wide and it is going to encircle almost all application areas soon. It has made the flow of communication easy between the physical and the digital world by connecting various everyday objects over the internet via embedded devices. To name a few incredible things you can now do with your smartphone like watching a movie, reading a book, or for that matter listening to a song, all this is IoT in action. Simply putting, it means connecting all your devices over the internet and making them smart.In this course the students will learn about the importance of the Internet of Things and how it differs from traditional data collection systems. Explore the architecture, operation, and business benefits of IoT and its relationship with cloud computing, and Big Data. This training will also equip you with the skills needed to build Internet of Things (IoT) systems and review key technologies employed to form complete IoT systems. They will also gain in-depth knowledge of the building blocks and application areas of IoT. You will also learn how to develop the Internet of Things & Logical Design using Python. By the end of the training, you will be able to
Design independent IoT devices for sectors like Retail, Manufacturing and Construction
Comprehend IoT architecture and Modern Microcontrollers for Data capture and Signal relaying
Understand the advantages of Cloud storage
Design and produce hardware compatible MCU
Configure an HTTP server and develop python modules for basic Data Analytics
Be able to understand IoT Communication Protocols
Block Your Time
40 hours
Classroom Sessions
Who Should Sign Up?
Candidates aspiring to be IoT Analysts
Analytics Managers / Professionals, IoT Experts
Candidates aspiring to get an overall understanding of "IoT Analytics"
Professionals who wish to understand IoT Architecture, Cloud IoT and IoT Implementation Strategy
Employees of organizations, who are planning to shift to IoT and Data Analytics
Finally – Students who wish to embark on the journey of IoT, Cloud Computing and Data Analytics
Internet of Things Training Modules in India
The module on IoT addresses the IoT concepts and end to end IoT systems. Gain a complete understanding of the aspects of IoT architecture and IoT design. You will also learn programming languages like Python for Data Analysis and will get the chance to learn about the concepts of cloud computing. This module provides a thorough understanding of collecting, communicating, coordinating, and leveraging data from connected devices. You will be exposed to the various types of communication protocols for IoT devices clubbed with hands-on exposure on different kinds of embedded development boards like Raspberry Pi. You will also learn interfacing MCU with basic units.
IoT Trends in India
The IoT training in Hyderabad will open many doors for stepping into the world of opportunities where the physical world meets the digital world. The IoT trends to look out for are the rise in the demand for connected home devices, Edge computing that will offer benefits like better management of large amounts of data, lower dependency on cloud and providing better security of data. IoT will also mark a golden period for retailers and marketers who with the help of beacon and sensors will be able to offer next-level service complimented by greater personalization. Sectors like Healthcare and Education will also be able to deliver value offerings to their end customers. Technologies like Big Data, Artificial Intelligence, and Machine Learning will dictate and define drift and involvement of IoT in the coming time.
With the growth in the rapidly expanding field of IoT, the salaries of IoT professionals in India are said to be 80% higher than that of other IT professionals. The average salary of a mid-level IoT professional is around 16 lakh per annum which is pretty impressive as compared to other IT sectors. With top companies like Accenture, Amazon, Wipro, Oracle, Infosys extensively hiring IoT professionals only suggests an optimistic future for people looking to pursue a career in IoT. Gear up for a successful career in this future technology by getting enrolled in the IoT Training in Hyderabad which is provided as per Industry-based standards and delivered to you by expert trainers from the industry which is an added advantage of this training in Hyderabad.
How we prepare you
Additional assignments of over 60+ hours

Live Free Webinars

Resume and LinkedIn Review Sessions

Lifetime LMS Access

24/7 support
Job Placements in IoT fields

Complimentary Courses

Unlimited Mock Interview and Quiz Session

Hands-on experience in a live project

Offline Hiring Events
Call us Today!
+91 9989994319
IoT Certification Panel of Coaches
Bharani Kumar Depuru
Areas of expertise: Data analytics, Digital Transformation, Industrial Revolution 4.0
Over 14+ years of professional experience
Trained over 2,500 professionals from eight countries
Corporate clients include Hewlett Packard Enterprise, Computer Science Corporation, Akamai, IBS Software, Litmus7, Personiv, Ebreeze, Alshaya, Synchrony Financials, Deloitte
Professional certifications - PMP, PMI-ACP, PMI-RMP from Project Management Institute, Lean Six Sigma Master Black Belt, Tableau Certified Associate, Certified Scrum Practitioner, AgilePM (DSDM Atern)
Alumnus of Indian Institute of Technology, Jaipur and Indian School of Business
Read More >
Sharat Chandra Kumar
Areas of expertise: Data sciences, Machine learning, Business intelligence and Data visualisation
Trained over 1,500 professional across 12 countries
Worked as a Data scientist for 14+ years across several industry domains
Professional certifications: Lean Six Sigma Green and Black Belt, Information Technology Infrastructure Library
Experienced in Big Data Hadoop, Spark, NoSQL, NewSQL, MongoDB, R, RStudio, Python, Tableau, Cognos
Corporate clients include DuPont, All-Scripts, Girnarsoft (College-dekho, Car-dekho) and many more
Read More >
Nitin Mishra
Areas of expertise: Data sciences, Machine learning, Business intelligence and Data visualisation
Over 20+ years of industry experience in data science and business intelligence
Trained professionals from Fortune 500 companies and students at prestigious colleges
Experienced in Cognos, Tableau, Big Data, NoSQL, NewSQL
Corporate clients include Time Inc., Hewlett Packard Enterprise, Dell, Metric Fox (Champions Group), TCS and many more
Read More >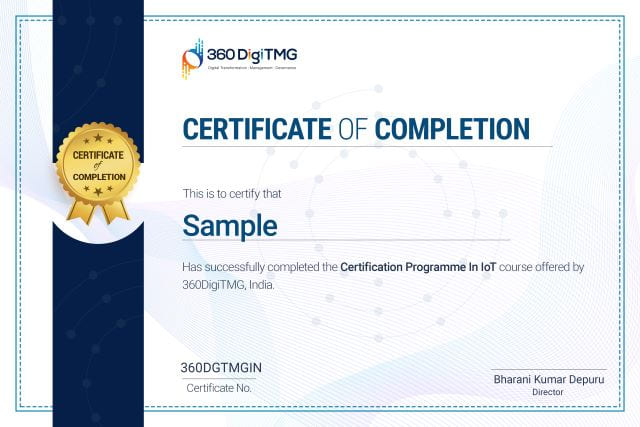 Certificate
The Internet of Things(IoT) Certificate is your badge of recognition as a full-scale Digital Marketer. Display your certificate and earn appreciation from office colleagues and industry peers.
Recommended Programmes
2064 Learners
3021 Learners
2915 Learners
FAQs for Certification Program in IoT
Jobs in the field of IoT in India
A career around IoT with a six-figure salary may be a good jump start for anyone who wants to make it big. Some of the job profiles in the field of IoT are System Design Engineer, IoT software developer, IoT product manager, IoT solution Architect, and IoT research developer.
Salaries in India for IoT
The top players of the Internet of Things (IoT) in the market are Accenture, Amazon, Google, Hewlett-Packard, IBM, etc. Around 20% of IoT experts earn in the range of ?11-25 lakh per annum and a Systems Design Engineer in India earns an average salary of ?11,00,000 per annum.
IoT Projects in India
Internet of Things (IoT) is a new leading technology of the 21st century. IoT can be leveraged in many projects like weather and pollution monitoring and reporting, home automation, traffic management, building an anti-theft system, energy management, and health monitoring systems to name a few.
Role of Open Source Tools in IoT
Open-source IoT tools are cost-effective and easier to integrate with other tools. They allow the user to design and change the code in their IoT applications to increase their capacity and performance. In this course, we will be exploring Raspberry Pi and Arduino.
Modes of Training for IoT
The course in India is designed to suit the needs of students as well as working professionals. We at 360DigiTMG give our students the option of both classroom and online learning. We also support e-learning as part of our curriculum.
Industry Application of IoT
IoT brings together the hardware and the software to generate a more technically-driven environment in various domains of manufacturing, supply chain management, logistics, power plants, smart surveillance, urban security, and many more.
IoT Courses in Other Locations