Certificate Course in
Comprehensive Cloud Computing Course (C4)
Gain expertise in AWS, Azure, and GCP for Architecting Solutions for Business with Certification and Industry based requirements.
Get trained by Certified Google Cloud Trainers
72 Hours of Intensive Classroom & Online Sessions
100+ Hours of Practical Assignments
2 Capstone Live Projects
100% Job Placement Assurance
2729 Learners
Academic Partners & International Accreditations
"Globally, Cloud spending on IT is growing and is expected to touch $346 billion by 2022. 75% of businesses say the cloud has given them a competitive edge." - (Source). Cloud computing is an umbrella term that describes a new class of network-based computing that provides on-demand services that are always on and can be accessed from anywhere and anytime. Many organizations like Google. Microsoft and Amazon are delivering services from the cloud-like email access, office applications, maps, web analytics, business intelligence tools, and provide developers with platforms to build customized cloud services. To make cloud computing feasible and accessible to its users some services and models are working behind the scene for cloud computing. These models are the Deployment Model and Service Models. Deployment models include Public, Private and Hybrid computing which defines the type of access to the cloud, and Service Models are divided into three categories, Infrastructure as a Service (laaS) Platform as a Service (PaaS) and Software as a Service (SaaS).
Cloud Computing
Prerequisites
Computer Skills.
Basic Maths Knowledge.
Cloud Computing Training Programme Overview
Acquire versatile cloud computing skills with the unique C4 program with Amazon Web Services (AWS), Microsoft Azure, and Google Cloud Platform. Build Machine learning models on the cloud as a cloud solutions architect. Prepare for the AWS certification, Microsoft Azure certification, and GCP certification with the help of this Comprehensive Cloud Computing Course from 360DigiTMG. This course is tailor-made for professionals who wish to take AWS, Microsoft Azure, and GCP certification examinations. The course begins with an overview of AWS, Azure, and GCP and a comprehensive pricing and market comparison of the three platforms. Students will apprehend AWS Cloud Architecture, AWS Elastic Compute Cloud Services (EC2), AWS Networking, AWS Simple Storage Services (S3), AWS Relational Database Services (RDS), Google Cloud Platform Technology and Azure Cloud Architecture Technology. Security services like Identity and Access Management on all three platforms are dealt with in-depth. Participants will also learn to build machine learning models on the Cloud.

What is Comprehensive Cloud computing?

Cloud is a combination of software and hardware units that are located at centralized servers that can store data that can be accessed from anywhere through the internet and this is called Cloud Network. The cloud permits its users to access data from any of the remote locations since now the data is available at the network operating centers instead of their systems. This data can be in any form be it text, voice, video, etc. and organizations can work in different cities and countries all together on the same platform and share and access the same data. Cloud networks also minimize the cost of infrastructure management and installation of the project model because now all services that a digital system can provide will be delivered in the cloud computing model. There are three types of cloud computing model Public cloud, Private Cloud, and Hybrid cloud. In a Public Cloud environment services are provided in a virtualized environment in which a service provider makes applications and storage available to the general public over the Internet. In a Private model, the services are dedicated to a single organization and the Hybrid cloud combines a private cloud with one or more public cloud services.
Cloud Computing Training Learning Outcomes
Cloud Computing is considered one of the top emerging technologies that facilitate a way to centralize the management, maintenance, and setup of integrated computation services to individual and corporate end-users. The course commences with the computing concepts, technological foundations, infrastructure, architecture, and types of services offered in the cloud. This course on Comprehensive Cloud Computing aims to explore the concept of cloud and cloud computing along with its various facets of software and networking field, architecture, and components involved like the kinds of Cloud models and types of Cloud networks. The course will also throw light on AWS, Azure & GCP Cloud Computing Concepts, and prepare students for certification in AWS, Microsoft Azure, and GCP so that they can enhance their skills and have a strong foundation in the same. Students will also learn to build Machine Learning Models and how to scale and deploy Cloud Infrastructure Services Independently. Students will also learn about the database services provided on AWS, Azure, and GCP and get to draw a comparison between the three service providers concerning pricing and market share. By the end of the course you will be able to identify the deployment and service models like SaaS, PaaS, IaaS, public cloud, private cloud, hybrid cloud, etc. and gain knowledge on the issues of cloud computing such as security, privacy, and interoperability.
Overview of Cloud and Types of services offered
Ability to scale and deploy Cloud Infrastructure Services Independently
Ready for Certifications on AWS, Azure and GCP
Building Machine Learning Models on Cloud
Block Your Time
72 hours
Classroom Sessions
Who Should Sign Up?
Candidates aspiring to be Cloud Solution Architect
Graduates who are looking to build a Career in Cloud Technology
Employees of organizations, who are planning a mid-career shift to Cloud Technology
Students aiming for a career in the IT industry on emerging technologies
Cloud Computing Certification Modules
Cloud computing is on-demand computing services ranging from applications to storage, to networking and processing power on a pay-as-you-go basis which also happens to be one of the bigger benefits of using cloud services. One does not have to physically maintain the infrastructure and can avoid the upfront cost and complexity. This module brings to you a comprehensive view of the world of cloud computing. The first module introduces the types of cloud computing and throws light on the three key service providers in this arena namely AWS, Azure, and GCP. It discusses the storage and database services, pricing, market share, and other features of AWS, Azure, and GCP.
Trends in Comprehensive Cloud Computing
There has been a substantial development in the cloud computing industry in the past few years. Cloud computing services are projected to become a $311 billion business by 2021, making it an integral part of the enterprise digital transformation program. Companies continue to embrace the various cloud computing services and infrastructure leading to the growth in the usage of multi-cloud and hybrid cloud strategies combining the use of both public and private clouds. 92% of companies have a multi-cloud strategy while 85 % have adopted a hybrid cloud strategy. 21% of companies spend more than $13 million per year on public clouds but Organizations struggle to get a handle on growing cloud spend and it is estimated that 30 percent of cloud spend is wasted. So, organizations plan to boost the existing use of cloud making it the top priority and saving on costs. AWS, Azure, and Google continue to be the top public cloud providers with Azure narrowing the gap with AWS both on its usage and the number of machines running on it.
Google experienced the fastest growth in enterprise adoption last year and container-as-a-service offerings by the above providers also experienced remarkable growth. Enterprises are growing their public cloud footprint by migrating more workload to the cloud and expanding the use of container-as-a-service that noticeably jumped to the second position from the sixth position this year. Organizations are increasingly leveraging containers that are used to increase the speed of deposition, scale operations, and hike the efficiency of workload running in the cloud. The fastest-growing cloud services for 2020 include IoT, container-as-a-service, Artificial intelligence, and we will see an increase in the number of enterprises adopting cloud because of its scalability, economy, and reach.
How we prepare you
Additional Assignments of over 100+ hours

Live Free Webinars

Resume and LinkedIn Review Sessions

Lifetime LMS Access

24/7 Support
Job Placements in Comprehensive Cloud Computing fields

Complimentary Courses

Unlimited Mock Interview and Quiz Session

Hands-on Experience in Live Projects

Offline Hiring Events
Call us Today!
+91 9989994319
Cloud Computing Technology Panel of Coaches
Bharani Kumar Depuru
Areas of expertise: Data Analytics, Digital Transformation, Industrial Revolution 4.0.
Over 14+ years of professional experience.
Trained over 2,500 professionals from eight countries.
Corporate clients include Hewlett Packard Enterprise, Computer Science Corporation, Akamai, IBS Software, Litmus7, Personiv, Ebreeze, Alshaya, Synchrony Financials, Deloitte.
Professional certifications - PMP, PMI-ACP, PMI-RMP from Project Management Institute, Lean Six Sigma Master Black Belt, Tableau Certified Associate, Certified Scrum Practitioner, AgilePM (DSDM Atern).
Alumnus of Indian Institute of Technology, Hyderabad and Indian School of Business.
Read More >
Sharat Chandra Kumar
Areas of expertise: Data Science, Machine Learning, Business Intelligence and Data Visualisation.
Trained over 1,500 professional across 12 countries.
Worked as a Data Scientist for 14+ years across several industry domains.
Professional certifications: Lean Six Sigma Green and Black Belt, Information Technology, Infrastructure Library.
Experienced in Big Data Hadoop, Spark, NoSQL, NewSQL, MongoDB, R, RStudio, Python, Tableau, Cognos.
Corporate clients include DuPont, All-Scripts, Girnarsoft (College-dekho, Car-dekho) and many more.
Read More >
Nitin Mishra
Areas of expertise: Data Science, Machine Learning, Business Intelligence and Data Visualisation.
Over 20+ years of industry experience in Data Science and Business Intelligence.
Trained professionals from Fortune 500 companies and students from prestigious colleges.
Experienced in Cognos, Tableau, Big Data, NoSQL, NewSQL.
Corporate clients include Time Inc., Hewlett Packard Enterprise, Dell, Metric Fox (Champions Group), TCS and many more.
Read More >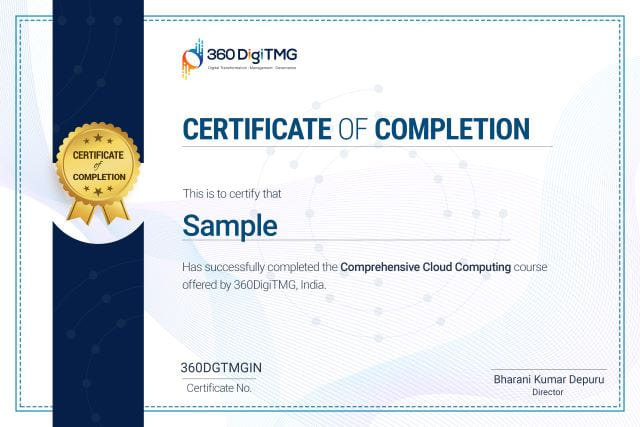 Certificate
The Comprehensive Cloud Computing Certificate is your badge of recognition as a full-scale Cloud Computing Professional. Display your certificate and earn appreciation from office colleagues and industry peers.
Recommended Programmes
2064 Learners
3021 Learners
2915 Learners
FAQs for Comprehensive Cloud Computing
Jobs in the field of Comprehensive Cloud Computing in India
As the cloud dominates the business arena, the most in-demand positions in the cloud industry are Cloud engineer, Cloud Architect, software architect, DevOps engineer, Data Scientist, Java developer, etc.
Salaries in India for Comprehensive Cloud Computing
Given how the global cloud services market is expected to grow by 20% by the end of 2020, the demand for cloud engineers has increased by leaps and bounds. In India, a Cloud Engineer can bag an average salary of Rs 8,00,000 to 9,00,000 per annum.
Comprehensive Cloud Computing Projects in India
Projects go a long way in boosting your profile. There is a wide variety of cloud computing-based projects that one can do like creating an online bookstore system, building a bug tracking system that can detect e Bugs or creating an E-Learning platform.
Role of Open Source Tools in Comprehensive Cloud Computing
Cloud computing offers a dynamic infrastructure for applications and data storage. Open source is set to significantly influence cloud computing for security configuration, administration, provide better integration with the cloud platform, and give users on-demand compute resources.
Modes of Training for Comprehensive Cloud Computing
The course in India is designed to suit the needs of students as well as working professionals. We at 360DigiTMG give our students the option of both classroom and online learning. We also support e-learning as part of our curriculum.
Industry Application of Comprehensive Cloud Computing
Cloud computing is considered to be the most interesting innovation of the 21st century and holds its importance in every field like Banking, Education, Healthcare, Entertainment, Retail, Real Estate, Automotive, etc.