In Collaboration with IBM
Data Science Course Training in Kompally
Fast-track your career with the Certificate Course in Data Science Training in Kompally.
184 Hours of Intensive Classroom & Online Sessions
150+ Hours of Practical Assignments
2 Capstone Live Projects
Receive Certificate from Technology Leader - IBM
Receive Certificate from Top University - UTM, Malaysia
100% Job Placement Assurance
12561 Learners
Academic Partners & International Accreditations
The Indian Data Science Market will be worth 6 million dollars in 2025 and the Data Analytics Outsourcing market in India is worth $26 Billion - (Source). India will undoubtedly witness around three lakh job openings in Data Science by 2021. India is second to the United States in terms of the number of job openings in Data Science. In 2019, 97,000 positions in data science and analytics were vacant due to the lack of qualified candidates. The top sectors creating the most Data Science jobs are BFSI, Energy, Pharmaceutical, HealthCare, E-commerce, Media, and Retail. Today large companies, medium-sized companies and even startups are willing to hire data scientists in India. The five most sought after digital skills are Big Data, Software and User Testing, Mobile Development, Cloud Computing, and Software Engineering Management.
Data Science
Prerequisites
Computer Skills
Basic Mathematical Concepts
Analytical Mindset
Data Science Training in Kompally
360DigiTMG has introduced the most comprehensive Data Science course in Kompally. The various stages of the Data Science Lifecycle are explored in the trajectory of this Data Science certification course. This Data Science training in Kompally begins with an introduction to Statistics, Probability, Python, and R programming. The student will then conceptualize Data Preparation, Data Cleansing, Exploratory Data Analysis, and Data Mining (Supervised and Unsupervised). Comprehend the theory behind Feature Engineering, Feature Extraction, and Feature Selection. Participants will also learn to perform Data Mining (Supervised) with Linear Regression and Predictive Modeling with Multiple Linear Regression Techniques. Data Mining Unsupervised using Clustering, Dimension Reduction, and Association Rules are also dealt with in detail.

A module is dedicated to scripting Machine Learning Algorithms and enabling Deep Learning and Neural Networks with Black Box techniques and SVM. All the stages delineated in the CRISP-DMM framework for a Data Science Project are dealt with in great depth and clarity in this course. Undoubtedly this emerges as one of the best Data Science courses in Kompally due to the live project exposure in INNODATATICS. This gives a golden opportunity for students to apply the various concepts studies to a real-time situation.

What is Data Science?
Data science is an amalgam of methods derived from statistics, data analysis, and machine learning that are trained to extract and analyze huge volumes of structured and unstructured data.

Who is a Data Scientist?
A Data Scientist is a researcher who has to prepare huge volumes of big data for analysis, build complex quantitative algorithms to organize and synthesize the information, and present the findings with compelling visualizations to senior management. A Data Scientist enhances business decision making by introducing greater speed and better direction to the entire process.

A Data Scientist must be a person who loves playing with numbers and figures. A strong analytical mindset coupled with strong industrial knowledge is the skill set most desired in a Data Scientist. He must possess above average communication skills and must be adept in communicating the technical concepts to non-technical people.

Data Scientists need a strong foundation in Statistics, Mathematics, Linear Algebra, Computer Programming, Data Warehousing, Mining, and Modeling to build winning algorithms. They must be proficient in tools such as Python, R, R Studio, Hadoop, MapReduce, Apache Spark, Apache Pig, Java, NoSQL database, Cloud Computing, Tableau, and SAS.
Data Science Course Outcomes in Kompally
In this data-driven environment certification in Data Science prepares you for the surging demand of Big Data skills and technology in all the leading industries. There is a huge career prospect available in the field of data science and this Data Science Certification Programme is one of the most comprehensive Data Science courses in the industry today. This course in Kompally is specially designed to suit both data professionals and beginners who want to make a career in this fast-growing profession. This training will equip the students with logical and relevant programming abilities to build database models. They will be able to create simple machine learning algorithms like K-Means Clustering, Decision Trees, and Random Forest to solve problems and communicate the solutions effectively. In three months, students will also explore the key techniques such as Statistical Analysis, Regression Analysis, Data Mining, Machine Learning, Forecasting and Text Mining, and scripting algorithms for the same with Python and R Programming. Understand the key concepts of Neural Networks and study Deep Learning Black Box techniques like SVM.
Work with various data generation sources
Perform Text Mining to generate Customer Sentiment Analysis
Analyse structured and unstructured data using different tools and techniques
Develop an understanding of Descriptive and Predictive Analytics
Apply Data-driven, Machine Learning approaches for business decisions
Build models for day-to-day applicability
Perform Forecasting to take proactive business decisions
Use Data Concepts to represent data for easy understanding
Block Your Time
184 hours
Classroom Sessions
120 hours
2 Live Projects
Who Should Sign Up?
IT Engineers
Data and Analytics Manager
Business Analysts
Data Engineers
Banking and Finance Analysts
Marketing Managers
Supply Chain Professionals
HR Managers
Data Science Course Modules in Kompally
This data science certification course follows the CRISP-DM Methodology. The premier modules are devoted to a foundational perspective of Statistics, Mathematics, Business Intelligence, and Exploratory Data Analysis. The successive modules deal with Probability Distribution, Hypothesis Testing, Data Mining Supervised, Predictive Modelling - Multiple Linear Regression, Lasso And Ridge Regression, Logistic Regression, Multinomial Regression, and Ordinal Regression. Later modules deal with Data Mining Unsupervised Learning, Recommendation Engines, Network Analytics, Machine Learning, Decision Tree and Random Forest, Text Mining, and Natural Language Processing. The final modules deal with Machine Learning - classifier techniques, Perceptron, Multilayer Perceptron, Neural Networks, Deep Learning Black-Box Techniques, SVM, Forecasting, and Time Series algorithms. This is the most enriching Data Science course in Kompally in terms of the array of topics covered.
Data Science Trends in Kompally
The demand for Data Scientists is predicted to increase by 30% by 2021. With the inclusion of Cloud and IoT technologies, there has been an exponential growth of data that has led to the expansion of roles for data scientists in the field of Machine Learning and Big Data technology. In the times to come a Data scientist role will not be just subjected to technical aspects but will rise to more of a collaborator and a facilitators role. An entry-level fresher in Data Science earns around Rs.4.0 lakhs. And if he decides to stay put for another 5 to 10 years on the job, he gets a handsome promotion to the Rs 7 to 11 lakhs per annum layer. If he persists and dedicates a lifetime to data science he can garner anywhere from 25 lakhs to a whopping one crore per annum.
In India, Data Scientists have 4 job hops in 8 years with a 2-year tenure with each employer. Data Scientists normally get a 60-100% salary increase on job changes. First, the aspirant joins as a Data Scientist intern and as a Junior Data Scientist and then moves on to becoming a Senior Data Scientist. After this, he gets elevated to Principal Data Scientist and finally heads the Data Science vertical as Chief Data Scientist of the company. The top employers in Data Science are IBM, Accenture, JPMorgan Chase, Amex, McKinsey & Co, Impetus, Wipro, and Microsoft. Accenture offers the highest salary of Rs.19.6 lacs per annum.
How we prepare you
Additional Assignments of over 150+ hours

Live Free Webinars

Resume and LinkedIn Review Sessions

Lifetime LMS Access

24/7 support
Job placements in Data Science fields

Complimentary Courses

Unlimited Mock Interview and Quiz Session

Hands-on experience in a live project

Offline Hiring Events
Call us Today!
+91 9989994319
Data Science Course Panel of Coaches in Kompally
Bharani Kumar Depuru
Areas of expertise: Data Analytics, Digital Transformation, Industrial Revolution 4.0
Over 14+ years of professional experience
Trained over 2,500 professionals from eight countries
Corporate clients include Hewlett Packard Enterprise, Computer Science Corporation, Akamai, IBS Software, Litmus7, Personiv Alshaya, Synchrony Financials, Deloitte
Professional certifications - PMP, PMI-ACP, PMI-RMP from Project Management Institute, Lean Six Sigma Master Black Belt, Tableau Certified Associate, Certified Scrum Practitioner, (DSDM Atern)
Alumnus of Indian Institute of Technology, Hyderabad and Indian School of Business
Read More >
Sharat Chandra Kumar
Areas of expertise: Data sciences, Machine learning, Business intelligence and Data Visualization
Trained over 1,500 professional across 12 countries
Worked as a Data scientist for 14+ years across several industry domains
Professional certifications: Lean Six Sigma Green and Black Belt, Information Technology Infrastructure Library
Experienced in Big Data Hadoop, Spark, NoSQL, NewSQL, MongoDB, Python, Tableau, Cognos
Corporate clients include DuPont, All-Scripts, Girnarsoft (College-, Car-) and many more
Read More >
Nitin Mishra
Areas of expertise: Data sciences, Machine learning, Business intelligence and Data Visualization
Over 20+ years of industry experience in data science and business intelligence
Trained professionals from Fortune 500 companies and students at prestigious colleges
Experienced in Cognos, Tableau, Big Data, NoSQL, NewSQL
Corporate clients include Time Inc., Hewlett Packard Enterprise, Dell, Metric Fox (Champions Group), TCS and many more
Read More >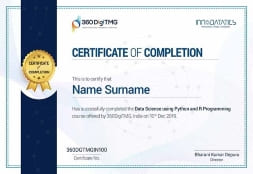 Certificate
Earn a certificate and demonstrate your commitment to the profession. Use it to distinguish yourself in the job market, get recognised at the workplace and boost your confidence. The Data Science Certificate is your passport to an accelerated career path.
Recommended Programmes
2064 Learners
3021 Learners
2915 Learners
FAQs for Data Science Course Training in Kompally
Jobs in the field of Data Science in Kompally
The top sectors creating the most data science jobs are BFSI, Energy, Pharmaceutical, Healthcare, E-commerce, Media, and Retail. The maximum demand for Data Scientists are in the Metros cities like Delhi-NCR and Mumbai. It's demand is also catching up in emerging cities like Pune and Bangalore.
Salaries in Kompally for Data Scientist
The average salary of a Data Scientist is Rs.10.3 lakhs per annum in India. Professionals specializing in advanced analytics and predictive modelling can command higher salaries.
Data Science Projects in Kompally
The Indian government has initiated several data science projects in the fields of Agriculture, Electricity, Water, Healthcare, Education, Road Traffic Safety and Air Pollution. The Government of India has initiated several data science research initiatives as well.
Role of Open Source Tools in Analytics
Python and R are easy to learn and maintain and therefore, Godsend to developers in Data Science. Their extended libraries make it possible to stretch the applications of Python from Big Data Analytics to Machine Learning.
Modes of Training for Data Science with Python
The course in Pune is designed to suit the needs of students as well as working professionals. We at 360DigiTMG give our students the option of both classroom and online learning. We also support e-learning as part of our curriculum.
Industry Application of Data Science
Data Science is used for securities fraud early warning, card fraud detection systems, demand enterprise risk management, analysis of healthcare information, seismic interpretation, reservoir characterization, energy exploration, traffic control and route planning.