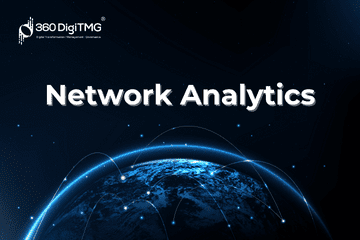 What is Network Analytics?
The use of big data techniques and concepts on the information needed to manage and safeguard data networks is known as network analytics.
An organization's use of the network and the network's performance may be better understood with the help of network analytics. Analytics may be used by IT to strengthen security, optimise performance, troubleshoot subtle issues, forecast traffic patterns, identify possible issues, and conduct in-depth forensic investigations and audits.
Organisations with complicated networks, overburdened networks, or high security needs can benefit most from network analytics. Large corporations are therefore more likely than smaller businesses to employ network analytics extensively. Companies with smaller networks will find it simpler to employ when the technologies become more standardised, less costly, or integrated into more managed services. However, network analytics are a standard element of cloud-managed network services, such as network-as-a-service, managed software-defined WAN, and managed wireless LAN services, which are used by businesses of all sizes.
The exponential growth in the number of network entities is one of the main factors influencing the expanding usage of network analytics. The quantity and diversity of entities on the network are expanding due to the continued growth of IoT and the adoption of software as code (SaaS) and microservices in clouds and data centres. For complete management and security in environments that become increasingly complex, analytics are essential.
Additionally essential to creating a zero-trust environment is analytics. A method for bridging the gap between the policy and observable network behaviour is necessary for zero-trust systems. That loop is closed by analytics that seek for abnormalities and undesirable network activity.
Learn the core concepts of Data Science Course video on Youtube:
Requirements for network analytics
To take advantage of network analytics, enterprises need infrastructure capable of producing performance and usage data for the network, both low-level and high-level. That data includes the following:
bit rates through a particular physical network port;
collision and packet drop rates at a port;
latencies for traffic through a port;
number of packets or flows affected by specific security policies;
several packets or flows originating from or to any given entity, be it location, device, application, or identity.
Enterprises also need centralized systems to collect, store and analyze this enormous amount of information.
To be useful, network analytics needs all the user-facing accouterments of other big data initiatives: ad hoc querying and reporting, dashboards, flexible and interactive visualization tools for exploring relationships, trends over time, and anomalous events. Such tools must either be embedded in or able to integrate with key network management systems -- e.g., able to send events to a network operations center console or a zero-trust policy engine.
Network analytics for predictive analysis
Both network and security operations are particularly interested in predictive network analytics. The ability of network analytics tools to forecast future problems based on current environmental data constantly increases as a result of utilising AI methods, particularly machine learning. Tools can now consume and correlate more data of more sorts from more sources because to these more recent methodologies. As a result, the tools' understanding of the typical behaviours of network entities -- whether they be made of hardware, software, or people -- and their capacity to extrapolate changes in that baseline experience significant advancements. They add predictions of future trends to previous trending.
These newer techniques can also power better detection of anomalous behavior, potentially indicating misconfiguration, current or incipient malfunction in a system or current or incipient attacks. Such tools can provide predictions of likely future issues. They can interpret the gradual degradation of performance in a device, such as an upcoming failure in a network card.
What problems do network analytics solve?
Prediction:With predictive analytics, network administrators seek to monitor usage patterns over time to estimate their institutional needs for bandwidth, hardware, or other services.
Automated security:Entails the real-time scanning of I/O data packet transmissions with AI and ML to match incoming requests with known security exploits, viruses, or malware. In some forms of hacking and password cracking protection approaches, automated security can lead to the automated blocking of users by IP who repeatedly send bad requests to a network. In automated anti-virus scanning, malware, worms, viruses, and ransomware can be detected and quarantined without the need for human intervention. In data centers with millions of VMs and containers running in parallel, automated anti-virus and security scanning are important uses of network analytics.
Diagnostics:When problems arise on a network, due to congestion, bad user activity, security threats, or device failure, systems administrators need to diagnose each situation to localize and repair the issue. Network analytics include health checks for data center operations that inform administrators as to the operational status of their connected resources. With application-centric infrastructure, admins extend network diagnostics with increased granularity to monitor running software processes. Admins use streaming telemetry to optimize data packet transmissions for particular applications, devices, or users on a network according to IP address through preferential routing and hub appliances. They also apply network analytics to IoT devices through edge servers at scale in support of retail products with automated response requirements and rolling firmware upgrades.
Resource allocation:Complex institutions depend on network analytics for administrators to be able to accurately estimate the need for switches, routers, hubs, and bandwidth in daily operations or manufacturing facilities.
Network analytics:Used to provide administrators with an overview of historical or real-time activity on cloud architecture.
Benefits of network analytics
Business process optimisation: Network analytics results in business process optimisation with higher security and efficiency in IT operations when integrated with corporate management, buying, and procurement.
Greater accuracy in performance monitoring: Network analytics gives administrators performance monitoring tools that take previous usage trends into account, enabling them to more accurately forecast future infrastructure requirements for data centre requirements
Enhanced security:Network analytics makes it possible to examine data packet transfers in real-time, greatly enhancing the security of cloud resources and linked devices. One way to more rapidly identify intruders, malware, and compromised devices is to automatically detect activity spikes by logging the size of I/O data packets sent by each IP address.
Rapid detection threat detection:Network analytics accelerates security threat detection, which is a key step in limiting the penetration of hacking attempts into the core of a company's infrastructure. Administrators and security defence systems may have a more thorough way of diagnosing network issues with the ability to monitor connected device status using SNMP and Windows Management Instrumentation (WMI) filtering data, reducing the time needed for repairs.
KPI tracking:To make the reporting and alerting process for intricate cloud networks based on VMs more straightforward, VMware's KPI flow manager examines key performance indicators (KPIs) and provides them to administrators as part of a unified network management panel. With applications in high finance, mass media, manufacturing, healthcare, and telecommunications, KPI tracking is a potent tool for the sector that can be tailored for higher degrees of data centre automation at scale.
Ability to apply real-time streaming analytics to "Big Data" requirements:A network analytics solution called VMware Smart Experience contains the KPI Workflow Designer and Manager as well as a number of telco-specific plugins providing carrier-scale real-time and historical insights into packet data. Real-time streaming analytics can be used by businesses to meet "Big Data" needs for better location-based marketing abroad or improved fraud prevention for financial transactions. To create reactive content models based on prediction engines for unique customer experience generation in eCommerce apps with personalised brand support and product/media suggestions, integration with AI and machine learning may be leveraged.
Data Science Placement Success Story
Other Domain Analytics in our 360DigiTMG
Political Analytics, Transit Analytics, Forest Analytics, Wild Analytics, Agriculture Analytics, Army Analytics, E-commerce Analytics, Energy and Resource Analytics, Hospital Analytics, Healthcare Analytics, Hospitality Analytics, Oil and Gas Analytics, Regulatory Analytics, Security Analytics, Trade Analytics, Railway Analytics, Defense Analytics, Education Analytics, Accounting Analytics, Fraud Analytics, Legal and Law Analytics, Banking Analytics, Insurance Analytics, Life Science Analytics, Pharma Analytics, Aviation Analytics, Retail Analytics, Cyber Security Analytics, Supply Chain Analytics, Marketing Analytics
Data Science Training Institutes in Other Locations
Agra, Ahmedabad, Amritsar, Anand, Anantapur, Bangalore, Bhopal, Bhubaneswar, Chengalpattu, Chennai, Cochin, Dehradun, Malaysia, Dombivli, Durgapur, Ernakulam, Erode, Gandhinagar, Ghaziabad, Gorakhpur, Gwalior, Hebbal, Hyderabad, Jabalpur, Jalandhar, Jammu, Jamshedpur, Jodhpur, Khammam, Kolhapur, Kothrud, Ludhiana, Madurai, Meerut, Mohali, Moradabad, Noida, Pimpri, Pondicherry, Pune, Rajkot, Ranchi, Rohtak, Roorkee, Rourkela, Shimla, Shimoga, Siliguri, Srinagar, Thane, Thiruvananthapuram, Tiruchchirappalli, Trichur, Udaipur, Yelahanka, Andhra Pradesh, Anna Nagar, Bhilai, Borivali, Calicut, Chandigarh, Chromepet, Coimbatore, Dilsukhnagar, ECIL, Faridabad, Greater Warangal, Guduvanchery, Guntur, Gurgaon, Guwahati, Hoodi, Indore, Jaipur, Kalaburagi, Kanpur, Kharadi, Kochi, Kolkata, Kompally, Lucknow, Mangalore, Mumbai, Mysore, Nagpur, Nashik, Navi Mumbai, Patna, Porur, Raipur, Salem, Surat, Thoraipakkam, Trichy, Uppal, Vadodara, Varanasi, Vijayawada, Visakhapatnam, Tirunelveli, Aurangabad
Data Analyst Courses in Other Locations
ECIL, Jaipur, Pune, Gurgaon, Salem, Surat, Agra, Ahmedabad, Amritsar, Anand, Anantapur, Andhra Pradesh, Anna Nagar, Aurangabad, Bhilai, Bhopal, Bhubaneswar, Borivali, Calicut, Cochin, Chengalpattu , Dehradun, Dombivli, Durgapur, Ernakulam, Erode, Gandhinagar, Ghaziabad, Gorakhpur, Guduvanchery, Gwalior, Hebbal, Hoodi , Indore, Jabalpur, Jaipur, Jalandhar, Jammu, Jamshedpur, Jodhpur, Kanpur, Khammam, Kochi, Kolhapur, Kolkata, Kothrud, Ludhiana, Madurai, Mangalore, Meerut, Mohali, Moradabad, Pimpri, Pondicherry, Porur, Rajkot, Ranchi, Rohtak, Roorkee, Rourkela, Shimla, Shimoga, Siliguri, Srinagar, Thoraipakkam , Tiruchirappalli, Tirunelveli, Trichur, Trichy, Udaipur, Vijayawada, Vizag, Warangal, Chennai, Coimbatore, Delhi, Dilsukhnagar, Hyderabad, Kalyan, Nagpur, Noida, Thane, Thiruvananthapuram, Uppal, Kompally, Bangalore, Chandigarh, Chromepet, Faridabad, Guntur, Guwahati, Kharadi, Lucknow, Mumbai, Mysore, Nashik, Navi Mumbai, Patna, Pune, Raipur, Vadodara, Varanasi, Yelahanka
Navigate to Address
360DigiTMG - Data Analytics, Data Science Course Training Hyderabad
2-56/2/19, 3rd floor, Vijaya Towers, near Meridian School, Ayyappa Society Rd, Madhapur, Hyderabad, Telangana 500081
099899 94319