CRISP - Business Understanding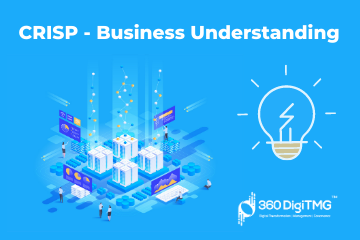 Descriptive Analysis – What happened in the Past – Taking historical data Diagnostic Analytics – Why something happened
Predictive Analysis – What is likely to happen – What happens in future
Prescriptive Analysis – What needs to be done – giving suggestions to control
According to Standish Group, their chaos report 2019 shows that more than 80% of the IT project partially completed or failed across the globe.
So, to attain accuracy and for the successful completion of the projects there is a methodology called: PROJECT MANAGEMENT METHODOLOGY
Click here to explore 360DigiTMG.
CRISP (CROSS INDUSTRY STANDARD PROCESS FOR DATA MINING)
There are 6 steps involved from end to end in a life of Data Science
Understand the Business problem & create a project charter
Data Collection
Data Cleansing / Preparation / EDA / Feature Engineering
Data Mining / Machine Learning
Model Evaluation
Model Deployment
Click here to learn Data Science Course in Hyderabad
Survival Analysis mainly deals with the time to an event, including death, the onset of disease, and bankruptcy, etc. Only the occurrence of either time to event or censoring time is observed.
Step 1: Business Understanding – Once the Business problem is understood, one needs to record 2 things, one is Business Objective (Primary metric) and the other is Business Constraint (secondary metric)
Data Collection
There are 2 types of data collection i.e. Primary Data Sources and Secondary Data Sources
Learn the core concepts of Data Analytics Course video on Youtube:
Secondary Data Source – Data collected beforehand – Publicly available data- open source as well as syndicate data. Pro: Data is available easily. Cons: Data may or may not have a variable of interest
Primary Data Source – If the data is not available, it will be collected by source by conducting surveys, design of experiment, simulation. Pro: Get data for the exact variable of interest. Con: It is very expensive and time-consuming.
Data Collection Using Survey – Understand Business Reality → Root Cause Analysis → Decision Problem (a problem on which decision to be taken) → Research Objective (should be a one-line statement with an action verb and actionable object) → Construct (Multi-dimensional object) → Aspects(Single-dimensional) → Survey Questionnaire.
Design of Experiment – When is not possible to practically capture the data
Click here to learn Data Science Course, Data Science Course in Hyderabad, Data Science Course in Bangalore
Data Science Placement Success Story
Data Science Training Institutes in Other Locations
Agra
,
Ahmedabad
,
Amritsar
,
Anand
,
Anantapur
,
Bangalore
,
Bhopal
,
Bhubaneswar
,
Chengalpattu
,
Chennai
,
Cochin
,
Dehradun
,
Malaysia
,
Dombivli
,
Durgapur
,
Ernakulam
,
Erode
,
Gandhinagar
,
Ghaziabad
,
Gorakhpur
,
Gwalior
,
Hebbal
,
Hyderabad
,
Jabalpur
,
Jalandhar
,
Jammu
,
Jamshedpur
,
Jodhpur
,
Khammam
,
Kolhapur
,
Kothrud
,
Ludhiana
,
Madurai
,
Meerut
,
Mohali
,
Moradabad
,
Noida
,
Pimpri
,
Pondicherry
,
Pune
,
Rajkot
,
Ranchi
,
Rohtak
,
Roorkee
,
Rourkela
,
Shimla
,
Shimoga
,
Siliguri
,
Srinagar
,
Thane
,
Thiruvananthapuram
,
Tiruchchirappalli
,
Trichur
,
Udaipur
,
Yelahanka
,
Andhra Pradesh
,
Anna Nagar
,
Bhilai
,
Borivali
,
Calicut
,
Chandigarh
,
Chromepet
,
Coimbatore
,
Dilsukhnagar
,
ECIL
,
Faridabad
,
Greater Warangal
,
Guduvanchery
,
Guntur
,
Gurgaon
,
Guwahati
,
Hoodi
,
Indore
,
Jaipur
,
Kalaburagi
,
Kanpur
,
Kharadi
,
Kochi
,
Kolkata
,
Kompally
,
Lucknow
,
Mangalore
,
Mumbai
,
Mysore
,
Nagpur
,
Nashik
,
Navi Mumbai
,
Patna
,
Porur
,
Raipur
,
Salem
,
Surat
,
Thoraipakkam
,
Trichy
,
Uppal
,
Vadodara
,
Varanasi
,
Vijayawada
,
Visakhapatnam
,
Tirunelveli
,
Aurangabad
Data Analyst Courses in Other Locations
ECIL
,
Jaipur
,
Pune
,
Gurgaon
,
Salem
,
Surat
,
Agra
,
Ahmedabad
,
Amritsar
,
Anand
,
Anantapur
,
Andhra Pradesh
,
Anna Nagar
,
Aurangabad
,
Bhilai
,
Bhopal
,
Bhubaneswar
,
Borivali
,
Calicut
,
Cochin
,
Chengalpattu
,
Dehradun
,
Dombivli
,
Durgapur
,
Ernakulam
,
Erode
,
Gandhinagar
,
Ghaziabad
,
Gorakhpur
,
Guduvanchery
,
Gwalior
,
Hebbal
,
Hoodi
,
Indore
,
Jabalpur
,
Jaipur
,
Jalandhar
,
Jammu
,
Jamshedpur
,
Jodhpur
,
Kanpur
,
Khammam
,
Kochi
,
Kolhapur
,
Kolkata
,
Kothrud
,
Ludhiana
,
Madurai
,
Mangalore
,
Meerut
,
Mohali
,
Moradabad
,
Pimpri
,
Pondicherry
,
Porur
,
Rajkot
,
Ranchi
,
Rohtak
,
Roorkee
,
Rourkela
,
Shimla
,
Shimoga
,
Siliguri
,
Srinagar
,
Thoraipakkam
,
Tiruchirappalli
,
Tirunelveli
,
Trichur
,
Trichy
,
Udaipur
,
Vijayawada
,
Vizag
,
Warangal
,
Chennai
,
Coimbatore
,
Delhi
,
Dilsukhnagar
,
Hyderabad
,
Kalyan
,
Nagpur
,
Noida
,
Thane
,
Thiruvananthapuram
,
Uppal
,
Kompally
,
Bangalore
,
Chandigarh
,
Chromepet
,
Faridabad
,
Guntur
,
Guwahati
,
Kharadi
,
Lucknow
,
Mumbai
,
Mysore
,
Nashik
,
Navi Mumbai
,
Patna
,
Pune
,
Raipur
,
Vadodara
,
Varanasi
,
Yelahanka
Navigate to Address
360DigiTMG - Data Science, Data Scientist Course Training in Bangalore
No 23, 2nd Floor, 9th Main Rd, 22nd Cross Rd, 7th Sector, HSR Layout, Bengaluru, Karnataka 560102
1800-212-654-321