Professional Certificate Course in
Robotic Process Automation (RPA)
Automate your vital business processes and reduce cost with the Certification Programme in Robotic Process Automation from 360DigiTMG
Get Trained by Trainers from ISB, IIT & IIM
28 Hours of Intensive Classroom & Online Sessions
60+ Hours of Practical Assignments
2 Capstone Live Projects
1005 Job Placement Assurance
2879 Learners
Academic Partners & International Accreditations
"Around 2 lakh Robotic Process Automation centric jobs will be generated in India by 2021. 100% of enterprise applications will include some form of embedded AI." - (Source). Automation capabilities like Robotics Process Automation (RPA) are being increasingly utilized to lower operating costs and improve employee productivity across various service sectors, government bodies, and industries. International Robotic Process Automation (RPA) platform, Automation Anywhere, claimed that India is currently their second-biggest revenue producing country after the United States and plans to expand its footprint by opening new centers in Delhi, Hyderabad, Chennai, and Pune to assist more companies to uncover, deploy and scale RPA to drive exceptional human potential. Fifty percent of manual accounting tasks are predicted to be automated by 2021. The RPA industry has scope for exponential growth in India and several education providers like 360DigiTMG are functioning towards generating the required body of knowledge to manage the industry demands.
Robotic Process Automation (RPA)
Prerequisites
Computer Skills
Basic Programming Knowledge
RPA Course Programme Overview
Automate your vital business processes and reduce cost with the Certification Program in Robotic Process Automation from 360DigiTMG. Robotic Process Automation (RPA) is transforming and shaping the business processes of the accounting and finance industry. By putting an end to the repetitive, time-consuming, and manual tasks, it is enabling professionals to focus on the areas that require critical thinking. This course will demonstrate how robotic process automation is decreasing errors and increasing productivity. Master the UiPath tool. Create workflows in UiPath, automate processes with variables and arguments, write programs in UiPath, and work with UiPath Orchestrator. Apprehend image and text automation, SAP automation, Excel, PDF, and email automation. The course begins with an overview of the core concepts of Robotic Process Automation and its applications. In the initial module, the students are taught to install and configure UiPath Studio and to create workflow files with it. The next module deals with recording actions like mouse and keyboard actions and scraping data from websites. Students will be exposed to the automation of Virtual Machines, PDF and Text, Image. An entire module is devoted to programming in Uipath, organizing projects, error handling, debugging, and handling exceptions. Special focus is given to UiPath Orchestrator and other RPA tools.

What is Robotic Process Automation (RPA)?

Robotic Process Automation is the technology where you can configure computer software to mimic the actions of a human being while he is interacting with the digital system to execute an action or a process. It is used to perform a variety of tasks that are monotonous and consume a lot of time. RPA robots can log into applications, manipulate applications, copy and move data from files and folders, extract documents, sweep browsers, and more. Robots are highly scalable and can streamline the workflow of your organization. It can tailor a response to suit the specific need by seamlessly integrating into any system.
RPA Training Learning Outcomes
Robotic Process Automation is a highly developed software that is used to computerize various work processes by eliminating manual and repetitive efforts and is also facilitating significant saving in human resource costs. This technology is among the hottest emerging fields of the 21st century that is changing the way enterprises execute day-to-day business processes and is providing unmatched scalability, security, and auditing for front and back-office requirements. The RPA Training in India is a blend of theoretical learning and various practice sessions that will help the candidate secure his dream job. This course is intended to provide practical knowledge on robotic process automation through a real-world, applicable data composition of use cases. It will help identify potential advantages and contemplation of robotic process automation. Students will learn about the RPA landscape, its characteristics, advantages, risks, challenges, and how RPA is remodeling businesses. The main aim of this RPA certification Training course is to expose learners to a new technology that is being leveraged to improve various business operations. The students will use the RPA tool like UiPath and will also learn how to use different components to automate processes. They will also get a chance to work on real-time project work on building, designing, and executing RPA solutions. By the end of the course, students will be familiar with the user interface automation and handling techniques of the RPA software. They will also know how to
Provide RPA solutions to repetitive tasks and create an agile digital workforce
Comprehend the concepts of process layers and error management
Reduce manpower in organizations and create HR efficiency
Reduce error rates and thus improve data quality provided to analytics
Create a standard workflow for processes that follow a set protocol
Block Your Time
28 hours
Classroom Sessions
60 hours
Assignments &
e-Learning
Who Should Sign Up?
Keen logical reasoning skills
Quick learners who have wide spectrum capabilities
Trouble shooters who have worked in chaotic environments
RPA Training Course Modules
Robotic process automation is a form of a business process based on digital workers or software robotics used to transform and streamline an organization's workflow. It integrates seamlessly into any system and facilitates superior scalability and flexibility within an organization offering a speedy and tailored response to specific needs. This module commences with an introduction to RPA and teaches the various handling techniques of the RPA software and how companies are exploring this technology to their benefit. Students will be able to identify the different steps of implementation and on selecting the appropriate processes for automation. This training will enable you to work with different types of workflows like sequences, flowcharts, and state machines. Further, they will walk through the essentials of UiPath covering theoretical concepts as well as extensive hands-on experience in UiPath features and technology.
Trends in Robotic Process Automation (RPA)
The business environment is changing and to stay relevant businesses today need to evolve its product, sales, and marketing strategies. RPA has surfaced as an opportunity for service providers to revamp their business model and deliver a more effective and streamlined way to manage processes across industries. It is one of the most in-demand technologies in the IT market today, mainly due to its potential to deliver huge advantages to companies by replacing human operators with robotic FTEs. We will also observe an increase in self-learning and artificial intelligence capabilities implanted across RPA applications to develop advanced data mining and analytics capabilities. Companies know by now that business development is only possible with smart interaction between humans and software robots.
UiPath, Automation Anywhere, Kofax, Blue prism and Work Fusion are some of the important players in the RPA market in India. Automation Anywhere which presently stations around 1.5 million bots globally, plans on doubling this figure by 2020. By providing essential business opportunities, Hyper automation and robotics will set a trend and offer chances in the development of the global enterprise software market. In the days to come, we will also witness that RPA will enhance the productivity of almost all the businesses prevailing in the market space. The other trend that will take charge of RPA services in the year 2020 will be AI and programming bots that will majorly contribute to the growth of RPA and related services. It will become the central automation platform for political and economic development and will take automation to the next level.
How we prepare you
Additional Assignments of over 60+ hours

Live Free Webinars

Resume and LinkedIn Review Sessions

Lifetime LMS Access

24/7 Support
Job Placements in Robotic Process Automation fields

Complimentary Courses

Unlimited Mock Interview and Quiz Session

Hands-on Experience in Live Projects

Offline Hiring Events
Call us Today!
+91 9989994319
RPA Certification Panel of Coaches
Bharani Kumar Depuru
Areas of expertise: Data Analytics, Digital Transformation, Industrial Revolution 4.0.
Over 14+ years of professional experience.
Trained over 2,500 professionals from eight countries.
Corporate clients include Hewlett Packard Enterprise, Computer Science Corporation, Akamai, IBS Software, Litmus7, Personiv, Ebreeze, Alshaya, Synchrony Financials, Deloitte.
Professional certifications - PMP, PMI-ACP, PMI-RMP from Project Management Institute, Lean Six Sigma Master Black Belt, Tableau Certified Associate, Certified Scrum Practitioner, AgilePM (DSDM Atern).
Alumnus of Indian Institute of Technology, Hyderabad and Indian School of Business.
Read More >
Sharat Chandra Kumar
Areas of expertise: Data Science, Machine Learning, Business Intelligence and Data Visualisation.
Trained over 1,500 professional across 12 countries.
Worked as a Data Scientist for 14+ years across several industry domains.
Professional certifications: Lean Six Sigma Green and Black Belt, Information Technology, Infrastructure Library.
Experienced in Big Data Hadoop, Spark, NoSQL, NewSQL, MongoDB, R, RStudio, Python, Tableau, Cognos.
Corporate clients include DuPont, All-Scripts, Girnarsoft (College-dekho, Car-dekho) and many more.
Read More >
Nitin Mishra
Areas of expertise: Data Science, Machine Learning, Business Intelligence and Data Visualisation.
Over 20+ years of industry experience in Data Science and Business Intelligence.
Trained professionals from Fortune 500 companies and students from prestigious colleges.
Experienced in Cognos, Tableau, Big Data, NoSQL, NewSQL.
Corporate clients include Time Inc., Hewlett Packard Enterprise, Dell, Metric Fox (Champions Group), TCS and many more.
Read More >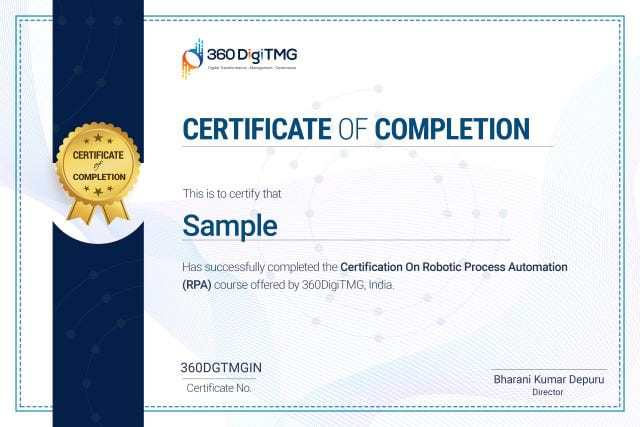 Certificate
The Robotic Process Automation(RPA) Certificate is your badge of recognition as a full-scale Digital Marketer. Display your certificate and earn appreciation from office colleagues and industry peers.
Recommended Programmes
2064 Learners
3021 Learners
2915 Learners
FAQs for Robotic Process Automation Course
Jobs in the field of Robotic Process Automation in India
The RPA industry is predicted to grow at a lightning speed and will reach $3.1 billion by 2021. The soaring demand in the applications of RPA has made way for new job roles including RPA Process Analyst, RPA Process Designer / Developer, Production Manager, etc.
Salaries in India for Robotic Process Automation
The average salary of an RPA developer whose job is to automate tedious tasks using various RPA tools is anywhere between 6-15 lakhs per annum. An RPA developer is responsible for creating, developing and implementing RPA systems in an organization and he can work as a Process Designer, Production Manager, and Automation Architect in the industry.
Robotic Process Automation Projects in India
Automation has been the core ingredient for the digital transformation in organizations around the world that has helped streamline business procedures and reduced expenses. Various projects can be undertaken in service sectors like banking, insurance, and healthcare where most of the work is manual, imperative, and repetitive.
Role of Open Source Tools in Robotic Process Automation
The open-source tools in RPA facilitate smart automation and ensure accuracy for business and IT operations. These tools allow easy automation of desktops, web browser, screen scraping, mainframe automation, and SAP automation. The tool covered in this course is UiPath.
Modes of Training for Robotic Process Automation
The course in India is designed to suit the needs of students as well as working professionals. We at 360DigiTMG give our students the option of both classroom and online learning. We also support e-learning as part of our curriculum.
Industry Application of Robotic Process Automation
RPA has made an impact on almost all industries be it Customer Service, Finance & Accounting, Human Resource, Marketing, Logistics & Supply chain, Banking, Insurance, Healthcare, IT, etc. It has enabled businesses to automate structured operations so that they can focus on core business activities.