In Collaboration with IBM
Professional Course of Data Science & AI
Design & develop Artificial Intelligence applications for business decision making with the Professional Certification in Data Science & AI.
Get Trained by Trainers from ISB, IIT & IIM
300 Hours of Intensive Classroom & Online Sessions
300+ Hours of Practical Assignments
2+2 Capstone Live Projects
Receive Certificate from Top University - UTM, Malaysia
Job Placement Assurance
3472 Learners
Academic Partners & International Accreditations
Calendar-On-Campus Classes
Data Science & AI with 100% Job Guaranteed
Program Cost
INR 87,500 69,000/-
(Excluding Taxes)
"AI to contribute $16.1 trillion to the global economy by 2030. With 133 million more engaging, less repetitive jobs AI to change the workforce." - (Source). Data Science with Artificial Intelligence (AI) is a revolution in the business industry.. AI is potentially being adopted in automating many jobs leading to higher productivity, less cost, and extensible solutions. It is reported by PWC in a publication that about 50% of human jobs will be taken away by the AI in the next 5 years. There is already a huge demand for AI specialists and this demand will be exponentially growing in the future. In the past few years, careers in AI have boosted concerning the demands of industries that are digitally transformed. The report of 2018 states that the requirements for AI skills have drastically doubled in the last three years, with job openings in the domain up to 119%.
Data Science & AI Training Overview
This dual certification program in Data Science and AI firmly reinforces concepts in mathematics, statistics, calculus, linear algebra, and probability. A primer on Data Mining and the use of Regression Analysis methods in Data Mining ensues. The concepts and deployment of Python programming to enable Data Mining, Machine learning are also dealt with in detail. The use of NLP libraries and OpenCV to code machine learning algorithms are detailed. The main highlight of this course is the focus on machine learning, deep learning, and neural networks. Feedforward and backward propagation in neural networks are described at length. The deployment of Activation function, Loss function, non- linear activation function is elaborated. A thorough analysis of Convolution Neural Networks (CNNs), Recurrent Neural Networks (RNNs), GANs, Reinforcement Learning, and Q learning is also facilitated in this course. This course is a comprehensive package for all IT enthusiasts who wish to design and develop AI applications in their field of study.

Data Science and Artificial Intelligence?

Data Science is related to analyzing, processing, and maintaining data sets. It aims at data modeling and data warehousing to trace the uncontrollably growing data set reaching the organizational goals. Artificial intelligence is the emerging technology used in machines to execute at reasoning by cloning human intelligence. With the aid of Deep learning and Natural language processing, AI technologists enable machines in identifying inferences and patterns. Artificial Intelligence automation has become easy and the development of Intelligent products is possible. Our Data Science and Artificial Intelligence certification program will help you in obtaining extensive knowledge and prepares you to be settled in high paid jobs.
Data Science & AI Learning Outcomes
The present market is all about the data. To get into this, there is a vital requirement for skilled Data Science and AI professionals. There is enormous scope for a lucrative career in this domain. By using the cutting edge and appropriate tools the freshers and professionals will be able to build algorithms and analyze huge data. By using the opportunity of individual attention given by experts at 360DigiTMG, the students will be adequately trained and will be able to understand the course very effectively. Students will be exposed to real-time projects, at the learning level only they are prepared to face the challenges that are inclined to be in industries. Data Science and AI are not confined to a specific industry, so the professionals in data science and Artificial Intelligence will have the liberty to work in the areas of their interest. The main areas where Data Science and Artificial Intelligence professionals are in demand are Medicine, Space, Robotics, Automation, Marketing, Information management, Military activities, and many more. The primary objective of Data Science and Artificial training at 360DigiTMG is to deliver skilled professionals by providing quality training, guiding them to implement and gain hands-on experience.
Use data generation sources
Work with tools and techniques used for the analysis of structured and unstructured data
Understand the differences between Descriptive and Predictive Analytics
Perform Text Mining to generate Customer Sentiment Analysis
Apply data-driven, Machine Learning approaches for business decision-making
Build prediction models for day-to-day applications
Perform forecasting to take proactive business decisions
Analyse texts, images and videos
Use Python libraries such as Keras, TensorFlow and OpenCV to create AI and Deep Learning solutions
Apply graphical processing units (GPUs) in Deep Learning Algorithms
Block Your Time
300 hours
Classroom Sessions
Who Should Sign Up?
Those aspiring to be Data Scientists, AI experts, Business Analysts, Data Analytics developers
Graduates looking for a career in Data Science, Machine Learning, Forecasting, AI
Professionals migrating to Data Science
Academicians and Researchers
Students entering the IT industry
Data Science & AI Training Modules
Many modules are in great demand for the requirements in the present changing business. The black box is the most powerful technique used to validate against the external factors that are responsible for software issues. The supervised machine learning algorithms include Linear Regression, Logistic Regression, Naive Bayes, Decision Trees, Support Vector systems, and many more. Deep learning is the lineage of Machine learning algorithms. Deep learning is mainly used in Computer vision, Bioinformatics, Audio recognition, and medical analyzing systems. Deep learning algorithms include Convolutional Neural Networks, Artificial Neural Networks, Multiple Linear Regression, Logistic regression, etc. Unsupervised learning in data mining includes Clustering, Neural networks, Principal component Analysis, Local outlier factor, and so on.
Trends in Data Science and AI in India
In the middle of the ongoing debate about AI draining off jobs, there is increased attention on developing human-level AI. Pioneers in technology such as Microsoft and Google are involving ethical committees to oversee how technology impacts human lives and eliminate bias in data. Data management platforms that help organizations to get information by breaking the data silos. AI is helping organizations to produce customized services, especially in the field of the financial stream where there is shifting in the adoption of analytics for customer engagement.
In the coming year, we will find that AI platforms will be dominating the public cloud market and cloud providers, especially Google, AWS, and Microsoft will further expand their AI cloud portfolio. We will observe there would be a great shift towards real-time analytics, which would help find hidden patterns and helps companies to be more productive by making data-driven decisions. We can observe similar rapid development in the areas of IoT applications. The other trends will be observed in Patent Analytics, market sizing tools, and in Earning Transcripts.
How we prepare you
Additional Assignments of over 300+ hours

Live Free Webinars

Resume and LinkedIn Review Sessions

Lifetime LMS Access

24/7 Support
Job Placements in Data Science & AI fields

Complimentary Courses

Unlimited Mock Interview and Quiz Session

Hands-on Experience in Live Projects

Offline Hiring Events
Call us Today!
+91 9989994319
Data Science & AI Our Panel of Coaches
Bharani Kumar Depuru
Areas of expertise: Data Analytics, Digital Transformation, Industrial Revolution 4.0.
Over 14+ years of professional experience.
Trained over 2,500 professionals from eight countries.
Corporate clients include Hewlett Packard Enterprise, Computer Science Corporation, Akamai, IBS Software, Litmus7, Personiv, Ebreeze, Alshaya, Synchrony Financials, Deloitte.
Professional certifications - PMP, PMI-ACP, PMI-RMP from Project Management Institute, Lean Six Sigma Master Black Belt, Tableau Certified Associate, Certified Scrum Practitioner, AgilePM (DSDM Atern).
Alumnus of Indian Institute of Technology, Hyderabad and Indian School of Business.
Read More >
Sharat Chandra Kumar
Areas of expertise: Data Science, Machine Learning, Business Intelligence and Data Visualisation.
Trained over 1,500 professional across 12 countries.
Worked as a Data Scientist for 14+ years across several industry domains.
Professional certifications: Lean Six Sigma Green and Black Belt, Information Technology, Infrastructure Library.
Experienced in Big Data Hadoop, Spark, NoSQL, NewSQL, MongoDB, R, RStudio, Python, Tableau, Cognos.
Corporate clients include DuPont, All-Scripts, Girnarsoft (College-dekho, Car-dekho) and many more.
Read More >
Nitin Mishra
Areas of expertise: Data Science, Machine Learning, Business Intelligence and Data Visualisation.
Over 20+ years of industry experience in Data Science and Business Intelligence.
Trained professionals from Fortune 500 companies and students from prestigious colleges.
Experienced in Cognos, Tableau, Big Data, NoSQL, NewSQL.
Corporate clients include Time Inc., Hewlett Packard Enterprise, Dell, Metric Fox (Champions Group), TCS and many more.
Read More >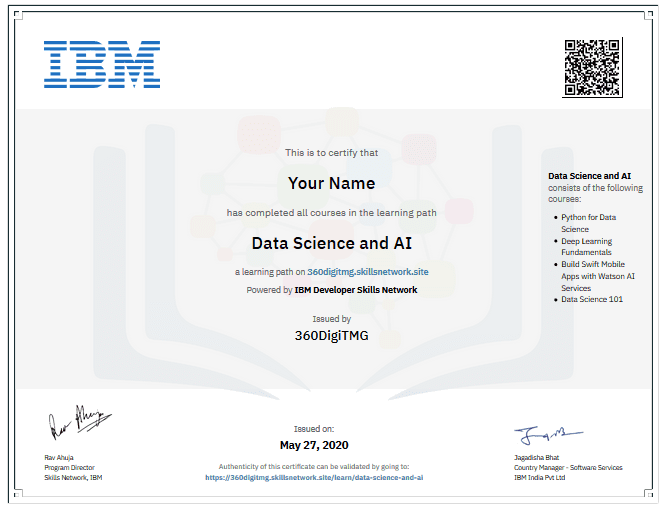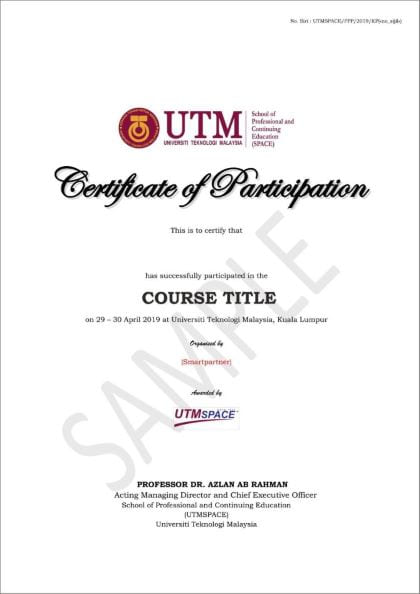 Certificate
Get recognised for your advanced data skills with the Professional Certification in Data Science and AI. Make your mark in the highly competitive AI talent market.
Recommended Programmes
2064 Learners
3021 Learners
2915 Learners
FAQs for Data Science & AI Professional Course
Data Science & AI Jobs in India
This course on data science with AI will help you in grabbing opportunities that are in great demand. You would be suitable in the positions for Data Scientist, Business Intelligence Developer, AI researcher, Algorithm engineer, Data mining Analyst, Business Analyst.
Salaries for Data Science & AI
The average salary for a Data Scientist with Artificial Intelligence (AI) skills in India is ?1,455,232, while at the entry-level in India it is around Rs.6,20,000, mid-level and senior-level salary could earn more than Rs.55,00,000 in India. It increases with relevant experience.
Data Science & AI Projects in India
Data Science with Artificial Intelligence is the perfect solution for complex issues. This technology is used in varied fields like Banking, Fake news detection, Health care sector, Speech emotion Recognition project, and in investigating crimes.
Roles of Open Source Tools in Data Science & AI
There are many popular tools in Data Science which are used extensively like Python, R, R studio, Tableau, Tensor flow, Keras, Terax. This helps in solving Data Science algorithms.
Modes of Data Science & AI Training
This course is specifically designed as per the requirements of professionals and freshers. 360DigiTMG delivers classroom sessions as well as online sessions with a dedicated team of trainers and mentors.
Industry Applications of Data Science & AI
Many industries are imbibing this trending technology in their business to boost their production. Chatbots, IoT applications, the Transportation sector, Health care, Education sector, Investigation departments, Banking are among those.