Home / Blog / Data Science / Difference Between an Artificial Intelligence Engineer and a Data Scientist
Difference Between an Artificial Intelligence Engineer and a Data Scientist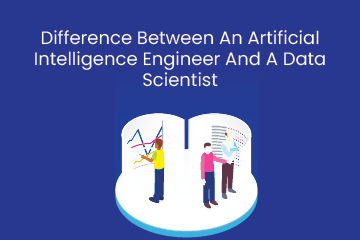 Data scientists are analytical professionals that decipher and interpret data to address challenging issues. To find solutions to business difficulties, they draw on their expertise in the industry, their comprehension of the context, and their skepticism of preconceived notions.
The work of a data scientist integrates computer science, statistics, and mathematics to gather and organize information from various data sources, turn the findings into workable strategies, and share them with their organizations. Effective communicators, leaders, team players, and high-level analytical thinkers are necessary for data scientists to succeed.
Are you looking to become a AI expert? Go through 360DigiTMG's PG Diploma in Artificial Intelligence in Bangalore
.
Want to learn more about AI? Enroll in this Artificial Intelligence Course in Bangalore to do so.
Various businesses employ data scientists, including start-up tech companies, governmental organizations, and the healthcare, manufacturing, and research sectors. In today's data and tech- heavy economy, data scientists are in high demand, and their pay and employment growth reflects that.
Teaching machines to think like human brains is the focus of the computer science subject known as artificial intelligence (AI). Although it may sound like something out of science fiction books, mimicking human behavior is a tool that allows us to rethink how we use, evaluate, and integrate data to make better business decisions. As a result, AI offers enormous potential when used in finance, national security, healthcare, criminal justice, and transportation.
360DigiTMG offers the Artificial Intelligence Course in Hyderabad to start a career in AI. Enroll now!
According to PricewaterhouseCoopers' Global Artificial Intelligence Study, by 2030, AI might contribute up to $15.7 trillion to the global economy, which is greater than China and India's combined production. This anticipated growth indicates businesses are turning to AI to fuel their operations and boost productivity.
That implies a great opportunity for advancement and competitive remuneration for an AI engineer. Continue reading to learn more about an AI engineer's duties and how to get started.
Learn the core concepts of Data Science Course video on YouTube:
Careers and Responsibilities of a Data scientist:
Data scientists work together with company leaders and other decision-makers to understand corporate goals and find data-driven approaches to attaining them. Using technologies like SAS, R programming, Python, etc., a data scientist's job role is to gather a lot of data, analyze it, and extract the most crucial information before drawing conclusions that might be used to increase the company's output and efficiency. Depending on the requirements of a business, data scientists are responsible for a wide variety of responsibilities. Some of the duties and responsibilities of data scientists are listed below:
Gather data and locate data sources
Analyze vast volumes of data, both organized and unstructured
Develop strategies and solutions for business issues
Work with team members and leaders to establish a data strategy.
Combine different algorithms and modules to find trends and patterns.
Create comprehensive analytical solutions, from data collection to display, and aid in developing data engineering pipelines. Present data using a number of tools and approaches for data visualization.
Also, check this Artificial Intelligence Course in Pune to start a career in Artificial Intelligence. Looking forward to becoming a Artificial Intelligence Expert? Check out the Artificial Intelligence Course and get certified today.
Earn yourself a promising career in Artificial Intelligence by enrolling in the Masters inArtificial Intelligence in Chennai Program offered by 360DigiTMG.
.
Look into further technologies and tools for generating novel data strategies.
Offering assistance to the team of data scientists, BI developers, and analysts as needed for their projects.
Collaborating with the pre-sales and sales teams on cost optimization, effort estimation, and cost reduction, maintaining up-to-date with the newest tools, trends, and technology will help you increase general effectiveness and performance.
Working together to produce data-driven solutions developed with original concepts with the help of the product team and partners.
Lead discussions and evaluate the viability of AI/ML solutions for business processes and outcomes.
Develop business analytics solutions by combining diverse tools, applied statistics, and machine learning.
To ensure successful data utilization, architect, deploy, and monitor data pipelines and lead peer knowledge exchange sessions.
360DigiTMG the award-winning training institute offers a Artificial Intelligence Course in Chennai and other regions of India and become certified professionals.
Responsibilities of an AI engineer:
In businesses that employ AI, AI engineers play a crucial role. They outline the AI strategy and specify the issues that AI will be used to address. They are in charge of creating the necessary production and development infrastructure for AI before using it. An AI engineer's specialized duties and tasks include the following:
To facilitate and improve the organization's decision-making process.
Create and maintain the infrastructure for the development and production of AI.
To conduct statistical analysis.
Automate the data science team's AI infrastructures.
Create AI models from scratch, assisting product managers and other stakeholders with analysis and deployment.
Convert machine learning models into APIs that can be used with other applications.
Looking forward to becoming a AI Expert? Check out the Artificial Intelligence in Pune and get certified today.
.
Technical Skills: Data Scientist vs. Engineer in Artificial Intelligence.
In terms of technical expertise, data scientists and artificial intelligence engineers overlap. For instance, both professions may use Python or R programming languages to create models, requiring a strong background in mathematics and statistics. However, to deploy models in the production environment, AI engineers need higher levels of expertise in NLP, cognitive science, deep learning, and solid familiarity with GCP, Amazon AWS, and Microsoft Azure production platforms.
Qualifications for Becoming a Data Scientist:
A solid foundation in mathematics and statistics.
Programming in Python and R
Proficiency with large-data tools, including Hadoop, Spark, Pig, Hive, and others.
Proficient knowledge of SQL and other relational database management systems.
Data-display software, such as Tableau, Click View, and others.
Have a solid understanding of data management, data cleaning, and mining techniques.
Qualifications for a Career as an Artificial Intelligence Engineer:
Expertise with scripting languages like Python and R.
Computer science and software engineering fundamentals
Excellent math and algorithms knowledge
Designing architecture and evaluating data.
Solid command of Linux/Unix-based commands, as Linux-based computers handle most of AI processing.
Understanding of distributed computing, as engineers working in AI deal with massive volumes of data that can't be stored on a single machine.
Cognitive science aims to comprehend human perception, language, emotions, and memory. The ability to understand human thought processes more deeply is a must for AI engineers.
Image processing, computer vision, deep learning, neural network architectures, and NLP.
Expertise in feature extraction techniques for signal processing.
Qualifications and Abilities of a Data Scientist:
Experience as a data analyst or scientist with a track record
Knowledge of machine learning and operations research and data mining expertise
R, SQL, and Python expertise are required; knowledge of Scala, Java, or C++ is advantageous.
Knowledge of business intelligence tools and data frameworks, such as Tableau (e.g., Hadoop)
Mind for analysis and business sense
Good math abilities (e.g., statistics, algebra)
Possibility of problem-solving issues
Excellent presentation and communication abilities
Computer science, engineering, or another similar field, BSc or BA; a graduate degree in Data Science or other quantitative field is preferred.
Qualifications and Abilities for an Artificial Intelligence Engineer:
You'll need to hone your technical abilities, as well as gain familiarity with the common tools employed by AI engineers.
Programming In order to create and use models, you should understand programming languages like Python, R, Java, and C++. Linear algebra, statistics, and probability are all necessary to put various AI and machine learning models into practice.
Big data technologies: Since AI engineers handle a lot of data, you'll need to be familiar with Apache Spark, Hadoop, and MongoDB to handle everything.
Algorithms and frameworks: You should be able to create deep learning techniques like recurrent neural networks and generative adversarial networks as well as machine learning methods like linear regression and Naive Bayes using a framework. Theano, TensorFlow, Caffe, Keras, and PyTorch are popular AI frameworks.
You can learn these skills through online courses or boot camps specially designed to help you launch your career in artificial intelligence.
360DigiTMG the award-winning training institute offers a Artificial Intelligence in Hyderabad. and other regions of India and become certified professionals.
.
Data Scientist Salary:
A data scientist can make an average yearly salary of Rs. 698 412. With less than a year of experience, a beginning data scientist might expect earning roughly Rs. 500,000 yearly. Data scientists with between one and four years of experience might make up to Rs. 610,811 annually.
AI Engineer Salary:
According to Glassdoor, the average yearly or annual salary of an AI engineer is $114,121 in the United States and ₹765,353 in India. But, of course, the salary may differ in several organizations, and with the knowledge and expertise you bring to the table.
To learn more about Artificial Intelligence Course the best place is 360DigiTMG, with multiple awards in its name 360DigiTMG is the best place to start your Artificial Intelligence career. Enroll now!
Successful Data Scientist Professional Qualities:
Data scientists should be genuinely intrigued about their surroundings via an analytical lens and have a solid grasp of computer languages, database administration, and how to transform data into visuals. Data scientists may be careful when evaluating vast volumes of data and looking for patterns and solutions. They may have personality qualities similar to quality assurance departments. They are inventive while developing new data-crawling methods or designing well-organized database storage facilities.
Typically, data science professionals need to be able to communicate with their team, stakeholders, and clients in a variety of ways. Although there may be many dead ends, incorrect turns, or rocky roads, data scientists should have the perseverance and determination to stay afloat in their research. The best data scientists also possess exceptional data intuition, and productive data scientists have strong technical backgrounds. Do the features make sense and reflect what you believe they should mean? Which model should you use, given the distribution of your data? If a value is missing, what does it signify, and what should you do with it? The best data scientists are also excellent communicators, both among themselves and with non-technical individuals. Our assessments must be technically sound and communicated to other employees in a way that is obvious and useful if we are to be effective at Airbnb.
What Makes a Professional Artificial Intelligence Engineer Successful?
The position of an AI engineer is crucial and in high demand. However, the sector is creating tools and solutions to let less skilled individuals also design applications:
Less experienced workers can create use cases using low-code and no-code options.
Prepackaged vertical and horizontal market solutions are becoming more common among AI vendors.
AI vendors are fostering commercial relationships with partners to provide even more bundled implementations.
AI providers are making it possible for non-technical business analysts to create straightforward apps using a variety of visual and dashboard interfaces.
Consulting services are growing to accommodate project-specific requirements, particularly.
AI capabilities will continue to spread throughout the larger tech world, and organizations will adapt their solutions to their size and resources, the strategic relevance of their implementations, and their staffing markets and philosophies. The relevance of the AI engineer is still rising, and many businesses' adoption of the technology will depend on them.
Data Science Placement Success Story
Data Science Training Institutes in Other Locations
Agra, Ahmedabad, Amritsar, Anand, Anantapur, Bangalore, Bhopal, Bhubaneswar, Chengalpattu, Chennai, Cochin, Dehradun, Malaysia, Dombivli, Durgapur, Ernakulam, Erode, Gandhinagar, Ghaziabad, Gorakhpur, Gwalior, Hebbal, Hyderabad, Jabalpur, Jalandhar, Jammu, Jamshedpur, Jodhpur, Khammam, Kolhapur, Kothrud, Ludhiana, Madurai, Meerut, Mohali, Moradabad, Noida, Pimpri, Pondicherry, Pune, Rajkot, Ranchi, Rohtak, Roorkee, Rourkela, Shimla, Shimoga, Siliguri, Srinagar, Thane, Thiruvananthapuram, Tiruchchirappalli, Trichur, Udaipur, Yelahanka, Andhra Pradesh, Anna Nagar, Bhilai, Borivali, Calicut, Chandigarh, Chromepet, Coimbatore, Dilsukhnagar, ECIL, Faridabad, Greater Warangal, Guduvanchery, Guntur, Gurgaon, Guwahati, Hoodi, Indore, Jaipur, Kalaburagi, Kanpur, Kharadi, Kochi, Kolkata, Kompally, Lucknow, Mangalore, Mumbai, Mysore, Nagpur, Nashik, Navi Mumbai, Patna, Porur, Raipur, Salem, Surat, Thoraipakkam, Trichy, Uppal, Vadodara, Varanasi, Vijayawada, Visakhapatnam, Tirunelveli, Aurangabad
Data Analyst Courses in Other Locations
ECIL, Jaipur, Pune, Gurgaon, Salem, Surat, Agra, Ahmedabad, Amritsar, Anand, Anantapur, Andhra Pradesh, Anna Nagar, Aurangabad, Bhilai, Bhopal, Bhubaneswar, Borivali, Calicut, Cochin, Chengalpattu , Dehradun, Dombivli, Durgapur, Ernakulam, Erode, Gandhinagar, Ghaziabad, Gorakhpur, Guduvanchery, Gwalior, Hebbal, Hoodi , Indore, Jabalpur, Jaipur, Jalandhar, Jammu, Jamshedpur, Jodhpur, Kanpur, Khammam, Kochi, Kolhapur, Kolkata, Kothrud, Ludhiana, Madurai, Mangalore, Meerut, Mohali, Moradabad, Pimpri, Pondicherry, Porur, Rajkot, Ranchi, Rohtak, Roorkee, Rourkela, Shimla, Shimoga, Siliguri, Srinagar, Thoraipakkam , Tiruchirappalli, Tirunelveli, Trichur, Trichy, Udaipur, Vijayawada, Vizag, Warangal, Chennai, Coimbatore, Delhi, Dilsukhnagar, Hyderabad, Kalyan, Nagpur, Noida, Thane, Thiruvananthapuram, Uppal, Kompally, Bangalore, Chandigarh, Chromepet, Faridabad, Guntur, Guwahati, Kharadi, Lucknow, Mumbai, Mysore, Nashik, Navi Mumbai, Patna, Pune, Raipur, Vadodara, Varanasi, Yelahanka
Navigate to Address
360DigiTMG - Data Analytics, Data Science Course Training in Chennai
D.No: C1, No.3, 3rd Floor, State Highway 49A, 330, Rajiv Gandhi Salai, NJK Avenue, Thoraipakkam, Tamil Nadu 600097
1800-212-654-321