Certificate Course in
Machine Learning on AWS Cloud Training
Employ AWS EC2, AWS S3, and AWS RDS to seamlessly store and transfer organization's data to and from AWS Cloud.
Get Trained by Trainers from ISB, IIT & IIM
24 Hours of Intensive Classroom & Online Sessions
60+ Hours of Practical Assignments
2 Capstone Live Projects
AWS Certified Speciality Machine Learning Certification
100% Job Placement Assurance
2986 Learners
Academic Partners & International Accreditations
"Companies that adopt cloud services experience a 20.5% average improvement in time to market. 80% of all enterprises will move to the cloud by 2025." - (Source). Amazon Web Services is a cloud service platform that offers flexibility and scalability to deploy services and manage data for organizations of all sizes. AWS provides the broadest and deepest set of machine learning services that fit your business needs and help unlock new insights and value. It also provides visualization tools and services that help developers build, train, and deploy machine learning models without having to learn complex machine learning algorithms and technology. In this course, learn to use AWS Machine Learning tools and services to make smart business decisions.
ML on AWS Cloud
Prerequisites
Computer Skills
Basic Mathematical Knowledge
Basic Data Science Concepts
AWS Machine Learning Training Overview
Learn to use the AWS Cloud platform to scale your business growth. Employ AWS EC2, AWS S3, and AWS RDS to seamlessly store and transfer organization data to and from AWS Cloud. Build, train, and deploy AWS Deep Learning models with Machine Learning on AWS Cloud. This program begins with an introduction to cloud computing and the evolution of Amazon Web Services(AWS). The rudiments of Elastic Cloud Compute (EC2), features of EC2 and types of instances of AWS EC2 are imparted to the student. Data Storage with Simple Storage Services (S3), concepts of creating S3 bucket, storage classes, versioning, static website hosting and cross-region replication of data through S3 are elaborated in detail. Learn about AWS Relational Database Service (RDS), deploying RDS instances and much more. Apprehend Machine Learning using Amazon Sagemaker and NLP and Text Mining using Amazon Comprehend. Build Prediction Models using Machine Learning Services.

Definition

Amazon Machine Learning allows a developer to discover hidden patterns in the data through algorithms, construct models, and implement predictive applications based on these patterns. AWS allows developers to build models according to the specified needs of the organization and helps make better business decisions. These models make a prediction based on probability and allow us to test thousands of potential product designs, improve health care outcomes, and enhance customer service responses. AWS provides many benefits like Security, where data is encrypted to provide end-to-end security. Flexibility, where developers can select the operating system language and database. Usability, where it quickly deploys applications, builds new apps and migrates existing ones. Last but least Scalability, where developers can scale up or down as needed.
Machine Learning on AWS Learning Outcomes
Machine Learning is about making predictions using algorithms, modern computing power and simple statistical methods. AWS is designed to securely host your applications and enables you to select the operating system, programming language, and other services you need and pay only for the computing power, storage, and services you use. With Amazon ML one can build data from large data sets, make predictions that are used to solve real-time problems. This course introduces you to the Machine Learning concepts and terminologies, how to create and use machine learning models, how to evaluate that model's performance, and what problems can machine learning solve. Students will learn to build, train, tune, and deploy ML models using the AWS Cloud. Using the Machine Learning web service offered by Amazon you will learn to work with data sources and generate accurate predictions. Explore real-world use cases with Machine Learning (ML) and using Amazon Sage Maker which enables Data Scientists and developers to easily deploy your ML use cases and removes the complexity from each step of the ML workflow also discover common neural network frameworks with Amazon Sage Maker.
Cloud technology and its advantages
Various Machine Learning services offered on AWS
Understand how data is loaded on to cloud storage services
Build predictive models using Amazon Machine Learning services
Connecting Amazon database services and transforming data
Understand how to deploy a model on cloud
Block Your Time
24 hours
Classroom Sessions
Who Should Sign Up?
Data scientists, technology heads, decision-makers
Professionals with analytics knowledge
Professionals with industry domain experience in various areas (banking, finance, insurance, mechanical, IoT etc.)
Machine Learning on Cloud Modules
AWS Machine Learning algorithm quickly helps to build smart applications that are used to detect fraud, predict demand, and synchronizes the previous data to provide vital information to the user. The module on Machine Learning on AWS Cloud fulfills the objective of getting familiar with Amazon services and machine learning. Each of the modules will take you through several ML concepts, AWS services, and the challenges Machine Learning can address and ultimately help solve. The first module introduces you to cloud computing and its advantages and then you will be given a brief introduction to AWS and its features like storage, security, flexibility, and scalability. You will also learn how to make use of Amazon Sage Maker which is used to easily integrate Machine Learning into your applications.
Trends in Machine Learning on AWS Cloud
Machine Learning has accelerated innovation and unlocked new possibilities in healthcare, customer service, fraud detection, etc. It has provided insights into making more accurate predictions, enabled new efficiencies, and that is why many customers choose to use AWS for Machine Learning. The global cloud computing market is forecast to go up to $700 by 2025 and as many as 85% of enterprises will be running on a multi-cloud strategy. Machine Learning is among the top trends of AWS. Developers create machine learning models by using large datasets and certain algorithms for which they need the Cloud. 50% of enterprises have decided to use public cloud storage for high computing performance. Private and Hybrid cloud computing is the future of cloud and 85% of the business leaders will move to it for storage, computing, and data analysis.
Whether it is predicting repeat purchases of customers, facilitating new product development, or creating real-time recommendations, Machine Learning Technologies are accelerating to innovate faster for customers. Mobile cloud computing will also catch up to reach 120.70 billion by the end of 2025. It's a platform that combines to create a new infrastructure using mobile devices and cloud computing to bring rich computational resources to mobile users to create, organize files, folders, music, and photos to cloud computing models. Its features like redundancy, stability, and security contribute to the popularity of the cloud. It avoids the problem of buying and maintaining hardware and offers the facility to access content from basically anywhere.
How we prepare you
Additional Assignments of over 60+ hours

Live Free Webinars

Resume and LinkedIn Review Sessions

Lifetime LMS Access

24/7 Support
Job Placements in Machine Learning on AWS fields

Complimentary Courses

Unlimited Mock Interview and Quiz Session

Hands-on Experience in Live Projects

Offline Hiring Events
Call us Today!
+91 9989994319
Cloud Machine Learning Panel of Coaches
Bharani Kumar Depuru
Areas of expertise: Data Analytics, Digital Transformation, Industrial Revolution 4.0.
Over 14+ years of professional experience.
Trained over 2,500 professionals from eight countries.
Corporate clients include Hewlett Packard Enterprise, Computer Science Corporation, Akamai, IBS Software, Litmus7, Personiv, Ebreeze, Alshaya, Synchrony Financials, Deloitte.
Professional certifications - PMP, PMI-ACP, PMI-RMP from Project Management Institute, Lean Six Sigma Master Black Belt, Tableau Certified Associate, Certified Scrum Practitioner, AgilePM (DSDM Atern).
Alumnus of Indian Institute of Technology, Hyderabad and Indian School of Business.
Read More >
Sharat Chandra Kumar
Areas of expertise: Data Science, Machine Learning, Business Intelligence and Data Visualisation.
Trained over 1,500 professional across 12 countries.
Worked as a Data Scientist for 14+ years across several industry domains.
Professional certifications: Lean Six Sigma Green and Black Belt, Information Technology, Infrastructure Library.
Experienced in Big Data Hadoop, Spark, NoSQL, NewSQL, MongoDB, R, RStudio, Python, Tableau, Cognos.
Corporate clients include DuPont, All-Scripts, Girnarsoft (College-dekho, Car-dekho) and many more.
Read More >
Nitin Mishra
Areas of expertise: Data Science, Machine Learning, Business Intelligence and Data Visualisation.
Over 20+ years of industry experience in Data Science and Business Intelligence.
Trained professionals from Fortune 500 companies and students from prestigious colleges.
Experienced in Cognos, Tableau, Big Data, NoSQL, NewSQL.
Corporate clients include Time Inc., Hewlett Packard Enterprise, Dell, Metric Fox (Champions Group), TCS and many more.
Read More >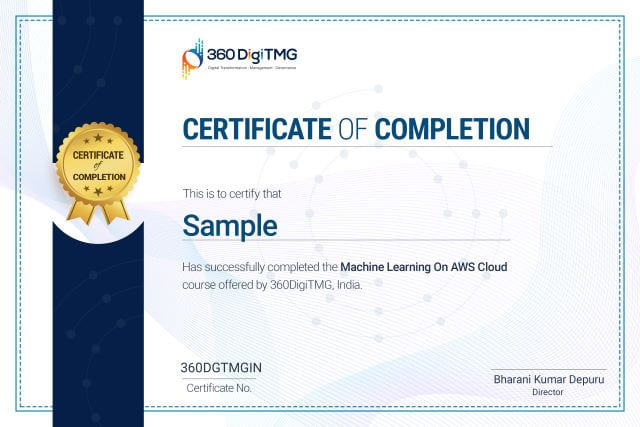 Certificate
Get validation of your advanced skills and knowledge with the Machine Learning on AWS Cloud certificate. Join the growing community of developers and data scientists trained on AWS.
Recommended Programmes
2064 Learners
3021 Learners
2915 Learners
FAQs on Cloud Machine Learning Certification
Jobs in the field of Machine Learning in AWS
The increasing demand for Machine learning on AWS has given rise to several high paying jobs like Special Solution Architect AI/ML, Machine Learning Engineer, Cloud Developer, AWS Solutions Architect, DevOps Engineer, etc.
Salaries in India for AWS
Machine learning engineers with the right skills and experience enjoy highly promising positions. The salary of a Machine learning Scientist at amazon is between 20L to 40 LPA and a Machine Learning engineer in India can expect a salary of Rs 821,546.
AWS Projects in India
You can work on various projects using Amazon Web Services like Hosting an application on a website, building a secure online store, designing a database for a mobile app, creating an audio transcript, and deploying a Python web application to name a few.
Role of Open Source Tools in AWS
With Amazon Machine Learning you can build and train predictive models, host an application, design a database for a mobile app, or identify potential customers for a marketing campaign. In this course, we will learn to customize machine learning algorithms using TensorFlow, and PyTorch.
Modes of Training for Machine Learning on AWS
The course in India is designed to suit the needs of students as well as working professionals. We at 360DigiTMG give our students the option of both classroom and online learning. We also support e-learning as part of our curriculum.
Industry Application of Machine Learning on AWS
Machine Learning applications are used in fraud detection, self- driving cars, virtual personal assistants, product recommendations, traffic alerts, etc.