Turning Data into Knowledge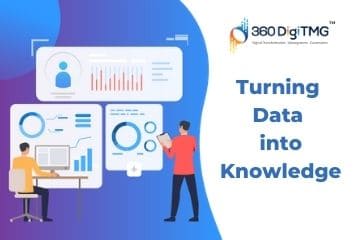 A wide range of work possibilities are available in the subject of data science, including those for the positions of data scientist, data analyst, data engineer, and others. Each job has a unique set of duties, such as a Data Engineer's gathering, storing, and pre-processing of data in preparation for a Data Scientist's additional analysis. A data analyst would extract insightful conclusions from the supplied data and visually present it for easier understanding, whereas a data scientist would analyse the data and identify patterns from it.
Click here to explore 360DigiTMG.
Source: https://thedatascientist.com/
Demand for Data Science
The magnitude of data is practically exploding by the day and the profession that has been tagged as the sexiest job of the 21st century is none other than that of a Data Scientist. Churning new ideas with data, a Data Scientist can drive insights from data that are valuable to data-driven businesses. From healthcare to government agencies to disaster management, data science has paved way for breakthroughs all over and has emerged as the most sought-after career path. In the era of information technology, the demand for Data science jobs is anticipated to increase to 2.5 lakhs by 2021, and this doesn't come as a surprise given the fact that industry giants are investing and ramping up their data science branch. Not to mention the handsome salary packages that Data scientists are being offered by successful companies to skillful professionals with less than five years of work experience.
Click here to learn Data Science Courses in Hyderabad
Learn the core concepts of Data Analytics Course video on Youtube:
Sectors Providing Job Opportunities for Data Scientists
Data scientists now have various lucrative career options because to the field's job development, but India is severely lacking in trained workers. Data scientists can find work in a number of industries, including BFSI, manufacturing, healthcare, IT, and e-commerce. The BFSI industry offers the highest average compensation, with average earnings in these sectors ranging from 10.1 LPA to 14.6 LPA. Professionals and students who want to start their careers in this industry or advance their professions have a tonne of opportunity. However, picking an institute might be difficult, particularly if it provides a thorough curriculum, the necessary competence, and a credential that is acknowledged by the business.
Source: https://www.orienit.com/
The Destination for Learning Data Science
Data Science is truly a game-changer and the way to future opportunities. This Offline course in Data Science offered by 360DigiTMG is designed to capture the principal purpose of Data Science which is to discover and analyze patterns using statistical techniques. The offline course in Data Science will equip you with the skills that include programming, statistics, and coding which is used to drive and discover trends and patterns from raw data. Students will learn all the skills and techniques required to build models to improve the quality of data and generate new insights. In our pursuit to drive excellence, our students are trained and mentored by leaders in the industry who with their unique approach to teaching enlighten and excite the minds of the students and prepare them for the working world. All the sessions are a blend of theory and hands-on experience with live projects supervised by a mentor. Our students have unlimited access to free webinars and lifetime access to LMS(AISPRY) for resourceful material. We offer 100% job assurance with resume building assistance along with interview preparation through mock interview rounds to boost your confidence. With Accreditation from the world's top universities and organizations, like UTM, IBM, City and Guilds, and excellent placement records, we ensure that our students are an asset to any organization that hires them.
Conclusion
The offline course in Data Science is accomplished with the most recent market trends and offers a step-by-step explanation of all the concepts and fundamentals of Data Science through thoughtfully structured modules, with the goal of empowering students as well as professionals in the field. So, if you enjoy juggling data and have a strong desire to find solutions, you have come to the perfect spot. You will have a competitive advantage thanks to this offline course in data science from 360DigiTMG, which will also attest to your commitment and work.
Click here to learn Data Science Course, Data Science Course in Hyderabad, Data Science Course in Bangalore
Data Science Placement Success Story
Data Science Training Institutes in Other Locations
Agra
,
Ahmedabad
,
Amritsar
,
Anand
,
Anantapur
,
Bangalore
,
Bhopal
,
Bhubaneswar
,
Chengalpattu
,
Chennai
,
Cochin
,
Dehradun
,
Malaysia
,
Dombivli
,
Durgapur
,
Ernakulam
,
Erode
,
Gandhinagar
,
Ghaziabad
,
Gorakhpur
,
Gwalior
,
Hebbal
,
Hyderabad
,
Jabalpur
,
Jalandhar
,
Jammu
,
Jamshedpur
,
Jodhpur
,
Khammam
,
Kolhapur
,
Kothrud
,
Ludhiana
,
Madurai
,
Meerut
,
Mohali
,
Moradabad
,
Noida
,
Pimpri
,
Pondicherry
,
Pune
,
Rajkot
,
Ranchi
,
Rohtak
,
Roorkee
,
Rourkela
,
Shimla
,
Shimoga
,
Siliguri
,
Srinagar
,
Thane
,
Thiruvananthapuram
,
Tiruchchirappalli
,
Trichur
,
Udaipur
,
Yelahanka
,
Andhra Pradesh
,
Anna Nagar
,
Bhilai
,
Borivali
,
Calicut
,
Chandigarh
,
Chromepet
,
Coimbatore
,
Dilsukhnagar
,
ECIL
,
Faridabad
,
Greater Warangal
,
Guduvanchery
,
Guntur
,
Gurgaon
,
Guwahati
,
Hoodi
,
Indore
,
Jaipur
,
Kalaburagi
,
Kanpur
,
Kharadi
,
Kochi
,
Kolkata
,
Kompally
,
Lucknow
,
Mangalore
,
Mumbai
,
Mysore
,
Nagpur
,
Nashik
,
Navi Mumbai
,
Patna
,
Porur
,
Raipur
,
Salem
,
Surat
,
Thoraipakkam
,
Trichy
,
Uppal
,
Vadodara
,
Varanasi
,
Vijayawada
,
Vizag
,
Tirunelveli
,
Aurangabad
Data Analyst Courses in Other Locations
ECIL
,
Jaipur
,
Pune
,
Gurgaon
,
Salem
,
Surat
,
Agra
,
Ahmedabad
,
Amritsar
,
Anand
,
Anantapur
,
Andhra Pradesh
,
Anna Nagar
,
Aurangabad
,
Bhilai
,
Bhopal
,
Bhubaneswar
,
Borivali
,
Calicut
,
Cochin
,
Chengalpattu
,
Dehradun
,
Dombivli
,
Durgapur
,
Ernakulam
,
Erode
,
Gandhinagar
,
Ghaziabad
,
Gorakhpur
,
Guduvanchery
,
Gwalior
,
Hebbal
,
Hoodi
,
Indore
,
Jabalpur
,
Jaipur
,
Jalandhar
,
Jammu
,
Jamshedpur
,
Jodhpur
,
Kanpur
,
Khammam
,
Kochi
,
Kolhapur
,
Kolkata
,
Kothrud
,
Ludhiana
,
Madurai
,
Mangalore
,
Meerut
,
Mohali
,
Moradabad
,
Pimpri
,
Pondicherry
,
Porur
,
Rajkot
,
Ranchi
,
Rohtak
,
Roorkee
,
Rourkela
,
Shimla
,
Shimoga
,
Siliguri
,
Srinagar
,
Thoraipakkam
,
Tiruchirappalli
,
Tirunelveli
,
Trichur
,
Trichy
,
Udaipur
,
Vijayawada
,
Vizag
,
Warangal
,
Chennai
,
Coimbatore
,
Delhi
,
Dilsukhnagar
,
Hyderabad
,
Kalyan
,
Nagpur
,
Noida
,
Thane
,
Thiruvananthapuram
,
Uppal
,
Kompally
,
Bangalore
,
Chandigarh
,
Chromepet
,
Faridabad
,
Guntur
,
Guwahati
,
Kharadi
,
Lucknow
,
Mumbai
,
Mysore
,
Nashik
,
Navi Mumbai
,
Patna
,
Pune
,
Raipur
,
Vadodara
,
Varanasi
,
Yelahanka
Navigate to Address
360DigiTMG - Data Science, Data Scientist Course Training in Bangalore
No 23, 2nd Floor, 9th Main Rd, 22nd Cross Rd, 7th Sector, HSR Layout, Bengaluru, Karnataka 560102
1800-212-654-321