Certificate Course in
Full Stack Web Developer Training
Companies are searching for professionals who can manage both backend and front end, as the industry is short of full-stack developers.
84 Hours of Intensive Classroom & Online Sessions
100+ Hours of Practical Assignments
3 Months Free Internship Program
Receive Certificate from Top University - UTM, Malaysia
100% Job Placement Assurance
2984 Learners
Academic Partners & International Accreditations
"In India, the national average salary of a Full Stack Web Developer is Rs 7.1 lakhs per annum and it goes up to 17 LPA for experts." - (Source). Mastery over a particular aspect of technology has its advantages, but with technology rapidly expanding and evolving, companies are looking for people who can handle processes on their own with minimum support, which means they can feasibly build applications and websites end-to-end. These developers are known as "full-stack developers," and they are back in demand because they make the entire process of developing more effective and efficient. Full-stack developers usually have working knowledge of the entire stack, with expertise in a few layers. Today because of the colossal amounts of data generation they have to deal with much larger and more complicated data, websites, and technologies. Today, a web developer has to wear many hats and play different roles of a designer, developer, or a database specialist. Full-stack engineer holds the 5th position on the list of top emerging jobs for 2020 according to a report by LinkedIn.
Full Stack Developer
Prerequisites
Computer Skills
Basic Mathematical Knowledge
Organizational & Project Management skills
Full Stack Web Developer Training Overview
Full-stack web developers are in great demand. Companies are searching for professionals who can manage both backend and front end, as the industry is short of full-stack developers. The salary of a full-stack developer is on the higher side as it is a profession in great demand in the job market. You can take your career to the next level by pursuing this course. A full-stack web developer is a software expert skilled in front end and back end development and essentially is skilled in Angular and NodeJS. Learn the basic & advanced concepts of JavaScript and TypeScript and fundamentals of HTML 5. Advanced Concepts of NodeJS and Angular and concepts of MongoDB. At the end of this course gain knowledge on debugging applications and get exposure towards working on real-time projects.

What do you mean by Full Stack Web Development?

Full-stack web development covers all facets of web development. It is a process that includes both the front and back ends of a website or application development. The front-end part deals with the user interface and the back-end part deals with data validation. When web developers work on different sections or subsystems of web development, the process sometimes turns out to be quite complex and expensive. Therefore, organizations today demand full stack developers who are capable of developing strategies for every part of the web development process and are proficient in working across multiple stacks.
Full Stack Web Developer Learning Outcomes
The web is a big landscape visited by many for business, entertainment, or education. How these websites are built and how they work, how do various devices like computers, and mobile devices interact with the web and what skills are required to build a website are some questions this course aims to answer. With AI spreading its wings in the workplace and job roles and tasks progress along with new AI applications, companies are on a lookout for someone who understands the systems and processes at a high level, someone who can spot loopholes at the front or back end; and can sustain the gap between the two ends will be increasingly vital. The course is divided into segments that cover multiple technologies and frameworks like Frontend, Backend, Database, and Debugging. Learn key concepts of both the frontend and backend and explore the complete web development process, technologies, and ecosystems. This course will explain in detail about the structure and functionality of the world wide web and teach you to create an effective and dynamic web page using a combination of HTML5, CSS3, and JavaScript. Last but not least learn to publish your webpages by selecting an appropriate web hosting service. With this course on Full Stack Web Development from India prepare to take the next step into developing practical knowledge and ability to work on all aspects involved in building an application or a website.
Gain knowledge of both front end and back end
You can easily build websites and mobile applications on your own
Can Easily Take the Charge of Project Responsibility
Fast and timely delivery of the Project
Easy Maintenance and Updates
you can troubleshoot issues easily in the entire application
Overall they can assume all project ownership
Block Your Time
84 hours
Classroom Sessions
3 months
Internship Program
Who Should Sign Up?
IT Engineers
Freshers, Junior/Mid-Level Executives
Math, Science and Commerce Graduates
Designers, Developers
Full Stack Web Developer Training Modules
This module will assist students in designing and developing powerful modern web applications that form the base for the apps, websites, and systems that businesses use every day. The training commences with teaching you how to code web apps with impressive designs and possess the knowledge to implement dynamic HTML effects using some cool tags. Each module includes multiple technologies to help you gain more experience and explore different technologies and frameworks at Frontend (HMTL5, CSS3, Bootstrap, JavaScript, Angular8) at backend (NodeJS framework, Express JS framework,) and Database (NoSQL-MongoDB). In addition to theory, students will also get hands-on experience in practical applications with multiple projects. To optimize your chances of becoming a successful Full Stack Web Developer, do join this training with 360DigiTMG, India.
Trends in Full Stack Web Development
The web is a fantastic stage for full-stack developers to perform. They can quickly deliver an application to millions of users and get instant feedback. The coming years have a lot more surprises for the IT industry and the trends that would hit the market by 2020 in web development would include technologies like JavaScript, Blockchain, Artificial Intelligence, Progressive web applications, IoT, etc. With modern backend infrastructure, larger web access, flying internet speeds, and the development of mobile devices, developers and technologists can now design contemporary web applications that can interactively serve more front-end clients over the web. Developers today are aware of the frontend, backend, database, and debugging of web applications and are capable of developing both client and server-side software. But now when powered with emerging technologies it is bound to influence Full-stack development.
AI has become an integral part of web development at the enterprise level. With Chatbots attending to queries through text and voices and minimizing the costs by half has revolutionized customer experience. The biggest challenge of any industry today I security and so is the case with web development of applications, the blockchain technology proves to a boom as it addresses the security concerns related to online purchases, financial transactions, or any other field in software development. With the capabilities of JavaScript technology, developers are now capable of working on both frontend and backend. Due to the features of Node.js, Angular, Express.js, and other popular frameworks, Full-stack development is heading upwards. With artificial intelligence, virtual reality augmented reality and JavaScript language the demand for full-stack developers for software development will only increase in the years to come.
How we prepare you
Additional Assignments of over 100+ hours

Live Free Webinars

Resume and LinkedIn Review Sessions

Lifetime LMS Access

24/7 Support
Job Placements in Full Stack Web Development Fields

Complimentary Courses

Unlimited Mock Interview and Quiz Session

Hands-on Experience in Live Projects

Offline Hiring Events
Call us Today!
+91 9989994319
Full Stack Developer Course Panel of Coaches
Bharani Kumar Depuru
Areas of expertise: Data analytics, Digital Transformation, Industrial Revolution 4.0
Over 14+ years of professional experience
Trained over 2,500 professionals from eight countries
Corporate clients include Hewlett Packard Enterprise, Computer Science Corporation, Akamai, IBS Software, Litmus7, Personiv, Ebreeze, Alshaya, Synchrony Financials, Deloitte
Professional certifications - PMP, PMI-ACP, PMI-RMP from Project Management Institute, Lean Six Sigma Master Black Belt, Tableau Certified Associate, Certified Scrum Practitioner, AgilePM (DSDM Atern)
Alumnus of Indian Institute of Technology, Hyderabad and Indian School of Business
Read More >
Sharat Chandra Kumar
Areas of expertise: Data sciences, Machine learning, Business intelligence and Data visualisation
Trained over 1,500 professional across 12 countries
Worked as a Data scientist for 14+ years across several industry domains
Professional certifications: Lean Six Sigma Green and Black Belt, Information Technology Infrastructure Library
Experienced in Big Data Hadoop, Spark, NoSQL, NewSQL, MongoDB, R, RStudio, Python, Tableau, Cognos
Corporate clients include DuPont, All-Scripts, Girnarsoft (College-dekho, Car-dekho) and many more
Read More >
Nitin Mishra
Areas of expertise: Data sciences, Machine learning, Business intelligence and Data visualisation
Over 20+ years of industry experience in data science and business intelligence
Trained professionals from Fortune 500 companies and students at prestigious colleges
Experienced in Cognos, Tableau, Big Data, NoSQL, NewSQL
Corporate clients include Time Inc., Hewlett Packard Enterprise, Dell, Metric Fox (Champions Group), TCS and many more
Read More >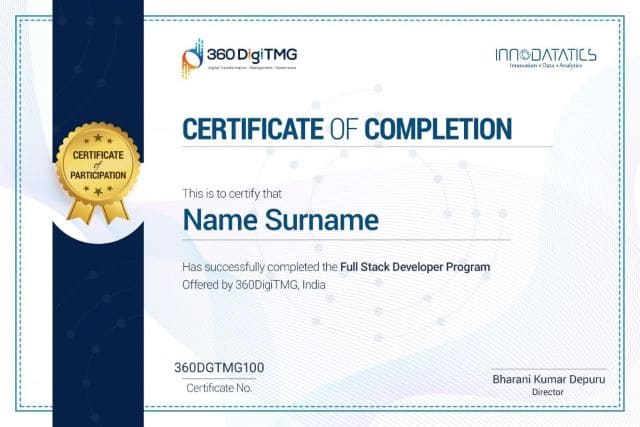 Certificate
The Full-Stack Web Developer Certificate is your badge of recognition. Display your certificate and earn appreciation from office colleagues and industry peers.
Recommended Programmes
2064 Learners
3021 Learners
2915 Learners
FAQs for Full Stack Web Developer Course
Jobs in the field of Full Stack Web Development
Full-stack developers are in demand owing to the numerous benefits they offer by solving glitches across several layers of the web and app development process. One can work as a Full Stack Web Developer, Web Engineer, or a software developer.
Salaries in India for a Full Stack Web Developer
Full-stack web developer is undoubtedly a promising career option. An average experienced full stack developer can fetch anywhere between INR 4,00,000 - INR 15,00,000 depending upon his experience and skill set.
Full Stack Web Development Projects in India
There are many projects that one can take up in this field to gain practical knowledge. You can work on building a web application for real estate, storage solutions, mobile tracking, reporting tool application, or a wholesale distribution system that provides faster inquiries to the financial data.
Role of Open Source Tools in Web Development
The open-source tools in web development make the development of websites easy, flexible, and highly scalable. They also help improve the online browsing experience and facilitate improved SEO. In this course, we will use tools like HTML5, CSS3, Agular8, Bootstrap, TypeScript, etc.
Modes of Training for Web Development course
The course in India is designed to suit the needs of students as well as working professionals. We at 360DigiTMG give our students the option of both classroom and online learning. We also support e-learning as part of our curriculum.
Industry Applications of Full Stack Web Development
Businesses that wish to sell their products and services through an automated business workflow (e-commerce) or social network services hire web developers and they get employed in Industries like advertising, public relations, computer systems, design, and data-related services.