Professional Certificate in
PMI Risk Management (PMI-RMP)® Training
Gain expertise in the Project Risk Management lifecycle right from risk planning to risk monitoring and control. Perform quantitative analysis, qualitative analysis, and predictive modeling of risks using Oracle Crystal Ball.
Get Trained by PMI Registered Education Provider
30 Hours of Intensive Classroom & Online Sessions
30+ Hours of Mock Tests
100% Job Placement Assurance
2111 Learners
Academic Partners & International Accreditations
"globally across seven project-intensive industries by 2020." - (Source). A risk manager executes tasks that are in sync with the needs of the projects that are increasingly international, virtual, and multiplex in nature. The PMI Risk Management Professional (PMI-RMP) ® certification teaches you the skills required to improve the efficiency of your company and brings to light your ability to identify and judge project risks, reduce threats and maximize opportunities. It also validates your expertise in protecting and handling people and processes and bringing credit to your organization and helps you stand out to employers and colleagues. A PMI-RMP® certification brings attention to your knowledge and increases your market merit and credibility as a professional in project management. This course from India is designed for project managers, risk program managers, Operational Risk Analysts, and program managers.
Professional PMI RMP
Prerequisites
Secondary Education Degree (high school diploma, associate's degree or any other global equivalent)
PMI-RMP Training Programme Overview
Gain expertise in risk management lifecycle and perform quantitative analysis, qualitative analysis, and predictive modeling of risks using Oracle Crystal Ball. Attend this course and prepare for the PMI-Risk Management Professional (PMI-RMP) ® Examination. In the initial phase of this course, the student will apprehend risk management concepts and risk definition techniques. Knowledge of the fundamentals of risk communication, tolerance, and impact and preparation of risk management reports is imparted. Students will comprehend how to create a risk management plan using strategies like risk tolerance, probability, and impact. Identifying project risks and creating a risk register is another important module in this course. Performing qualitative risk analysis with risk probability, impact, quality, and urgency assessment is elaborated. The use of decision tree analysis and simulation in quantitative risk analysis is highlighted. The final modules are devoted to risk response strategies, contingent response strategies, and risk monitoring and control.

What is PMI-RMP?

Projects experience or encounter some risks during the project lifecycle. Project risk management takes care of these risks by identifying, planning, analyzing, and controlling them. Now, because of the high level of uncertainties, risk management becomes crucial for the success of every phase and process involved in project management. For the success of project risk management, it is critical that there is proper integration with project management in terms of the risk effort as per the scale to the project, recognition of the value of risk management, project estimation time, cost, and scope plus there is an It is of utmost importance that there is open and honest communication. Project risk managers are critical to any business discipline that manages and executes projects and therefore, a certification in PMI-RMP validates your capabilities to handle hybrid projects and the experience to lead it to closure. To sustain your PMP certification you need 30 professional development units (PDUs) every three years in risk management topics.

Eligibility criteria for this certification exam

1) The candidate must have a secondary degree along with 5 years of work experience, out of which 3years should be in project risk management and invest 40 hours in project risk management education. 2) The Aspirant must have a four- year Bachelor's degree along with 2 years /24 months of experience in Project Management and 30 hours of project risk management education.

PMI-RMP Exam

The PMI-RMP exam will test you on 170 multiple choice questions and you will have 150 minutes to complete the exam.
PMI-RMP Course Learning Outcomes
This training on Risk Management will help you learn the various processes, structures, and approaches involved in risk management that are required to address uncertainty in projects. You will explore the types of risks involved in projects and how planning, analysis, and identification can control both known and unknown risks. This course will help you understand the purposes of practice standards for risk management. This course has been designed for people who have experience in project management and wish to receive formal project management training to enhance and develop professionally and bring out their project management skills. The course will introduce the students to the principles and concepts of risk management and they will talk about the drivers, opportunities, and threats, involved in risk management. By the end of the course, students will be able to use their learnings and practices of project management realized by Project Management Institute (PMI) to complete a live project. This will involve initiating, planning, budgeting, communicating and controlling the quality, costs, risks, scope, and leading the project to its closure. The course also covers aspects like Identification of Risks, then performing Quantitative and Qualitative Risk Analysis and finally planning risk response.
Get ready to be certified as a Risk Management Professional by PMI
Know how to monitor risks and plan contingencies by offering practical solutions
Identify risks with better accuracy and work with the latest software for forecasting
Manage risks in projects by identifying, analysing, monitoring and closing risks in the most appropriate manner
Block Your Time
30 hours
Classroom Sessions.
Who Should Sign Up?
Project managers who want to develop Risk Management skills
Professionals with an analytical mindset
Mid-level executives interested in running business operations
Professionals with working knowledge of Project Risk Management
Risk Management Course Modules
With a lot of uncertainty in the economy, one should be prepared with risk responses to conduct oneself during the turmoil which is the key to any business success. The modules of this course introduce the candidates to the fundamentals and ideal risk management practices. It provides the aspirants an understanding of project management terminologies like Project Lifecycle, Project Phases, Organizational Structure, and Process Assets. Students will explore the five risk management domains along with 29 risk management tasks. The later modules teach you about risk communication, risk management, identifying project risks, and then performing qualitative and quantitative risk analysis. The module on PMI-RMP covers risk monitoring, risk planning, and risk control which are the essential components of the risk management lifecycle. With this certification from India, you can practically work in any sector across any industry.
Trends in PMI Risk Management (PMI RMP) course
The duty of any conscientious project manager is to assess the risks associated with the project, mitigate threats and protect the organization from adverse interactions. The role of a project manager as a risk management professional is gaining popularity in IT circles. Hence Project Management Institute has devised the PMI - RMP Certification program. Project Managers who avail of this certification can command higher salaries in the job spectrum. The PMI - RMP certification can give a boost to any project manager's resume.
360DigiTMG India has a PMI - RMP Certification Training Program. PMI - RMP training in India from 360DigiTMG ensures that mandatory 30 contact hours of the extensive course curriculum is delivered. Our Faculty who are PMI - RMP certified professionals, tutor students with practical case studies on real-world risk management from their professional experience. Manage risks in your enterprise in India as a PMI - RMP certified professional and reap monetary benefits.
How we prepare you
Mock Tests of over 30+ hours

Live Free Webinars

Resume and LinkedIn Review Sessions

Lifetime LMS Access

24/7 Support
Job Placements in PMI-RMP fields

Complimentary Courses

Unlimited Mock Interview and Quiz Session

Hands-on Experience in Live Projects

Offline Hiring Events
Call us Today!
+91 9989994319
Risk Management Training Panel of Coaches
Bharani Kumar Depuru
Areas of expertise: Data Analytics, Digital Transformation, Industrial Revolution 4.0.
Over 14+ years of professional experience.
Trained over 2,500 professionals from eight countries.
Corporate clients include Hewlett Packard Enterprise, Computer Science Corporation, Akamai, IBS Software, Litmus7, Personiv, Ebreeze, Alshaya, Synchrony Financials, Deloitte.
Professional certifications - PMP, PMI-ACP, PMI-RMP from Project Management Institute, Lean Six Sigma Master Black Belt, Tableau Certified Associate, Certified Scrum Practitioner, AgilePM (DSDM Atern).
Alumnus of Indian Institute of Technology, Hyderabad and Indian School of Business.
Read More >
Sharat Chandra Kumar
Areas of expertise: Data Science, Machine Learning, Business Intelligence and Data Visualisation.
Trained over 1,500 professional across 12 countries.
Worked as a Data Scientist for 14+ years across several industry domains.
Professional certifications: Lean Six Sigma Green and Black Belt, Information Technology, Infrastructure Library.
Experienced in Big Data Hadoop, Spark, NoSQL, NewSQL, MongoDB, R, RStudio, Python, Tableau, Cognos.
Corporate clients include DuPont, All-Scripts, Girnarsoft (College-dekho, Car-dekho) and many more.
Read More >
Nitin Mishra
Areas of expertise: Data Science, Machine Learning, Business Intelligence and Data Visualisation.
Over 20+ years of industry experience in Data Science and Business Intelligence.
Trained professionals from Fortune 500 companies and students from prestigious colleges.
Experienced in Cognos, Tableau, Big Data, NoSQL, NewSQL.
Corporate clients include Time Inc., Hewlett Packard Enterprise, Dell, Metric Fox (Champions Group), TCS and many more.
Read More >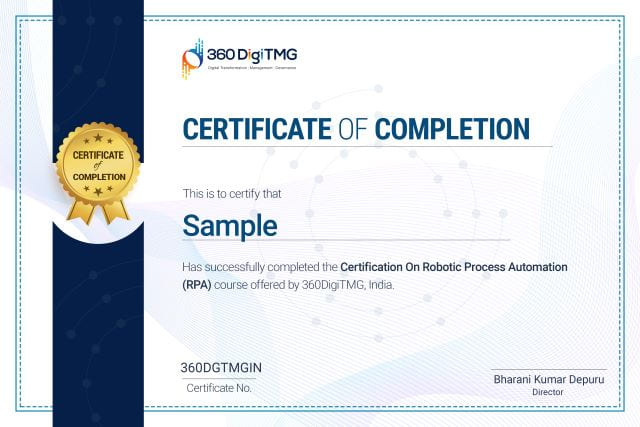 Certificate
Prove your readiness for the PMI-RMP exam with a PMI PDU certification from 360DigiTMG. Show your commitment to learning and launch your career as a risk manager.
Recommended Programmes
2064 Learners
3021 Learners
2915 Learners
FAQs on Risk Management Certification
Jobs for a PMI Risk Management (PMI RMP) Certified Candidate
Risk management professionals plan risk strategies and processes. They analyze, monitor and report issues. Therefore, they can be employed in any sector across any industry. They can work as a project coordinator, project management office director, project schedulers, etc.
Salaries in India for PMI Risk Management (PMI RMP) Certified
Risk management involves identifying and controlling threats that could arise from several sources like financial instability, management errors, and even natural disasters. The average salary of a risk manager is between 12lakhs- 15 lakhs in India.
Projects in PMI Risk Management
Risk managers tackle risks effectively in their projects and achieve greater reliability with their enterprise. The various projects they undertake involve a plan for risk management, defining budgets, identifying Risk exposure, and using the analysis to translate risk into actual time and cost.
Role of Open Source Tools in PMI Risk Management (PMI RMP)
Risk management has become a top priority for digitalized companies. They use open source tools to help track risk and mitigations, analyze security threats, scan applications for vulnerabilities, continuous monitoring of the infrastructure and information system.
Modes of Training for PMI Risk Management (PMI RMP) Exam
The course in India is designed to suit the needs of students as well as working professionals. We at 360DigiTMG give our students the option of both classroom and online learning. We also support e-learning as part of our curriculum.
Industry Applications of PMI Risk Management (PMI RMP)
Risk management takes center stage within all organizations and is practiced across all industries. An increasing percentage of industries are embracing risk management like the pharmaceutical industry, energy & utility industry, Banking, Credit card, IT, supply chain, etc.