Certificate Course in
Social Media Marketing (SMM) Training
Leverage the social networking milieu of Facebook, Twitter, and LinkedIn to build your brands. Encircle existing customers and forge good relationships with new customers on social media platforms.
16 Hours of Intensive Classroom & Online Sessions
40+ Hours of Practical Assignments
100% Free Internship Program
Receive Certificate from Top University - UTM, Malaysia
100% Job Placement Assurance
3212 Learners
Academic Partners & International Accreditations
"A Social Media Manager plays a crucial role in driving results for the clients. Social Media Manager draws up to an average salary of Rs. 4.5 to 8 lakhs per annum in India." - (Source). Social Media Marketing is a new and happening trend in the present world. Every business is marketing its products through Social media platforms. Gone are the days with print media marketing and the use of billboards. With advanced technology, it is possible to connect with the world through social networking sites. The main advantage of Social Media Marketing is that it can be used regardless of any business whether it is B2B or B2C. The statistics show that according to Hubspot, 92% of marketers in 2014 claimed that Social Media Marketing was essential for their business, with 80% said that they observed an increase in traffic to their websites. Social media networks are just new channels for bringing awareness to your brand's voice and content. It is easier, relatively less cost, and accessible for new customers and makes you more prominent and familiar for existing customers. In addition to these, studies have shown that there would be 100 % higher lead to close rate by social media when compared to outbound marketing, thus aids in building trust and credibility in your brand.
Social Media Marketing
Social Media Training Overview
This course provides comprehensive and in-depth coverage of marketing on Facebook, Twitter, Google Plus, and LinkedIn. The module on Facebook marketing teaches the student local business page creation, Fan page creation, Brand Page creation, Organization page creation, Facebook optimization techniques, and event creation. The Twitter module deals elaborately with Twitter demographics, Twitter lingo, Twitter account promotion, and Twitiquette. The various features of Google Plus and brand promotion on the same are discussed. The module on LinkedIn marketing deals with creating LinkedIn groups, LinkedIn events, link building, messaging, and LinkedIn profile creation.

What is Social Media Marketing

Social Media Marketing is creating customized content for each social media platform that helps in connecting with customers, building brand awareness, boost sales. You can know your target audience or potential customers. It involves publishing amazing content on your social media platforms and increasing traffic. This will help with customer engagement and increase production. As it is cost-effective many businesses are adopting Social Media Marketing to promote their brands. Social media platforms like Facebook, Instagram, Twitter, LinkedIn, Pinterest, YouTube, and Snapchat are very prominent and trendy. Brands are provided with the necessary tools to promote their products on social media to get sales. By advanced tracking tools like Facebook Pixel, it is easy to engage customers by publishing good content regularly. Many tools are used regularly for the promotion of brands.
Social Media Marketing Course Outcomes
Social Media Marketing is the solid trend being used in businesses to boost their sales. By Social Media Marketing certification, students will be able to listen and analyze, can market content, and engage the customers across customer success platforms. This program helps them to make marketing decisions based on social insights. It helps them to satisfy their customers with social customer care. Lead generation will become easy to find new customers. Freshers or Working professionals will be able to do so by enrolling themselves for adequate training. 360DigiTMG has specifically designed the curriculum of Social Media Marketing based on the trends and constantly changing business needs. After the completion of the course, students will have significant knowledge of the usage of social media platforms for effective and result-oriented marketing. The students will be exposed to real-time projects which helps them to know the business challenges and gain hands-on experience.
Evolution of social media optimization and marketing and knowing the impact of it on the business
Defining goals to create successful campaigns
Building positive reputation in social media groups by sticking to commitments
Promoting your brand on various social media sites
Tracking reports and iterating successful strategies and achieving business goals
Block Your Time
16 hours
Classroom Sessions
Who Should Sign Up?
Beginners with SEO knowledge
Intermediate Digital Marketers looking to enhance their skill sets
Individuals who are willing to make money online
Modules of Social Media Marketing in India
Students will be learning about the main and important modules that are beneficial for Social Media Marketing. Facebook has a whopping 2.5 billion people who are regular users. Focused business marketing strategies by Facebook is an effective way to target potential customers. It has a huge scope for maximum brand visibility. LinkedIn is one of the biggest professional networking tools in the world with more than 390 million registered users. It is the best for lead generation. By using social media management tools you can engage with your customers and accomplish your tasks in less time. Another platform is Twitter which also thrives for customer engagement. It has an aura that attracts unique visitors. There are imperative elements in Twitter that fuel engagement to its platform like photos, Hashtags, Videos, Links, etc. With the aid of our Certification Program in Social Media Marketing, you can drive winning marketing campaigns. Leverage the social networking milieu of Facebook, Twitter, and LinkedIn to build your brands. Encircle existing customers and forge relationships with new customers on social media platforms.
Trends in Social Media Marketing in India
Are you ready to know about the future of Social Media Marketing? Here are the few trends that you are going to observe now and in the coming years. Influencer marketing is the new popular trend which became eminent in a very short period. It has pushed back other types of marketing like print media. There are micro-influencers and nano influencers who collaborate with brands and aid in the promotion of products, by this the companies can target their potential customers. AI and chatbot are the current trends in Social media. Facebook messenger is using chatbot powered with AI to promote its brands and solve the queries of customers. Employees' advocacy will rise, as employees can become influencers and promote the brand in their circles or groups.
Live videos, story updates, and business pages are the new features that help to connect with the audience resulting in additional engagement. Stories were first introduced on Snapchat, then Facebook and Instagram have adopted it. These stories are highly engaging and draw the attention of millions. Every day approximately 550 million people watch Instagram stories. Even LinkedIn has started using the Stories feature. Augmented Reality is another trend where Facebook Messenger is using video calls. All the above features help in marketing and build trust with customers.
How we prepare you
Additional Assignments of over 40+ hours

Live Free Webinars

Resume and LinkedIn Review Sessions

Lifetime LMS Access

24/7 Support
Job Placements in Social Media Marketing fields

Complimentary Courses

Unlimited Mock Interview and Quiz Session

Hands-on Experience in Live Projects

Offline Hiring Events
Call us Today!
+91 9989994319
Social Media Marketing Course Panel of Coaches
Bharani Kumar Depuru
Areas of expertise: Data Analytics, Digital Transformation, Industrial Revolution 4.0.
Over 14+ years of professional experience.
Trained over 2,500 professionals from eight countries.
Corporate clients include Hewlett Packard Enterprise, Computer Science Corporation, Akamai, IBS Software, Litmus7, Personiv, Ebreeze, Alshaya, Synchrony Financials, Deloitte.
Professional certifications - PMP, PMI-ACP, PMI-RMP from Project Management Institute, Lean Six Sigma Master Black Belt, Tableau Certified Associate, Certified Scrum Practitioner, AgilePM (DSDM Atern).
Alumnus of Indian Institute of Technology, Hyderabad and Indian School of Business.
Read More >
Sharat Chandra Kumar
Areas of expertise: Data Science, Machine Learning, Business Intelligence and Data Visualisation.
Trained over 1,500 professional across 12 countries.
Worked as a Data Scientist for 14+ years across several industry domains.
Professional certifications: Lean Six Sigma Green and Black Belt, Information Technology, Infrastructure Library.
Experienced in Big Data Hadoop, Spark, NoSQL, NewSQL, MongoDB, R, RStudio, Python, Tableau, Cognos.
Corporate clients include DuPont, All-Scripts, Girnarsoft (College-dekho, Car-dekho) and many more.
Read More >
Nitin Mishra
Areas of expertise: Data Science, Machine Learning, Business Intelligence and Data Visualisation.
Over 20+ years of industry experience in Data Science and Business Intelligence.
Trained professionals from Fortune 500 companies and students from prestigious colleges.
Experienced in Cognos, Tableau, Big Data, NoSQL, NewSQL.
Corporate clients include Time Inc., Hewlett Packard Enterprise, Dell, Metric Fox (Champions Group), TCS and many more.
Read More >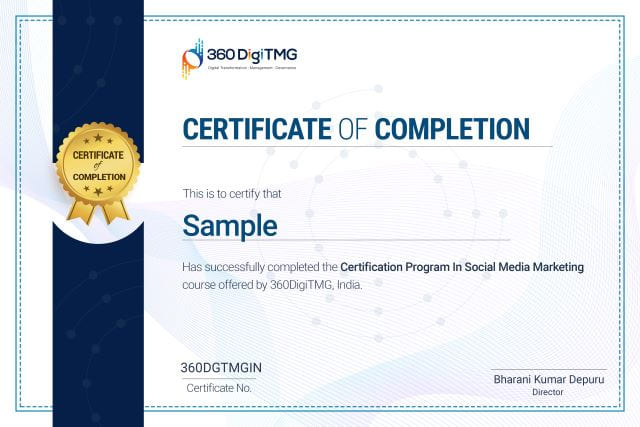 Certificate
Earn a certificate in Social Media Marketing and demonstrate your commitment to the profession. Use it to distinguish yourself in the job market and get workplace recognition.
Recommended Programmes
2064 Learners
3021 Learners
2915 Learners
FAQs for Social Media Marketing Course
Jobs in the field of Social Media Marketing in India
After completion of the Social media certification course, you will be suitable for hot jobs like Social media Expert, Social Media Marketing Manager & SEO, Social Media Marketing Executive, Lead Social Media Marketing, Brand strategist, Social Media specialist, Social media community manager.
Salaries in India for Social Media Marketing
The average salary for a Social Media Manager in India is Rs 5,53,000/- while at the entry-level in India it is around Rs.4lakhs, mid-level and senior-level salary could earn more than Rs. 8 lakhs in India. It increases with relevant experience.
Social Media Marketing Projects in India
Static content does not engage the followers, by using GIFS you can create a connection with your followers. This kind of new trend can be also used in the website to drive traffic, generation of leads, and building brand value in the sectors of Tourism, Airlines, Banking, Beauty products, Entertainment, Health care, Fashion industry etc.through platforms like Facebook, LinkedIn, Instagram and Twitter.
Role of Open Source Tools in Social Media Marketing
By our Social Media Marketing Certification program, you will be able to learn and use tools like Buffer, Facebook insight, Hootsuite, Feedly, Canva, Edgar, Socedo, and many more. These tools are specifically designed to track engagement and calculate ROI.
Modes of training for Social Media Marketing course
Social Media Marketing certification training programs give tremendous knowledge on using different strategies for marketing to build brand awareness. At 360DigiTMG students can get training by classroom sessions and Online sessions with real-time projects and assignments. We will be providing mentors to guide you throughout the course.
Industry Applications of Social Media Marketing
Social Media Marketing is used extensively and creatively for promoting brands and services for Travel and Tourism, Airline Industry, Retail marketing, Entertainment, Financial institutions, B2B marketing, Health care, Startups, Banking, Real Estate, Education, and Hotel industry.