Can IoT Devices be Hacked?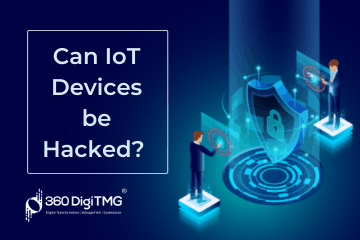 Introduction
The computer systems are vulnerable to hacker attempts. They eventually become susceptible to cyberattacks. People utilise IoT devices in their daily activities, and the Internet of Things (IoT) has revolutionised the sector. IoT devices now have a sizable market that is constantly expanding. However, experts have known about IoT security issues since the beginning.
When the Mirai botnet attacked to conduct a denial-of-service attack on popular websites like Twitter, Amazon, and Netflix, etc. in 2016, the first significant threat became a reality. In this assault, the hackers compromised over 1 lakh IoT devices. Reports began to highlight the shortcomings of IoT devices.
Are you looking to become a IoT Expert? Go through 360DigiTMG's IoT Training and Placement in Bangalore.
The hackers did not stop here, and they are searching for new ways of hacking and finding the flaws in the design and implementation of IoT devices. This article addresses the question that can IoT devices be hacked? So, let's keep exploring this question more.
Can IoT Devices Be Hacked?
From the above example, you must now have the answer to the said question. But for your assurance mentioning here that the answer to this question is "Yes".
IoT devices are hackable since they are released onto the market with many flaws. Is hacking usually successful or not is a separate topic.
The hackers spend a lot of time and effort to get physical or remote access to IoT devices. At first, skilled hacker research for all the flaws and then starts comprising on the security of the device. But it does not mean the attack is always successful. Most consumer devices are targeted by unskilled hackers. So you are required to take simple steps to lessen the risk. The devices that are powered down and get charged wirelessly are gaining popularity because these are non-hackable devices.
How to hack IoT devices?
Now that you know the answer to your query, you must be wondering how hackers carry out these hacks and what techniques they employ to compromise IoT devices. You should be aware of the next stages when it comes to IoT hacking.
Looking forward to becoming a IoT Institute Trainer Check out the Internet of Things Course in Pune and get certified today.
Whenever you start on a pretest, imagine yourself as you are a hacker. Now thinking like an attacker, understand the entire architecture of the device and you have to make sure that you are not leaving any part of the device without examining.
Find all the vulnerabilities of the devices where you can get a door to enter into the device. Understand all the details of firmware, communication protocols, mobile apps, Web, and network services. These are the foremost and necessary details that you need to understand being a hacker.
Now when you understand the firmware of the IoT devices then you can easily retrieve the file system of the firmware. The Binwalk tool will help you in extracting the file system. You can also use firmware analysis tools to understand all the firmware vulnerabilities and the things inside it.
Hacking things become easy when you have hacked the firmware. The embedded devices have low-level security features that make it easy to get easy access to the firmware and steal sensitive information on the network. The UART and JTAG tools are very useful in hacking embedded devices.
Nowadays all IoT devices come with a mobile application or web app. So it becomes very easy for the hackers to find out the credentials of the device and gain an access to the important data of the users.
Most of the IoT devices use Bluetooth Low Energy and ZigBee technology. These are the most common communication protocols used in embedded devices. You can attack these protocols to jam the communication, making any change, and get control of IoT devices.
Now, if you are a hacker, you must be aware of the gadgets that are most susceptible to hacking. Even if you already use one of these gadgets, you need still be aware of the specifics. This is due to the fact that if you own any of the above-mentioned readily hackable gadgets, you may take steps to safeguard them. So, let's begin investigating the gadgets that are readily hackable.
Want to learn more about Best IoT Course. Enroll in this IoT Course Fees in Hyderabad to do so.
Devices under risk of hacking:
There are a lot of devices that are targeted by hackers mostly. So, let's discuss them one by one.
iPhone: According to a research, iPhone users are 192 percent more likely to experience an assault than users of other devices. Although it is true that many individuals have looked at hacking an iPhone, that does not mean it is particularly simple to do so. For iPhone users, it poses a serious risk, though.
Smart TVs: your smart TV can also pose a serious threat for you if it is connected with other devices. You may be thinking that how can someone hack a TV. But it is a truth when there is a door open for the hackers in your TV and you connect it with your computer. It starts taking interest in your sensitive data and can easily misuse it.
Smart door locks: These appliances are quite practical to place in the home since they offer plenty of convenience. When this gadget is connected to a virtual assistant, you may speak to the guest from a distance rather than having to go to the door at every knock. Hackers may target your locks, making your house less safe. You must thus be aware of the substance you are utilising.
Smart home assistants: these devices are greatly in the threat of the hacker's attack. These are very useful but at the same time, they can be a disguise. There are a lot of examples to hack home assistance that shows worse consequences. So be sure when using it.
Security Cameras: The most often hacked products are wireless cameras that are used to protect your home. Someone might gain access to your camera and see anything that reveals your private life and personal information. Therefore, get cameras with comprehensive security capabilities to protect yourself from all types of attacks.
360DigiTMG the award-winning training institute offers a Internet of Things Course in Chennai, and other regions of India and become certified professionals.
Conclusion
IoT devices may indeed be compromised. However, if the right safety measures are performed, you can prevent hackers from accessing IoT devices.
IoT Training Institutes in Other Locations
Ahmedabad, Bangalore, Chengalpattu, Chennai, Hyderabad, Kothrud, Noida, Pune, Thane, Thiruvananthapuram, Yelahanka, Andhra Pradesh, Anna Nagar, Bhilai, Calicut, Chandigarh, Chromepet, Coimbatore, Dilsukhnagar, ECIL, Faridabad, Greater Warangal, Guduvanchery, Guntur, Gurgaon, Guwahati, Hoodi, Indore, Jaipur, Kalaburagi, Kanpur, Kharadi, Kochi, Kolkata, Kompally, Lucknow, Mangalore, Mumbai, Mysore, Nagpur, Nashik, Navi Mumbai, Patna, Porur, Raipur, Salem, Surat, Thoraipakkam, Trichy, Uppal, Vadodara, Varanasi, Vijayawada, Vizag, Tirunelveli, Aurangabad
Navigate to Address
360DigiTMG - Data Science, Data Scientist Course Training in Bangalore
No 23, 2nd Floor, 9th Main Rd, 22nd Cross Rd, 7th Sector, HSR Layout, Bengaluru, Karnataka 560102
1800-212-654-321