Agile and Scrum Methodology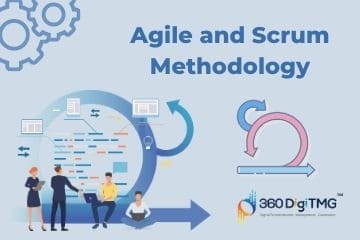 High-performing businesses, whether they are little or large, always have clearly stated goals, challenges they are attempting to address, and the value they are offering to their clients. One of the fundamental components of such an approach is that teams are given a great deal of autonomy and accountability, and working norms are flexible in that every team member is working towards the same goal and attempting to accomplish it jointly. Teams that perform well typically consist of a diverse group of individuals, each of whom is a specialist in their respective fields.
Click here to explore 360DigiTMG.
What is Agile and Scrum Methodology?
Iterative development, which means that requirements and solutions change via cooperative efforts of cross-functional teams, is at the heart of the agile methodology or approach. Teams can produce work faster and with higher quality thanks to this methodology, which also helps them become better at adapting to change. The most popular Agile technique is scrum. Agile project management techniques provide regular inspection and adaption, which enables the quick delivery of high-quality software. Agile uses a strategy that supports both business objectives and consumer demands. The Agile subset most frequently used today is Scrum. It is a set of procedures that must be adhered to in order to manage the creation of complicated software and products. Roles, Artefacts, and Time Boxes are the particular ideas and practises that make up the Scrum method, which enables organisations to adapt easily to changing needs, enhance the quality of deliverables, provide better estimates, and maintain control over the project's status and schedule.
Click here to Learn Data Science Training in Chennai
Benefits of Agile Scrum Methodology
Long-term organizational effectiveness is critical to any business and can be achieved by implementing sound strategies and well-crafted tactics that help in accomplishing common goals and objectives. High performing teams always exceed expectations when it comes to delivering on time and on budget. These teams are efficient and know how to judiciously utilize their assets. Agile is one such methodology that allows for more efficient collaborations within teams working on Hybrid projects. It is a flexible approach and promotes leadership in teams. Scrum is known to be rigid and works well for cross-functional teams. Having said that both Agile scrum methodology has many advantages including Flexibility and Adaptability, Creativity and Innovation, Employee and Customer satisfaction, etc. Agile Scrum methodology is a system that relies on breaking the project down into several stages or iterations. Each iteration has two- to four-week sprints, in which the most important feature of the product is built first and later more features are incorporated in subsequent sprints based on the customer's feedback that promotes steady improvements at every stage of the development. In each sprint cycle, the goal set has to be achieved with frequent planning and assigning roles and tools that work together and focus on completing sprint's objectives on time and increasing productivity.
Emerging Trends in Agile
All Agile projects have a balance between all other factors necessary to reach the pinnacle of agile project management, and they are all goal-oriented in terms of delivery time and money. Organisations have embraced agile methodologies and concepts in order to meet the needs of the quickly evolving IT industry and its rising standards and expectations. This technique has advanced significantly over the years and demonstrated its value to several organisations, solidifying its status as a set of software development processes. Agile Engineering, Agile Human Resources, Agile Marketing, and now Agile Customer Service are just a few of the organisations that have adopted its practises to deliver business value. The business and project objectives that have been the key drivers for Agile adoption will benefit more from the development of Agile skill sets. Companies who want to stay ahead of the curve will develop and educate internal staff members in the DevOps-related abilities, and we can anticipate a vigorous pursuit of this trend. Organisations and individuals will substantially spend in upskilling and cross-skilling developers to add new length to their portfolio of skills in order to fulfil the rapidly expanding demand for new capabilities. The main trend in agile will be managing and tracking the delivery of business value through Value Stream Management, which enables tracking the delivery of software back to the originating request as in it allows an organisation to see how, when, and for whom it is delivering value. It also allows an organisation to track and understand how customer expectations are being met. The use of specialists and other skilled people who are specialised, have the necessary experience, and knowledge to deal with complex technology is one of the main reasons businesses are adopting the outsourcing model. Another significant trend that we will see is the global outsourcing industry. Businesses have become nimbler, have increased their products, and have begun to concentrate on their business goals by outsourcing non-core functions thanks to the widespread growth of cloud technology. Enterprises have been forced to reevaluate established approaches and search for cutting-edge solutions to enhance security and compliance requirements due to the unprecedented and complicated conflict between maintaining regulatory compliance and fostering company innovation and accomplishing corporate goals. Agile places a strong focus on flexible reactions to changing conditions, aggressive improvement, and adaptable planning, which makes it perfect for businesses working in highly regulated settings.
Click here to LearnData Science Training in Pune
Conclusion
Along with the data and information we consume every day, technology has advanced at a dizzying pace, making it harder than ever to analyse this complicated pool of data and come to wise judgements. Traditional project management approaches are too inflexible to take into account the rapid change that organisations are currently experiencing. Agile project management is the new way that organisations are creating their competitive edge, and it is being adopted by companies like Amazon and Google. A set of ideas and concepts known as the "Agile approach to software development" has assisted firms in streamlining existing operations and expanding to create new goods and services. Today, the majority of businesses interact with customers via digital channels, whether it be a website or an app, and this transition has been nothing short of enormous. Agile practises place a strong emphasis on delivering products rapidly, making changes in response to feedback right away, and infusing value across the whole life cycle.
Cyber Security Course Training Institutes in Other Locations
switzerland
,
geneva
,
zurich
,
new york
,
dallas
,
pakistan
,
kenya
,
nigeria
,
ottawa
,
poland
,
bulgaria
,
bangladesh
,
jeddah
,
jersey city
,
hobart
,
san fracisco
,
southafrica
,
nepal
,
riyadh
,
egypt
,
dhaka
,
canada
,
oman
,
atlanta
,
giza
,
los angeles
,
vancouver
,
australia
,
cape
,
montreal
,
vietnam
,
doha
,
dubai
,
toronto
,
indonesia
,
sydney
,
london
,
niagara falls
,
amman
,
basel
,
brisbane
,
victoria
,
iraq
,
halifax
,
lebanon
,
queensland
,
adelaide
,
abu dhabi
,
qatar
,
netherlands
,
newzealand
,
melbourne
,
belgium
,
srilanka
,
washington
,
perth
,
jordan
,
kathmandu
,
saudiarabia
,
houston
,
hanoi
,
mecca
,
cairo
,
UK
,
georgia
,
chicago
,
UAE
,
victoria
,
philippines
,
thailand
,
kuwait
,
jose
,
auckland
,
ireland
,
alexandria
,
dublin
Navigate to Address
360DigiTMG - Data Science Course, Data Scientist Course Training in Chennai
D.No: C1, No.3, 3rd Floor, State Highway 49A, 330, Rajiv Gandhi Salai, NJK Avenue, Thoraipakkam, Tamil Nadu 600097
1800-212-654-321