How To Pursue A Career As A Financial Analyst?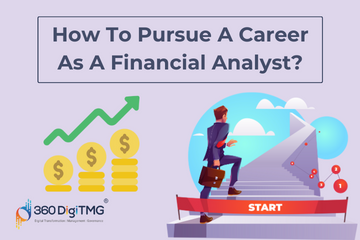 Financial Analytics may seem easy but as a matter of fact, it requires a tremendous amount of dedication, patience, and persistence. Financial Analysts improve as they work as working opens up new ways, opportunities, and insights each time. Financial Analysts are responsible for a wide range of research tasks and making investment decisions for companies and clients. These tasks include the evaluation of financial data, examination of current events, market developments, and financial statements. They also perform analysis and create financial modes to forecast/predict future threats and performances.
For Financial Analytics, strong mathematical and analytical skills are required by the analyst for performing accurate analysis and providing results that help in improving companies' performance and outcomes. Many corporations such as investment banks, insurance companies, mutual funds, pension funds, security firms, investment firms, equity groups, government agencies, etc require Financial Analysts for the smooth functioning of their companies.
So, What does a Financial Analyst do?
To put it quite simply, they analyze important financial data and provide insights based on the analysis step. They also provide building financial models that allow companies to make important financial/investment data-driven decisions. Financial analysts are quite different from Research analysts. Financial Analysts analyze data and focus on investing recommendations and research analysts indulge in a broad investigation of data and provide an even boarder interpretation.
So, we have Sell-side and Buy-side analysts under Financial Analysts who perform analysis on the financial data that is available. Sell-Side Financial Analysts focus on the sectors and sub-sectors that are niche to provide reports based on the companies' financial data. They provide information to clients and provide predictions to enable bringing in new clients. Buy-Side Financial Analysts cover multiple sectors and they provide a broad scope of work and responsibilities than Sell-Side Analysts. They tend to combine their research with that of the existing Sell-Side research to provide results and solutions accordingly. Their key role is the identification of negative or harmful outcomes that investors can avoid.
Financial Analysts provide financial plans, projections, and analytical reports for making investment decisions by different companies, public and private organizations, and also individuals. The duties of a Financial analyst vary depending on the type of analyst job and company they are involved with. Some objectives of financial analysts include analysis of stocks, bonds, etc for banks, brokerages, money management firms, and other organizations. Other objectives (the ones who work in large organizations) include analysis of internal financial data, production of financial reports and plans, details regarding revenue expense, and several recommendations to influence investment and budget decisions.
Finance management is planning, organizing, controlling, and directing the financial activities of an organization and must not be confused with financial analytics. Financial analytics involves collecting and analyzing the same financial data to improve companies' overall performance and ensure a company's smooth functioning in the long run.
It is imperative to remember that the financial performance of a company or an organization is hindered because of many factors. These factors include microeconomic and macroeconomic factors. A financial analyst is responsible for analyzing all such factors and data that are available.
Skills required by a Financial Analyst
Every company looks for analysts who have a certain type of skill set, so now the question arises, what should a skillset of a financial analyst contain?
Analytical Skills: Financial analysts should be able to help to find crucial information in profitable investments.
Communication Skills: Financial analysts should be able to communicate effectively with their clients and company heads. This is an important skill to possess because, after every analysis step, financial analysts should provide insights and communicate clearly without leaving any room for doubt or confusion.
Computer Skills: Financial analysts should excel at using software to be able to conduct financial analysis, see trends using such software and finally being able to make forecasts.
Decision-Making Skills: Financial analysts should be able to provide recommendations, forecasts, insights, and suggestions that aid in the decision-making processes.
Detail-Oriented: Financial analysts must be meticulous, diligent, and conscientious during the analysis process by keeping in mind all the important information.
Mathematical Skills: Mathematics is fundamental to every analysis-oriented job. This skill is required especially for estimating the true value of finances.
Learn the core concepts of Data Analytics Course video on Youtube:
Education Requirements
Earning a bachelor's degree is the minimum requirement for an entry-level job as a Financial analyst. But a Masters's degree is preferred for greater, permanent, and advanced positions in this field. Numerous undergraduate subjects can be accepted by employers including business fields such as finance, accounting, and economics. A bachelor's degree in statistics, mathematics, engineering, or physics are common subjects required for becoming a Financial Analyst.
How To Pursue A Career As A Financial Analyst?
We will now discuss various steps to follow in order to become a financial analyst:
Earning a Bachelor's degree is the most important starting point for becoming a financial analyst. General or common bachelor's courses involve Economics, Statistics, or other related fields that are relevant for financial analysts.
Step 2 - Attaining Licenses and Certificates:
Many graduates after their bachelor's degree start working in accounting, investment, or banking firms. It is true that additional certifications may not be required or necessary at the beginning of their careers but it is still useful and basically, is an added advantage for them to obtain such certifications. Many companies and firms provide such certifications. The Financial Industry Regulatory (FINRA) provides Financial analysts with such certifications. Financial analysts also pursue the Chartered Financial Analysts (CIA) certification from the CFA Institute.
BLS concluded that the requirements for CFA credentials are:
A bachelor's degree in Finance or accounting.
Minimum of 4 years of work experience.
Passing scores on the 3 CFA Institute exams.
Financial analysts can also prove their competence and expertise by passing more exams.
Step 3- Building an On-the-Job Experience:
It is necessary to have the right education, licensing, and certification. It is also important for them to build up some work experience along the way. Candidates who have a hands-on experience in finance, economics, and accounting sectors have great advantages over any other candidate.
Step 4- Earning a Masters's Degree in any relevant field:
Many Finacial Analysts can expand their potential by obtaining a master's degree. Many candidates pursue a general Master of Business Administration but a Master of Science in Accounting degree. To be able to pursue a Masters's degree, candidates should possess at least 30 and 60 credits in addition to their bachelor's degree.
Top companies recruiting Financial Analysts:
Alstom India Limited
Cyient Inc
Uber
Convosight
Cadbury
HSBC
Citi
Philips
OSTC Academy
Deloitte
John Crane
Amazon
Barclays
Accenture
GroundTruth
Avantha Technologies Limited
Benefits of pursuing a career as a Financial Analyst
Financial Analysts can build good relationships with management teams, meet new people on a regular basis, and establish credibility in the financial market.
Delivering data-driven insights to businesses. Help the companies to grow and get paid appropriately for their work.
Financial Analytics enjoy great rates of job satisfaction and job security. They usually enjoy a 14% of salary hike.
Financial analysts get to work in numerous industries like finance, technology, marketing, retail, e-commerce, etc.
How much does a Financial Analyst earn?
Financial analysts earn about INR 4.3 lacs per year as freshers, which is around 33K every month. A chartered financial analyst (CFA) earns about INR 6.8 lacs per annum which is about 57K per month.
Conclusion
We have looked at all the necessary steps required to become a Financial analyst. Today's business is completely data-driven and data plays an important role in all industries. That is why jobs like data analysts, financial analysts, business analysts, etc are very much in demand and the demand will only increase even in the future. Technology has changed the world for the better and technological advancements keep happening by leaps and bounds. Pursuing a career as a Financial Analyst may require a lot of Technical Skills, Software skills, Mathematical skills, Analytical skills, Computational skills, Communication Skills, etc. Financial Analysts should prove themselves competent by building their skills and resume. Every company requires Financial Analysts to ensure smooth functioning and to improve their overall performance. Various Financial analyst courses are available for earning more certificates and licenses to enhance their skills.
Data Science Placement Success Story
Data Science Training Institutes in Other Locations
Agra
,
Ahmedabad
,
Amritsar
,
Anand
,
Anantapur
,
Bangalore
,
Bhopal
,
Bhubaneswar
,
Chengalpattu
,
Chennai
,
Cochin
,
Dehradun
,
Malaysia
,
Dombivli
,
Durgapur
,
Ernakulam
,
Erode
,
Gandhinagar
,
Ghaziabad
,
Gorakhpur
,
Gwalior
,
Hebbal
,
Hyderabad
,
Jabalpur
,
Jalandhar
,
Jammu
,
Jamshedpur
,
Jodhpur
,
Khammam
,
Kolhapur
,
Kothrud
,
Ludhiana
,
Madurai
,
Meerut
,
Mohali
,
Moradabad
,
Noida
,
Pimpri
,
Pondicherry
,
Pune
,
Rajkot
,
Ranchi
,
Rohtak
,
Roorkee
,
Rourkela
,
Shimla
,
Shimoga
,
Siliguri
,
Srinagar
,
Thane
,
Thiruvananthapuram
,
Tiruchchirappalli
,
Trichur
,
Udaipur
,
Yelahanka
,
Andhra Pradesh
,
Anna Nagar
,
Bhilai
,
Borivali
,
Calicut
,
Chandigarh
,
Chromepet
,
Coimbatore
,
Dilsukhnagar
,
ECIL
,
Faridabad
,
Greater Warangal
,
Guduvanchery
,
Guntur
,
Gurgaon
,
Guwahati
,
Hoodi
,
Indore
,
Jaipur
,
Kalaburagi
,
Kanpur
,
Kharadi
,
Kochi
,
Kolkata
,
Kompally
,
Lucknow
,
Mangalore
,
Mumbai
,
Mysore
,
Nagpur
,
Nashik
,
Navi Mumbai
,
Patna
,
Porur
,
Raipur
,
Salem
,
Surat
,
Thoraipakkam
,
Trichy
,
Uppal
,
Vadodara
,
Varanasi
,
Vijayawada
,
Vizag
,
Tirunelveli
,
Aurangabad
Data Analyst Courses in Other Locations
ECIL
,
Jaipur
,
Pune
,
Gurgaon
,
Salem
,
Surat
,
Agra
,
Ahmedabad
,
Amritsar
,
Anand
,
Anantapur
,
Andhra Pradesh
,
Anna Nagar
,
Aurangabad
,
Bhilai
,
Bhopal
,
Bhubaneswar
,
Borivali
,
Calicut
,
Cochin
,
Chengalpattu
,
Dehradun
,
Dombivli
,
Durgapur
,
Ernakulam
,
Erode
,
Gandhinagar
,
Ghaziabad
,
Gorakhpur
,
Guduvanchery
,
Gwalior
,
Hebbal
,
Hoodi
,
Indore
,
Jabalpur
,
Jaipur
,
Jalandhar
,
Jammu
,
Jamshedpur
,
Jodhpur
,
Kanpur
,
Khammam
,
Kochi
,
Kolhapur
,
Kolkata
,
Kothrud
,
Ludhiana
,
Madurai
,
Mangalore
,
Meerut
,
Mohali
,
Moradabad
,
Pimpri
,
Pondicherry
,
Porur
,
Rajkot
,
Ranchi
,
Rohtak
,
Roorkee
,
Rourkela
,
Shimla
,
Shimoga
,
Siliguri
,
Srinagar
,
Thoraipakkam
,
Tiruchirappalli
,
Tirunelveli
,
Trichur
,
Trichy
,
Udaipur
,
Vijayawada
,
Vizag
,
Warangal
,
Chennai
,
Coimbatore
,
Delhi
,
Dilsukhnagar
,
Hyderabad
,
Kalyan
,
Nagpur
,
Noida
,
Thane
,
Thiruvananthapuram
,
Uppal
,
Kompally
,
Bangalore
,
Chandigarh
,
Chromepet
,
Faridabad
,
Guntur
,
Guwahati
,
Kharadi
,
Lucknow
,
Mumbai
,
Mysore
,
Nashik
,
Navi Mumbai
,
Patna
,
Pune
,
Raipur
,
Vadodara
,
Varanasi
,
Yelahanka
Navigate to Address
360DigiTMG - Data Analytics, Data Science Course Training in Chennai
D.No: C1, No.3, 3rd Floor, State Highway 49A, 330, Rajiv Gandhi Salai, NJK Avenue, Thoraipakkam, Tamil Nadu 600097
1800-212-654-321