DevOps - Connecting Technology to People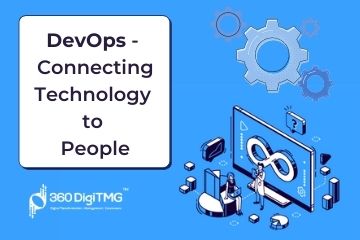 Source: adobe
Introduction
With the help of DevOps, organisations may optimise the speed and efficiency of providing applications and services across IT activities. DevOps integrates the ideas of software operations and software development. A DevOps team may manage systems, servers, and networks and can create better tools in addition to making system upgrades through software development. A DevOps culture enables businesses to deliver, create, and update products more quickly. DevOps transforms manual, complicated operations that are prone to human error into processes that can be tested, monitored, and scaled effectively. DevOps is a trinity of people and culture, procedures and practises, tools, and technology, to put it simply.
Click here to explore 360DigiTMG.
Practices Vital to DevOps
In this cultural shift where software developers and infrastructure experts come together to collaborate, companies need to understand the specific practices and tools involved in DevOps. The most crucial practices include:
Automation

Elevated efficiency is central to DevOps and is achieved through automating monotonous or relatively slow processes involved in developing software and maintaining infrastructure.

Integration

Developers in teams used to work alone, but thanks to strong cooperation and continuous integration between engineers and other team members, engineers can now exchange and merge code in a single spot and prevent bottlenecks related to creating the code in an integrated manner.

Click here to Learn Data Science Course in Chennai

Delivery

Continuous delivery involves delivering and implementing the changes automatically as they are made. It is possible to do so now, as the code is housed in a central place, making it easier for developers to integrate their work with the work of other developers which sometimes helps find a problem early in the process and also helps cut down on project time, giving engineers time to focus on other complex problems.
Demand for DevOps Engineers
DevOps is a technique that seeks to alter current procedures, customs, and cultural norms while also paving the way for the adoption of new tools. A DevOps engineer helps people align around a shared goal and demonstrates how development and operations processes may work together. Today, the need for DevOps engineers outweighs that for cloud and data science professionals. Organisations require IT practitioners that can produce quickly and predictably because of the capability and agility to offer responsive functionality to digital business. Today, integrating DevOps practises into an organisational workflow that includes agile planning, automated deployments, continuous integration, and configuration management that produces better teamwork, new ideas, and customer feedback is the most important task for modern IT operations teams.
Every company wants to create cutting-edge goods, generate more revenue, and satisfy customers. Organisations may effectively accomplish each of these KPIs with DevOps. With more and more businesses depending on cloud services and infrastructure, DevOps can help your business effectively transition systems to the cloud. Tech firms like Microsoft, Amazon, and Google see DevOps as a critical component in the future of software. If you want to learn about the DevOps concept, how it's used, and why it's so important, enrol in the course on DevOps.

source: https://www.information-age.com
Click here to learn Data Science in Hyderabad
Scope and Benefits of Learning DevOps
Just as the cloud market is rapidly growing, so is the importance of DevOps. The security field brings huge scope for DevOps philosophy, as with more automation this area needs to be intrinsically controlled. DevOps will ensure that the security of the product is initiated in the testing phase and is checked at every stage to ensure the application's integrity and maintain the code of ethics of the DevOps team. The DevOps methodology has revolutionized the software development life cycle and has taken charge of testing and production environments to see the problems and potential challenges before applications go live.
Click here to Learn Data Science Course in Pune
With the widespread adoption of containerization technologies and the significant investment in cloud technologies, DevOps also emphasises the integration of edge services. This includes services hosted on platforms such as Infrastructure as a Service (IaaS), Platform as a Service (PaaS), and Database as a Service (DBaaS). Other advantages of DevOps include greater cooperation and communication, increased product quality, and productivity gains via automation.
Thus, DevOps methodologies will play an important role in modern companies by eliminating silos to facilitate speeding up development and innovation. To contribute to the growth of your organization and add value to your profile, sign up for the course in DevOps and advance in today's IT environment.
Source: https://eict.iitr.ac.in
Conclusion
Every IT-centric organisation will be focused on quick development and business agility, with the goal of streamlining procedures and operations between the development team and the operations team to foster a strong DevOps culture. DevOps is a process that encourages the effective creation, distribution, and management of the highest calibre software as well as a comprehensive strategy for ongoing client satisfaction. Therefore, register in the DevOps course and master the skills necessary to bridge the gap between the development and operations teams if you want to transition into a new and expanding professional sector that can open the door to incredible prospects.
Click here to learn Data Science Course, Data Science Course in Hyderabad, Data Science Course in Bangalore
DevOps Training Institutes in Other Locations
kolkata
,
mumbai
,
pune
,
gurgaon
,
noida
,
bangalore
,
chennai
,
delhi
,
chengalpattu
,
hyderabad
,
kuwait
,
UK
,
saudiarabia
,
netherlands
,
USA
,
south africa
,
UAE
,
qatar
,
australia
,
canada
,
switzerland
,
belgium
,
ireland
,
poland
,
nigeria
,
newzealand
,
jordan
,
bangladesh
,
pakistan
,
nepal
,
lebanon
,
iraq
,
kenya
,
oman
,
thailand
,
vietnam
,
indonesia
,
srilanka
,
georgia
,
egypt
,
bulgaria
,
philippines
,
auckland
,
victoria(canada)
,
dublin
,
cairo
,
giza
,
alexandria
,
perth
,
adelaide
,
kathmandu
,
brisbane
,
queensland
,
toronto
,
amman
,
ottawa
,
london
,
dhaka
,
montreal
,
doha
,
geneva
,
zurich
,
riyadh
,
cape town
,
halifax
,
vancouver
,
niagara falls
,
jeddah
,
mecca
,
melbourne
,
sydney
,
abu dhabi
,
basel
,
dubai
,
hanoi
,
hobart
Navigate to Address
360DigiTMG - Data Science, IR 4.0, AI, Machine Learning Training in Malaysia
Level 16, 1 Sentral, Jalan Stesen Sentral 5, Kuala Lumpur Sentral, 50470 Kuala Lumpur, Wilayah Persekutuan Kuala Lumpur, Malaysia
+60 19-383 1378