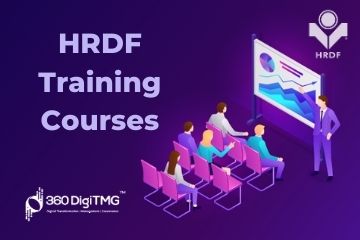 The Human Resource Development Fund (HRDF) wants to give Malaysia's significant businesses access to training and highly specialised programmes. The HRDF Contribution enables the industry to stay up with the quickly changing business environment. The Pembangunan Sumber Manusia Berhad Act (PSMB Act 2001) governs HRDF.
Malaysia's Ministry of Human Resources evaluates HRDF in light of Malaysia's expanding labour force. It serves to advance the growth of the industries and turn Malaysia into a very prosperous nation.
Why Choose HRDF as your Training Provider?
HRDF comes with claimable courses so you can focus solely on your training. The training and courses are hassle-free, which puts very little pressure on you. The courses are very helpful and teach you a lot. It is a great learning experience and assists with everyday work.
HRDF Registered Training Provider
Training vendors for the HRDF are referred to as training providers. Employers who have enrolled with the HRDF may submit claims by taking training sessions offered by HRDF training providers.
Registration
To become a registered HRDF employer,
The company should be based and incorporated in Malaysia under (SSM) Suruhanjaya Syarikat Malaysia: (LLP) Limited Liability Partnership, (SDN BHD) Sendirian Berhad and (BHD) Behrad.
The company should be industry-based.
The company should be a government or a semi-government institution.
Benefits of HRDF Training:
The trainer helps the employer to get a clear vision about their business or company
These promote self-evaluation
It improves and builds leadership attributes
It cultivates better management skills as a leader
The training helps you consistently maintain the leadership qualities in different situations
To build excellent teams and produce high-caliber work, organisations and projects need strong leaders. HRDF relies on educating every Malaysian employer and developing leadership potential inside each business. To improve your working environment, HRDF provides a variety of online courses that may be claimed; they are covered in more detail below.
Click here to learn Data Science Course
What is HRDF Claimable?
An HRDF claimable training allows the employer to claim the training costs provided by the HRDF training provider. Any registered employer is permitted to claim for their training costs. The training provider in malaysia must be registered as an HRDF training vendor to make their claim.
HRDF Grants Claimable Courses
To build excellent teams and produce high-caliber work, organisations and projects need strong leaders. HRDF relies on educating every Malaysian employer and developing leadership potential inside each business. To improve your working environment, HRDF provides a variety of online courses that may be claimed; they are covered in more detail below.
Click here to learn Python Programming Course
Follow the steps given below:
Visit the HRDF portal and sign in
Launch the eTRis form
Select the 'Application' icon
From the menu, select 'Claim'
Select either 'Submit claims with grant' or 'submit other claims' and proceed
Fill out the online claim form and attach the documents and relevant receipts
After filling out the form, click on the 'Submit' option
The employer's officer or any other official on the position specified in the claim form must approve, authorise, and sign the form. Only once the course has been finished and the entire fee has been paid will claims be accepted. The most recent claim form needs to be sent in well before June 30 of the following year. Only learners who successfully finish their programme will be paid. Any trainee's claim form will not be approved if they have missed any classes. A trainee is required to participate in at least 75% of the training and pass any required exams.
Click here to learn Data Analytics Course
Most In-Demand Claimable Courses
As the business field is changing and growing every day, especially during Covid-19, more and more businesses are moving online and ditching the traditional ways. This suggests that technology is taking over. Fortunately, the digital business is operated and run by humans and not technology.
Different work components are now required by the new responsibilities and job profiles. Most organisations will require more advanced and upgraded abilities to stay competitive as the business world adopts new technologies.
Soft skills are becoming more important as technology and people interact. Soft skills are all about ways of thinking and acting, cognitive abilities, and character attributes. Soft talents are typically hard to quantify, yet they may make a person excel in a variety of professions across sectors.
Click here to learn Big Data Analytics Course
Let us take a look at all the most demanded HRDF soft skills training in 2020. All the trainings mentioned below are HRDF claimable courses.
These HRDF training courses can be conducted online.
Critical Thinking and Problem: One of the most crucial professional abilities is critical thinking. It's crucial to be skilled in critical thinking if you want to build good relationships. To come to a conclusion and make an educated choice, it is regarded as a high-level talent that requires processing information, most particularly external information. To provide a thoroughly thought-out answer to any challenge, critical thinking and problem-solving abilities are necessary.

Coaching Skills: Great coaching skills lead to a positive experience. With good coaching skills, you can inspire individuals to work hard. Managers across any organization can take this course to push forward into a better coach. Coaching skill courses help the individuals bring out the best in themselves and their teams.

Communication and Interpersonal Skills: Regardless of the sector, it is critical to communicate clearly and efficiently. When team members and clients communicate effectively, connections may be developed more quickly and simply. A strong team improves the organisation, which boosts production.

Personal Image and Business Etiquette Skills: The image of a business or a project reflects on the customer. This can either build or break the business. It is important to know the right factors and ways to build them higher. For instance, some businesses prefer uniforms to portray professionalism to ensure quality service. Maintaining and building a good image can retain and bring in more customers.

Negotiation Skills: Negotiation skills are essential in everyday encounters and unofficial business transactions. Being skilled in negotiations is particularly beneficial when dealing with situations like sales, service delivery, leases, and other similar ones. Success and more openness will be aided by good skills.Leadership Skills: Leadership skills are important to sort things according to their priorities. These priorities are set based on importance and relevance. Effective leaders build a good team. Leadership skills will direct the team in the right direction, which brings out great ideas and plans. Leadership skills are important for all kinds of businesses, small or large.

Customer Service: You may learn how to give consumers the greatest services by taking customer service classes. Your ability to provide excellent customer service teaches you to go above and beyond for your clients. Strong relationships are forged as a result, and clientele is retained and grown. One of the most crucial components of a business is creating devoted consumers.

Conflict Management Skills: Conflict management is very important for a business. Any argument gone wrong can cause unmanaged conflicts that can be expensive for the firm. Conflicts can cause employee dissatisfaction, which you don't want to happen. A business could lose important ties and clients because of negative conflict. It cannot be stressed how important conflict management skills are.

Developing Resilience: You can manage potentially overwhelming situations by developing resilience. Work might be daunting at times in these fast-paced times, and you might not know how to handle these circumstances. You may manage the problems by developing resilience courses. It aids in the management of both your personal and professional lives. You can handle difficult times with its assistance. You can manage your mental health with the aid of this course.

Emotional Intelligence Skills: EI or Emotional Intelligence is the juncture where perception and emotions meet. This is what controls all our other skills and how we manage them all. Empathy, motivation, stress management, resilience, communication and our ability to navigate a plethora of conflicts and situations comes from our emotional intelligence skill. The better you are, the more peace and focus there is.
How to Apply for an HRDF Claimable Training?
Open the Skim Bantuan Latihan (SBL) page on the HRDF website. Fill out the PSMB/PGL/1//09 form using the EIS or Employer Information System, or submit the application through eTRiS under the SBL programme.
Link the following supporting documents:
Trainer's biodata
Quotation on fees
Course contents
Other related documents, if asked
Send in the entire application well in advance of the start of the various trainings. Starting on the day you get notification that your application has been received, the PSMB will respond with an acceptance, an inquiry, or a rejection within ten business days.
Click here to learn PMP Certification Course
How to Claim?
All the training under SMETraining can be claimed under the SBL scheme. A form (PSMB/T/1/09) must be filled out to claim for the training. With the form, provide necessary documents like:
Receipts
Payment vouchers
Other relevant documents
Submit the finished application to PSMB after the completion of the training
All the documents must be certified according to the PSMB format.
Who can Claim for the Training?
All employers that have paid their fees to the Human Resource Development Fund and are registered with PSMB are eligible to submit claims for the training. Employers are required under the PSMB Act 612 to pay their HRDF in order to register.
Click here to learn Data Science Course, Data Science Course in Hyderabad, Data Science Course in Bangalore
Data Science Training Institutes in Other Locations
Agra
,
Ahmedabad
,
Amritsar
,
Anand
,
Anantapur
,
Bangalore
,
Bhopal
,
Bhubaneswar
,
Chengalpattu
,
Chennai
,
Cochin
,
Dehradun
,
Malaysia
,
Dombivli
,
Durgapur
,
Ernakulam
,
Erode
,
Gandhinagar
,
Ghaziabad
,
Gorakhpur
,
Gwalior
,
Hebbal
,
Hyderabad
,
Jabalpur
,
Jalandhar
,
Jammu
,
Jamshedpur
,
Jodhpur
,
Khammam
,
Kolhapur
,
Kothrud
,
Ludhiana
,
Madurai
,
Meerut
,
Mohali
,
Moradabad
,
Noida
,
Pimpri
,
Pondicherry
,
Pune
,
Rajkot
,
Ranchi
,
Rohtak
,
Roorkee
,
Rourkela
,
Shimla
,
Shimoga
,
Siliguri
,
Srinagar
,
Thane
,
Thiruvananthapuram
,
Tiruchchirappalli
,
Trichur
,
Udaipur
,
Yelahanka
,
Andhra Pradesh
,
Anna Nagar
,
Bhilai
,
Borivali
,
Calicut
,
Chandigarh
,
Chromepet
,
Coimbatore
,
Dilsukhnagar
,
ECIL
,
Faridabad
,
Greater Warangal
,
Guduvanchery
,
Guntur
,
Gurgaon
,
Guwahati
,
Hoodi
,
Indore
,
Jaipur
,
Kalaburagi
,
Kanpur
,
Kharadi
,
Kochi
,
Kolkata
,
Kompally
,
Lucknow
,
Mangalore
,
Mumbai
,
Mysore
,
Nagpur
,
Nashik
,
Navi Mumbai
,
Patna
,
Porur
,
Raipur
,
Salem
,
Surat
,
Thoraipakkam
,
Trichy
,
Uppal
,
Vadodara
,
Varanasi
,
Vijayawada
,
Vizag
,
Tirunelveli
,
Aurangabad
Navigate to Address
360DigiTMG - Data Science Course, Data Scientist Course Training in Chennai
D.No: C1, No.3, 3rd Floor, State Highway 49A, 330, Rajiv Gandhi Salai, NJK Avenue, Thoraipakkam, Tamil Nadu 600097
1800-212-654-321