What is Marketing Analytics & Why It Matters?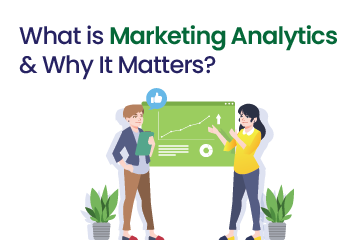 Marketing Analytics uses data to evaluate the effectiveness and success of activities of marketing. Marketing analytics allows one to gather deep insights given by consumers, optimize marketing objectives, and aid in improvements to get a better ROI. Marketing analytics is a boon for both marketers and consumers. The achievement of increased ROI is possible thanks to Marketing analytics. The motive of this type of analytics is to ensure that consumers come across an increased number of targeted and personalized advertisements that are most likely to interest them.
This intricate process involves tracking and analysis of data from a marketing perspective. Marketing Analytics also aids in the enhancement of customer experiences and in designing future marketing strategies. According to a recent PwC report, companies that are highly data-driven witness 3 times more significant improvements in the decision-making process than companies that are less data-driven. Before conducting thorough marketing analytics, it is necessary to familiarize yourself with the basics of marketing analytics and understand its essence.
Accurate Marketing analytics' meaning lies in Data Analytics. It uses data analytics approaches to achieve desired results. Marketing Analysis can be used to improve many things but most importantly, ROI. Achievement of brand success is also an important objective of marketing analytics. In order to meet challenges, marketing analytics provides businesses with appropriate insights that are required to overcome the challenges and achieve goals.
Don't delay your career growth, kickstart your career by enrolling in this Data Analyst Course in Pune.
What is Marketing Analytics?
It is an umbrella term used to describe all the processes and technologies utilized in the measurement of a company's marketing strategies. Ensuring a company's marketing activities are going in the right direction is the most important objective of Marketing Analysis. Measurement of the effectiveness of marketing plans, campaigns, and strategies. Marketing Analytics is becoming more and more important every day as businesses now realize its true importance to ensure the smoothing of a company. Measurement of the impact of work, proper analysis of what went wrong or what will go wrong in the future as well as providing insights. Data in market analysis can be obtained from the company's website, social media pages, market surveys, customer purchase history, sales data, customer demographics, etc. Marketing analytics provides you with a holistic view of a company's marketing efforts.
The realm of marketing analytics utilizes mathematics, predictive modeling, and machine learning to understand and derive insights from consumer data. This type of analytics mainly aids in revealing insights and understanding customer minds and behavior. Improvements in overall business, product, or service and massive advances in sales can be achieved using marketing analytics.
Learn the core concepts of Data Science Course video on Youtube:
Where does Marketing Data Come from?
The data used in marketing analytics comes from
1) First-party data- Directly collected from users. It is the most important type of data because it includes information about how the audience is behaving, thinking, and feeling.
2) Second-party data includes data that is shared by another organization outside of your company.
3) Third-party data that is collected, rented or sold by other organizations that do not have connections to your company. The only problem with this type of data is that it is not the most reliable.
4) Surveys, A/B Tests, Organic Content Interaction, Paid Advertisement Interaction, etc also provide data for Marketing Analytics.
What are the different types of marketing analytics models?
There are mainly 3 types of marketing data analytics models that marketers utilize when they plan, manage, and optimize marketing strategies and campaigns. The motive of all these models is to aid companies by providing insights. These insights help companies in making data-driven decisions. The three types of marketing analytics models are as follows
Descriptive: These models use historical or past data to get a clear understanding of what exactly happened and based on their findings, they plan for the future accordingly. Using past information to make future decisions is what happens in descriptive models.
Predictive: These models go one step further by using insights to provide approaches that are more targeted and personalized. Prediction of the behavior of the customers is also included in these types of models.
Prescriptive: Prescriptive models are even more effective, more targeted, and hyper-focused on current trends.
Three models are effective and they can be summarized as follows:
Descriptive Analytics provides Hindsight and tells us what happened.
Predictive Analytics provides us with insights and tells us what will happen.
Prescriptive Analytics provides us with foresight and tells us how will we make it happen.
What types of tools or software are used in marketing analytics?
There are different types of tools used by marketers for marketing analytics. They include:
Google Analytics, Adobe Analytics, and MixPanel.
Semrush, Cyfe, and Klipfolio.
SproutSocial and Hootsuite
Brandwatch and Falcon.io.
Sprinklr, Thunderhead, and Pointillist.
HubSpot, Salesforce, and ActiveCampaign.
Domo and Supermetrics.
Wish to pursue a career in data analytics? Enroll in this Data Analytics course in Bangalore to start your journey.
Popular analytics models are:
Media Mix Models (MMM): These are attribution models that consider aggregate data over a long period.
Multi-Touch Attribution (MTA): Attribution models provide person-level data.
Unified Marketing Measurement (UMM)); Integration of various models like MMM and MTA.
Features & Capabilities of Marketing Analytics Software:
Real-Time Analytics and Insights
Brand Measurement Capabilities
Granular, Person-Level Data
Correlate Online and Offline Attribution Metrics
Contextualized Customer and Market Insights
Annual Media Plan Recommendations
Skills possessed by marketing analytics managers:
Conducting accurate quality analyses, one should be experienced in this aspect.
Making optimization recommendations to improve campaign performance.
Understanding consumer behaviors and trends.
Ability to work effectively with analytical tools.
Collaboration with stakeholders
How does Marketing Analytics work?
Identification of what is to be measured and define your accomplishments and expectations. Make sure you start off with a goal in your mind. Define Benchmarks and milestones that will aid in your evaluation procedures and marketing techniques.
Use required analytical techniques and tools.
Understand the past, focus the analysis on the present, and predict or forecast the future.
Answering important questions whilst the analysis process.
Assessment of analytical capabilities and filling in gaps.
Bring your learning into action. Provide clear instructions and insights to your company for enabling improvements. Increased profitability is the sole motive of Marketing Analytics procedures. Using data is not easy so it is important for marketing analysts to set their goals straight and work toward them accordingly.
Kickstart your career by enrolling in this Data Analyst Course Fees in Chennai.
Key Goals of Marketing Analytics:
Having an understanding of the best marketing channels, procedures, methods, and approaches to achieve business goals.
Measurement of ROI from marketing and advertising perspectives.
Procuring data from websites to have an understanding of what content customers value.
Observation of user interaction with features on the website.
Monitor, manage, and optimize performance for marketing campaigns.
Creation of techniques to improve the personalization of targeted ads
Providing clear-cut data visualizations for better analysis.
Allowing different departments to work and ameliorate the marketing strategy.
Understanding and building holistic views on how to improve marketing.
Importance of Marketing Analytics
It helps in providing data regarding CPC, CPL, ROI, etc.
It allows a company to self-analyze and come up with better marketing strategies, initiatives, and campaigns.
Provides opportunities that influence future marketing strategies.
Budget Optimization, Media planning, Content Planning, and creating audiences are all possible using Marketing Analysis.
Marketing Analytics improves the user experience by keeping an eye on user behavior and interaction. This enables them to make changes accordingly and convert leads into customers.
Calculation of Return on Investment is possible using Marketing Analytics.
Planning future strategies by analysis of marketing data and providing insights into what the future holds. This enables companies to make improvements accordingly.
Allows companies to reach their marketing goals.
Marketing Analytics makes the data meaningful and can utilize this information to ameliorate the company's performance.
Helps customers to understand their customers and customer needs.
It provides a holistic view of marketing campaigns.
It gives us a glimpse of the future and allows companies to take decisions to improve their prospects.
Employee productivity is also guaranteed.
Identification of new streams of generating revenue and product innovation.
Long-term marketing goals can be molded based on customer expectations.
Achieving better sales and increased customer satisfaction.
Marketing Analytics also answers important questions about expenditure and performance.
Insights that are provided using Marketing Analytics enables companies to make decisions accordingly.
Allows businesses to plan for the future.
Tweaking business strategies and making amendments is possible using Marketing Analytics.
Improvements in ROI by improving strategies.
According to Glassdoor, the average Marketing Analyst's salary is about $74,954. PayScale declared that an entry-level salary with less than a year of experience would be around $51,209. The mid-level analyst could earn about $68,230, and finally, an experienced analyst could earn about $76,000 based on their experience.
Pursue a career in Data Analytics with the number one training institute 360DigiTMG. Enroll in the Data Analytics Courses in Hyderabad with placements to start your journey.
Conclusion
We understood that Marketing Analytics is very vital for businesses to consider and make decisions accordingly. Marketing analysts, Data analysts, Digital marketing analysts, Social media analysts, Business analysts, Marketing data analysts, etc are all an asset to companies. They work towards improving the overall performance of the company while keeping in mind the insights derived from their analysis. To work for the betterment of the companies, to improve sales, customer satisfaction, and especially ROI. The Marketing Analytics field is growing exponentially and the world is waiting to witness its true potential.
Data Science Placement Success Story
Other Domain Analytics in our 360DigiTMG
Political Analytics, Transit Analytics, Forest Analytics, Wild Analytics, Agriculture Analytics, Army Analytics, E-commerce Analytics, Energy and Resource Analytics, Hospital Analytics, Healthcare Analytics, Hospitality Analytics, Oil and Gas Analytics, Regulatory Analytics, Security Analytics, Trade Analytics, Railway Analytics, Defense Analytics, Education Analytics, Accounting Analytics, Fraud Analytics, Legal and Law Analytics, Banking Analytics, Insurance Analytics, Life Science Analytics, Pharma Analytics, Aviation Analytics, Retail Analytics, Cyber Security Analytics, Supply Chain Analytics, Marketing Analytics
Data Science Training Institutes in Other Locations
Agra
,
Ahmedabad
,
Amritsar
,
Anand
,
Anantapur
,
Bangalore
,
Bhopal
,
Bhubaneswar
,
Chengalpattu
,
Chennai
,
Cochin
,
Dehradun
,
Malaysia
,
Dombivli
,
Durgapur
,
Ernakulam
,
Erode
,
Gandhinagar
,
Ghaziabad
,
Gorakhpur
,
Gwalior
,
Hebbal
,
Hyderabad
,
Jabalpur
,
Jalandhar
,
Jammu
,
Jamshedpur
,
Jodhpur
,
Khammam
,
Kolhapur
,
Kothrud
,
Ludhiana
,
Madurai
,
Meerut
,
Mohali
,
Moradabad
,
Noida
,
Pimpri
,
Pondicherry
,
Pune
,
Rajkot
,
Ranchi
,
Rohtak
,
Roorkee
,
Rourkela
,
Shimla
,
Shimoga
,
Siliguri
,
Srinagar
,
Thane
,
Thiruvananthapuram
,
Tiruchchirappalli
,
Trichur
,
Udaipur
,
Yelahanka
,
Andhra Pradesh
,
Anna Nagar
,
Bhilai
,
Borivali
,
Calicut
,
Chandigarh
,
Chromepet
,
Coimbatore
,
Dilsukhnagar
,
ECIL
,
Faridabad
,
Greater Warangal
,
Guduvanchery
,
Guntur
,
Gurgaon
,
Guwahati
,
Hoodi
,
Indore
,
Jaipur
,
Kalaburagi
,
Kanpur
,
Kharadi
,
Kochi
,
Kolkata
,
Kompally
,
Lucknow
,
Mangalore
,
Mumbai
,
Mysore
,
Nagpur
,
Nashik
,
Navi Mumbai
,
Patna
,
Porur
,
Raipur
,
Salem
,
Surat
,
Thoraipakkam
,
Trichy
,
Uppal
,
Vadodara
,
Varanasi
,
Vijayawada
,
Visakhapatnam
,
Tirunelveli
,
Aurangabad
Data Analyst Courses in Other Locations
ECIL
,
Jaipur
,
Pune
,
Gurgaon
,
Salem
,
Surat
,
Agra
,
Ahmedabad
,
Amritsar
,
Anand
,
Anantapur
,
Andhra Pradesh
,
Anna Nagar
,
Aurangabad
,
Bhilai
,
Bhopal
,
Bhubaneswar
,
Borivali
,
Calicut
,
Cochin
,
Chengalpattu
,
Dehradun
,
Dombivli
,
Durgapur
,
Ernakulam
,
Erode
,
Gandhinagar
,
Ghaziabad
,
Gorakhpur
,
Guduvanchery
,
Gwalior
,
Hebbal
,
Hoodi
,
Indore
,
Jabalpur
,
Jaipur
,
Jalandhar
,
Jammu
,
Jamshedpur
,
Jodhpur
,
Kanpur
,
Khammam
,
Kochi
,
Kolhapur
,
Kolkata
,
Kothrud
,
Ludhiana
,
Madurai
,
Mangalore
,
Meerut
,
Mohali
,
Moradabad
,
Pimpri
,
Pondicherry
,
Porur
,
Rajkot
,
Ranchi
,
Rohtak
,
Roorkee
,
Rourkela
,
Shimla
,
Shimoga
,
Siliguri
,
Srinagar
,
Thoraipakkam
,
Tiruchirappalli
,
Tirunelveli
,
Trichur
,
Trichy
,
Udaipur
,
Vijayawada
,
Vizag
,
Warangal
,
Chennai
,
Coimbatore
,
Delhi
,
Dilsukhnagar
,
Hyderabad
,
Kalyan
,
Nagpur
,
Noida
,
Thane
,
Thiruvananthapuram
,
Uppal
,
Kompally
,
Bangalore
,
Chandigarh
,
Chromepet
,
Faridabad
,
Guntur
,
Guwahati
,
Kharadi
,
Lucknow
,
Mumbai
,
Mysore
,
Nashik
,
Navi Mumbai
,
Patna
,
Pune
,
Raipur
,
Vadodara
,
Varanasi
,
Yelahanka
Navigate to Address
360DigiTMG - Data Analytics, Data Science Course Training in Chennai
D.No: C1, No.3, 3rd Floor, State Highway 49A, 330, Rajiv Gandhi Salai, NJK Avenue, Thoraipakkam, Tamil Nadu 600097
1800-212-654-321