Application of Robotic Process Automation (RPA)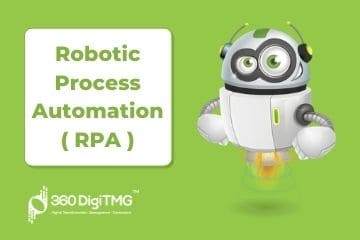 In the digital age, where technology is not an option but rather a need, our economy is prospering. We watch as cutting-edge new technology spreads and develops in front of our eyes, and we witness how every business is taking use of its advantages. By 2024, it is anticipated that global businesses would spend up to $2.5 trillion on digital transformation. The RPA industry, now valued at USD 1.3 billion, is projected to grow at a CAGR of 37.1% from 2020 to 2028, indicating a significant uptick in automation. Automation will become more widely adopted across a number of industries, including banking and finance, as artificial neural networks, machine learning, and natural language processing continue to progress. Manufacturing, customer service, telecom, business financial services, and insurance.
Click here to explore 360DigiTMG.
What is Robotic Process Automation (RPA)?
Robotic process automation is a technology based on artificial intelligence, sometimes referred to as software robotics. To simply put, RPA is the automation of clerical and industrial processes using robots. RPA leverages software robots to automate repetitive, monotonous, and time-consuming tasks. These bots are nothing but software programs that manipulate data across multiple platforms. Automation is enticing for corporations that wish to cut corners in operational costs, increase profits, and promote efficiency. The robotic software mimics and combines human interactions with digital systems, to optimize business operations by automating work processes. These RPA bots can capture data, enter data, run applications, update user permissions, create and send an invoice, update spreadsheets by following a series of specified steps to conduct a myriad of repetitive tasks. Blue Prism and IBM Watson have collaborated to extend the cognitive capabilities of RPA systems which will help enterprises to become fully digital businesses.
Click here to Learn Data Science Training in Chennai
Top 3 Trends in Robotic Process Automation (RPA)
As businesses restructure to better, they search for cutting-edge new apps to boost operational efficiency. RPA, a branch of AI that enables businesses to programme software "robots" to execute recurring activities like data collection and analysis, is unquestionably on everyone's radar. RPA is quickly growing to be one of the most exciting potentials in the field of artificial intelligence and will soon be a billion-dollar industry.
Click here to learn Robotic Process Automation Course
Complimentary Technology
One of the key benefits of this technology is that it gels well with other existing technologies and compliments the already-installed processes and data science foundations. It will not replace back-office applications but enhance them by lightening the monotony of some critical ops and performing financial and accounting processes faster with an RPA bot.
Positive Investment
The cost of transactional operations has been cut by 67% thanks to robotic process automation. RPA has given significant cost savings for front office procedures like marketing analytics and customer support as well as back-office operations like accounting, making it the wise business investment that businesses have been seeking.
Easy Deployment
The most labour expensive portions of RPA deployment include design, development, and maintenance. Companies today are trying to simplify these processes and integrate AI capabilities to bring automation in tedious and repetitive tasks and also to address ever-changing business demands and client expectations. The solutions provided by RPA will be used as tools to increase productivity and to deal with data-oriented tasks more effectively and without any mistake.
Benefits of RPA
Robotic process automation technologies will accelerate market growth since they can acquire a wide range of abilities without human assistance. The rapidly changing global corporate environment is being shaped by the combination of robotic process automation, AI, machine learning, and other cognitive technology By automating the manual procedures and performing tasks to satisfy consumer demand at the same time, this has lessened the effect of expenses.
Cost Cutting Technology: Robotic Automation Process software has a huge potential to reduce overhead expenses of the companies by speedy execution, scaling of a massive volume of data resulting in less time consumption.

Productivity Rate: Organisations all around the globe are always seeking for operations that may be automated in order to increase production.

Reduce Burden on IT: This technology also helps to manipulate data, scale-up businesses, adapts, and interprets the existing application for processing, provides data security and effectiveness by communicating with other digital systems.

Reliable Software: Bots can do a lot of work, operate continuously without taking breaks, and enable speedier delivery while maintaining accuracy. This enhances the process' analytical quality and promotes improved decision-making.

Better Support and management in IT: This technology is transforming the way various businesses and business models are run by increasing productivity, efficiency, and operational quality across companies.
Click here to Learn Data Science Training in Pune
Application of RPA
Robotic process automation is a cutting-edge technology that can automate work and procedures in a wide range of industries, including banking, accounting, retail, and customer support, among others. RPA makes it easier for people to connect with computer interfaces like websites, CRM systems, or spreadsheets. It carries out multi-step procedures including information gathering, feeding, and filing. RPA is used by the retail sector to manage frequently changing orders, shipment statuses, and consumer notification of anticipated delivery times. RPA is used by the banking sector to handle loan applications and approvals, confirm customer appointments, and fill up customer data in CRM systems. RPA is used by the human resources department to speed up processes including hiring, screening candidates, tracking employee absences, and expense claims. In order to speed up the processing of claims, RPA is also combined with machine learning and Natural Language Processing (NLP) to create chatbots that let employees communicate with a virtual assistant when submitting claims.
Conclusion
RPA technology has the potential to deliver remarkable value for businesses in terms of growth in productivity, efficiency, delivery, and output. It will also contribute to the increase in demand for RPA professionals from key employers coming from multiple sectors. As more enterprises come to understand the power of process automation and how RPA is an effective answer to many critical processes. Automation is poised to take a significant leap by delivering tangible results to organizations in their journey to digital transformation.
Click here to learn Data Science Course, Data Science Course in Hyderabad, Data Science Course in Bangalore
Data Science Training Institutes in Other Locations
Agra
,
Ahmedabad
,
Amritsar
,
Anand
,
Anantapur
,
Bangalore
,
Bhopal
,
Bhubaneswar
,
Chengalpattu
,
Chennai
,
Cochin
,
Dehradun
,
Malaysia
,
Dombivli
,
Durgapur
,
Ernakulam
,
Erode
,
Gandhinagar
,
Ghaziabad
,
Gorakhpur
,
Gwalior
,
Hebbal
,
Hyderabad
,
Jabalpur
,
Jalandhar
,
Jammu
,
Jamshedpur
,
Jodhpur
,
Khammam
,
Kolhapur
,
Kothrud
,
Ludhiana
,
Madurai
,
Meerut
,
Mohali
,
Moradabad
,
Noida
,
Pimpri
,
Pondicherry
,
Pune
,
Rajkot
,
Ranchi
,
Rohtak
,
Roorkee
,
Rourkela
,
Shimla
,
Shimoga
,
Siliguri
,
Srinagar
,
Thane
,
Thiruvananthapuram
,
Tiruchchirappalli
,
Trichur
,
Udaipur
,
Yelahanka
,
Andhra Pradesh
,
Anna Nagar
,
Bhilai
,
Borivali
,
Calicut
,
Chandigarh
,
Chromepet
,
Coimbatore
,
Dilsukhnagar
,
ECIL
,
Faridabad
,
Greater Warangal
,
Guduvanchery
,
Guntur
,
Gurgaon
,
Guwahati
,
Hoodi
,
Indore
,
Jaipur
,
Kalaburagi
,
Kanpur
,
Kharadi
,
Kochi
,
Kolkata
,
Kompally
,
Lucknow
,
Mangalore
,
Mumbai
,
Mysore
,
Nagpur
,
Nashik
,
Navi Mumbai
,
Patna
,
Porur
,
Raipur
,
Salem
,
Surat
,
Thoraipakkam
,
Trichy
,
Uppal
,
Vadodara
,
Varanasi
,
Vijayawada
,
Vizag
,
Tirunelveli
,
Aurangabad
Navigate to Address
360DigiTMG - Data Science, Data Scientist Course Training in Bangalore
No 23, 2nd Floor, 9th Main Rd, 22nd Cross Rd, 7th Sector, HSR Layout, Bengaluru, Karnataka 560102
1800-212-654-321