Top 9 IT Companies in Chandigarh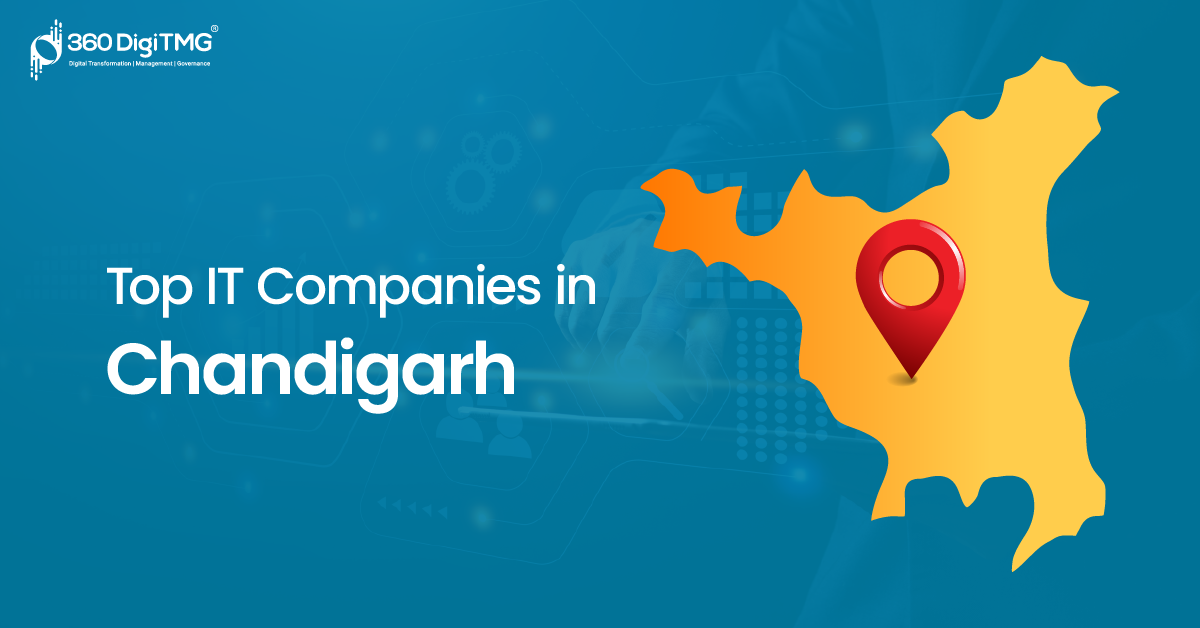 Introduction
Chandigarh, the capital of the states of Punjab and Haryana in India, is a well- planned city known for its modern architecture and urban design. It serves as a Union Territory and holds the distinction of being the first planned city in post- independence India.
History of Chandigarh
Chandigarh's history dates back to the partition of India in 1947, which resulted in the need for a new capital for the states of Punjab and Haryana. Renowned Swiss-French architect Le Corbusier was commissioned to design the city, along with a team of architects and planners. The construction of Chandigarh began in the 1950s, and the city was officially inaugurated in 1953. The city's layout and architecture were carefully planned, incorporating principles of modernist urban design and functional aesthetics.
Chandigarh was envisioned as a model city, aiming to provide a high standard of living, efficient infrastructure, and a balanced environment for its residents. The city's master plan divided it into sectors, each designated for specific purposes such as residential, commercial, and recreational areas. The design incorporated open spaces, green belts, and an extensive network of roads to ensure smooth traffic flow.
Over the years, Chandigarh has evolved into a vibrant cultural and educational hub. It is home to prestigious educational institutions, including Panjab University and Punjab Engineering College, as well as various government offices, museums, art galleries, and theaters. The city's modern architecture, with landmarks such as the Capitol Complex, Rock Garden, and Sukhna Lake, attracts tourists from around the world.
Chandigarh's planned layout, well-maintained infrastructure, and focus on urban development have contributed to its status as one of the cleanest and most livable cities in India. With its unique blend of modernity and green spaces, Chandigarh continues to be a symbol of urban planning excellence and a testament to India's architectural and cultural heritage.
Tech Scene
Chandigarh, known for its well-planned infrastructure and progressive environment, has been witnessing growth in its tech scene in recent years. The city is emerging as a destination for technology-based industries, IT services, and innovation. Here's an overview of the tech scene in Chandigarh:
IT Parks and Tech Infrastructure: Chandigarh houses dedicated IT parks and technology hubs that provide a conducive environment for tech companies to operate. Some prominent IT parks in the city include the Rajiv Gandhi Chandigarh Technology Park (RGCTP) and the QuarkCity IT Park. These parks offer modern infrastructure, office spaces, and facilities for IT and software development companies.
Software Development and IT Services: Chandigarh is home to a growing number of IT companies that offer software development, IT consulting, and outsourcing services. These companies cater to a wide range of industries, providing solutions in areas such as application development, web development, mobile app development, software testing, and digital marketing.
Startup Ecosystem: Chandigarh has a thriving startup ecosystem, with numerous technology startups across various domains. The city provides support through incubators, mentorship programs, and networking opportunities for aspiring entrepreneurs and startups. The focus areas include e-commerce, mobile applications, fintech, healthcare technology, and software-as-a-service (SaaS) solutions.
Skill Development and Training: Chandigarh has several institutes and training centers that offer IT courses and skill development programs. These institutes provide training in programming languages, web development, software testing, data analytics, and other IT domains. The emphasis on skill development helps create a pool of talented professionals for the growing tech sector.
Government Initiatives: The government of Chandigarh, along with industry associations, has taken initiatives to promote the growth of the tech sector. These initiatives include organizing tech events, providing financial assistance to startups, and fostering collaboration between academia and industry. The government's support aims to create a favorable environment for technology- based businesses and encourage innovation and entrepreneurship.
Networking and Tech Events: Chandigarh hosts various tech events, conferences, and meetups that provide a platform for professionals to network, learn, and collaborate. These events bring together industry experts, entrepreneurs, and technology enthusiasts to share knowledge and explore opportunities in the tech sector.
The tech scene in Chandigarh is evolving rapidly, with the city's focus on infrastructure development, startup support, and skill enhancement. The combination of established IT companies, a growing startup ecosystem, and government initiatives makes Chandigarh an attractive destination for tech professionals and Entrepreneurs looking to be part of a thriving tech community.
Best IT Companies in Chandigarh
Chandigarh, being a growing hub for technology and IT services, is home to several IT companies. While the list provided below is not exhaustive, it highlights some notable IT companies in Chandigarh:
1. Infosys:

Infosys, a global IT and consulting company, has a presence in Chandigarh. It provides IT consulting, software development, and business solutions to clients worldwide.

2. Tech Mahindra:

Tech Mahindra is a multinational IT services and consulting company with a presence in Chandigarh. It offers a wide range of services including software development, IT infrastructure management, and digital transformation.

3. Quark Software:

Quark Software is an IT company based in Chandigarh that specializes in content automation and design solutions. It provides software products and services to help organizations streamline their content creation and publishing processes.

4. Net Solutions:

Net Solutions is an IT company in Chandigarh that offers web and mobile application development, software development, and digital marketing services. It caters to clients across various industries, including e-commerce, healthcare, and finance.

5. IDS Infotech:

IDS Infotech is an IT and business process outsourcing company based in Chandigarh. It provides software development, data processing, and content management services to clients globally.

6. Sebiz Infotech:

Sebiz Infotech is an IT company in Chandigarh that specializes in software development, web design, and mobile app development. It serves clients from diverse industries, including healthcare, education, and e- commerce.

7. Netgains:

Netgains is an IT company based in Chandigarh that offers web development, e-commerce solutions, digital marketing, and custom software development services.

8. e-Procurement Technologies Limited (ETL):

ETL is an IT company in Chandigarh that focuses on providing e-procurement and supply chain management solutions to clients in the public and private sectors.

9. Apparrant Technologies:

Apparrant Technologies is an IT company in Chandigarh that specializes in web and mobile app development, UI/UX design, and software testing services.
Overview of IT Jobs in Chandigarh
IT professionals in Chandigarh have promising opportunities for career progression and development in the field of Information Technology. The city's growing tech sector, presence of IT companies, and supportive ecosystem provide a platform for professionals to advance their careers. Here's an overview of how IT jobs can progress and develop over time in Chandigarh:
Entry-Level Positions: Fresh graduates or individuals starting their careers in IT can find entry-level positions in Chandigarh. These roles may include software developers, web designers, quality assurance analysts, system administrators, and technical support associates. In these positions, individuals gain practical experience, develop technical skills, and learn industry best practices.
Skill Development and Specialization: IT professionals in Chandigarh have opportunities to develop specialized skills and expertise. They can focus on specific technologies such as software development, web development, data analytics, cybersecurity, cloud computing, or artificial intelligence (AI). Acquiring certifications, attending workshops, and participating in online courses can help professionals enhance their skill set and stand out in the competitive IT industry.
Mid-Level Positions: With a few years of experience and expertise, IT professionals in Chandigarh can progress to mid-level positions. These roles may include software engineers, database administrators, network administrators, project coordinators, and business analysts. Professionals at this level work on complex projects, lead teams, and contribute to the development and implementation of IT solutions.
Leadership and Management Roles: As professionals gain more experience and demonstrate leadership skills, they can move into management positions. These roles include IT managers, project managers, team leads, and department heads. Professionals in these positions oversee teams, manage projects, set strategic goals, and ensure efficient IT operations within organizations.
Entrepreneurship and Startups: Chandigarh's growing startup ecosystem provides opportunities for IT professionals to venture into entrepreneurship or join early-stage startups. The city offers incubators, mentorship programs, and networking platforms that support innovation and collaboration. Starting a tech venture or joining a startup allows professionals to innovate, work on exciting projects, and potentially experience significant career growth.
Continuous Learning and Networking: Continuous learning and networking are crucial for IT professionals in Chandigarh to stay competitive in the industry. Professionals can attend tech events, conferences, and meetups to expand their knowledge, network with industry experts, and stay updated with the latest trends. Engaging in tech communities, online forums, and knowledge-sharing platforms can help professionals enhance their skills and build valuable connections.
Chandigarh's growing tech sector, presence of IT companies, and supportive ecosystem provide ample opportunities for IT professionals to progress and develop their careers over time. By continuously updating their skills, embracing emerging technologies, and seeking new challenges, professionals in Chandigarh can achieve significant growth in their IT careers.
Salary of Software Engineer in Chandigarh
salaries in IT companies in Chandigarh can vary depending on factors such as company size, job role, experience level, and industry demand. For entry-level positions in IT companies, salaries typically range from approximately INR 2 lakh to INR 5 lakh per annum. As professionals gain experience and progress to mid-level positions, salaries can increase to around INR 5 lakh to INR 10 lakh per annum.
For senior-level positions such as IT managers or project managers, salaries can range from approximately INR 10 lakh to INR 25 lakh or more per annum, depending on the individual's expertise and the organization's size. Additionally, professionals with specialized skills in emerging technologies like cloud computing, data analytics, and artificial intelligence (AI) can command higher salaries ranging from INR 8 lakh to INR 30 lakh or more per annum. It's important to note that these figures are approximate and can vary based on various factors including company policies, market conditions, and the candidate's negotiation skills. Researching specific companies and consulting industry reports can provide more accurate insights into the salary ranges in IT companies in Chandigarh.