What are the Disadvantages and Limitations of IOT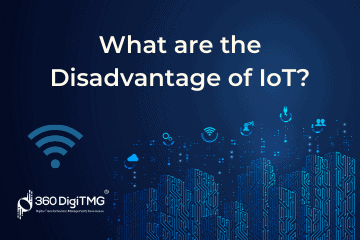 Introduction
All gadgets may now be connected to the Internet, and the Internet of Things (IoT) has also made it simple for devices to talk with one another. Human intervention has decreased because to this technology. Anything from watches to mobile phones to household appliances to industrial machinery and many more may be considered gadgets. These gadgets have a sensor and a chip with software built right in.
Also, check this IoT Training Institute in Pune to start a career in Best IoT Training Institute.
So, it's safe to state that IoT has greatly improved user comfort. In the realms of medicine and agriculture, it has shown its value. IoT still has some issues, though. You may learn about the drawbacks of IoT in this post. So, let's continue our little discussion of them.
Disadvantages of IoT
Due to the growth of IoT every day there are discomforts along with comforts. You cannot deny from these disadvantages of IoT that its rapid growth is leaving. So, these issues must be addressed to perfectly use the IoT devices. The companies are working on it but these are still a concern. So, getting deep into them, read the below details.
Security and Privacy

The largest drawback of IoT may be the loss of privacy caused by the adoption and use of these smart gadgets in daily life.

The Internet may be used to find any user's data thanks to advancements in technology. This has created a zone where hackers may easily and swiftly discover their target. They may quickly break into the network and acquire the users' sensitive information. Since it is their private information, someone might not want their family and personal information to be compromised by hackers. However, overuse of technology has made it easier for trespassers to enter. Your data might be abused by them. Your data might be abused by them.

To learn more about Internet of Things, the best place is 360DigiTMG, with multiple awards in its name 360DigiTMG is the Best place to start your Best IoT Training in Hyderabad. Enroll now!

Without a doubt, cybersecurity firms are working on it and have put in place a number of measures to make the network impenetrable to hackers. Still, these crooks discovered a few holes that they may exploit to quickly assault the network. The hacker may take the form of a well-known individual to enter the network with ease.

The administration's strictest security efforts have been unable to resolve this problem. Hackers are therefore more likely to get access to all of our personal information. Even businesses are utilising user information for their own gain. There are several instances right now where businesses must use customer data for the benefit and interest of the business, as Google just did.

Consumers are concerned about their personal information and lives as a result of the aforementioned factors. To solve this problem, several protocols are now being developed.

Don't delay your career growth, kickstart your career by enrolling in this IoT Online Course with 360DigiTMG.

Increased unemployment

As the number of IoT devices is increasing day by day, companies have started utilizing the devices more than the employees. This has left a great number of jobless people as a result. The companies are introducing fewer jobs as their business is running without more employees. Now, most of the work of the offices and industries is done by chatbots. Things are getting more automotive so the people who do not know using the technology are also losing their jobs. Low-skilled people are greatly suffered from the advancement of IoT.

Now some devices can automatically do the inventory tasks at regular intervals. So, the jobs of the people performing inventory tasks are also getting fewer in number and the ones who are currently working have also fear of losing the job as the technology is taking control. The ATMs have reduced the jobs of the people.

Being a IoT Trainer is just a step away. Check out the Internet of Things Training in Bangalore at 360DigiTMG and get certified today.

It is predicted that in the future IoT will have more grip on the field and the devices will come with more automotive features. As the people do not have the skills of fulfilling the growing needs. So, there is a question mark on their jobs. Most of the top jobs will be performed automatically by the smart sensors so the chefs, telemarketers, dental assistants may also lose their jobs.

The above-mentioned conditions have stressed the people. The companies must introduce things that will also allow people to work so that they can earn their livelihood.

Too Much Dependency on Technology

Nowadays, if a person has a smart device with internet access, they can hold anything. The amount of time kids spends using electronics is increasing. Instead of reading a magazine, they would rather read an item online. They just use the Internet for information and avoid buying books. The overuse of IoT by individuals is the main theme of the narrative. People are becoming unhealthy because they even refuse to manually turn on and off the lights. For this, they are utilising technology. Overall, the population is becoming less motivated and energetic to work. They utilise technology in their everyday lives and consider it. The daily schedule indicates that individuals are utilising their smartphones to recall key events, meetings, etc. since their memory are deteriorating.

Lose life control

Due to the overuse of technology, people are not leading it but actually, it is leading the people. They are working according to the planning of these devices and have made themselves a slave of the technology. If the device fails one day, they may not be able to move for a single mile as they have told each and everything to the devices that are working on behalf of them. They even sleep, awake, and function according to these devices. This is the big alarm for a society that the people are losing control of their lives and IoT is getting control of their lives. It must be overcome if society needs energetic and active people.
yourself a promising career in IoT Training Institute in Chennai by enrolling in the IoT Training and Placement Program offered by 360DigiTMG.
Conclusion
By the article's conclusion, it can be argued that while IoT offers many conveniences, some of the described annoyances still render it unreliable. People and society will endure great suffering if these problems are not resolved. The government should take action to get people interested in the advancing technologies. The privacy concerns require a lot of attention if users are to feel safe using these gadgets.
IoT Training Institutes in Other Locations
Ahmedabad, Bangalore, Chengalpattu, Chennai, Hyderabad, Kothrud, Noida, Pune, Thane, Thiruvananthapuram, Yelahanka, Andhra Pradesh, Anna Nagar, Bhilai, Calicut, Chandigarh, Chromepet, Coimbatore, Dilsukhnagar, ECIL, Faridabad, Greater Warangal, Guduvanchery, Guntur, Gurgaon, Guwahati, Hoodi, Indore, Jaipur, Kalaburagi, Kanpur, Kharadi, Kochi, Kolkata, Kompally, Lucknow, Mangalore, Mumbai, Mysore, Nagpur, Nashik, Navi Mumbai, Patna, Porur, Raipur, Salem, Surat, Thoraipakkam, Trichy, Uppal, Vadodara, Varanasi, Vijayawada, Vizag, Tirunelveli, Aurangabad
Navigate to Address
360DigiTMG - Data Science, Data Scientist Course Training in Bangalore
No 23, 2nd Floor, 9th Main Rd, 22nd Cross Rd, 7th Sector, HSR Layout, Bengaluru, Karnataka 560102
1800-212-654-321