Cloud Computing in Simple Words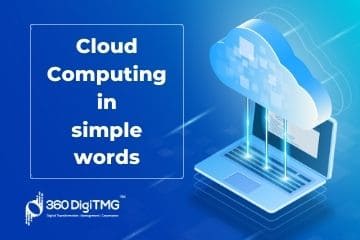 The distribution of computer services, from apps to storage, on a pay-as-you-go basis over the internet may be used to define cloud computing.
Microsoft Azure, Amazon Web Services, Google Cloud, IBM, Alibaba, and SaaS providers are this year's most popular cloud computing platforms.
The majority of businesses may rent cloud computing services from cloud service providers for data storage, software, etc. and only pay for what they use as opposed to purchasing it. This allows businesses to significantly reduce the cost of maintaining their own IT infrastructure.
360DigiTMG also offers the AWS Course in Bangalore to start a better career. Enroll now!
What exactly the services does Cloud computing provide?
The important services delivered by Cloud are storage, applications, networking, and processing power through Artificial Intelligence and NLP, along with this the basic standard office applications.Netflix depends on Cloud, for its streaming of a wide range of videos. Gmail or cloud is used to store multiple photos on your smartphone. Apart from this, many organizations rely on Cloud computing to store their data and run all their applications securely.
As per predictions of Gartner, globally companies are spending $255bn in 2020 and this has been increased from $219.5bn. Analysts also observed that this has been growing more rapidly than they predicted. As per the research from IDC, large enterprises are depending upon the Cloud services through vendors or by in-house cloud services built by themselves. Various research studies have predicted that one-third of enterprises will be spending on hosting cloud services, this indicates that many companies are relying on cloud computing services for infrastructure, management, applications, and security services.
Let's know about Iaas, Paas, Saas, which are considered as Cloud computing models.
IaaS Infrastructure-as-a-Service (IaaS): It is the core component that is hired for networking and storage. Companies that can create apps from scratch and manage everything independently find it to be quite appealing. Companies must, however, possess the technological know-how necessary to coordinate services. According to Oracle research, two-thirds of IaaS users are satisfied with the service and mentioned that it is simple to innovate, reduces maintenance costs, and saves time when deploying new applications and services. However, half of IaaS users claimed that the service is not sufficiently secure to handle sensitive data.
PaaS (Platform-as-a-Service (PaaS): It is the next level of virtual servers that provides many services that include storage, networking, tools, and software that developers require to build vast applications. It also includes database management, development tools, and middleware.
SaaS (Software-as-a-Service): The majority of businesses primarily utilise it on a daily basis. The end users are not concerned with the underlying hardware or operating system. They'll use an app or a web browser to access. SaaS is regarded as the most important Cloud computing platform, according to IDC research. Businesses will spend money on SaaS for its variety of apps, including Microsoft's Office 365, CRM and ERM software, and enterprise resource management (ERM) software. By 2021, SaaS will account for more than 60% of all cloud application spending.
Cloud Computing Benefits:
There are numerous benefits that Cloud computing services provide. Enterprises need not buy servers or Operating systems. Everything is taken care of by vendors. For emails, companies are required to switch to Cloud vendors, rather than relying on in-house infrastructure. Cloud computing services deliver more secure and efficient services to their end-users. The key benefit of cloud computing services is that the enterprises can rapidly move on projects without any lengthy procurement process. As they only pay for the resources they really utilise, this will cut costs and time. According to proponents of cloud computing, this idea of corporate agility is the key advantage. When compared to traditional IT infrastructure, it is possible to supply new services with less time and effort. If the new applications prove to be more useful, it will also be simpler and more likely to scale cloud computing. It is better to use cloud computing services for businesses that employ a particular application for a week or a year rather than investing in long-term in-house software and infrastructure. It will relieve the workload on IT employees for programmes like CRM and email.
If the cloud computing services are used for a while then it is better to rent, but if used extensively then it is advisable to have in-house services as it would be more economical. Some of the companies don't come forward to host sensitive or critical data or any essential part that is the core of the business, as there are chances that can be used by their rivals.
Future of Cloud computing
The use of cloud computing is still in its infancy. It starts to take shape as businesses become more used to the many advantages of cloud computing and are able to pinpoint the precise location of their stored data without having to dig through servers in the basement. The Cloud computing platform, on the other hand, is being promoted by cloud computing suppliers as a milestone in the digital transformation process. A move to the cloud can speed up and streamline a company's business operations. Those who are aware of cloud computing's potential will continue to depend on it for its advantages.
Adopting a new cloud service and moving current data or apps there is simple, but it might be expensive and difficult. Additionally, it appears that there is a lack of technical personnel with cloud-related understanding. Many businesses are searching for workers with experience in management, multi-cloud monitoring, and DevOps.
Jobs and Salaries
As per the estimations of IDC, nearly one million new jobs will be created, In India, Cloud computing is estimated to grow from $2.1billion to $4.5billion by the end of 2020.
The job roles that are in huge demand in Cloud computing are Cloud Engineer, Java Developer, Cloud sales Manager, Cloud product manager, Cloud Architect, Cloud Software Engineer, Cloud Enterprise Architect, and Cloud Infrastructure Engineer.
The salaries for job roles in cloud computing are anticipated to be significantly higher than those for traditional IT services. When compared to IT experts, who make between Rs. 3 lakhs and Rs. 5 lakhs per year in India, the income for cloud professionals ranges from Rs. 5 lakhs to Rs. 7 lakhs at an early stage, according to reports from Great Learning. A mid-level Cloud architect may earn up to Rs. 20 lakhs; pay rises with experience. MNCs like Oracle pay Rs. 1 crore for cloud experts with 15–25 years of expertise.
IDC says that the sector lacks talent, with 1.6 million cloud jobs unfilled globally. Lack of training, a lack of hands-on experience with current cloud-based projects, and a lack of industry-recognized certifications may be the particular causes of this scarcity.
By investing more than 4.5 times as much on cloud computing platforms as they do in IT infrastructure, more organisations are converting to them, creating numerous possibilities for qualified cloud workers. To pursue a career in cloud computing, the time is now. By enrolling in the appropriate course at the top training facility that offers Certified courses in cloud computing, you may improve your cloud computing abilities. Seize the opportunities and land positions with prestigious firms.
Cloud Computing Training Institutes in Other Locations
Ahmedabad, Bangalore, Chengalpattu, Chennai, Kothrud, Noida, Pune, Thane, Yelahanka, Andhra Pradesh, Anna Nagar, Bhilai, Calicut, Chandigarh, Chromepet, Coimbatore, Dilsukhnagar, ECIL, Faridabad, Greater Warangal, Guduvanchery, Guntur, Gurgaon, Guwahati, Indore, Jaipur, Kalaburagi, Kanpur, Kharadi, Kochi, Kolkata, Kompally, Lucknow, Mangalore, Mumbai, Mysore, Nagpur, Nashik, Navi Mumbai, Patna, Porur, Raipur, Salem, Surat, Thoraipakkam, Trichy, Uppal, Vadodara, Varanasi, Vijayawada, Vizag, Tirunelveli, Aurangabad
Navigate to Address
360DigiTMG - Data Science, Data Scientist Course Training in Bangalore
No 23, 2nd Floor, 9th Main Rd, 22nd Cross Rd, 7th Sector, HSR Layout, Bengaluru, Karnataka 560102
1800-212-654-321