What Is Tableau? What Are Its Uses And Applications To Unlock Your Data's Potential?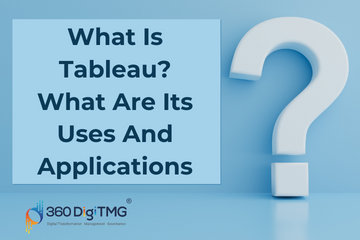 If you present the dataset analysis results in data visualization, all the excellent purpose-oriented business conclusions become simple to follow. Additionally, having all graphs, charts, plots, etc., on one dashboard makes it easier to anticipate insights.
Want to learn more about Tableau? Enroll in this Tableau Course in Hyderabad to do so.
Our analytics platform, the market-leading option for contemporary business intelligence, enables users to explore and handle data more easily and quickly and find and share insights that can potentially transform industries and entire societies.
Our goal is to enable people to see and comprehend data, so everything we do is motivated by this goal. As a result, our products are made with the user in mind, whether they are analysts, data scientists, educators, students, business users, or students. As a result, Tableau is the most potent, secure, and adaptable end-to-end analytics tool from connection to collaboration.
What is Tableau?
You use Tableau more frequently as a data visualization application in the business intelligence and data science industries. It is because it attempts to make complex data easier to view and comprehend.
One of the most important resources for businesses today is data. Almost all businesses and industries use big data analytics to make wise business choices. However, after being analyzed, big data from various sources is frequently presented as figures and numbers. Therefore, you must submit this information to CEOs and stakeholders in a straightforward, aesthetically pleasing, and understandable manner.
Tableau assists in reducing the complexity of raw data and presenting it in an intuitive, interactive manner. Users can quickly learn to use Tableau and build customized dashboards, even without technical knowledge or coding skills. Tableau can transform data into dashboards and worksheets with eye-catching graphics using data of all kinds, formats, ranges, and sizes.
Also, check this Tableau Course in Bangalore to start a career in Data Visualaization.Looking forward to becoming a Looking forward to becoming a Tableau expert? Check out the Tableau Course and get certified today
Why use Tableau?
With so many tools available to conduct data visualization, why use Tableau software?
Tableau is widely used because it makes it possible to analyze data rapidly. Additionally, you can create spreadsheets and dashboards from visualizations. Tableau enables the creation of dashboards that offer practical insights and advance a company. When configured with the appropriate underlying hardware and operating system, Tableau products always function in virtualized settings. Data scientists use Tableau to examine data with countless visual analytics.
Advantages of Tableau:
The benefits or advantages of Tableau are numerous. Here are some of them:
1. Tableau is a main tool for data visualization: Its technology supports complex calculations, data blending, and dashboarding to produce beautiful visualizations that provide insights that are difficult to obtain by rapidly skimming a spreadsheet. It has climbed to the summit of the data visualization heap due to its dedication to achieving this objective.
2. Tableau can manage large amounts of data: Tableau can handle millions of rows of data efficiently. As a result, you can produce multiple visualizations using much data without affecting how quickly dashboards work. In addition, Tableau has a function that enables users to establish "live" connections to other data sources, including SQL and different types of databases.
Implementation is simple because Tableau provides a variety of visualization choices that enhance the user experience. In addition, Tableau is much easier to learn than Business Objects, Python, and Domo so anyone can become proficient in it without any previous coding knowledge.
Being a Tableau Expert is just a step away. Check out the Tableau Course in Singapore at 360DigiTMG and get certified today.
3. Mobile Support and Responsive Dashboard: Tableau Dashboard has an excellent reporting feature that can be specifically tailored for a particular device, like a laptop or mobile phone. Depending on the device the user views the report on, Tableau makes adjustments to ensure that you sent the correct information to the suitable device.
4. Using other scripting languages in Tableau: Users can use Python or R to work around performance issues and conduct challenging table computations. By using a Python script to carry out data purification tasks with packages, you can decrease the workload on the software. However, Python is not supported as a primary scripting language by Tableau. You can transfer some of the packages or visuals as a result.
5. Quickly Construct Interactive Visualizations: Tableau's drag-and-drop capabilities enable users to build highly interactive displays quickly. The interface allows many modifications while preventing you from creating charts deviating from advised best data presentation practices. You can look through some amazing pictures in the Tableau Collection.
6. Tableau's business strategy: As the market champion in software for data visualization, Tableau has done an outstanding job of positioning itself. Tableau has therefore won the Garner Magic Quadrant for more than six years. However, given the rising popularity of data science, AI, and machine learning, Tableau might need to catch up if it innovates fast. In addition, the issues with the 2017 financial statements make it clear that Forbes is concerned about Tableau's profitability.
Don't delay your career growth, kickstart your career by enrolling in this Tableau course in Chennai with 360DigiTMG.
How Does Tableau Work?
The data you keep in different locations are connected to and extracted by Tableau. It can obtain information from any site conceivable. Tableau can pull data from various sources, including cloud-based databases from Google Cloud SQL, Microsoft Azure SQL, Amazon Web Services, and Excel and PDF files to complex databases like Oracle.
Ready data connectors are accessible when you launch Tableau, allowing you to connect to any database. Different numbers of data connectors are supported by Tableau, depending on the version you bought.
The extracted data can be linked live or extracted to Tableau Desktop, the data engine for Tableau. Here, the data engineer and researcher working with the retrieved data to create visualizations. Users have access to the static files that contain the generated dashboards. Users who receive dashboards use Tableau Reader to read the file.
The Tableau server can receive data that you release from the Tableau Desktop. Collaboration, distribution, governance, and security model, and you enable automation functions on this enterprise platform. The Tableau server improves the end-user experience when viewing files from any device, including desktop, mobile, or email.
360DigiTMG the award-winning training institute offers a Tableau Course in Pune and other regions of India and become certified professionals.
Features of Tableau:
Data Blending: Data blending is Tableau's most crucial function. It is employed when bringing together related data from various sources you want to analyze jointly and show as a graph.
Real-time Analysis: When the Velocity is high, and real-time data analysis is challenging, real-time analysis enables users to comprehend and analyze dynamic data quickly. With interactive analytics, Tableau can assist in obtaining helpful information from rapidly changing data.
Data Collaboration: Data research is not a lonely endeavor. Tableau is especially for cooperation because of this. Team members can distribute data, conduct follow-up inquiries, and send digestible images to individuals who could benefit from the data. However, success depends on ensuring that everyone can comprehend the data and make informed decisions.
Tableau's Products Include
a) Tableau Desktop: You can code and modify reports using Tableau Desktop, which has a robust feature set. All necessary work is done in Tableau Desktop, from creating the charts and reports to combining them to make a dashboard.
Tableau Desktop offers Data Warehouse connectivity and access to various other file types for real-time data processing. In addition, you can share the created workbooks and dashboards privately or openly.
b) Tableau Public: This version of Tableau is explicitly for customers who value affordability. The word "Public" denotes that the created workbooks cannot be stored directly; instead, you must save them to Tableau's public cloud, which anyone can view and access.
Since anyone can view and download the files stored in the cloud, there is no privacy associated with them. Therefore, this is the best version for those who want to study Tableau and those who wish to share their data with the public.
c) Using Tableau Server: You use the program primarily to distribute workbooks and visualizations the Tableau Desktop application produces throughout the company. Before sharing dashboards in the Tableau Server, you must submit your work in the Tableau Desktop. Only authorized users can view the work once it has been uploaded to the server.
d) Tableau Online:
This internet-sharing tool from Tableau is what its name implies. Although its functionalities are comparable to Tableau Server's, you can keep data on cloud-hosted servers that the Tableau group manages.
The amount of data you can share in Tableau Online has no storage limit. In addition, Tableau Online establishes a direct connection to more than 40 cloud-hosted data sources, including MySQL, Hive, Amazon Aurora, Spark SQL, and many others.
The workbooks produced by Tableau Desktop are necessary for publishing on both Tableau Online and Server. In addition, Tableau Server and Tableau Online handle data streamed from web applications like Salesforce.com and Google Analytics.
The workbooks and visualizations produced with Tableau Desktop or Tableau Public can be viewed using Tableau Reader, a free application. Filtering the data is possible, but editing and change options are limited. Furthermore, anybody who obtains the workbook can examine it using Tableau Reader, so there is no security level in Tableau Reader.
The recipient must have Tableau Reader to access the document if you want to share one of your custom dashboards.
What are the Uses of Tableau?
Tableau is a robust data visualization tool that one can use in a wide range of industries and applications. Here are a few typical applications for Tableau:
Business Intelligence and Analytics: Tableau often creates interactive dashboards and reports that help businesses analyze and understand their data. With Tableau, companies can quickly visualize and explore their data, identify trends and patterns, and make data-driven decisions.
Data Visualization: Tableau is known for its ability to create stunning and interactive visualizations. With Tableau, users can easily create charts, graphs, maps, and other visual representations of their data, making it easier to understand and communicate complex data.
Data Exploration: Tableau allows users to explore their data in real-time and quickly identify trends, patterns, and outliers. Users can interact with their data in various ways, such as filtering, drilling down, and pivoting, to uncover insights and make informed decisions.
Predictive Analytics: Tableau can be used to perform predictive analytics, allowing users to make forecasts and identify trends in their data. With Tableau's predictive modeling capabilities, businesses can make data-driven decisions based on insights and projections.
Data Collaboration: Tableau is designed to facilitate collaboration and sharing of data insights within an organization. With Tableau, users can share their visualizations and dashboards with others, allowing them to collaborate and make decisions based on real-time data.
Overall, Tableau is a versatile tool that you can use for various applications, from business intelligence and analytics to data visualization and exploration. Its ease of use and powerful capabilities make it a popular choice for businesses and organizations of all sizes.
What are the Applications of Tableau
Here are some typical applications of Tableau:
Sales and Marketing: You can use Tableau to analyze sales data and marketing campaigns, helping businesses identify growth and optimization opportunities.
Finance and Accounting: Tableau can be used to visualize financial data, such as revenue and expenses, allowing businesses to make informed financial decisions.
Healthcare: Tableau can be used in healthcare to analyze patient data and medical records, helping healthcare providers to identify patterns and trends in patient outcomes.
Education: Tableau can be used to analyze student data and academic performance, allowing educators to identify areas for improvement and optimize teaching strategies.
Government and Public Sector: Tableau can be used in government and the public sector to analyze and visualize data related to public safety, transportation, and social programs, among other applications.
Manufacturing and Supply Chain: Tableau can be used to analyze and visualize manufacturing processes and supply chain management data, helping businesses optimize their operations and reduce costs.
Human Resources: You can use Tableau can to analyze and visualize HR data, such as employee performance and retention rates, allowing businesses to make informed decisions about hiring and talent management.
Tableau is a versatile tool in virtually any industry or application where data analysis and visualization are needed. Its flexibility, ease of use, and powerful capabilities make it a popular choice for businesses and organizations of all sizes.
To learn more about Tableau Certification best place is 360DigiTMG, with multiple awards in its name 360DigiTMG is the best place to start your Tableau career. Enroll now!
Conclusion
Data has been significantly increased due to the rise in internet usage. Think about a scenario where each time a potential customer gets online, you add their data to big data. This material contains details that could be very useful for your company. It would be best if you had business intelligence—meaningful insights into the behavior and preferences of your potential customers—to remain one step ahead of the competition. It will enable you to address them more effectively. Big data generates this information.
But because it is in an unstructured, raw state, this large amount of data is wasted. Understanding and thoroughly analyzing this data can be challenging, so each organization's stakeholder knows it. You must also present your data in a way that even a layperson with no technical knowledge can comprehend because only some possess the necessary technical expertise for data analytics. Tableau aids you in accomplishing this.
Data Science Placement Success Story
Tableau Training Institutes in Other Locations
Ahmedabad, Aurangabad, Bangalore, Chengalpattu, Chennai, Hyderabad, Kothrud, Noida, Pune, Thane, Yelahanka, Andhra Pradesh, Anna Nagar, Bhilai, Calicut, Chandigarh, Chromepet, Coimbatore, Dilsukhnagar, ECIL, Faridabad, Greater Warangal, Guduvanchery, Guntur, Gurgaon, Guwahati, Indore, Jaipur, Kalaburagi, Kanpur, Kharadi, Kochi, Kolkata, Kompally, Lucknow, Mangalore, Mumbai, Mysore, Nagpur, Nashik, Navi Mumbai, Patna, Porur, Raipur, Salem, Surat, Thoraipakkam, Trichy, Uppal, Vadodara, Varanasi, Vijayawada, Vizag, Tirunelveli
Navigate to Address
360DigiTMG - Data Analytics, Data Science Course Training in Chennai
D.No: C1, No.3, 3rd Floor, State Highway 49A, 330, Rajiv Gandhi Salai, NJK Avenue, Thoraipakkam, Tamil Nadu 600097
1800-212-654-321