A Glimpse of the Industrial Revolution 4.0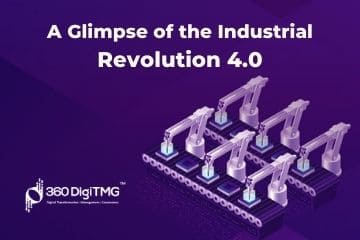 The Internet of Things (IoT) and Industrial Revolution 4.0 have received a lot of attention recently and are predicted to spread internationally across all industries. Many businesses are stepping forward to adopt the newest technology in an effort to increase production and efficiency. By embracing automation processes, factories are considerably evolving into smart factories. Recent research on the preparedness of 1500 corporate executives or CXOs from 19 different nations was done. The findings showed that just 13% of CXOs are prepared to take advantage of IR4.0's developments, and only 25% of them think they have personnel with the necessary skill sets. And according to the IR4.0 trends, 84% of them are prepared to build the proper staff.
Click here to explore 360DigiTMG.
The Industrial Revolution 4.0 is fundamentally different from IR 3.0 in that it combines technology from the physical, digital, and biological domains.
What exactly is IR4.0?
IR4.0 is also called a Smart factory; it is the latest development in the automation and digitization era. IR 4.0 is considered as the fusion of advanced and innovative technologies that include Cloud computing, Sensors, Machine Learning, Big Data Analytics, Artificial Intelligence, 3D-Printing, Cyber Security, and IoT.
IR4.0 monitors the complete value chain starting from suppliers, production, design, to sales. It enables us to work effectively, efficiently, and achieve high productivity. The physical systems consist of monitoring sensory mechanisms with IoT, communicating, interacting, analyzing, and co-operating with a machine to machine and machine to humans through wireless web platforms.
Click here to attend workshop on IR 4.0
IR4.0, with its broad capabilities, helps to reduce operations cost and wastage, which in turn enhances business operations swiftly. Apart from this, it also provides security and safety mechanisms and streamlines the maintenance of machinery.
The nine areas that are affected by IR4.0 in the near future are IoT, Big Data, Robotics, advancements in Artificial Intelligence, aided with Cloud Computing, Cyber Security, Augmented Reality, Simulation, and Manufacturing. These are also considered as the most prominent pillars of advanced technologies.
IR4.0 Applications:
The majority of businesses are integrating IR4.0 capabilities into their daily operations and improving their efficiency, but a small number of businesses are still on the fence about doing so and are having trouble finding the necessary talent or expertise to employ for their particular use cases.
Let's examine some of the numerous IR4.0 applications:
Opens up possibilities Massive volumes of data are collected by the computers, which can then be analysed, optimised to draw conclusions, and identified for patterns that may swiftly uncover any performance concerns that humans cannot in a given length of time. The firm may work more quickly and efficiently because to IR4.0's capacity to uncover problems that require serious attention.
In an African gold mine, their output increased to 3.7%, saving $19 million a year by fixing the issue that was causing the oxygen levels to fall. Data from sensors installed in their equipment was used to pinpoint the problem.
Optimization of Supply Chains: A well-connected supply chain can adapt and accommodate any changes as per the information is provided. For example, due to bad weather, if the shipment is tied up, the connected supply chain can effectively adjust as per the changes and alter the manufacturing priorities.
Click here to learn Industrial Revolution IR 4.0 Course
Autonomous Machines: To transfer or carry huge containers from ships to manufacturing facilities, many shipping yards use automated machinery and trucks. To expeditiously expedite the procedures, they use automated trucks and cranes.
Robots: Robots were very costly and out of budget, where only big organizations were able to use. Now the robots have become very cost-effective, and any size of businesses is able to afford it and use it in their operations. Robots are specially used in manufacturing sectors. Amazon started using robots in their warehouses to shift the products and arranging products properly in racks. These robots occupy less space and work efficiently, making customer shopping easier.
Additive Manufacturing (3D printing): Since the previous 10 years, this technology has advanced significantly, from development to manufacturing. The development of this technology has various benefits for production.
Artificial Intelligence: In the coming years, machine trainers will be available who guide machines to work better. For example, in the Healthcare industry, robots and devices may be used to detect diseases with existing marker cases. As the trend towards advancements in AI is inevitable, there would be a great demand for Artificial Intelligence developers and AI Engineers. AI Engineers will test and train intelligent robots to spot problems and errors and rectify error codes, specifically in the early stages.
Internet of Things and the Cloud: With several developments, IoT is attracting a lot of interest. IoT allows for the connection of a large number of devices, while the cloud offers storage capacity for data storage and operational optimisation. The Internet of Things and cloud computing allow small businesses to access technology they couldn't otherwise afford and benefit from it. Industry 4.0 is undergoing a change and aims to provide the firm several advantageous options. Numerous businesses adopted IR4.0 and saw its potential. They are now working to modernise their workforce to meet the demands of IR4.0 and are eager to hire staff members with the necessary expertise and abilities.
Moulding the Workforce
While industries are getting digitally transformed globally, there is a lack of skilled workforce in many countries. Many types of research are reporting that the IR4.0 must be imbibed to students during their studies.
The training on IR4.0 should be given to all the students during their graduation or after, through internship/programs. They should be encouraged to learn and be aware of the practical experiences through various experiments. The Academics curriculum should incorporate the latest technologies by tying up with corporates and prepare the right workforce.
Another method is that students can join the training institutes and learn the IR4.0 course and grab lucrative opportunities in top-notch organizations.
For students to succeed in IR4.0 careers, IT skill development is necessary. The appropriate abilities can be chosen by students based on their academic background. For instance, a business student can learn e-commerce since it offers numerous advantages and opportunities for success, and because he can get employment in organisations that use e-commerce platforms.
If a student has a background in quantitative surveying, they must be familiar with using BIM software because most construction companies rely on it to increase efficiency and reduce risk.
Academics, colleges, and universities ought to inspire students to take part in employer projects, internships, and seminars run by business. This will enable them to get knowledge of the most recent business trends as well as develop their abilities and expertise, which greatly aids in picking a promising job.
Students are also supposed to focus on building their interpersonal skills, along with education. Skills include communication skills; the ability to work with a team, to be flexible, ready to learn new things, adapt to the environment are the competencies that help students to be successful and be relevant regardless of the industries or careers they choose. Aspirants can get training in the latest technologies by enrolling themselves in the best training institutes and gain the required knowledge and skillsets. This will enable them to get highly paid jobs and have a brighter future.
Conclusion
In a word, IR4.0 is rapidly taking off and is opening up a wide range of opportunities across all industries, particularly in the manufacturing and automation ones. We've seen how IR has evolved from version 1.0 to version 4.0, and this trend will only continue as new, powerful technologies are offered to make work more accessible. Organisations are using IR4.0 in their operations due to its many advantages and possibilities, creating chances for the suitable staff. The newest IR4.0 technologies should be learned by students if they want to succeed in their jobs.
Click here to learn Data Science Course, Data Science Course in Hyderabad, Data Science Course in Bangalore
Data Science Training Institutes in Other Locations
Agra
,
Ahmedabad
,
Amritsar
,
Anand
,
Anantapur
,
Bangalore
,
Bhopal
,
Bhubaneswar
,
Chengalpattu
,
Chennai
,
Cochin
,
Dehradun
,
Malaysia
,
Dombivli
,
Durgapur
,
Ernakulam
,
Erode
,
Gandhinagar
,
Ghaziabad
,
Gorakhpur
,
Gwalior
,
Hebbal
,
Hyderabad
,
Jabalpur
,
Jalandhar
,
Jammu
,
Jamshedpur
,
Jodhpur
,
Khammam
,
Kolhapur
,
Kothrud
,
Ludhiana
,
Madurai
,
Meerut
,
Mohali
,
Moradabad
,
Noida
,
Pimpri
,
Pondicherry
,
Pune
,
Rajkot
,
Ranchi
,
Rohtak
,
Roorkee
,
Rourkela
,
Shimla
,
Shimoga
,
Siliguri
,
Srinagar
,
Thane
,
Thiruvananthapuram
,
Tiruchchirappalli
,
Trichur
,
Udaipur
,
Yelahanka
,
Andhra Pradesh
,
Anna Nagar
,
Bhilai
,
Borivali
,
Calicut
,
Chandigarh
,
Chromepet
,
Coimbatore
,
Dilsukhnagar
,
ECIL
,
Faridabad
,
Greater Warangal
,
Guduvanchery
,
Guntur
,
Gurgaon
,
Guwahati
,
Hoodi
,
Indore
,
Jaipur
,
Kalaburagi
,
Kanpur
,
Kharadi
,
Kochi
,
Kolkata
,
Kompally
,
Lucknow
,
Mangalore
,
Mumbai
,
Mysore
,
Nagpur
,
Nashik
,
Navi Mumbai
,
Patna
,
Porur
,
Raipur
,
Salem
,
Surat
,
Thoraipakkam
,
Trichy
,
Uppal
,
Vadodara
,
Varanasi
,
Vijayawada
,
Vizag
,
Tirunelveli
,
Aurangabad
Navigate to Address
360DigiTMG - Data Science Course, Data Scientist Course Training in Chennai
D.No: C1, No.3, 3rd Floor, State Highway 49A, 330, Rajiv Gandhi Salai, NJK Avenue, Thoraipakkam, Tamil Nadu 600097
1800-212-654-321