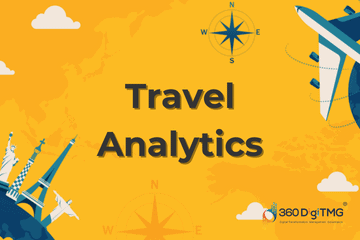 Travelling is a very emotional experience, and there are several possibilities to suit every budget. Travellers who have a variety of objectives in mind, such as solo trips, business trips, or family vacations, want the app to immediately propose the best packages.
And here is the evidence: If your website or app doesn't satisfy their expectations, 88% of leisure travellers will move to a different one.
A little under a third (29%) of travellers worldwide say they're comfortable letting a computer plan an upcoming trip using information from their prior travel experiences, and half (50%) don't care whether they stay with a real person or computer, as long as any questions are answered.
Currently, making reservations for hotels, flights, and rental vehicles is done totally online. As a result, there is a tonne of data on all of our travel behaviours, which enables AI algorithms to extract a tonne of insights and turn them into tailored services.
The ability of machine learning to uncover patterns that the human eye might not even notice is well established. For instance, the ML algorithm can identify anomalies following a sudden spike in frequency while accounting for the mix of functions that led to the spike.
Using machine learning, travel service companies may assist customers in determining when to book a hotel or purchase a cheap ticket. The app will probably let the user know when the deal is ready.
The interaction between clients and travel suppliers is made easier by the use of AI, which quickly improves the experience and makes it seamless.
Here are the most successfully realised impacts of AI and ML in the travel industry:
Learn the core concepts of Data Science Course video on Youtube:
Chatbots:
According to a HubSpot research report, 71% of people use chatbots to solve problems faster. Right now, the biggest place to see AI in the hospitality industry is in customer service chatbots.
Customer support is very important in the travel industry and chatbots enable him to provide 24/7 full-fledged customer support and reduce the burden on his staff. He has two types of chatbots.
The first type is pre-programmed and driven by a set of predefined responses governed by a set of rules. These must be manually programmed and typically represent a set of frequently asked questions such as:
"What will the weather be like in Brooklyn tomorrow?"
"When is the next flight to London?"
Second type of chatbot is more complex and artificially controlled, understands language and commands, and learns while interacting. You can answer some of the more complex questions like:
"Where does $150 take me?"
"What is going on in Paris?"
Immediate 24/7 responses, full support and, oddly enough, a friendly approach to people. With the proper pre-programming, chatbots can empower the entire travel experience, starting from automated reminders before the arrival to suggesting nearby entertainment spots and transportation facilities at destination.
No need to worry if visitors arrive at a new location and run into the visitor information center's sign plate reading "Closed"; with just a few touches, they may launch a bot and inquire for what they need. Customers really have quite high standards for AI chatbots, expecting the machines to solve their problems in a helpful manner and provide emergency assistance.
These well-known businesses—YouTube, Spotify, Netflix, and Booking.com—have a thing in common. This feature keeps visitors on the website for a considerable amount of time, processes history and data in real-time, and creates a large number of suggestions that are pertinent.
When users first access a travel website or app, they are frequently inundated with information. On the other side, it might be difficult to meet the consumers' more complicated expectations. One resource is available to hoteliers and travel agencies who have included AI and ML into their operations.
Large data sets allow businesses to examine client behaviour more closely and perhaps even make a more tailored offer. Each customer's digital footprint on the travel platform enables the system to comprehend their wants, preferences, and financial constraints in order to make acceptable offers. Making the appropriate advice at the appropriate time aids in client retention and keeps them coming back.
Artificial intelligence-powered recommendation engines can be loaded with historical data, including prior reservations, traveller patterns, or real-time information. For instance, the individual sends a signal to a data scientist to include in the following tap when she reads the email newsletter.
An AI-powered recommendation system that processes and optimises the passenger context can deliver a better user experience.
Content curation:
Content is king when it comes to brand-customer interactions, and the travel and hospitality industry is no exception. A photo on the site, a push notification on the mobile app, a new incoming email, these are just a few touches of the entire content engine that provides travelers with all the information they need. Inform, inspire, interact, start conversations - great content always drives users to action on the site.
Content curation is typically a people-driven process; However, AI & ML could help here by offering customization and automating some routine tasks.
While revamping their website, Trip Advisor noticed that there were many great photos on their website (over 110 million); However, you can never know which photos will appear first. That's why the engineering team decided to improve the way photos are displayed in different contexts.
The team can ask property owners to rate photos, select the primary photo for their listing, and tag photos based on the type of scene. So they had to hire an army of photo moderators to tag, rate, and select photos, but it would have been slow and expensive.
The engineering team approached this task from a Deep Learning point of view. Deep Learning is a subset of Machine Learning that specializes in developing and training neural network architectures. The team developed a template that selected attractive and relevant photos and displayed them as a priority on the website.
AI tools using natural language processing, computer vision, and machine learning can analyze large data sets as well as various data sources in real time. Based on the data, the AI ​​system can detect abnormal behavior and create risk assessments to build a complete understanding of each payment transaction.
There are different types of fraud. AI and ML can help travel agencies track:
• Creation of fake accounts
• Abuse of content (if it contains reviews and other user-generated content)
• Account takeover (loyalty fraud)
Conclusion
Travel agencies can differentiate between reliable and unreliable payers, identify abnormalities quickly and accurately, and protect online transactions by incorporating AI-based solutions.
It's simple to get inspired and adopt the "I want it all" mentality with the abundance of smart and bright goods that use artificial intelligence and machine learning. Keep in mind that technology only functions effectively when it is properly used.
Consider the following and encourage these technologies in your organisation:
Gather reliable data. They use the harsh but accurate phrase "garbage in, garbage out." Knowing how rich the data is, whether it can be connected, and what is referred to as the quality of the data is crucial since these factors directly impact the model's output. You may create the entire system and organise these data sets with the aid of a data scientist.
Understand your product. Yes, it may seem like "Thank you, obvious captain," but in reality, it's the first step in putting any technology into use. We at Django Stars advise our clients that we can create algorithms of any complexity, but the product owner needs to be fully aware of how to integrate them into the system, the objectives of the business, and how they will be achieved.
Think about how developed your company is. The difficult work of embedding AI calls for highly developed abilities, in-depth domain knowledge, and awareness of regulatory restraints (such as those governing data collecting, for example). Due of the difficulty in finding and retaining engineers internally, you may want to think about hiring engineers to assist you.
Focus on what is most important. The at-will strategy has a slim likelihood of success. Even if some models only give a 5% gain, this is a considerable improvement at scale, improving both user experiences and financial performance. On the other side, concentrating on AI chatbots might free up your personnel and elevate the client experience.
Data Analytics Placement Success Story
Other Domain Analytics in our 360DigiTMG
Political Analytics, Transit Analytics, Forest Analytics, Wild Analytics, Agriculture Analytics, Army Analytics, E-commerce Analytics, Energy and Resource Analytics, Hospital Analytics, Healthcare Analytics, Hospitality Analytics, Oil and Gas Analytics, Regulatory Analytics, Security Analytics, Trade Analytics, Railway Analytics, Defense Analytics, Education Analytics, Accounting Analytics, Fraud Analytics, Legal and Law Analytics, Banking Analytics, Insurance Analytics, Life Science Analytics, Pharma Analytics, Aviation Analytics, Retail Analytics, Cyber Security Analytics, Supply Chain Analytics, Marketing Analytics
Data Science Training Institutes in Other Locations
Agra, Ahmedabad, Amritsar, Anand, Anantapur, Bangalore, Bhopal, Bhubaneswar, Chengalpattu, Chennai, Cochin, Dehradun, Malaysia, Dombivli, Durgapur, Ernakulam, Erode, Gandhinagar, Ghaziabad, Gorakhpur, Gwalior, Hebbal, Hyderabad, Jabalpur, Jalandhar, Jammu, Jamshedpur, Jodhpur, Khammam, Kolhapur, Kothrud, Ludhiana, Madurai, Meerut, Mohali, Moradabad, Noida, Pimpri, Pondicherry, Pune, Rajkot, Ranchi, Rohtak, Roorkee, Rourkela, Shimla, Shimoga, Siliguri, Srinagar, Thane, Thiruvananthapuram, Tiruchchirappalli, Trichur, Udaipur, Yelahanka, Andhra Pradesh, Anna Nagar, Bhilai, Borivali, Calicut, Chandigarh, Chromepet, Coimbatore, Dilsukhnagar, ECIL, Faridabad, Greater Warangal, Guduvanchery, Guntur, Gurgaon, Guwahati, Hoodi, Indore, Jaipur, Kalaburagi, Kanpur, Kharadi, Kochi, Kolkata, Kompally, Lucknow, Mangalore, Mumbai, Mysore, Nagpur, Nashik, Navi Mumbai, Patna, Porur, Raipur, Salem, Surat, Thoraipakkam, Trichy, Uppal, Vadodara, Varanasi, Vijayawada, Visakhapatnam, Tirunelveli, Aurangabad
Data Analyst Courses in Other Locations
ECIL, Jaipur, Pune, Gurgaon, Salem, Surat, Agra, Ahmedabad, Amritsar, Anand, Anantapur, Andhra Pradesh, Anna Nagar, Aurangabad, Bhilai, Bhopal, Bhubaneswar, Borivali, Calicut, Cochin, Chengalpattu , Dehradun, Dombivli, Durgapur, Ernakulam, Erode, Gandhinagar, Ghaziabad, Gorakhpur, Guduvanchery, Gwalior, Hebbal, Hoodi , Indore, Jabalpur, Jaipur, Jalandhar, Jammu, Jamshedpur, Jodhpur, Kanpur, Khammam, Kochi, Kolhapur, Kolkata, Kothrud, Ludhiana, Madurai, Mangalore, Meerut, Mohali, Moradabad, Pimpri, Pondicherry, Porur, Rajkot, Ranchi, Rohtak, Roorkee, Rourkela, Shimla, Shimoga, Siliguri, Srinagar, Thoraipakkam , Tiruchirappalli, Tirunelveli, Trichur, Trichy, Udaipur, Vijayawada, Vizag, Warangal, Chennai, Coimbatore, Delhi, Dilsukhnagar, Hyderabad, Kalyan, Nagpur, Noida, Thane, Thiruvananthapuram, Uppal, Kompally, Bangalore, Chandigarh, Chromepet, Faridabad, Guntur, Guwahati, Kharadi, Lucknow, Mumbai, Mysore, Nashik, Navi Mumbai, Patna, Pune, Raipur, Vadodara, Varanasi, Yelahanka
Navigate to Address
360DigiTMG - Data Analytics, Data Science Course Training Hyderabad
2-56/2/19, 3rd floor, Vijaya Towers, near Meridian School, Ayyappa Society Rd, Madhapur, Hyderabad, Telangana 500081
099899 94319