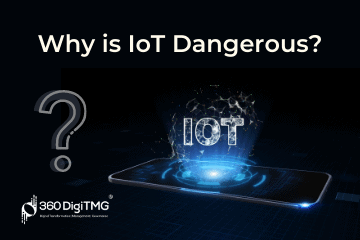 Introduction
The risks to security are rising along with the number of IoT devices. Thanks to technology, we now lead comfortable lifestyles and find it easier to do daily duties. These devices, which are available in a range of sizes and designs, allow people of all ages to coexist in harmony. These include of devices like smart TVs, CCTV cameras, smart locks, and thermostats. You might make the case that Internet of Things (IoT) sensors will soon be installed throughout our houses.
Are you looking to become a IoT Expert? Go through 360DigiTMG's IoT Training and Placement in Bangalore.
Despite all these benefits, the absence of effective security measures on your IoT devices is a serious worry. This poses a serious threat to the users' right to privacy.
Why IoT is dangerous?
IoT has provided numerous comforts but it is still dangerous because the devices are not secure. The following reasons make IoT dangerous. The manufacturers do not pay attention to the security of the device just because they only want to get their products quickly in the market. This is because the implementation of security features costs much. The manufacturers do not go into the detailed security of a device and leave them open for the attackers.
Increased number of IoT devices
IoT has gained popularity over the past several years, as you may have seen. Additionally, the demand for IoT devices is growing yearly. The number of IoT devices is predicted to reach 28 billion in 2022. There are also no indications that it will slow down in its expansion.
Nowadays, it might be challenging to locate a home without any linked technology. Currently, every individual uses three or more gadgets, and this number will rise in the future. You might say that as the number of IoT devices grows, so do the likelihood of assaults. IoT is becoming more harmful as well as more comfortable day by day. People rely on linked gadgets far too much. They utilise mobile phones, smartwatches, and a variety of other devices that they will continue to use in the future. It is now accurate to argue that the threat to people's personal and professional lives has grown due to the proliferation of IoT devices.
Want to learn more about Best IoT Institute Engineering. Enroll in this IoT Course Fees in Hyderabad to do so.
How dangerous are IoT devices?
IoT devices are unsafe and unsecure due to a number of issues. Attacks are frequently caused by these reasons.
Also, check this IoT Training Institute in Pune to start a career in Best IoT Training Institute.
For introducing the new devices quickly in the market, the manufacturers do not think about securing the device. They set the default login password for every device that is very easy to hack for cybercriminals. The worse thing is that most IoT devices do not even allow changing the default password.
Some devices give the feature to change the default password, but unfortunately, it does not force the users to change it. This allows the attackers to attack the device easily.
The IoT devices are just one web search away from the cybercriminals and then they can easily take control of the device.
To show you that IoT is dangerous, an example is provided. In 2016, the Mirai botnet attack occurred, which is considered the most dangerous attack in the history of IoT devices. This was the denial-of-service attack that set the devices offline and takes control of almost 1 lakh IoT devices that have poor security constraints. The object behind this attack is to promote a continuous attack on DNS providers and to take down major websites like Netflix, Twitter, Amazon, and CNN.
The attackers not only use IoT devices for denial of service attacks but also target the users themselves. They gain access to IoT devices and then take control of the sensitive information of the users. They may steal or misuse this information.
The most common IoT devices like smart TVs, smoke detectors, children's toys, light bulbs, smart security cameras, and many more devices lack basic encryption and authentication features.
In this situation, how can someone say that IoT is not dangerous? With the absence of basic features, the attackers found a window open for them to attack the device. They can direct the device to do whatever they want. And this can be very dangerous for the users as they do this without the knowledge of them.
Too much competition in the IoT market has also increased the number of attacks on the devices. With this competition, there is no single standard that can be used to check IoT devices. This is why IoT is called dangerous in the envelope of comforts. The administrations are working on it and the industry may get a common standard for manufacturing IoT devices.
The IoT devices lack regulations that have created a big risk for IoT devices. The cybersecurity councils are working on it but it is still not used by all the manufacturers. The US has taken insecure IoT devices as a serious threat that is why they have introduced a cybersecurity act to improve this issue.
The users are buying the devices from places where which sell them at a low price. These devices lack basic security features and are the easy target for attacks. There is a need to buy the devices from manufacturers that provide exclusive security features so that you can work without taking tension from the security of your devices.
yourself a promising career in IoT Training Institute in Chennai by enrolling in the IoT Training and Placement Program offered by 360DigiTMG.
You can see from the explanation above that IoT devices are risky, and that things will get worse if this problem is not addressed. To have safe and secure products that do not pose a threat to them in any form, users and manufacturers must take an active role in this situation.
Wrapping Up
In conclusion, it is accurate to state that the growth of IoT devices demonstrates that technology is still evolving. IoT is still showing to be risky due to certain problems. Strong security mechanisms should be included into the device by the producers. Users should purchase their gadgets from companies that guarantee they are only secure devices. To avoid the risks, the password must be updated.
IoT Training Institutes in Other Locations
Ahmedabad, Bangalore, Chengalpattu, Chennai, Hyderabad, Kothrud, Noida, Pune, Thane, Thiruvananthapuram, Yelahanka, Andhra Pradesh, Anna Nagar, Bhilai, Calicut, Chandigarh, Chromepet, Coimbatore, Dilsukhnagar, ECIL, Faridabad, Greater Warangal, Guduvanchery, Guntur, Gurgaon, Guwahati, Hoodi, Indore, Jaipur, Kalaburagi, Kanpur, Kharadi, Kochi, Kolkata, Kompally, Lucknow, Mangalore, Mumbai, Mysore, Nagpur, Nashik, Navi Mumbai, Patna, Porur, Raipur, Salem, Surat, Thoraipakkam, Trichy, Uppal, Vadodara, Varanasi, Vijayawada, Vizag, Tirunelveli, Aurangabad
Navigate to Address
360DigiTMG - Data Science, IR 4.0, AI, Machine Learning Training in Malaysia
Level 16, 1 Sentral, Jalan Stesen Sentral 5, Kuala Lumpur Sentral, 50470 Kuala Lumpur, Wilayah Persekutuan Kuala Lumpur, Malaysia
+60 19-383 1378