What are the Examples of IoT Devices?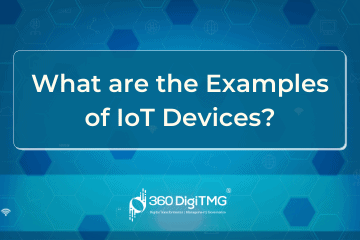 Introduction
In business and home automation, the Internet of Things (IoT) is developing and gaining popularity. The gadgets are linked to the Internet so that data interchange is simple. The sensors operate extremely cleverly and have a significant impact on people's lives. IoT is used in many industries, propelling the technology to new heights of success.
Becoming a IoT is possible now with the 360DigiTMG IoT classes. Enroll today.
There are several current instances of IoT devices in use. These gadgets are used by people in businesses, industries, and agriculture in addition to at home. You will look at some of the IoT device examples that are currently in use throughout the world in this post.
Examples of IoT Devices
IoT has changed the way of living by reshaping the lives of people. Even IoT is in infancy but it is leading the world by giving a lot of smart devices to the industry. With this enormous technology homes and cities become smart. And there are a lot more things that still need to be revealed. Some of the most significant IoT devices-described in this article are proving their value for the people.
Smart and secure home
Smart activity trackers
Digital twins
Automated Self-Healing Machines
Smart Farming
Contact lenses
Industrial safety
Vibration detection
360DigiTMG offers the Best IoT Course Fees in Pune to start a career in Internet of Things. Enroll now!
Smart and Secure Homes
People now live in entirely smart homes thanks to the Internet of Things. The Internet of Things (IoT) has made it feasible by enabling several interconnected devices, such as cameras, alarms, lights, and microphones, to guarantee home security. The security offered by these sensors is permanent; they are operational round-the-clock. Smartphones are used to operate all of these intelligent sensors. On their iPhones, people can view every action. For instance, in a smart home, when the doorbell rings, the user is able to connect with the guest via mobile devices, laptops, etc.
Smart Activity Trackers
These are the smart devices that can be worn by consumers for monitoring key health issues like oxygen level, blood pressure, appetite, and many more. This has provided a comfortable life to sick people as they do not need to stay in the hospital or visit the doctor regularly. It is very beneficial especially for the disabled and the older persons who face difficulty in going to the hospitals daily. These devices can check the patient's condition and then work accordingly.
Digital Twins
The same copy of a physical element can be produced using this technology. IoT, AI, and machine learning are being used to modernise this technology. Physical elements react to changes in the environment by changing as well. There's a chance that the engineers may swap out a real, tangible thing with a digital duplicate. That's why it has had such a big effect on the world.
Are you looking to become a IoT Expert? Go through 360DigiTMG's IoT Training and Placement in Bangalore.
Automated Self-Healing Machines
Due to AI, Machine Learning, and IoT, the sensors can recognise changes in their operation. The variations are repaired before it turns into a worse shape. The technology has provided numerous benefits to the companies because they do not need to spend their time and money on monitoring the performance of the machines.The employees that monitor them also become free due to this technology.
Digital AR Glasses
These thin computer glasses are worn by customers on their eyes like sunglasses. The user may use the gadget hands-free and utilise the device's lenses to view any information. Numerous Internet applications, like Google Maps and Gmail, are compatible with the glasses. Updated versions of these glasses are also offered, allowing team members to transmit full video utilising Wi-Fi. The usage of this is widespread in industry.
Want to learn more about Best IoT Course. Enroll in this IoT Course Fees in Hyderabad to do so.
Ingestible Electronic Devices
These are very small electronic devices that look like a pill. The basic purpose of the ingestible electronic device is to monitor the condition of diseases and also transmit data within the body. It can detect bleeding and captivation of medicines. The currently working ingestible electronic device is Ability MyCite that is sanctioned by the US Food and Drug Administration.
Smart Farming
As you are aware, the population is rapidly growing in modern times. Because of this, farmers are utilising IoT technology to boost output. They are utilising technologies based on the Internet of Things. They keep an eye on crop growth, weather, and temperature with the use of these gadgets. Drones are utilised to take pictures and examine the crop progress. As a result, you may claim that IoT is succeeding.
360DigiTMG the award-winning training institute offers a Internet of Things Course in Chennai, and other regions of India and become certified professionals.
Contact Lenses
Smart contact lenses have made it possible to detect the health condition as well as treatment of eyes. Swiss company named 'Sensimed' introduces smart contact lenses that can detect minor fluctuations in the volume of the eye. The device is capable to transmit data without using any wire to the antenna that is located around the eye. So, it means the world is getting smart.
Industrial Safety
The sensors are adept at spotting unlawful movement in forbidden spaces. They are able to locate a little chemical leak and stop it before it becomes a bigger one. Because it fixes itself, the cost of maintenance has decreased in this way. The value of these IoT-enabled solutions has also been demonstrated in chemical and mining industries.
Vibration Detection
The IoT-enabled smart sensors have made it possible to detect small motions in big structures like buildings, dams, and bridges. These small vibrations can create big issues, but smart sensors can reduce the risk. The areas where it is a prediction of a landslide are also equipped with these sensors so that there is less or no damage to the lives and the resources.
Conclusion
IoT devices are widely used in many different industries. Each gadget has certain goals and functions. IoT has essentially impacted every part of existence. IoT will continue to grow; this is only the beginning. More substantial IoT-based products that offer comfort to their consumers will come into existence.
IoT Training Institutes in Other Locations
Ahmedabad, Bangalore, Chengalpattu, Chennai, Hyderabad, Kothrud, Noida, Pune, Thane, Thiruvananthapuram, Yelahanka, Andhra Pradesh, Anna Nagar, Bhilai, Calicut, Chandigarh, Chromepet, Coimbatore, Dilsukhnagar, ECIL, Faridabad, Greater Warangal, Guduvanchery, Guntur, Gurgaon, Guwahati, Hoodi, Indore, Jaipur, Kalaburagi, Kanpur, Kharadi, Kochi, Kolkata, Kompally, Lucknow, Mangalore, Mumbai, Mysore, Nagpur, Nashik, Navi Mumbai, Patna, Porur, Raipur, Salem, Surat, Thoraipakkam, Trichy, Uppal, Vadodara, Varanasi, Vijayawada, Vizag, Tirunelveli, Aurangabad
Navigate to Address
360DigiTMG - Data Science, IR 4.0, AI, Machine Learning Training in Malaysia
Level 16, 1 Sentral, Jalan Stesen Sentral 5, Kuala Lumpur Sentral, 50470 Kuala Lumpur, Wilayah Persekutuan Kuala Lumpur, Malaysia
+60 19-383 1378